Mets' Edwin Díaz injured celebrating Puerto Rico's WBC win
Puerto Rico pitcher Edwin Diaz (39) is helped by team pitching coach Ricky Bones and medical staff after a World Baseball Classic game against the Dominican Republic, Wednesday, March 15, 2023, in Miami. (David Santiago/Miami Herald via AP)
MIAMI (AP) — New York Mets fans began the year dreaming about a World Series closed out by Edwin Díaz.
For now, they're facing a nightmare scenario.
In a startling scene, Díaz was taken off the field in a wheelchair after injuring his right knee celebrating Puerto Rico's victoryover the Dominican Republic in the World Baseball Classic on Wednesday night.
There was no immediate word on how severely Díaz was hurt — the Mets said he will undergo more tests Thursday.
But the injury was exactly what big league teams and their fans fear the most when their high-priced stars go play for their countries. Diaz signed a $102 million, five-year deal in November.
It is true that injuries can happen anytime in baseball. Dodgers infielder Gavin Lux tore his knee in a spring training game this year and is out for the season. Los Angeles teammate Freddie Freeman hurt his hamstring this week playing for Canada in the WBC.
But the intensity of many WBC games is what often scares MLB teams about seeing their players in the event.
"Nightmare scenario for Mets fans and the WBC," tweeted longtime reliever Jerry Blevins. "Edwin Díaz seems to have been really injured after celebrating a win. This is the big fears mlb players & teams have with participating in the Tournament."
Díaz was swarmed by teammates after pitching a perfect ninth inning in a 5-2 win that clinched Puerto Rico a spot in the WBC quarterfinals. The group was jumping together in the infield when the right-hander collapsed to the ground, and he immediately reached for his right leg.
Díaz — as famous for his trumpet-driven entrance music as his dominant pitching — was in tears and did not put any weight on his right leg as a coach and trainer helped him limp toward the dugout.
Díaz's brother, Reds pitcher Alexis Díaz, was also crying as Edwin was put in a chair and wheeled away. Mets teammate and Puerto Rico shortstop Francisco Lindor stood nearby with his hands on his head.
Díaz is critical to the Mets' World Series aspirations. Without him, newcomer David Robertson probably would be next in line for the closer's spot.
Puerto Rico manager Yadier Molina said Díaz also underwent testing at the stadium.
"I was hugging our coaches in the dugout. Then when we looked up, Edwin was on the ground," Molina said. "I didn't know. I didn't know how to act, I didn't know how to — what to say. I mean, I didn't know. It got me for a surprise.
"Like I said in the dugout, it sucks, sorry, but when you see a guy that works so hard like Edwin, I mean when you see him on the ground like that, I mean it just is sad."
The 28-year-old Díaz is a two-time All-Star and two-time reliever of the year. He converted 32 saves for the Mets last season with a 1.31 ERA and 118 strikeouts in 62 innings.
He's become a sensation in New York for his pitching and his dance-inducing entrance music that leads with a rousing trumpet riff. Díaz comes out of the bullpen at Citi Field to "Narco" by Blasterjaxx and Timmy Trumpet. He even had trumpets painted onto his cleats for the WBC.
Díaz is hardly the first pro athlete injured during a rowdy celebration. Los Angeles Angels slugger Kendrys Morales broke his leg in 2010 taking a big leap onto home plate after hitting a game-ending grand slam — manager Mike Scioscia subsequently outlawed bouncing scrums at home plate.
Chicago Cubs pitcher Ryan Dempster broke a toe catching his foot in a dugout railing while rushing the field in 2009, and the Minnesota Twins' Denny Hocking had his nose broken by overzealous teammates after his first walk-off home run in 2001. Perhaps most famously of all, Arizona Cardinals kicker Bill Gramatica ended his rookie season in 2001 by tearing his ACL jumping up and down after a field goal.
But those were games that counted for their teams in regular-season play. Díaz's injury is sure to fuel those who say it's a bad idea for big league teams to loan out players for international play.
The WBC tournament is being played as MLB players ramp up for the start of the season at the end of March. The WBC has rules in place — in addition to some request from MLB teams — to try and protect players, particularly pitchers, from getting injured.
Pitchers for all countries are limited to 65 pitches per outing in the first round. If a player throws more than 50 pitches in an outing, he can't pitch for the next four days. If he throws more than 30, he can't pitch the next day. Finally, if he throws on back-to-back days, he must sit out the next day.
But few could have imagined Wednesday's scene.
Puerto Rico center fielder Kiké Hernandez said the locker room was quiet after Diaz's injury.
"It's a certain point that its bigger than the game," Hernandez said. "It's very unfortunate that it happened. As excited as we were about the game and all that, that's one of our brothers."
___
AP MLB: https://apnews.com/hub/mlb and https://twitter.com/AP_Sports
What Happened When the Georgia Governor Tried to Open the State?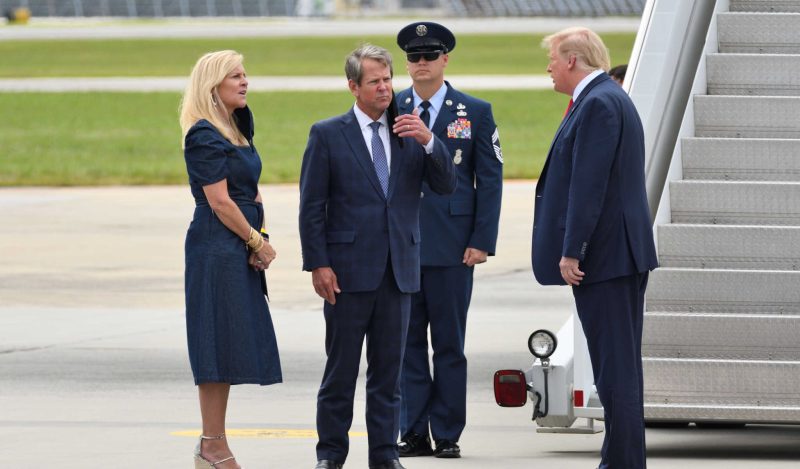 BY
JEFFREY A. TUCKER
The journalists have fallen down on the job. To say the least.
Three years ago, all normal rights and liberties of the people were trampled on by governments everywhere. It was all for naught. The virus came and became endemic as it always would in any case. And as societies opened up gradually, we were left with unbearable carnage: economic, cultural, and public health. The damages continue to hammer the world in the form of health and economic losses, and now we face a growing financial and banking crisis.
One might assume that professional journalists would be all over this, digging into every nook and cranny to discover precisely how all this came to be. Alas, there is a weird game of pretend going on in the mainstream press: pretend lockdowns were fine, pretend the shots worked, and pretend that today's shattered politics and economics have nothing to do with the outrageous actions that were perpetuated on people the world over.
As a result of this tremendously odd conspiracy of silence, the journalistic duty has fallen to people independent of the mainstream, writing for Brownstone, Substack, and a handful of other venues.
And yet, every once in a while, something does leak through in a large venue. That happened this weekend in the Wall Street Journal. The opinion page editor James Taranto took a trip to Georgia to talk with Governor Brian Kemp. The result is "Brian Kemp, Georgia's Affable Culture Warrior."
The thesis is that Kemp has been battling woke culture longer than anyone else while rarely getting the credit.
That's interesting but not the real revelation of the piece. What it really does is dig deeply into the most interesting aspect of the last three years: how it came to be that Georgia was the first state to open following lockdowns and how the White House responded. On this subject, the piece absolutely breaks new ground, so much so that it is worth quoting the relevant passages here.
In April 2020, businesses in Georgia were shuttered by government decree as in most of the rest of the country. Mr. Kemp was hearing from desperate entrepreneurs: " 'Look man, we're losing everything we've got. We can't keep doing this.' And I really felt like there was a lot of people fixin' to revolt against the government."

The Trump administration "had that damn graph or matrix or whatever that you had to fit into to be able to do certain things," Mr. Kemp recalls. "Your cases had to be going down and whatever. Well, we felt like we met the matrix, and so I decided to move forward and open up." He alerted Vice President Mike Pence, who headed the White House's coronavirus task force, before publicly announcing his intentions on April 20.

That afternoon Mr. Trump called Mr. Kemp, "and he was furious." Mr. Kemp recounts the conversation as follows:

"Look, the national media's all over me about letting you do this," Mr. Trump said. "And they're saying you don't meet whatever."

Mr. Kemp replied: "Well, Mr. President, we sent your team everything, and they knew what we were doing. You've been saying the whole pandemic you trust the governors because we're closest to the people. Just tell them you may not like what I'm doing, but you're trusting me because I'm the governor of Georgia and leave it at that. I'll take the heat."

"Well, see what you can do," the president said. "Hair salons aren't essential and bowling alleys, tattoo parlors aren't essential."

"With all due respect, those are our people," Mr. Kemp said. "They're the people that elected us. They're the people that are wondering who's fighting for them. We're fixin' to lose them over this, because they're about to lose everything. They are not going to sit in their basement and lose everything they got over a virus."

Mr. Trump publicly attacked Mr. Kemp: "He went on the news at 5 o'clock and just absolutely trashed me. . . . Then the local media's all over me—it was brutal." The president was still holding daily press briefings on Covid. "After running over me with the bus on Monday, he backed over me on Tuesday," Mr. Kemp says. "I could either back down and look weak and lose all respect with the legislators and get hammered in the media, or I could just say, 'You know what? Screw it, we're holding the line. We're going to do what's right.' " He chose the latter course. "Then on Wednesday, him and [Anthony] Fauci did it again, but at that point it didn't really matter. The damage had already been done there, for me anyway."

The damage healed quickly once businesses began reopening on Friday, April 24. Mr. Kemp quotes a state lawmaker who said in a phone call: "I went and got my hair cut, and the lady that cuts my hair wanted me to tell you—and she started crying when she told me this story—she said, 'You tell the governor I appreciate him reopening, to allow me to make a choice, because . . . if I'd have stayed closed, I had a 95% chance of losing everything I've ever worked for. But if I open, I only had a 5% chance of getting Covid. And so I decided to open, and the governor gave me that choice.' "

At that point, Florida was still shut down. Mr. DeSantis issued his first reopening order on April 29, nine days after Mr. Kemp's. On April 28, the Florida governor had visited the White House, where, as CNN reported, "he made sure to compliment the President and his handling of the crisis, praise Trump returned in spades."

Three years later, here's the thanks Mr. DeSantis gets: This Wednesday Mr. Trump issued a statement excoriating "Ron DeSanctimonious" as "a big Lockdown Governor on the China Virus." As Mr. Trump now tells the tale, "other Republican Governors did MUCH BETTER than Ron and, because I allowed them this 'freedom,' never closed their States. Remember, I left that decision up to the Governors!"
What's utterly remarkable here is that readers gain an inside look into the difficult spot into which Trump's White House had placed Republican governors. The whole machinery of DC had been marshaled with Trump's approval. The order read: "indoor and outdoor venues where people can congregate should be closed." He issued this order on March 16 and expected full compliance, and then lobbied for trillions in welfare to the states to make sure they stayed locked down.
Only South Dakota with Kristy Noem refused. And for that she was dragged through the mud of media lies for two years because she allowed motorcyclists, for example, to organize and ride in her state. The fake studies coming out about the Sturgis bike rallies set a new low standard for real-time science.
Georgia is important because it was the first state to open. Trump tweeted his opposition to this move both in general and then, two weeks later, in opposition to Kemp's opening.
Every bit of documentation absolutely contradicts Trump's claim that he "left that decision up to the Governors" as a matter of his own intention. It was his intention to achieve what he later bragged he had done, which is "turned it off."
I won't belabor this anymore because we've covered this in more detail here and here.
And yet for weeks now, Trump has been telling visitors to Mar-a-Lago, and his coterie has backed him up, that he never locked down and only people like Kemp and DeSantis did this over his objections. Daily I get calls from people who are stunned that this outright attempt to falsify history is happening. But these days, it is just part of public life, I suppose.
This is why we must be grateful for people like Taranto for digging more deeply into the actual history of what happened in those fateful months from 2020 when life itself was completely upended by dreadful decision-making from the White House. If we had more journalists interested in what actually happened, rather than just pretending that either what happened was perfectly normal or that it didn't happen at all, we would be far closer to getting to the truth, and making sure that such a calamity never repeats itself.
Key takeaways from AP's report on China's influence in Utah
In a letter photographed Feb. 13, 2022, Utah professor Taowen Le sent a letter to Utah Gov. Spencer Cox in 2022 urging him to meet with a Chinese ambassador. Le is among China's most vocal advocates in the state. An investigation found that China's global influence campaign has been surprisingly robust and successful in Utah. (AP Photo/Jon Elswick)
By Alan Suderman And Sam Metz in Salt Lake City
SALT LAKE CITY (AP) — China's global influence campaign has been surprisingly robust and successful in Utah, an investigation by The Associated Press has found.
The world's most powerful communist country and its U.S.-based advocates have spent years building relationships with Utah officials.
Legislators in the deeply conservative and religious state have responded by delaying legislation Beijing didn't like, nixing resolutions that conveyed displeasure with China's actions and expressing support in ways that enhanced the Chinese government's image.
The AP's investigation relied on dozens of interviews with key players and the review of hundreds of pages of records, text messages and emails obtained through public records' requests.
Beijing's success in Utah shows "how pervasive and persistent China has been in trying to influence America," said Frank Montoya Jr., a retired FBI counterintelligence agent who lives in Utah.
"Utah is an important foothold," he said. "If the Chinese can succeed in Salt Lake City, they can also make it in New York and elsewhere."
Here are some key takeaways:
LEGISLATIVE AND PR VICTORIES
The AP review found that China and its advocates won frequent legislative and public relations victories in Utah.
Utah lawmakers recorded videos of themselves expressing words of encouragement for the citizens of Shanghai in early 2020, which experts said likely helped the Chinese Communist Party with its messaging.
The request came from a Chinese official as the government was scrambling to tamp down public fury at communist authorities for reprimanding a young doctor, who later died, over his warnings about the dangers posed by COVID-19.
Around the same time, Utah officials were thrilled when China's authoritarian leader Xi Jinping sent a letter to fourth grade students in Utah. A Republican legislator said on the state Senate floor that he "couldn't help but think how amazing it was" that Xi would take the time to write such a "remarkable" letter. Another GOP senator gushed on his conservative radio show that Xi's letter "was so kind and so personal."
The letter was heavily covered in Chinese state media, which quoted Utah students calling Xi a kind "grandpa" — a familiar trope in Chinese propaganda.
State lawmakers have frequently visited China, where they are often quoted in state-owned media in ways that support Beijing's agenda.
"Utah is not like Washington D.C.," then-Utah House Speaker Greg Hughes, a vocal supporter of former President Donald Trump, told the Chinese state media outlet in 2018 as the former president ratcheted up pressure on China over trade. "Utah is a friend of China, an old friend with a long history."
FBI SCRUTINY
Utah Republican Sen. Jake Anderegg told the AP he was interviewed by the FBI after introducing a 2020 resolution expressing solidarity with China in the early days of the coronavirus pandemic. It won nearly unanimous approval. A similar resolution, proposed by a Chinese diplomat, was publicly rejected by Wisconsin's Senate.
Anderegg said the language was provided to him by Dan Stephenson, the son of a former state senator and employee of a China-based consulting firm.
Stephenson and another Utah resident, Taowen Le, are among China's most vocal advocates in Utah.
Both men have supported and sought to block resolutions, set up meetings between Utah lawmakers and Chinese officials, accompanied legislators on trips to China and provided advice on the best way to cultivate favor with Beijing, according to emails and interviews. Both have ties to what experts say are front groups for Beijing.
After embassy officials tried unsuccessfully last year to get staff for Utah Gov. Spencer Cox to schedule a get-together with China's ambassador to the U.S., Le sent the governor a personal plea to take such a meeting.
"I still remember and cherish what you told me at the New Year Party held at your home," Le wrote in a letter adorned with pictures of him and Cox posing together. "You told me that you trusted me to be a good messenger and friendship builder between Utah and China."
Both men said their advocacy on China-related issues were self directed and not at the Chinese government's behest. Le told AP he has been interviewed twice over the years by the FBI.
The FBI declined to comment.
TAILORED APPROACH
Security experts say that China's campaign is widespread and tailored to local communities. In Utah, the AP found, Beijing and pro-China advocates appealed to lawmakers' affiliations with The Church of Jesus Christ of Latter-Day Saints, better known as the Mormon church, which is the state's dominant religion and one that has long dreamed of expanding in China.
Le, who converted to the church decades ago, has quoted scripture from the Bible and the Book of Mormon in his emails and letters to lawmakers, and sprinkled in positive comments that Russell Nelson, the church's president-prophet, has made about China.
PART OF BROADER TREND
Beijing's success in Utah is part of a broader trend of targeting "sub-national" governments, like states and cities, experts say.
It is not unusual for countries, including the U.S., to engage in local diplomacy. U.S. officials and security experts have stressed that many Chinese language and cultural exchanges have no hidden agendas. However, they said, few nations have so aggressively courted local leaders across the globe in ways that raise national security concerns.
In its annual threat assessment released earlier this month, the U.S. intelligence community reported that China is "redoubling" its local influence campaign in the face of stiffening resistance at the national level. Beijing believes, the report said, that "local officials are more pliable than their federal counterparts."
Authorities in other countries, including Australia, Canada and the United Kingdom, have sounded similar alarms.
A spokesman for the Chinese embassy in Washington told the AP that China "values its relationship with Utah" and any "words and deeds that stigmatize and smear these sub-national exchanges are driven by ulterior political purposes."
___
Suderman reported from Washington. AP writer Fu Ting in Washington contributed to this story.