Mets' Díaz expected to miss entire season after freak injury
PORT ST. LUCIE, Fla. (AP) — New York Mets closer Edwin Díaz has a torn patellar tendon and is expected to miss the entire season after hurting his right knee while celebrating a victory in the World Baseball Classic.
Mets general manager Billy Eppler said Díaz would undergo surgery Thursday. Without going into specifics, Eppler said a general timeline for recovery from this type of injury is about eight months.
The Mets signed Díaz to a five-year, $102 million contract — the largest ever for a closer — after he produced a spectacular 2022 season. All player contracts are covered by insurance through the WBC that spans the length of time the player is out with an injury suffered during the tournament.
Díaz went 3-1 with a 1.31 ERA and 32 saves in 35 opportunities while striking out 118 batters in 62 innings last season. He made his second All-Star appearance and finished ninth in the Cy Young Award voting.
Díaz, who turns 29 on Wednesday, retired the side in order in the ninth inning of a 5-2 victory over the Dominican Republic that sent Puerto Rico to the World Baseball Classic quarterfinals. As Díaz and his teammates jumped together in the infield, the right-hander collapsed and reached for his right leg.
He was taken off the field in a wheelchair.
Red Deer Polytechnic's Jenica Swartz named ACAC Indoor Track Runner of the Year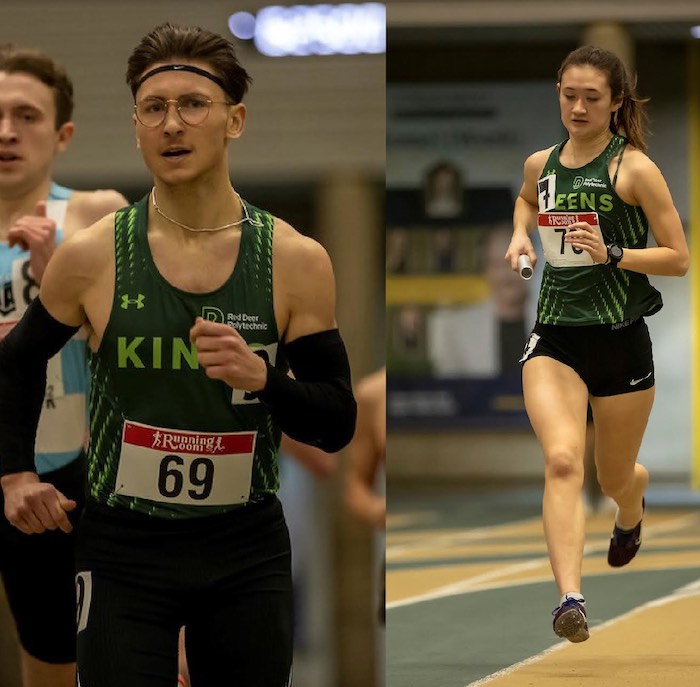 Jenica Swartz named Indoor Track Runner of the Year, Ethan Duret picks up an All-Conference Award
Red Deer Polytechnic and the Athletics department are pleased to recognize Jenica Swartz of the Queens Indoor Track Team as the Alberta Colleges Athletic Conference (ACAC) Female Runner of the Year and Ethan Duret of the Kings Indoor Track Team as he was named an ACAC All-Star.
Swartz was a crucial part of the Queens team winning their first-ever championship title in Indoor Track. Duret picked up multiple top-five finishes on the men's side at the ACAC championship.
Jenica Swartz (Queens Runner)
What a year it was for Jenica Swartz. It all started way back in August when she started training with the Queens Soccer and Cross-Country team. She was able to earn a gold medal in soccer and a bronze medal on the same weekend at the ACAC Soccer and Cross-Country Championship. Capping off the 2022 season, Swartz competed for the soccer team at nationals before flying to Medicine Hat for cross-country nationals where she ran the 6 km race that same morning and placed fourth. A few months later, she would help the Queens win the first-ever championship in program history in Indoor Track after picking up three individual golds, one silver and first place in both the relay events at the ACAC Championship held in Edmonton at the Butterdome this past weekend.
Head Coach Douglas Spicer explained that Swartz is an outstanding athlete and teammate.
"She leads by example in her training and competing in both cross-country and indoor track, along with being an integral part of the Queens Soccer program. It was a great pleasure working with Jen this year and watching her dominate the competition in her quiet, humble way."
Last season, Swartz broke her ankle and she had to have pins put in to repair the damage. Between the 2022/2023 cross-country and indoor track seasons, she had the pins removed and in the end, she came out on top in the 300m, 600m and 1000m events at the championship.
Swartz is a second-year student-athlete at Red Deer Polytechnic and is enrolled in the Bachelor of Science Pre-Med program. She was also named to the All-Conference team.
Ethan Duret (Kings Runner)
Ethan Duret is a second-year student-athlete with the Kings Indoor Track and Cross-Country team. He is from Red Deer and went to high school at Notre Dame Ecole Secondaire where he ran for their cross-country and track team before moving over to the Polytechnic. He is a five-foot-nine runner and is enrolled in the Bachelor of Commerce program.
Earlier in the Indoor Track season at the Grand Prix hosted by Red Deer Polytechnic, Duret earned himself two first-place finishes and a gold and bronze medal in both relay events. At the Championships, it was a much different story, Duret could not find the podium in the individual events but helped his team to a bronze finish in the 4x200m relay. He ended his weekend with two fifth-place finishes in the 300m dash and 600m run.
Spicer said he is a terrific athlete who is well-suited for indoor track, as he has natural speed, along with the endurance that he developed during the cross-country season.
"Although he did not finish in the top five in cross-country, he trained hard and developed a solid aerobic base which we refined during indoor track. This added more speed and endurance which suited his 600m and 1000m races in particular. Ethan is a goal-setter who asks a lot of himself and works hard to achieve his goals."
Duret will also be graduating from the program following the end of the academic year.
Hockey Tolerance Is A Two-Way Street, Not A One-Way Road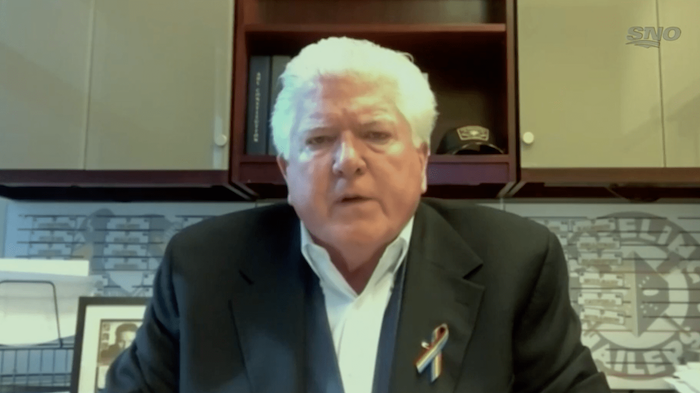 The problem with liberal tolerance in Canada is that it's not particularly liberal and it's certainly not tolerant. For instance, the "everyone must wear an LGBTQ-2 jersey" controversy we highlighted last week. The reverberations from goalie James Reimer declining to wear a San Jose Sharks rainbow jersey have continued all week.
It seems to have escaped many people's tolerance that refusing to march in a parade does not mean you hate the people in the parade. It is to say that you have a different opinion. One your employer can't compel you to abandon. An opinion guaranteed to you by generations of free speech and religious freedom.
It is why we have halal and kosher foods. Live and let live. But the hysteria is not stopping with Reimer. The radical blood hounds have tracked down new targets to mount on their gibbet of 100 percent conformity to Woke causes.
The latest NHLers caught up in this fundamental failure to communicate are the Staal brothers in Florida who followed Reimer's path to say that they haven't and won't wear symbols with which they disagree. Immediately the SJW sports media attacked them. When they said they wouldn't Pride jerseys it was shown by the gotchas ' that they had worn subtle LGBTQ jerseys in the past. As if this makes them hypocrites.
My friend Mark Hebscher asked if the NHL should suspend them. Really? What would Mark say if Edmonton's Zach Hyman, a Jew, declined to wear Muslim symbols on an Islamic Pride night? Would Mark demand Hyman be suspended?
What would he say if secular players in the league declined to wear the cross on their jersey for a Christian appreciation night? Should they be punished as haters? What if a pro sports team has a Mormon appreciation night. Does refusing to wear an LDS badge make people haters?
Of course these examples are moot. There are no progressive DEI laurels for creating political trip wires over Muslims or secularists to advance Woke influence. The only targets that matter here are conservative whites. Sports teams these days would only entertain the most provocative causes to create "a crisis that shouldn't go to waste" (in the words of Saul Alinsky in his Rules for Radicals).
So Brian Burke was imported by Rogers Hockey Night in Canada on Saturday to further whip the herd into 100-percent compliance on Pride jerseys— and to push Rogers corporate bonafides as a Woke organization. Burke has become a fervent LGBTQ-2 spokesman since his son Brendan came out (and was tragically killed in a car crash). Good on him as a parent.
But he's also a high-profile NHL figure, who was, in a major way, responsible for perpetuating the "boys-only" culture in the sport when he handled NHL discipline. He was his usual truculent self on HNIC as he conflated free speech with prejudice. He saw no room for tolerance on anything but the Pride agenda, insisting against all evidence that wearing the Pride jersey isn't a political statement. "I was born and raised a Catholic, I don't see any conflict between my religious beliefs and my ability to say to the LGBTQ+ community 'you're welcome here."
That's not what he's saying, but play along. Host Ron Maclean— with whom we have had our disagreements in the past— did his job, gamely asking why wasn't there a middle ground between hating and enforced 100 percent compliance to the cause? Burke shooed him away.
Naturally, radical social-media trolls pounced, asking for Maclean's scalp for doing his job. There can be no exceptions! Reason is not a long suit for these Maoist shills. They want to be in Pol Pot's Cambodia while their fellow citizens would prefer to remain in what used to be Canada before Justin Trudeau turned it into a postmodern state that stands for everything— and nothing.
The point that needs debate on HNIC is whether a few rich hockey players, who make so much money that they don't have to give a flip, are going to make the league more inclusive by wearing a Pride jersey for one night. Likely not.
As we've contended over decades, the key to acceptance of gays in hockey will be the coming-out of a prominent NHL star(s). They are out there. It wasn't high rhetoric from Brooklyn Dodgers GM Branch Rickey that changed the colour line in baseball. It was Jackie Robinson's forbearance. It wasn't slogans that slowly changed the skin colour of golf. It was Tiger Woods' utter dominance.
It was also the hyper-macho world that Brian Burke nurtured through the years before his son came out — not colourful jerseys— that has repressed gay participation in the NHL. The weeding-out of gay youth in the development process comes from the grass roots. (To his credit a penitent Burke now owns some of this.)
While it is commendable that Burke now supports his son's memory, flailing Christians for refusing to wear Pride jerseys is not the way to achieve understanding. Worshipping symbols is a divisive, not a unifying action that plays into the hands of forces Burke clearly does not acknowledge or understand. Radicals who use terms like white settler and cis-gender-entitlement to baffle the vulnerable. And who will discard him when he's no longer of use to them.
Those would be the people who applaud the current PM and his caucus for having equal numbers of women in their ranks— the same PM who fired his prominent female/ indigenous justice minister for insubordination when the RCMP dug too deep. And the same "feminist" women MPs who stood by silently as Trudeau publicly destroyed one of their own to save himself from RCMP scrutiny. Those are the cowards who back the destruction of free speech.
Churchill was prescient about appeasing today's virtue warriors when he long ago said that appeasers "are like people who feed the crocodile in hopes that the crocodile eats them last." Chomp.Chomp. Their day is coming.
Sign up today for Not The Public Broadcaster newsletters. Hot takes/ cool slants on sports and current affairs. Have the latest columns delivered to your mail box. Tell your friends to join, too. Always provocative, always independent. https://share.hsforms.com/16edbhhC3TTKg6jAaRyP7rActsj5
Bruce Dowbiggin @dowbboy is the editor of Not The Public Broadcaster A two-time winner of the Gemini Award as Canada's top television sports broadcaster, he's a regular contributor to Sirius XM Canada Talks Ch. 167. Inexact Science: The Six Most Compelling Draft Years In NHL History, his new book with his son Evan, was voted the seventh-best professional hockey book of all time by bookauthority.org . His 2004 book Money Players was voted sixth best on the same list, and is available via http://brucedowbigginbooks.ca/book-personalaccount.aspx