Mendicino: foreign-agent registry would need equity lens, could be part of 'tool box'
By Dylan Robertson in Ottawa
Public Safety Minister Marco Mendicino says a registry to track foreign agents operating in Canada can only be implemented in lockstep with diverse communities.
"There is a historical context when it comes to some communities within this country and their relationship with [security] agencies and the law-enforcement community," Mendicino told the House committee on Canada-China relations Monday evening.
"We need agencies to be inclusive, diverse, culturally sensitive."
Two months ago, the Liberals said they will eventually consult the public on the possible creation of a foreign agent registry, to prevent outside interference in Canadian affairs.
But the government has yet to formally launch that consultation.
The United States and Australia have public registries that require people advocating for a foreign state to register their activities, under penalty of fines or jail time.
Mendicino told the committee that Ottawa has to be careful to not isolate communities who have felt under the microscope of security agencies. He also told reporters after his testimony that Ottawa is taking the idea to its own advisory panels before soliciting public input.
"I wouldn't describe it as a hesitation; I think we need to be diligent and thoughtful and inclusive, when it comes to bringing all Canadians along in the modernization of the tools and the arsenal that we create for our national security and intelligence communities," he told the committee.
Mendicino also told MPs a foreign agent registry alone would not drastically alter Canada's ability to detect and confront national-security threats, and would only be launched as part of "a tool box" of other measures.
"While there is attention to looking at each of the examples of tools we might consult on, including the foreign-agent registry, I would discourage the members of this committee from quickly concluding that any one of these in isolation will work by itself," he said.
Conservative public-safety critic Raquel Dancho accused the Liberals of stalling on launching a registry.
"Anything that is stopping it would just be an excuse at this point. I think any government that's operating through legitimate diplomatic relations in Canada should welcome an official registry," she said in an interview between witness testimony.
"That should be sort of the cost of doing business in Canada through diplomatic relations."
Mendicino appeared at the committee based on a request last October from MPs to have senior officials testify on three allegedly illegal police stations operating in the Greater Toronto Area.
Since then, advocates for Chinese democracy have alleged China is running two other police stations in Canada, including one in Vancouver.
RCMP Commissioner Brenda Lucki told MPs that Mounties are only aware of four alleged police stations and that officers have attended the scene in uniforms to gather information and be seen.
She believes that has yielded tips from the public, and noted that at least one of the apparent police stations seemed to have operated in the backroom of a commercial business.
Lucki noted that no one has been charged in connection with these so-called police stations, and suggested the public would be informed if that was the case.
Similarly, Mendicino said the public would be made aware if any diplomats had been ordered to leave Canada in relation to the issue.
Yet NDP foreign-affairs critic Heather McPherson questioned how police are handling tips from communities who allege they're being targeted by foreign countries.
The Edmonton MP said constituents who are Uyghur or originating from Hong Kong have reported being passed between the RCMP, local police and an RCMP-run hotline, and that local police seem unaware how to handle the reports.
"We're hearing a very different story form people who are living in these communities," McPherson said.
More officials will testify Monday night from the Canadian Security Intelligence Service, the RCMP and Public Safety Canada.
The evening meeting follows the appearance of a Chinese balloon that drifted over Canadian territory before it was spotted over the skies of Montana, leading opposition parties to ask why Ottawa didn't alert Canadians earlier.
Last November, the federal Liberals unveiled their Indo-Pacific strategy, which calls for stronger ties with countries other than China to counterbalance Beijing's approach to human rights and trade.
This report by The Canadian Press was first published Feb. 6, 2023.
Premier Smith urges PM Trudeau to talk Ethical Energy Security in meeting with US President Biden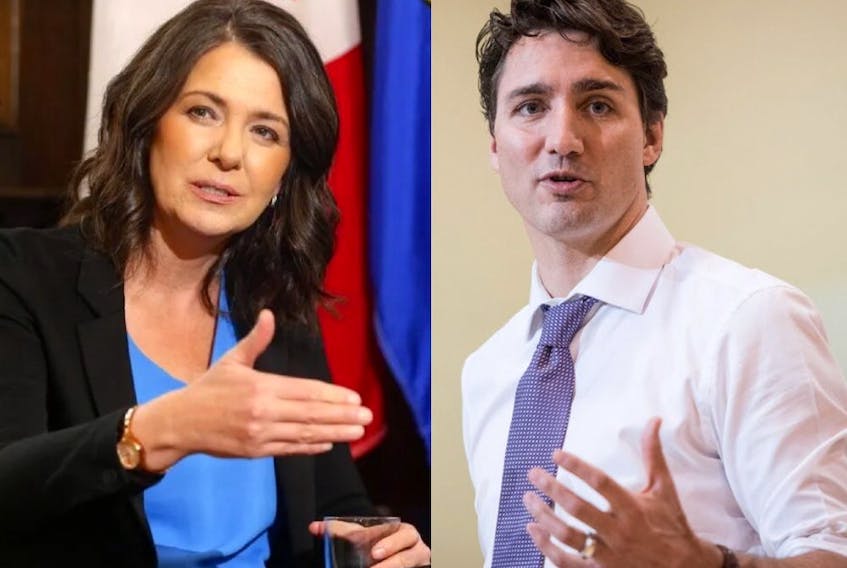 Dear Prime Minister Trudeau:
The arrival of President Joe Biden presents our nation with an opportunity of great significance. It is my request that the federal government uses its platform to focus on collaboration between the U.S. and Canada, highlighting the critical need for North American energy security.
We have a deep, long-standing relationship with the U.S. at both the federal and state levels, which is only growing in importance. In 2022, Alberta surpassed Ontario and Quebec as the largest provincial exporter of goods to the U.S. at $182.5 billion, with energy making up 85 per cent of exports to the United States. Alberta, by far, remains the single largest source of U.S. energy imports.
This economic reality, along with Russia's invasion of Ukraine, has highlighted that North American energy security must be a top priority for the Government of Canada. I urge you to raise the need for better collaboration between Canada and the U.S. to ensure the continued and enhanced supply of sustainable, affordable, and reliable energy to the U.S.
I recommend that the two governments work to fast-track energy projects in the name of economic security for our democratic partners, as committed to by Deputy Prime Minister Chrystia Freeland. A similar effort is needed in critical minerals as the world shifts to lower emitting sources of energy.
Alberta, through both government policy and industry action, is leading the way on reducing emissions and driving the transition to new sources of energy. New investments in the province are global flagships in clean energy and emissions reductions technology. For example, Pennsylvania's Air Products will create a world-scale net-zero hydrogen energy complex in Alberta, and Dow is advancing the world's first net-zero carbon emission integrated polyethylene complex at its existing site near Edmonton. It is also worth noting that Canada's oil sands operators have announced plans to spend $24 billion on emission-reduction projects by 2030 as part of their commitment to reach net zero by 2050. All of this amounts to a herculean effort undertaken by industry partners, and Alberta's government, to position ourselves as the foremost leader in emissions reduction and responsible energy production.
As you know, management of oil and gas methane emissions is one of this country's greatest climate success stories. Collaboration with the U.S. on methane emissions would both advance climate action, and address regulatory inconsistencies between the two countries. As of 2020, methane emissions from the upstream oil and gas sector in Western Canada have decreased by around 44 per cent from the 2014 baseline – ahead of our schedule of 45 percent by 2025. More evidence of Canada, and Alberta, leading the way.
Alberta is home to vast geological potential, an experienced, skilled, workforce, and has the necessary processing and transportation infrastructure in place to support a growing critical minerals sector. For example, technological advances to extract minerals from underground brine solutions are found throughout Alberta. These extraction technologies could result in a low emission, sustainable source of lithium to meet the demand of our emerging battery value-chain. We would encourage your government to work with the provinces, especially Alberta, on critical minerals and seize the opportunity to collaborate with the U.S. on enhancing North American supply chains.
As the owners and stewards of our world-class natural resources, any discussions involving energy security, natural resources, and trade must fully involve the provinces. I would be pleased to help assist you, and the federal government in advancing the work on North American energy security as well as developing the business cases to increase exports of clean Alberta energy, critical minerals and technologies to the U.S. As is only appropriate when discussing natural resources, and areas of exclusive provincial jurisdiction, I would also request that Premiers be invited to participate in a meeting with the President and his delegation.
I look forward to your response and welcome an opportunity to collaborate. We both agree that the world needs more Canada. It's imperative that in a time of such uncertainty, and unaffordability, that Alberta, and Canada profile ourselves as the preferred supplier of responsibly produced, ethical energy to the U.S., North America, and the world.
Surgery wait times for cancer, joint replacement patients still lagging amid backlog
A surgery is performed in the operating room at Toronto's Hospital for Sick Children on Wednesday, November 30, 2022. THE CANADIAN PRESS/Chris Young
By Nicole Ireland
Hospitals across Canada are performing surgeries at close to pre-pandemic levels, but many patients continue to face longer-than-recommended wait times due to the backlog created by COVID-19, a new report from the Canadian Institute for Health Information says.
The report, published on Thursday, looked at knee and hip replacements, cataract surgeries and cancer surgeries performed in 2019 versus those performed in 2022.
Thousands of joint replacement and cataract surgeries were cancelled or delayed when COVID-19 hit.
"Things like knee and hip replacements and cataracts are what we call scheduled surgeries and they were particularly affected during the pandemic because they're not life-threatening," said Tracy Johnson, director of health system analytics at CIHI.
"They are very uncomfortable for patients. They cause them more pain. They might even have economic pain. But those are the kinds of things that had to be delayed, especially in the first part of the pandemic when we didn't know what kind of COVID stuff was going to come at us," Johnson said.
Those delays created a backlog of surgical procedures that health-care providers still haven't been able to catch up on.
"The most recent data shows that while the monthly number of scheduled surgeries is nearing pre-pandemic levels, this is insufficient to clear the backlog and improve wait times," the CIHI report said.
"It also shows that catching up has been more challenging for joint replacement surgeries, which are primarily performed in hospital operating rooms, than for cataract surgeries, which can be done in day procedure rooms or community clinics."
The longest recommended wait time for knee and hip replacements is six months.
Only half of Canadian patients got their knee replacement surgery within that time frame between April and September 2022, the researchers found. Prior to the pandemic, about 70 per cent of knee replacements were done within the recommended period.
About 57 per cent of hip replacement patients had their surgery in the recommended six-month window in 2022 compared to 75 per cent of patients in 2019.
Cancer surgery wait times haven't been as dramatically affected because the most urgent cases were prioritized during COVID-19 shutdowns, said Johnson.
Still, during the first several months of the pandemic, there were about 20 per cent fewer cancer procedures performed than before. Those delays and cancellations created the initial backlog, the report said.
Half of patients needing breast, bladder, colorectal and lung cancer surgery waited one to three days longer between April and September 2022 compared to before the pandemic, it said. For patients with prostate cancer, that average wait time jumped to 12 days longer.
Andrea Seale, CEO of the Canadian Cancer Society, said it's critical for the health-care system to reduce those wait times.
"A day or two might not sound like a lot but it truly is when it comes to cancer because it's just a disease that cannot wait," she said.
In a survey of 700 patients and caregivers conducted by the Canadian Cancer Society in November, about a quarter of respondents reported they are still experiencing cancelled or postponed appointments, Seale said.
"Any delay is extremely distressing to people who are facing cancer."
For cataract surgery, the recommended maximum wait time is 112 days. Although two-thirds of Canadian patients, on average, are getting their surgery within that time frame — the same proportion as before the pandemic — there is "considerable variation" across the provinces, the CIHI report said.
More patients in Newfoundland and Labrador, Quebec and Ontario are waiting longer for cataract surgery, while a higher proportion of patients in B.C., Alberta, Manitoba and P.E.I. are getting their cataract procedures within the recommended 112 days.
Dr. Thomas Forbes, surgeon-in-chief at University Health Network in Toronto, said the CIHI report is "valuable" as it highlights patients most affected by surgical backlogs.
"It is really an all-hands-on-deck effort at our hospital and at, I suspect, all other hospitals," he said.
Forbes agreed with the report's findings that hospitals have to do even more surgeries than they did before the pandemic to catch up, noting that an aging population increases the demand even more.
UHN has expanded its operating room capacity between 110 and 120 per cent compared to before the pandemic, he said.
That means extending operating room hours during the week, as well as scheduling surgeries on weekends, which had previously been limited to emergencies only.
UHN has also reopened old operating rooms that had been decommissioned, Forbes said.
"Everything is on the table," he said, including the possibility of transferring patients to a different physician who has a shorter waiting list.
The current staffing shortage, particularly among nurses, is another issue that has to be resolved for hospitals to be able to catch up, Johnson from CIHI said.
"You have a list of people who need surgeries, but you also need people to be able to either perform the surgeries or care for those people post-op," she said.
This report by The Canadian Press was first published March 23, 2023.
Canadian Press health coverage receives support through a partnership with the Canadian Medical Association. CP is solely responsible for this content.