Memphis braces for release of video in Tyre Nichols' arrest
By Adrian Sainz in Memphis
MEMPHIS, Tenn. (AP) — The city of Memphis and the nation on Friday awaited the release of a police video depicting five officers viciously beating Tyre Nichols, a Black man whose death prompted murder charges against the cops and outrage at the country's latest instance of police brutality.
The officers were charged Thursday with murder and other crimes in the killing of Nichols, a motorist who died three days after a confrontation with the officers during a traffic stop.
Shelby County District Attorney Steve Mulroy told a news conference that although the officers each played different rolesin the killing, "they are all responsible."
The officers, who are all Black, each face charges of second-degree murder, aggravated assault, aggravated kidnapping, official misconduct and official oppression.
Nichols' family members and their lawyers said the footage shows officers savagely beating the 29-year-old FedEx worker for three minutes in an assault that the legal team likened to the infamous 1991 police beating of Los Angeles motorist Rodney King. His family urged supporters to protest peacefully.
Memphis Police Director Cerelyn Davis said she expected protests after the release of video showing officers' actions, which she described as "heinous, reckless and inhumane," but she also urged the community to remain peaceful.
"I expect our citizens to exercise their First Amendment right to protest, to demand actions and results, but we need to ensure our community is safe in this process," she said. "None of this is a calling card for inciting violence or destruction on our community or against our citizens."
Davis said Friday that her department has been unable to substantiate the reckless driving allegation that prompted the stop.
"As far as I know today, I do believe that the stop itself was very questionable," she told Good Morning America.
Video of the Jan. 7 traffic stop will be released to the public sometime Friday evening, Mulroy said, noting that local and state investigators wanted to complete as many interviews as possible before releasing it.
Davis told GMA that the decision to release the video on Friday evening rather than earlier in the day had been made after consulting with other local leaders, who believe it's best to do it when schools are out and people are home from work.
As a precaution, Memphis area schools canceled all after-class activities and postponed a school event scheduled for Saturday morning.
Nichols' stepfather, Rodney Wells, told The Associated Press by phone that he and his wife, RowVaughn Wells, who is Nichols' mother, discussed the second-degree murder charges and are "fine with it." They had sought first-degree murder charges.
"There's other charges, so I'm all right with that," he said.
The Wellses were joined by several dozen supporters on a cold Thursday night for a candlelight vigil and prayer service at a Memphis skate park. Nichols, who had a 4-year-old son, was an avid skateboarder.
RowVaughn Wells, who said her family is "grief-stricken," warned supporters of the "horrific" nature of the video set to be released Friday, but like Davis, pleaded for peaceful protests.
"I don't want us burning up our city, tearing up the streets, because that's not what my son stood for," she said. "If you guys are here for me and Tyre, then you will protest peacefully."
Activists and clergy led the group in prayer and a drummer played a steady rhythm to lead into the spoken part of the vigil. Afterward, skaters rode their boards as the Wellses watched.
Court records showed that all five former officers — Tadarrius Bean, Demetrius Haley, Desmond Mills Jr., Emmitt Martin III and Justin Smith — were taken into custody.
Martin's lawyer, William Massey, confirmed that his client had turned himself in. He and Mills' lawyer, Blake Ballin, said their clients would plead not guilty. Lawyers for Smith, Bean and Haley could not be reached.
"No one out there that night intended for Tyre Nichols to die," Massey said.
Both lawyers said they had not seen the video.
"We are in the dark about many things, just like the general public is," Ballin said.
Second-degree murder is punishable by 15 to 60 years in prison under Tennessee law.
The attorneys for Nichols' family, Ben Crump and Antonio Romanucci, issued a statement saying that Nichols "lost his life in a particularly disgusting manner that points to the desperate need for change and reform to ensure this violence stops occurring during low-threat procedures, like in this case, a traffic stop."
At the White House, President Joe Biden said the Nichols family and the city of Memphis deserve "a swift, full and transparent investigation."
"Public trust is the foundation of public safety, and there are still too many places in America today where the bonds of trust are frayed or broken," Biden said in a statement.
Davis said other officers are still being investigated for violating department policy. In addition, she said "a complete and independent review" will be conducted of the department's specialized units, without providing further details.
Two fire department workers were also removed from duty over the Nichols' arrest.
As state and federal investigations continue, Davis promised the police department's "full and complete cooperation" to determine what contributed to Nichols' Jan. 10 death.
Crump said the video showed that Nichols was shocked, pepper-sprayed and restrained when he was pulled over near his home. He was returning home from a suburban park where he had taken photos of the sunset.
Police have said Nichols was stopped for reckless driving and at some point fled from the scene.
Relatives have accused the police of causing Nichols to have a heart attack and kidney failure. Authorities have only said Nichols experienced a medical emergency.
One of the officers, Haley, was accused previously of using excessive force. He was named as a defendant in a 2016 federal civil rights lawsuit while employed by the Shelby County Division of Corrections.
The claims were ultimately dismissed after a judge ruled that Sledge had failed to file a grievance against the officers within 30 days of the incident.
___
Associated Press reporters Aaron Morrison in New York, Travis Loller in Nashville and Rebecca Reynolds in Lexington, Kentucky, contributed to this report.
Police investigating how shooter got firearm after autopsy and balistic analysis
News release from the Edmonton Police Service
Autopsy on shooter, ballistic analysis complete in line of duty deaths
An autopsy on the shooter and ballistic analysis of the firearm have been completed in the Mar. 16, 2023 EPS line of duty deaths.
The Edmonton Medical Examiner conducted an autopsy on Mar. 22, 2023, and confirmed that the 16-year-old male shooter's cause of death was a single gunshot wound to the head consistent with being self-inflicted.
"We recognize that there is intense public interest in this investigation," says EPS Deputy Chief Devin Laforce. "At this time, our priorities need to be the integrity of ongoing investigations, including the origin of the firearm, as well as the safety and privacy of all the families affected by this tragedy. For these reasons, we are not releasing or confirming the name of the deceased."
A bullet casing recovered from the scene of a Mar. 12, 2023 shooting at a nearby restaurant in the area of 133 Street and 114 Avenue has been forensically matched to the firearm that was recovered at the 132 Street and 114 Avenue apartment, where Constable Brett Ryan and Constable Travis Jordan were fatally shot on Mar. 16, 2023.
Investigators believe the suspect in the Mar. 12 shooting to be the same 16-year-old male responsible for the deaths of the two EPS members, although this has yet to be confirmed. Detectives are also working to trace the origins of the firearm and how it came to be in the youth's possession.
At this time, investigators continue to believe that the youth's parents, police dispatch and Constables Ryan and Jordan had no information to suggest there was a firearm in the home when the family dispute call for service was made on Mar. 16.
"Both events have been served by robust investigations that have followed all lines of inquiry," says Deputy Chief Devin Laforce. "All tips and other investigative avenues were pursued exhaustively by the investigating teams."
The male shot on Mar. 12 in the restaurant remains in hospital in critical but stable condition, and the youth's mother who was shot on Mar. 16 remains in hospital in serious but stable condition.
Search of four Edmonton homes results in Cocaine and Meth bust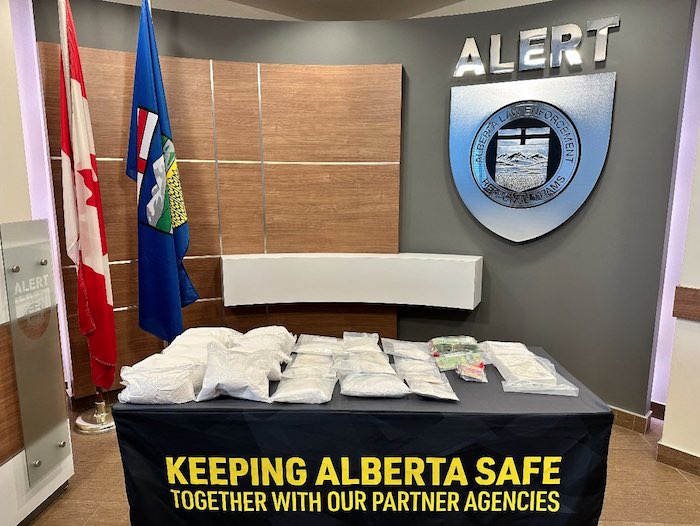 News release from the Alberta Law Enforcement Response Team (ALERT)
Cocaine seized after four Edmonton homes searched
More than two kilograms of cocaine, cash, and four vehicles have been seized following an ALERT Edmonton investigation into cocaine trafficking.
The investigation began in October 2022. Police were able to identify four homes and four vehicles linked to the drug trafficking operation.
"Through the course of this five-month investigation, officers were able to identify several suspects, and seized several pieces of equipment which were being used to produce large, commercial-sized quantities of product. This tells us that this was a much bigger, sophisticated operation," said Sgt. Jeff Woodliffe, ALERT Edmonton.
On February 23, 2023, police searched four homes and seized the following items as evidence:
2.6 kgs of cocaine;
28 grams of methamphetamine;
10 kgs of a cocaine buffing agent; and
$11,000 in cash.
The investigation remains ongoing as investigators prepare reports and disclosure for Crown Counsel.
The Edmonton Police Service assisted throughout the investigation.
Members of the public who suspect drug or gang activity in their community can call local police, or contact Crime Stoppers at 1-800-222-TIPS (8477). Crime Stoppers is always anonymous.
ALERT was established and is funded by the Alberta Government and is a compilation of the province's most sophisticated law enforcement resources committed to tackling serious and organized crime.