McDavid scores in OT, Oilers down Flames to advance to Western Conference final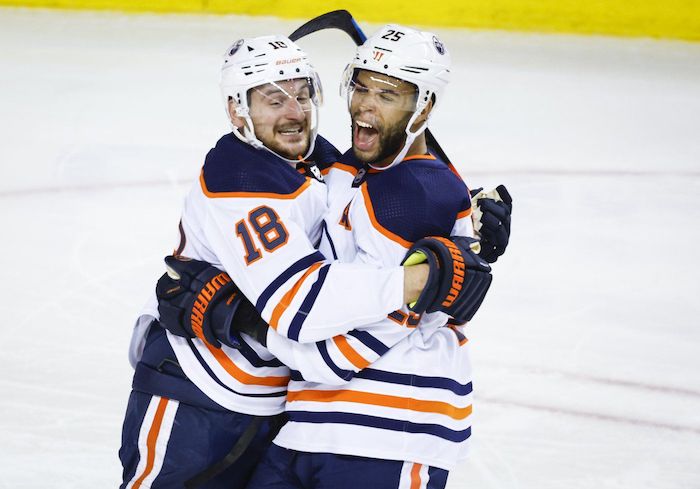 By Joshua Clipperton in Calgary
The Edmonton Oilers are off to the Western Conference final.
Connor McDavid scored at 5:03 of overtime as the Oilers defeated the Calgary Flames 5-4 on Thursday to win their second-round playoff series 4-1.
The Edmonton captain fired his seventh goal of the post-season past Jacob Markstrom off a pass from Leon Draisaitl to send the Oilers spilling over the bench in celebration.
Zach Hyman, with a goal and two assists, Darnell Nurse, Jesse Puljujarvi and Evan Bouchard also scored for the Oilers. Mike Smith made 32 saves as Edmonton claimed the first post-season Battle of Alberta in 31 years.
Draisaitl added four assists — his fifth straight contest registering three-plus points to build on the NHL playoff record he set in Game 4.
McDavid and Draisaitl have both amassed 26 points to lead the playoffs so far.
The Oilers will face either the Colorado Avalanche or St. Louis Blues in their first conference final appearance since 2006. Colorado leads that series 3-2, with Game 6 set for Friday in St. Louis.
Mikael Backlund, with a goal and an assist, Johnny Gaudreau, Calle Jarnkrok and Andrew Mangiapane replied for Calgary. Blake Coleman added two assists, while Jacob Markstrom made 30 saves as the Flames dropped to 0-10 when trailing a playoff series 3-1.
Coleman, who won the Cup the last two seasons with the Tampa Bay Lightning, appeared to snap a 4-4 tie with just under six minutes left in regulation after Backlund took the puck hard to Edmonton's net. But the goal was waved off following a video review after it was ruled the winger kicked the puck over Smith's goal line with his skate as he battled with Oilers defenceman Cody Ceci.
With his team trailing 1-0 after a tentative first period, Edmonton interim head coach Jay Woodcroft double-shifted Draisaitl and McDavid early in the second, and it nearly paid off on a couple of good opportunities.
But the Flames, who topped the Oilers by seven points in the regular season to claim the Pacific Division crown, went up 2-0 at 5:41 when Backlund scored his fifth on a slick deflection.
The Oilers got on the board at 7:40 after Draisaitl protected the puck against Backlund before finding Nurse in the slot for him to fire his second past a screened Markstrom.
Edmonton tied it up just 2:26 later on a 3-on-1 rush when Markstrom could only get a piece of Hyman's shot before Puljujarvi swept home his second as the Oilers erased another multi-goal deficit on the road.
The offensive floodgates then really opened over a wild stretch that would see four pucks find the back of the net in 71 seconds.
Hyman scored his sixth goal of the series, and eighth of the post-season, on a power play at 14:57 before Gaudreau tied things again at 3-3 at 15:12 with his third.
Jarnkrok then scored his first as a member of the Flames since coming over in a trade with the Seattle Kraken at 15:28 to make it 4-3.
But the Oilers responded again at 16:08 when Bouchard's blast beat Markstrom for his second as the teams set an NHL record for the fastest four goals in playoff history — 22 seconds faster than the previous mark set by the Philadelphia Flyers and Toronto Maple Leafs in 1976.
Following a tepid start for both teams inside a nervous Scotiabank Saddledome, the Flames nudged in front at 10:13 of the first when Mangiapane took a terrific pass from Coleman to bury his third goal of the playoffs.
The winger's first point of the series gave his team its first lead since late in the second period of Game 2 — a stretch of exactly 155 minutes — that started a run of three straight losses to push Calgary to the brink of elimination.
One of three finalists for the Vezina Trophy as the league's top goalie in the regular season, Markstrom entered Thursday with an .850 save percentage in the series after posting a .943 mark in Calgary's seven-game victory over the Dallas Stars in the opening round.
After the Oilers, who beat the Los Angeles Kings 4-3 to set up the matchup with their provincial rival, killed off a McDavid high-sticking penalty, the Flames goaltender had to scramble to keep the Edmonton captain's dash to the net at bay with the puck briefly lying free in Calgary's crease.
This report by The Canadian Press was first published May 26, 2022.
___
Follow @JClipperton_CP on Twitter.
Elks down Tiger-Cats 29-25 for first win of CFL season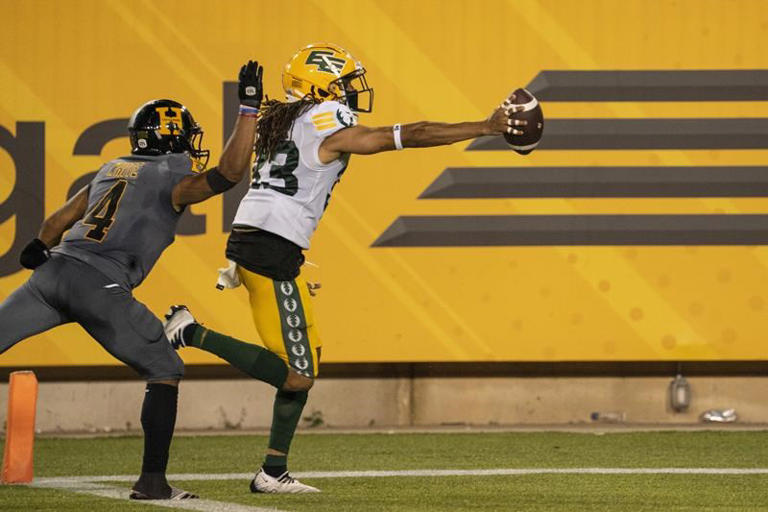 HAMILTON — Tre Ford was in his happy place Friday in Hamilton.
The Edmonton Elks quarterback got a win in his first career CFL start 30 minutes down the Queen Elizabeth Highway from his hometown of Niagara Falls, Ont.
The Elks came from behind to beat the Tiger-Cats 29-25 in front of 20,233 at Tim Hortons Field.
"To come back to Hamilton and have all my family watching me get that first start and that first win has been fantastic," Ford said.
Among Ford's supporters were his wife, parents, sister, sister-in-law and mother-in-law, his high school football coach from A.N. Myer Secondary, his University of Waterloo head coach Chris Bertoia, eight of his former university teammates and more friends.
Ford was shaky at times as the Elks trailed by 13 points early in the second half.
But the 2021 winner of the Hec Crighton Trophy winner that goes to the most outstanding Canadian university football player threw a game-tying touchdown pass to Kenny Lawler early in the fourth quarter.
The winning play for the Elks (1-3) arrived with 1:38 remaining when defensive back Scott Hutter tackled Hamilton quarterback Dane Evans and knocked the ball loose.
Jalen Collins recovered for a 14-yard touchdown.
"I saw him tackle him and thought, 'please punch the ball out," Collins said. "All we needed was an opportunity to close the game out. We were fighting all night. It was ugly."
The winless Tiger-Cats opened a season with four straight losses for the first time since 2017 when they started 0-8.
"I want to apologize to all the guys. I put both home losses on me," Evans said. "I just have to take care of it, and we win the game."
Evans was 20-for-31 in passing for 197 yards and a touchdown throw. He was intercepted twice.
Ford's numbers didn't sparkle, although he did rush for 61 yards on six carries. The 24-year-old competed 15 of 26 passes for 159 yards and a touchdown. He was intercepted once.
Edmonton's defence helped out with interceptions by Sheldon Brady and Matthew Thomas, as well as the pivotal late-game recovered fumble by Collins.
"A big shout out to the defence," Ford said. "They won us that game. They made what, three or four turnovers? They did super well.
"I have room for improvement. I'm not going to complain because we did win. But I'm going to hit the film room to see what I can critique and where I can get better."
Hamilton went after the rookie with various blitzes in the first half.
"My legs are going to open things up for my arm," Ford said.
Ford credited teammate and quarterback Nick Arbuckle, who started in Edmonton's three losses this season, for advising him during the game on defensive reads.
"He's been like that since day one, even though we're competitors for the position," Ford said.
He admitted to early jitters as Hamilton led 16-6 after the first quarter and 19-9 at halftime.
"I always get nervous for the first play of every game," Ford said. "I think it's a good thing because it means I care and that I want to win."
Evans hit Steven Dunbar for a 21-yard strike, and Lawrence Woods returned a kickoff of 72 yards for Hamilton's first-half touchdowns.
Edmonton's Kai Locksley scored on a one-yard plunge.
Elks kicker Sergio Castillo made two of his three field-goal attempts, while Hamilton counterpart Michael Domagala nailed his three and gave the Ticats at lead with a 33-yarder with 3:10 remaining in the game
"We're not good enough right now," Hamilton head coach Orlondo Steinauer said. "We're not executing at the level which needs to happen. We're just not making those plays we need to make."
This report by The Canadian Press was first published July 1, 2022.
Tim Wharnsby, The Canadian Press
Calgary Stampede receives $10M from federal government to aid recovery from pandemic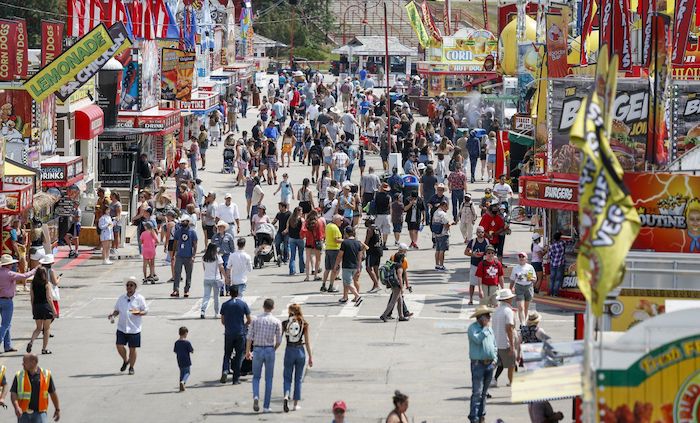 Calgary – The Calgary Stampede has received more than $10 million from the federal government to help it bounce back after last year's event was scaled down due to the COVID-19 pandemic.
A report to the city this week showed the Stampede had an operating loss of $8.3 million in 2021.
Last year's Stampede ran at half capacity because of COVID-19 public health measures and was cancelled all-together the year before.
Daniel Vandal, the federal minister for Prairies Economic Development Canada, says the money aims to support a full-scale Stampede to deliver the "authentic western experience" this year.
He says it would also help to reignite Alberta's visitor economy.
The 2022 Stampede is set to run from July 8 to 17.
"Festivals large and small were hard hit during the pandemic," Vandal said in a news release. "They are events where families and friends come together and take in the exciting atmosphere.
"The tourism industry is facing a strong comeback providing quality jobs across the country, showcasing stunning landscapes and offering exciting experiences right here in Alberta."
The federal government also provided about $1.8 million for four other tourism projects in southern Alberta: Charmed Resorts, Cochrane Tourism Association, Heritage Park and Tourism Calgary.
This report by The Canadian Press was first published June 30, 2022.