Mass shooting inquiry: Two senior Mounties exempted from cross-examination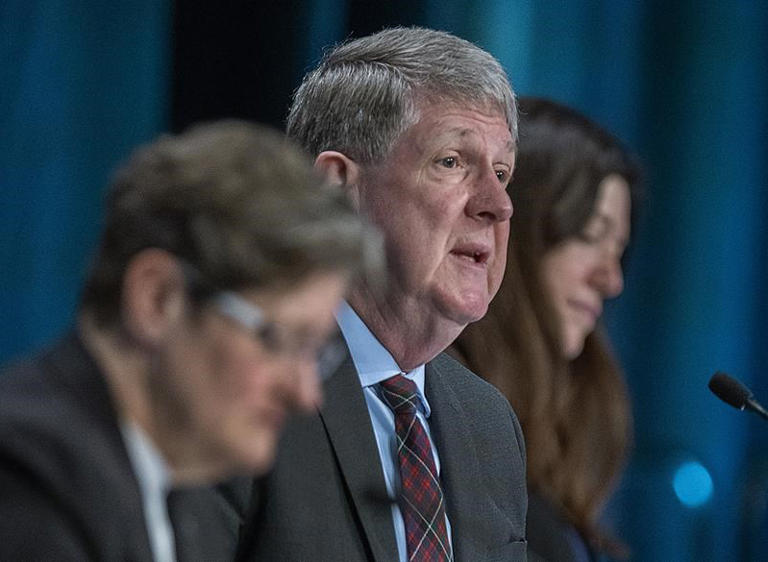 HALIFAX — Two lawyers are criticizing a decision Tuesday to allow senior RCMP witnesses to avoid cross-examination before the inquiry investigating the 2020 mass shooting in Nova Scotia.
The lawyers, Tara Miller and Josh Bryson, represent relatives of some of the victims gunned down by a killer disguised as a Mountie and driving a replica RCMP cruiser on April 18-19, 2020.
The federal-provincial commission of inquiry has agreed to provide special accommodations for three senior Mounties when they testify about command decisions they made as the tragedy unfolded.
Two of the Mounties, Staff Sgt. Brian Rehill and Sgt. Andy O'Brien, will face questions from commission counsel via Zoom calls that will be recorded and broadcast at a later date. Participants and lawyers who wish to observe their testimony must remain off screen with their microphones muted while each Mountie is speaking.
No reasons were given for the special arrangements as this information is considered private information that typically deals with physical or psychological health needs, the commission said.
Miller said she disagrees with the decision not to allow direct cross-examination.
"It will erode trust in this process and the evidence that will come out of it for these key witnesses," said Miller, who represents a relative of Kristen Beaton, a nurse and pregnant mother who was fatally shot while sitting in her car in Debert, N.S., on April 19, 2020.
Last week, the Nova Scotia RCMP issued a statement saying the inquiry would be violating its own rules if Mounties who endured trauma were called to testify without some form of accommodation. The inquiry's mandate calls for it to adopt a trauma-informed approach.
Bryson said he could have cross-examined Rehill and O'Brien without causing trauma. "I'm very disappointed in the ruling by the commissioners to be removing our meaningful participation in the evidence of these two key participants in this inquiry," he said.
He said Rehill is the "most integral witness to this inquiry," as he was the first critical incident commander to oversee officers dispatched to Portapique, N.S., where 13 people were killed on the night of April 18, 2020.
Rehill was the RCMP's risk manager at its Operational Communications Centre in nearby Truro, N.S. When the centre received 911 calls confirming an active shooter was on the loose, Rehill immediately assumed command.
"He (Rehill) made the key decisions," Bryson said in an interview Tuesday, adding that the senior Mountie should face questions about what he did to contain the killer on the first night.
As well, Bryson said Rehill should be asked about why there was confusion over who was in charge, given the fact that O'Brien and another Mountie — Staff Sgt. Al Carroll — were also issuing orders over the police radio that night. Though he was off duty and had consumed four alcoholic drinks, O'Brien retrieved his portable radio from the detachment — with the help of his wife — and joined in offering direction to responding officers.
According to the commission, participating lawyers such as Bryson and Miller will be asked to provide questions for Rehill and O'Brien by Thursday at 4 p.m. The commission's lawyers will then plan their questioning, which is expected to take place on Monday and Tuesday, beginning with Rehill.
Once that round of questioning is completed, participating lawyers will be asked if they have any further questions.
Meanwhile, Carroll — former district commander for Colchester County — is expected to testify Thursday via a live Zoom call. He will be provided with breaks during his appearance, the commission said Tuesday. He could face direct cross-examination.
The National Police Federation and the federal Department of Justice had requested that O'Brien and Rehill provide their information by sworn affidavit and that Carroll testify in person with questions asked only by commission counsel.
The commission confirmed Tuesday it received a total of six requests for accommodations. One request was rejected and the commission agreed that two other witnesses could testify as part of a panel. Those witnesses were not named.
"Accommodations are intended to ensure that the commission receives the best information possible from witnesses," the commission said in a statement. "Since witness accommodation requests involve sensitive personal health information, the commission will not share any specific individual private information about these requests."
On April 27, the commissioner leading the inquiry, Michael MacDonald, issued a decision saying RCMP Const. Vicki Colford could provide a written affidavit instead of testifying in person.
This report by The Canadian Press was first published May 24, 2022.
Michael MacDonald and Michael Tutton, The Canadian Press
New report details missed chances to stop Uvalde shooting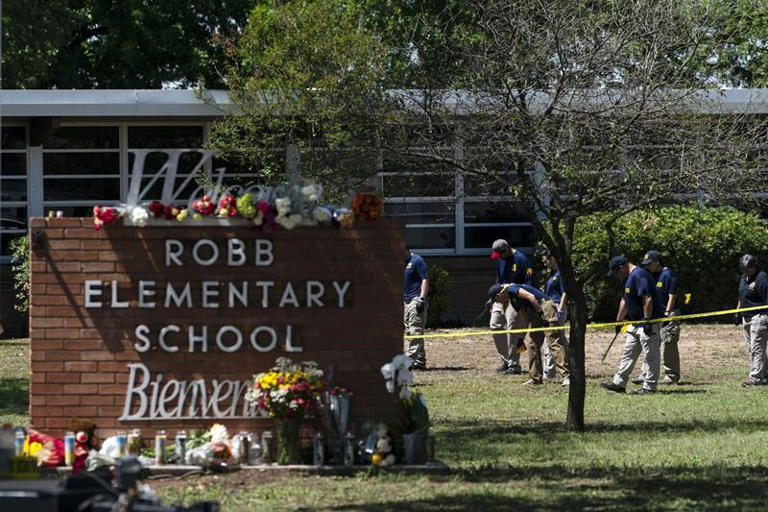 AUSTIN, Texas (AP) — A police officer armed with a rifle watched the gunman in the Uvalde elementary school massacre walk toward the campus but did not fire while waiting for permission from a supervisor to shoot, according to a sweeping critique released Wednesday on the tactical response to the May tragedy.
Some of the 21 victims at Robb Elementary School, including 19 children, possibly "could have been saved" on May 24 had they received medical attention sooner while police waited more than an hour before breaching the fourth-grade classroom, a review by a training center at Texas State University for active shooter situations found.
The report is yet another damning assessment of how police failed to act on opportunities that might have saved lives in what became the deadliest school shooting in the U.S. since the slaughter at Sandy Hook Elementary School in 2012.
"A reasonable officer would have considered this an active situation and devised a plan to address the suspect," read the report published by the university's Advanced Law Enforcement Rapid Response Training program.
Authors of the 26-page report said their findings were based off video taken from the school, police body cameras, testimony from officers on the scene and statements from investigators. Among their findings:
— It appeared that no officer waiting in the hallway during the shooting ever tested to see if the door to the classroom was locked. The head of Texas' state police agency has also faulted officers on the scene for not checking the doors.
— The officers had "weapons (including rifles), body armor (which may or may not have been rated to stop rifle rounds), training, and backup. The victims in the classrooms had none of these things."
— When officers finally entered the classroom at 12:50 p.m. — more than an hour after the shooting began — they were no better equipped to confront the gunman than they had been up to that point.
—"Effective incident command" never appears to have been established among the multiple law enforcement agencies that responded to the shooting.
The gunman, an 18-year-old with an AR-15-style semi-automatic rifle, entered the building at 11:33 a.m. Before that a Uvalde police officer, who the report did not identify, saw the gunman carrying a rife toward the west hall entrance. The officer asked a supervisor for permission to open fire, but the supervisor "either did not hear or responded too late," the report said.
When the officer turned back toward the gunman, he already gone inside "unabated," according to the report.
The report is one of multiple fact-finding reviews launched in the aftermath of the worst school shooting in Texas history. A committee formed by Texas legislators has also interviewed more than 20 people, including officers who were on the scene, behind closed doors for several weeks. It is unclear when they will release their findings.
It follows testimony last month in which Col. Steven McCraw, director of the Texas Department of Public Safety, told the state Senate that the police response was an "abject failure." He pinned particular blame on Chief Pete Arredondo, saying that as on-scene commander the Uvalde schools police chief made "terrible decisions" and stopped officers from confronting the gunman earlier.
Arredondo has tried to defend his actions, telling the Texas Tribune that he didn't consider himself the commander in charge of operations and that he assumed someone else had taken control of the law enforcement response. He said he didn't have his police and campus radios but that he used his cellphone to call for tactical gear, a sniper and the classroom keys.
According to he report released Wednesday, Arredondo and another Uvalde police officer spent 13 minutes in the school hallway during the shooting discussing tactical options, whether to use snipers and how to get into the classroom windows.
"They also discussed who has the keys, testing keys, the probability of the door being locked, and if kids and teachers are dying or dead," the report read.
McCraw said police had enough officers and firepower on the scene of the Uvalde school massacre to have stopped the gunman three minutes after he entered the building, and they would have found the door to the classroom where he was holed up unlocked if they had bothered to check it.
A lawyer for Arredondo and a spokeswoman for the Uvalde city police department did not immediately respond to requests for comment. Arredondo is on leave from his job with the Uvalde Consolidated Independent School District and resigned from his position as a city councilor last week.
Public leaders, including Texas Gov. Greg Abbott, initially praised the police response in Uvalde. Abbott said officers reacted quickly and ran toward the gunfire with "amazing courage" to take out the killer, thereby saving lives. He later said he was misled. In the days and weeks after the shooting, authorities gave conflicting and incorrect accounts of what happened. The fallout has driven recriminations and rifts between local at state authorities. On Tuesday, Uvalde Mayor Don McLaughlin and state Sen. Roland Gutierrez released a letter asking Abbott to move administration of a victims relief fund from the local prosecutor's office to the Texas Department of Emergency Management. They wrote that they've received numerous complaints about District Attorney Christina Mitchell Busbee, "including the failure to timely deliver victim's compensation resources to those in need.″
Busbee's office declined to comment Wednesday.
___
Bleiberg reported from Dallas.
___
Find more AP coverage of the Uvalde school shooting: https://apnews.com/hub/uvalde-school-shooting
Paul J. Weber And Jake Bleiberg, The Associated Press
In the midst of chaotic shooting, strangers save a young boy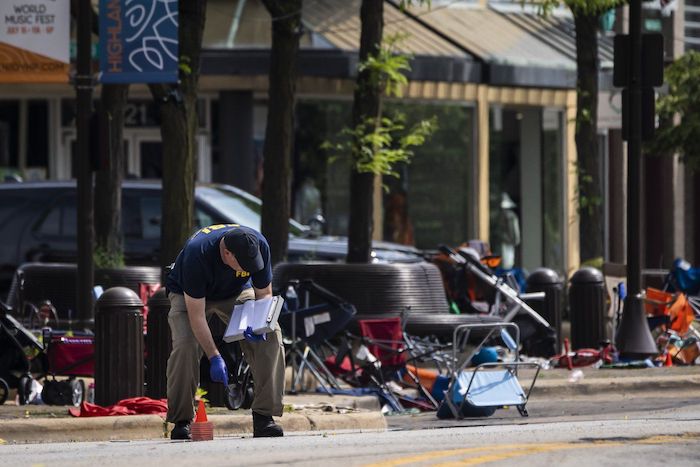 By Martha Irvine in Chicago
CHICAGO (AP) — A woman — stunned and speechless in the chaos of a July 4 parade massacre — walked up to Greg Ring and handed him a 2-year-old boy, covered in blood.
Ring had fled the scene in the Chicago suburb of Highland Park with his wife and three children to an area behind a popular pancake house.
"We kind of met eyes and didn't say anything…. I put my arms out, and she gave him to me," Ring said Thursday, when describing the exchange with the unidentified woman, who then laid down in front of their car in shock.
The boy pointed in the direction of the parade route, saying "Mommy, Daddy, Mommy, Daddy."
Ring's wish to help the boy carried him back to the scene. He tucked the boy's face in his chest, so he couldn't see the carnage. But Ring quickly realized it was too dangerous.
"Active shooter! Get back down!" a police officer shouted. Ring fled again.
He and his family got to their car and took the boy to a Highland Park fire station. "I have a boy. He's not ours," he told the department staff, who asked him to keep the boy as authorities searched for the shooter and helped the wounded.
"They were getting ready for war," Ring said.
The family drove to Ring's in-laws, where they hunkered down. There, the boy sat with Ring's 4-year-old, watching a Mickey Mouse show.
"He asked my wife to wipe him off because he had blood on him that wasn't his," said Ring, an insurance broker from Highland Park.
They were later able to identify the boy and reunite him with his grandparents.
Aiden McCarthy's parents, Kevin and Irina, both died in the shooting, which left five others dead and more than two dozen wounded.
Friends of the McCarthys said Irina's parents would care for the boy going forward.
"Aiden … will have a long road ahead to heal, find stability, and ultimately navigate life as an orphan. He is surrounded by a community of friends and extended family that will embrace him with love, and any means available to ensure he has everything he needs as he grows," Irina Colon, a family friend, wrote on a GoFundMe account she created for the family and Aiden. The account has raised more than $2 million.
On Thursday, Ring was still trying to process what happened at the July 4 parade. He said he's not a hero and just did what anyone would have done in the situation.
"I'm just filled with immense gratitude. I'm really sad. I don't know, I don't know how I feel. I have not slept for a minute the last two nights," he said.
"What could've happened — it is nothing short of a miracle that the five of us — me, my wife and my three kids — one of us or all of us isn't dead. I do not understand. Everybody around us was hit or got shot."
Four of others who were killed were identified Tuesday as Katherine Goldstein, 64; Jacquelyn Sundheim, 63; Stephen Straus, 88; and Nicolas Toledo-Zaragoza, 78, and Eduardo Uvaldo, 69.