Mass Saskatchewan stabbing shows gap in how suspect with arrest warrant was at large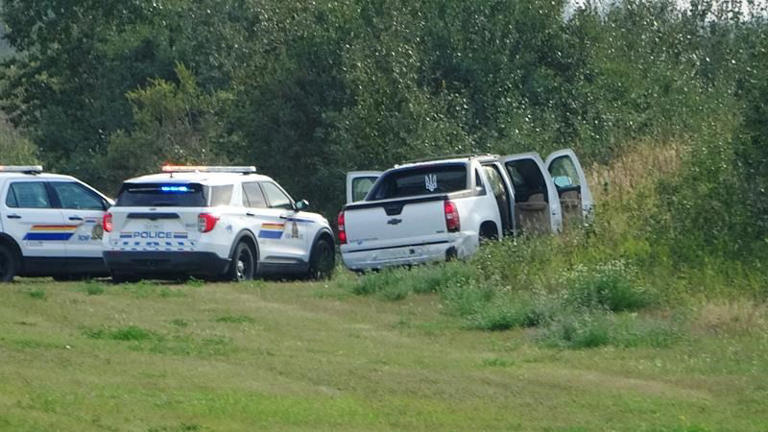 OTTAWA — In late May, a parole officer issued an arrest warrant for an offender with a violent criminal past who had recently been released from prison in Saskatchewan and who had since disappeared.
More than 100 days later, Myles Sanderson remained unlawfully at large when he was named as a suspect in a stabbing rampage that left 11 people dead — including his brother, Damien Sanderson, who was also named as a suspect — and 18 others injured in James Smith Cree Nation and Weldon, Sask.
After a four-day manhunt, Sanderson was arrested on a rural stretch of highway and died in custody after RCMP said he went into "medical distress."
The tragedy has prompted scrutiny over how Sanderson managed to remain free in the months leading up to the attacks, and how authorities should handle violent offenders who violate the rules of their release.
Sanderson's case seems to reveal a gap in the system.
While the Correctional Service of Canada says it's up to police to capture offenders who break their parole, police say that the warrants for those suspects are among countless others that land on their desks to manage.
"That's the problem," Scott Blandford, a former police sergeant in London, Ont. "It's a finger-pointing exercise."
Sanderson had been released into the community in August 2021 on what's called statutory release, which kicks in when federal offenders have served two-thirds of their prison sentences.
While Sanderson's case has put a spotlight on the measure, one expert says it allows offenders time to transition back into society after living in a "tightly controlled prison environment."
"The vast majority are greatly helped when provided with a period of reintegration supports," Toronto Metropolitan University criminology professor Jane Sprott said in an email.
She said the alternative is to "release them cold without any supervision or reintegration" following their prison sentences, which increases their chances of reoffending.
Four months into his freedom, Sanderson was found to have been lying about his living arrangements and had his release suspended.
It wasn't the first time he had been found in breach of such rules.
Parole documents shows he had been convicted of 59 offences, 28 of them for failure to comply with release conditions or failure to appear in court. His criminal record included violent assaults, including against people who were victims in his recent attacks.
Sanderson requested that the parole board cancel the suspension, the documents show, saying that he had stayed sober and found work.
Despite his parole supervisor recommending his release be revoked based on his "deceit," the board decided in February to cancel Sanderson's suspension and opted to release him with a reprimand.
But by May, the Correctional Service of Canada deemed him to be unlawfully at large and a parole officer issued a warrant for his apprehension.
A copy of that warrant, obtained by The Canadian Press, shows Sanderson was listed as having no fixed address.
The Correctional Service says in cases such as his, prison officials reach out to an offender's contacts to try and locate them, but it's ultimately up to police to bring them in.
"(We) will work closely with the police to ensure that they have all the information necessary to execute the warrant and return the offender," a spokesperson said in a statement.
Brian Sauvé, president of the National Police Federation, which represents RCMP members, said unless it's a high-profile case, parole authorities don't proactively communicate with police when an offender goes on the lam, however.
So what often happens is the offender's name just appears in a database. "They're not picking up the phone."
Blandford, the former police sergeant, said apprehending parole violators usually falls to the bottom of the work pile for police services because officers are too busy responding to other calls.
There are thousands of warrants issued every day across Canada, he said, and "only so many resources that can deal with it."
Last fall, the Saskatchewan government announced funding to create a special unit dedicated to catching fugitives.
It would include eight RCMP officers and a crime analyst focused on arresting "high profile" offenders who were at large.
RCMP Assistant Commissioner Rhonda Blackmore referred to this initiative when asked how Sanderson managed to remain a wanted fugitive up until the attacks, saying that "given the number of people on warrant status in the province, they have to risk-manage files" as they are received.
Whether the unit was actively investigating Sanderson's case remains unclear. RCMP in Saskatchewan have not yet responded to a request for comment.
It's also unclear whether a joint investigation by the Correctional Service and the parole board into Sanderson's release — announced by Public Safety Minister Marco Mendicino after the tragedy — will probe the reasons that Sanderson remained at large up until the attacks.
Both Sauvé and Blandford said a policy change should be made that results in peace officers working for parole and correctional authorities, so that those institutions can play a more active role in tracking down offenders rather than relying only on police efforts.
This report by The Canadian Press was first published Sept. 13, 2022.
David Fraser and Stephanie Taylor, The Canadian Press
US cities hope crime strategies keep homicide numbers dropping and prevent summer surge
CHICAGO (AP) — An expected bump in violent crime this summer has mayors and police officials around the U.S. rolling out familiar strategies of making officers more visible and engaging with community groups, in some cases leaning on civilians to enforce curfews and keep the peace.
Chicago is among the U.S. cities under scrutiny following a mayoral race that focused on public safety in response to demands for change. Violence often surges during summer months, so this holiday weekend will undoubtedly ramp up pressure on Mayor Brandon Johnson's new administration to deliver short-term improvement along with the long-term strategies that the former union organizer advocated while campaigning to lead the nation's third-largest city.
"It's going to take all of us, not just the police, not just city government, to ensure that our communities can live and thrive in peace and safety," Johnson said at a lakefront press conference promoting the city's Memorial Day weekend strategy.
Most large U.S. cities are reporting fewer homicides this year, according to data collected by the Council on Criminal Justice, which created a Crime Trends Working Group this spring in hopes of providing more real-time information on crime.
The shift is a tentative reprieve following those spikes that began in 2020 and began to come down last year. The totals remain far higher than pre-pandemic reports and are "cause for serious concern but not for panic," said Thomas Abt, founding director of the Center for the Study and Practice of Violence Reduction at the University of Maryland.
"Where cities are seeing success, they're generally investing in a balanced approach that includes policing but … also supports community-based approaches," Abt said. "They have recognized the need for enforcement but also emphasize prevention and intervention."
Officials in Cleveland; Newark, New Jersey; and Philadelphia have announced summer plans to make officers more of a visible presence in locations where violent crimes have happened, while also promoting community efforts to prevent violence and provide alternative activities.
In Baltimore, city officials — not police officers — will enforce curfews on teenagers starting Friday and continuing through Labor Day weekend. The controversial policy has long been on the books but rarely enforced.
"We are going back to the old days," Baltimore Mayor Brandon Scott said in announcing the summer enforcement, after two teens were wounded as hundreds gathered on a Sunday night in the city's popular Inner Harbor district.
That shooting in April, which unfolded while officers were trying to break up a fight at the scene, added to a significant spike in youth violence, which has persisted even as overall shootings and homicides trend downward in Baltimore.
According to Scott's plan, non-law enforcement staff will approach children and teens violating the curfew policy on weekend and holiday nights. First, they'll encourage kids to go home, but if that doesn't work, the children will be brought to a youth engagement center that provides a supervised environment where they can hang out.
In Detroit, federal prosecutors are expanding efforts to help local police this summer by taking armed carjacking cases and business robberies in high-crime areas, in addition to certain gun crimes. Federal convictions typically bring longer sentences.
"The most dangerous people will be prosecuted immediately in federal court," U.S. Attorney Dawn Ison said Wednesday.
Following a half-dozen shootings — including one fatality — in the downtown Detroit area over one weekend in April, Police Chief James White instituted a crowd control strategy including increased police presence. Curfews for minors also will be enforced.
In Chicago, mayors face annual pressure to demonstrate a proactive approach to violent crime ahead of Memorial Day, the traditional kickoff to warm weather and summer events where crowds gather.
Johnson promised to move away from a policing-first strategy as he took office at the start of May, but he's also distanced himself from calls to cut money for policing. He chose a retired department veteran as interim police chief.
Federal data shows that Chicago's homicide rate remains lower than other Midwestern cities such as St. Louis and Detroit, with 211 killings reported so far this year, lower than the same period in 2022 and 2021.
Johnson's holiday weekend strategy includes making officers a visible presence, and even having them check bags at crowded beaches, parks and events. Police rushed to Chicago's North Avenue Beach on Friday afternoon after a report of gunshots following a large fight. The department said one juvenile was in custody but didn't provide more information. No injuries were reported.
Philanthropic and business groups have donated to anti-violence groups organizing events aimed at young people. And the state of Illinois has authorized a team of 30 "peacekeepers" — not police — who have training and experience in deescalating conflict, to roam Chicago aiming to prevent outbreaks of violence.
Community groups with similar strategies have operated for years across Chicago, focusing on specific neighborhoods or blocks with a history of violence. State officials said their team would be mobile and able to respond anywhere, including downtown, where large gatherings of teens during a warm April weekend ended with several shootings and other violence.
Norman Livingston Kerr led a Chicago anti-violence organization before he became assistant deputy mayor for public safety under Johnson's predecessor, Lori Lightfoot. He now consults with cities and nonprofits to develop anti-violence strategies that rely on deescalation or intervention. He's encouraged by signs that the city and state are committing long-term resources to efforts such as the peacekeepers program.
"This violence intervention work, it can take time for people to see it work and believe in it," Kerr said. "I'm not going to dwell on the fact it took years to happen; I'm going to say this is a new day."
Johnson has promised to give a variety of community organizations a larger role in his administration's public safety strategy and devoted much of Thursday's city presentation to promoting plans for basketball tournaments, neighborhood barbecues and karaoke contests.
Tamar Manasseh, founder of Mothers/Men Against Senseless Killings, said her organization has worked to prevent crime around a South Side intersection for nearly 10 years using "positive loitering." This weekend is no exception, with a neighborhood barbecue and other activities planned.
"We built a community center, our pop-up community center, in a vacant lot," Manasseh said. "And since then we've seen crime drop astronomically. And we feel like that can happen anywhere."
___
Associated Press writers Lea Skene in Baltimore and Corey Williams and Ed White in Detroit contributed to this report.
B.C.'s 'Paper Bag Rapist' again denied parole at online hearing from Alberta prison
The Bowden Institution facility is shown near Bowden, Alta., on March 19, 2020. THE CANADIAN PRESS/Jeff McIntosh
Bowden
A man who was once known as the "Paper Bag Rapist" has again been denied parole after a hearing from an Alberta prison.
John Horace Oughton, 74, was convicted in 1987 of two counts of rape, six counts of indecent assault and six counts of sexual assault with a weapon in British Columbia.
He was tagged with the disturbing name because he made his victims wear a bag over their head or wore one himself to mask his identity.
Oughton appeared Friday at the online parole board hearing from the federal medium-security Bowden Institution, where he's serving an indeterminate sentence as a dangerous offender.
He was denied day parole and full parole by the two-person board.
"There's been some lowering of your risk, likely due to your mobility issues and your age," board member Janelle Jackiw said Friday as she delivered the decision.
She said, however, Oughton has not participated in high-intensity sex offender programming and has no release plan.
"There hasn't been significant change since the last hearing to this hearing," she said. "Overall, your risk is assessed as being unmanageable."
Oughton, who was in a wheelchair, said during the hour-long hearing that he's dying of heart disease and is also mentally ill.
"I suffer from a cognitive impairment," he told the board. "When I'm not treated, I start to imagine things that aren't real."
The parole board has previously said it's believed Oughton had between 30 and 140 victims, but he said Friday he believes there are a lot of mistakes in his file.
"I cannot defend anything I did," he said, adding he believes he made up some of those victims. He also suggested that there were no weapons and no disguises during his crimes.
Oughton added that he's been involved in a restorative justice program during his time in prison and met with some of his victims.
"I apologized to each and every one of them," he said.
"When they left, they knew it was not a normal person who committed these crimes against them. It was a person who was mentally ill."
Earlier parole board documents said that Oughton's 14 sex-related offences on women and children took place in B.C.'s Lower Mainland between 1985 and 1987.
This report by The Canadian Press was first published May 26, 2023.