Mandatory quarantine still a hurdle for unvaccinated Canadians hoping to go abroad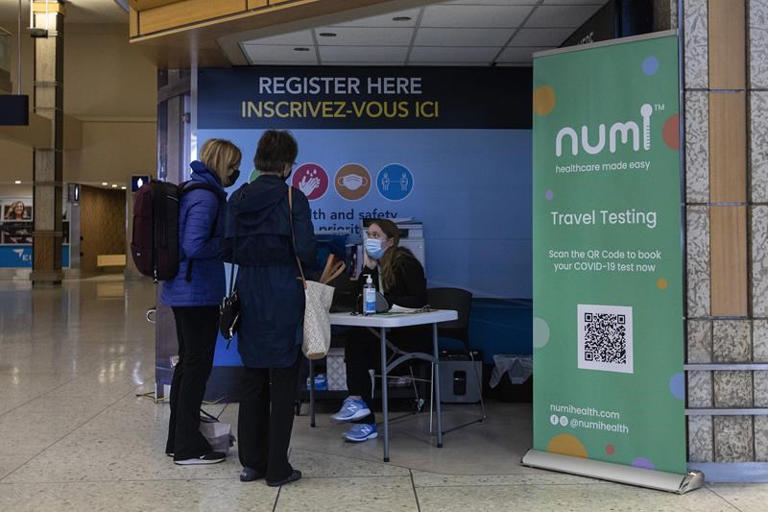 TORONTO — Robyn Skrepnyk says she thought the federal government's suspension of the vaccine mandate for domestic and outbound travel would finally allow her to use an $800 airline credit for a summer trip abroad.
But even after the new rules came into effect Monday, Skrepnyk doesn't see herself straying too far from her Edmonton home any time soon.
The 14-day quarantine unvaccinated Canadians must complete after they re-enter the country has proved to be prohibitive for the international getaway Skrepnyk had hoped for, she said. While she's allowed to travel more freely within Canada, Skrepnyk said there are no domestic destinations she'd want to fly to.
"I may have four weeks of holidays at work, but I can't take three weeks off at a time to go on a one-week vacation out of the country," said Skrepnyk, who chose not get vaccinated. "I'll just take my vacation, I guess, and stay home and hope to heck I can get my money back."
Although experts expect relaxing Canada's travel rules will be a boon for the domestic tourism sector, they note the continued requirements for unvaccinated Canadians crossing the border could limit their ability to roam abroad.
The vaccine mandate was lifted Monday for domestic travellers on passenger planes, trains and buses. Federally regulated airline and airport employees are also allowed back on the job after being put on unpaid leave because of their vaccination status.
Unvaccinated Canadians travelling outside the country still have to quarantine for 14 days upon return. They must also take COVID-19 tests before their flight, upon arrival and on the eighth day of their quarantine. Daily COVID-19 self-assessments must be done through the ArriveCan app, and screening officers may check in by email, phone or visits.
Meanwhile, most foreigners who have not been jabbed remain barred from entry.
Marty Firestone, president of insurer Travel Secure, predicted that the regulatory changes will result in a dramatic increase in domestic travel as a swell of unvaccinated Canadians look to explore their own country.
While this is good news for Canada's pandemic-strained tourism industry, this new segment of eligible fliers may exacerbate the logjam at airports, said Firestone.
He worries the quarantine and testing requirements in particular are bound to bring complications and compound long queues at customs.
"I think it's going to confuse matters even more," he said. "They've kind of done a strange thing in allowing you to leave unvaccinated but no change in coming back. That's going to be a nightmare waiting to happen."
Government officials have repeatedly said that COVID-19 restrictions aren't to blame for airport congestion and flight delays, insisting that any revisions were made in the interest of public health rather than ease of travel.
"While the suspension of domestic vaccine mandates reflects an improved public health situation in Canada, the COVID-19 virus continues to evolve and circulate in Canada and globally," Public Health Agency of Canada spokeswoman Tammy Jarbeau said in an email.
"Given this context, and because vaccination rates and virus control in other countries varies significantly, current vaccination requirements at the border remain in effect."
Dr. Zain Chagla, an infectious diseases physician at St. Joseph's hospital in Hamilton, was skeptical of the public health benefits of forcing returning unvaccinated travellers to quarantine for 14 days. He noted that's longer than the isolation requirements for people who test positive for COVID-19 in many parts of Canada.
Viruses don't recognize borders, said Chagla, so the risk of an unvaccinated person flying from Toronto to Montreal doesn't meaningfully differ from a Toronto to New York trip. There also isn't much reason to believe that quarantine requirements will prevent people from catching or spreading the novel coronavirus at a local venue or gathering, he added.
While research shows that COVID-19 vaccines provide significant protection against severe illness, Chagla said emerging evidence suggests that two doses and a booster provide little protection against Omicron infection.
Given what we know about how the virus is evolving, potential new variants will likely be better at evading immunity, he said.
"The variants are going to come into vaccinated people one way or another," he said. "Bottom line is that everyone should be allowed to come in over the border, and the systems in place really don't add much."
Unvaccinated travellers must also be mindful of border restrictions at their place of destination, said Richard Vanderlubbe, CEO of travel agency Tripcentral.ca.
Entry requirements for unvaccinated visitors, such as mandatory COVID-19 testing, in other countries are often complex and subject to change on short notice, said Vanderlubbe.
He said his agency has devoted much of its marketing budget to keeping customers apprised of these rules. But for the foreseeable future, Vanderlubbe said, it might be prudent to pick the most flexible option when making travel arrangements, rather than defaulting to the lowest fare.
"It should be a more considered purchase maybe than it was in the past," he said. "But certainly for vaccinated Canadians, nothing's changed. And for unvaccinated Canadians, there's more options."
This report by The Canadian Press was first published June 21, 2022.
Adina Bresge, The Canadian Press
Court martial planned for soldier who criticized vaccine mandate, led march to Ottawa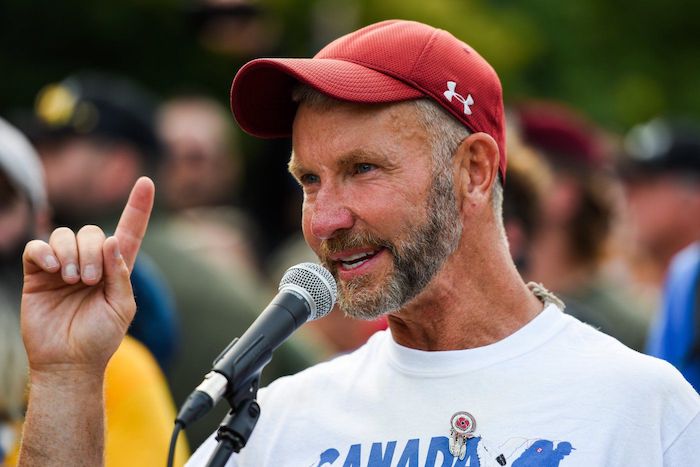 By Lee Berthiaume in Ottawa
The Canadian soldier who recently led a protest march to Ottawa is now facing a court martial for having spoken out against the federal government's COVID-19 vaccine requirements while wearing his uniform.
Warrant Officer James Topp was recently notified that he will be allowed to have his case heard in a military court instead of by his chain of command, according to the army reservist's civilian lawyer.
Phillip Millar says the decision represents a second about-face after the military initially offered his client a court martial when he was charged in February, only to rescind the offer and send his case to Topp's unit commanders.
"It's hard to know what they're doing, because I don't think they really know what they're doing," said Millar. "But now they're saying it's a court martial."
The decision raises the stakes for Topp, according to military law experts, as courts martial are allowed to impose heavier sentences against Armed Forces members than if they are tried by their chain of command in what is known as a summary trial.
Yet it also means he will be allowed to have legal representation at trial, which wouldn't have necessarily been the case if he was tried by his commanding officer, while his trial will receive much more public attention.
"The stakes are obviously going to be increased in a public-relations context," said retired lieutenant-colonel Rory Fowler, who is now a lawyer specializing in military law in Kingston, Ont.
The Department of National Defence did not respond to questions about whether Topp's case was changed from a court martial to summary trial and back again.
Topp was charged in February with two counts of conduct to the prejudice of good order and discipline after the army reservist appeared in uniform in two online videos criticizing vaccine requirements for military personnel and other federal employees.
Canadian Armed Forces members are severely restricted in the comments they can make while in uniform, particularly when it comes to criticizing government policies, in large part to protect the military from any perception of politicization.
Topp, who is now in the process of being released from the military, later led a months-long march from Vancouver that ended in Ottawa last week and was supported by many of the same organizers as this year's "Freedom Convoy."
He has since become a symbol of sorts for Canadians opposed to vaccines, vaccine mandates and perceived government overreach. Some Conservative MPs have also hitched their wagon to him, including leadership candidate Pierre Poilievre.
While Millar questioned the military's back and forth with his client, and said he planned to question the way Topp's charges were handled, he nonetheless welcomed the latest decision to allow a court martial.
That is because Topp will now be allowed to have a lawyer present during his trial, where Millar said he plans to call expert witnesses to question the need and efficacy of the military's vaccine requirement.
The requirement imposed by chief of the defence staff Gen. Wayne Eyre late last year remains in place even though a similar mandate for most other federal public servants has now been suspended.
"It opens the door for us to call witnesses about the decision to charge him," Millar said. "It opens the door for us to call experts on whether or not there was any science behind the mandate."
While the shift from a summary trial back to a court martial means Topp will be afforded an independent trial with legal representation, Fowler said it also means the army reservist faces potentially stiffer penalties if convicted.
Under a summary trial, commanding officers are largely restricted to handing down reprimands and fines. If he is found guilty by court martial, however, Topp faces the threat of dismissal from the military with disgrace and up to two years in prison.
Retired colonel Michel Drapeau said while there may be a number of reasons why the military opted to change the case from a summary trial back to a court martial, he believed the latter was the appropriate venue for hearing Topp's case.
"It provides for a trial in an open court with all Charter legal guarantees," Drapeau said in an email. "It also provides for the provision of free legal support to the member."
This report by The Canadian Press was first published July 5, 2022.
Tamara Lich breached conditions by appearing with fellow convoy leader: Crown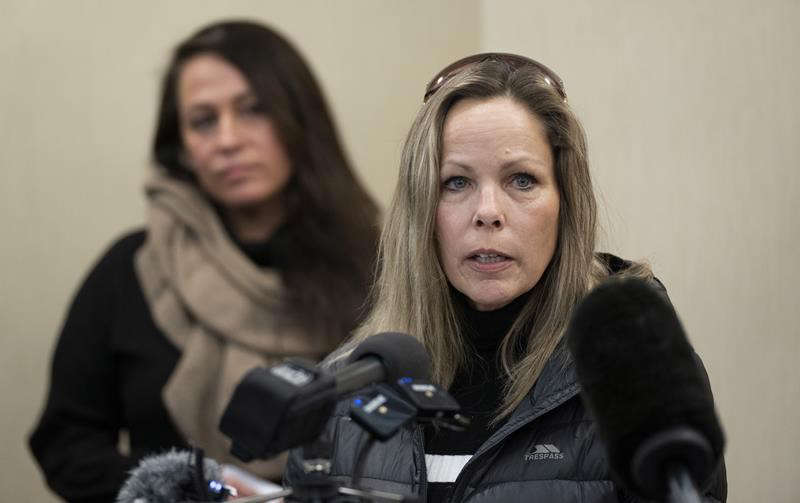 By Erika Ibrahim in Ottawa
The Crown is seeking to revoke bail for Tamara Lich, a leader of the "Freedom Convoy," after she appeared alongside a fellow organizer in an alleged breach of her conditions.
Lich was charged in February with mischief, obstructing police, counselling others to commit mischief and intimidation for her role in the massive protest against COVID-19 restrictions that gridlocked downtown Ottawa for more than three weeks.
She was released the next month with a long list of conditions, including an order not to communicate with key convoy organizers except through counsel or in the presence of counsel. She was also banned from using all social media.
Crown prosecutor Moiz Karimjee told an Ottawa court on Tuesday that Lich breached one of her conditions by being seen with fellow protest leader Tom Marazzo at a recent gala, where she accepted an award for organizing the protest.
He argued that she should be detained.
Lich's lawyer, Lawrence Greenspon, said he will contest the revocation of Lich's bail and seek her release with conditions.
Ottawa police Det. Chris Benson, who is the lead on Lich's case, told the court he reviewed video of Lich and Marazzo appearing together at the awards gala.
Greenspon asked Benson if he knew of any other evidence that Lich and Marazzo communicated before or after the brief interaction in the video, which took place in "less than three seconds."
He asked the detective if he was aware that some lawyers from the Justice Centre for Constitutional Freedoms were present, some of whom are acting as her lawyers in civil matters.
Benson said he believed a photograph showing Lich, Marazzo and others posing together at the award ceremony shows that she breached her conditions due to her physical closeness to him.
Lich monitored the hearing remotely from an Ontario detention centre, watching on video conference and listening in from a cellphone, her blond hair in a high bun.
Both Marazzo and Lich were key spokespeople of the winter convoy protest. Marazzo is also a leader of a group called Veterans 4 Freedom, which staged several rallies in Ottawa over the Canada Day weekend.
Police sought a Canada-wide arrest warrant for Lich for the alleged breach of her bail conditions and she was arrested last week in Medicine Hat, Alta., where she lives.
Benson said he oversaw Lich's transport from Alberta to Ottawa after she was arrested.
Lich's surety, whose identity is protected by a court-ordered publication ban, said they became aware of the photo of Lich and Marazzo a few days after the event, and immediately contacted Lich about it out of concern that a possible violation of bail conditions took place.
The surety explained that Lich assured them that legal counsel was present at the gala.
Greenspon pointed out the evidence brought against Lich to argue she broke the bail condition consists of a very brief congratulatory interaction between her and Marazzo, adding lawyers approved the photo and were just off-camera.
He argued Benson didn't provide any evidence that contradicted the terms of the bail conditions.
"These actions were so minimal as to amount to not being prosecuted, let alone convicted," he said.
The purpose of the bail condition was not to preclude the brief interaction and photo that took place, Greenspon said — rather, it was to prevent a similar event to the one that took place in Ottawa earlier this year. He argued the interactions in question do not risk reoffence.
The matter should have been brought to a judicial referral hearing or some other recourse rather than the Canada-wide warrant that has led to Lich being detained for nine days, he said, noting an email showing the Crown sought the expansion from an initial Ontario-wide warrant.
Justice of the Peace Paul Harris reserved his decision until the next court appearance on Friday.
Lich is charged for her role in the "Freedom Convoy" along with a co-accused, Chris Barber, who remains out on bail.
On Tuesday morning, Barber's lawyer was granted a publication ban on court documents showing Barber's cellphone communications, except for those with Lich.
This report by The Canadian Press was first published July 5, 2022.
—
This story was produced with the financial assistance of the Meta and Canadian Press News Fellowship.