Malkin's winning goal in shootout leads Pens past Flames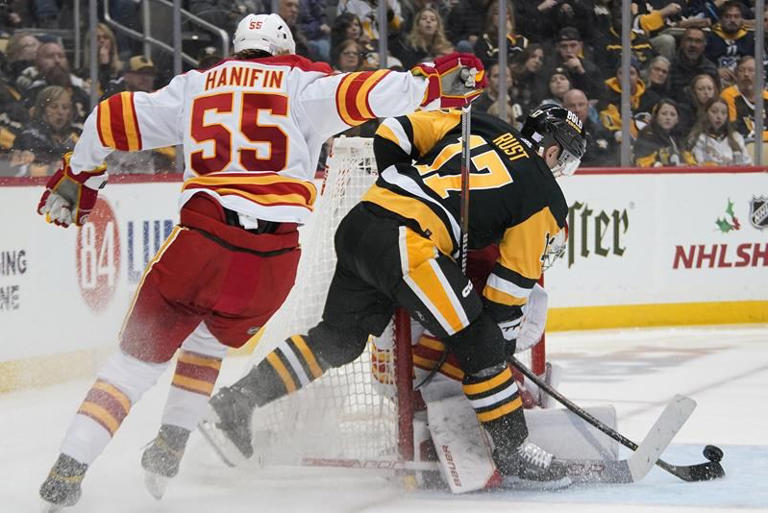 PITTSBURGH (AP) — Evgeni Malkin scored the deciding goal in the shootout, and the Pittsburgh Penguins beat the Calgary Flames 2-1 on Wednesday night for their fourth straight win.
Malkin, who was recognized for playing his 1,000th NHL game on Sunday, flipped a backhander over Dan Vlader's glove. After Malkin scored, he threw his stick into the crowd and celebrated with his teammates.
Sidney Crosby and Rickard Rakell also scored in the tiebreaker for the Penguins, who improved to 6-1-1 in their last eight games overall. Jan Rutta scored in regulation, and Tristan Jarry made 33 saves for his 100th NHL win.
Dillon Dube scored in the second period for the Flames, who had won two in a row. Calgary has four wins in its last six games overall following a seven-game losing streak.
Vladar, making his fourth start of the season, and first since Nov. 10, stopped 38 shots.
Rutta opened the scoring at 2:09 when he beat Vladar with a blocker-side wrist shot from between the circles.
Pittsburgh appeared to take a 2-0 lead on a Bryan Rust goal. But it was waved off because of an offsides call following a coach's challenge.
Calgary then tied it at 1 at 8:37 of the second when Dube redirected a Chris Tanev shot behind Jarry.
HONORING MALKIN
The Penguins celebrated Malkin in his first home game after appearing in his 1,000th career regular-season game on Sunday at Chicago.
Malkin's teammates all wore his No. 71 jersey during warmups. Malkin's wife, Anna, and 6-year-old son, Nikita, joined him on the ice during a pregame ceremony. He received personal gifts commemorating his 1,000th career game, including a silver hockey stick.
ROAD WARRIORS
Calgary played the fourth game of a season-long six-game road trip.
The Flames lost the first game of the trip against Tampa Bay, but rebounded with wins against Florida and Philadelphia prior to Wednesday's shootout loss against the Penguins. Calgary closes the trip with games at Washington and Carolina.
The Flames have at least a point in their last seven games at PPG Paints Arena, dating to the 2015-16 season.
UP NEXT
Flames: Continue a six-game road trip Friday at Philadelphia.
Penguins: Visit Washington on Friday.
Drying conditions return in Alberta, crews see more intense fire activity
A burnt metal sign hangs from a tree, damaged by recent wildfires, in Drayton Valley Alta., on Wednesday, May 17, 2023. As more wildfire evacuees are being allowed to return home in Alberta, provincial officials warn that warm, dry conditions are returning this weekend in some areas.THE CANADIAN PRESS/Jason Franson
As more wildfire evacuees are being allowed to return home in Alberta, provincial officials warn that warm, dry conditions are returning this weekend in some areas.
Melissa Story with Alberta Wildfire says the elevated fire conditions were anticipated and that crews on the ground are seeing more intense fire activity on the perimeters of wildfires.
But she says most fires haven't grown substantially and she doesn't believe any have jumped their containment lines.
The number of evacuees as of Saturday afternoon stood at 5,257, down from over 7,200 on Wednesday, following cooler and wetter conditions in the last week.
Nearly 50 wildfires in Alberta's forest protection area are burning, with 14 of those listed as out-of-control.
Cyndee Evans, executive director of the Alberta Emergency Management Agency, says the situation remains serious despite recent positive news.
"While we can take heart that more Albertans are starting to return home, we cannot afford to drop our guard. Now is not the time for complacency. Please continue to do your part and help prevent the spread of wildfires and further damage from occurring," Evans told a news conference Saturday.
Story noted that showers were forecast for some parts of Alberta later Saturday, reducing fire danger, but also cautioned they bring the risk of lightning.
Federal Emergency Preparedness Minister Bill Blair said in a tweet Saturday that an extension for the deployment of Canadian Armed Forces personnel to assist in firefighting efforts has been approved.
Story said firefighters from New Zealand were welcomed to the province Friday and that nearly 200 firefighters and support staff from Australia would be arriving this weekend.
Alberta remains under a provincewide state of emergency, although some bans on fires, ATVs and off-highway vehicles have been relaxed in recent days.
Parkland County west of Edmonton lifted a state of local emergency on Friday that had been in place since April 29, and downgraded a fire ban to a fire restriction. It said that meant "safe fires in approved fire pits with a screen are allowed and do not require a permit."
Fires without screens still required permits, however, and open fires in the county are still banned.
The High Level Forest Area wildfire update noted the Pasqua fire located in the community of Fox Lake saw an increase in fire activity after warm and dry weather on Friday, and that temperatures and fire behaviour was expected to pick up on Saturday.
Fox Lake remains evacuated, but residents are being permitted to sign up for tours of the community on Monday to view damage. A statement from the Little Red River Cree Nation said priority will be given to people who have lost their homes.
"Tours will be visual only, as it is still not safe for members to walk around the community or house sites due to hot spots as well as possible toxins and hazards in the areas that have been burned," said a statement posted online by the First Nation on Friday.
This report by The Canadian Press was first published May 27, 2023.
UCP leader Smith says she is 'delighted' by endorsements from Harper, Poilievre
United Conservative Party leader Danielle Smith, centre, makes an election campaign announcement in Calgary, Alta., Friday, May 26, 2023. Albertans go to the polls on May 29. THE CANADIAN PRESS/Jeff McIntosh
Calgary
United Conservative leader Danielle Smith says she would aim to lower the level of political polarization in Alberta if her party wins what has been a tight and often bitter election race.
She made her remarks during her last news conference before Albertans go to the polls on Monday.
Smith says she would consult broadly and make decisions based on what she's heard.
She adds her door is always open to people from all backgrounds and all political persuasions, and she would learn by exchanging ideas.
The UCP leader also says she was delighted to garner endorsements from former prime minister Stephen Harper and federal Conservative Opposition Leader Pierre Poilievre.
The rival New Democrats have been endorsed by high-profile former Calgary mayor Naheed Nenshi.
This report by The Canadian Press was first published May 26, 2023.