Make StatsCan data on lower life expectancy due to ODs an election issue: doctor
VANCOUVER — Life expectancy rates in Canada have stopped increasing for the first time in four decades, says a Statistics Canada report that blames opioid-related overdoses for deaths in British Columbia, followed by Alberta.
Canadians concerned about young adults dying from overdoses should demand drug-policy changes by "holding politicians' feet to the fire," said an addictions specialist responding to the data released Thursday.
"I don't understand, truthfully, how governments are making decisions that pertain to this issue because we're hemorrhaging money with bad drug policy and poor health-care spending," said Dr. Keith Ahamad of the high rates of deaths.
Statistics Canada said life expectancy did not go up from 2016 to 2017 for either men or women after an upward trend from the mid-1990s to 2012, but overall gains then started to stall.
"In particular, the drug overdose crisis occurring in Canada was a major contributing factor in the change seen in life expectancy from 2016 to 2017, especially for men," the agency said in a report.
Life expectancy fell in B.C. in 2017 for the second year in a row, especially for young men between the ages of 20 and 44, it said.
"Although older men are living longer, the increase in deaths among young men almost completely offset these gains. A similar pattern occurred among women, although to a lesser extent."
Ahamad, who works at St. Paul's Hospital in Vancouver, said street drugs tainted with cheap and potentially deadly fentanyl and the more potent carfentanil, typically used to tranquilize elephants, call for a regulated drug supply because too many young people are dying.
He said life expectancy between young men in Vancouver's poor Downtown Eastside and the west side differs by 17 years and men are dying 11 years earlier than women.
"It's absolutely mind-blowing," he said, adding Indigenous people are disproportionately affected by the overdose crisis that led the B.C. government to declare a public health emergency in 2016.
"We're doing a very bad job nationally with drug policy, combined with the fact that we're not looking after people from the lower socioeconomic groups," said Ahamad, who is also a researcher with the BC Centre on Substance Use, which advocates for evidence-based treatment with opioid substitutes such as suboxone.
Ahamad said it needs to be a federal election issue this fall.
"There's a traumatic fallout for people who are losing children and siblings and friends and parents. There is health-care-provider burnout at a level I've never seen before. My colleagues are absolutely burned out."
Statistics Canada said death rates due to overdose were 2.1 times higher for men and 1.6 times higher for women in 2017 compared with 2015 but those are likely underestimates because the cause of death in some cases has not yet been determined due to ongoing investigations.
Of the 4,108 overdose deaths recorded in Canada in 2017, nearly 1,100 involved people between the ages of 30 and 39, the agency said.
Dr. Bonnie Henry, British Columbia's provincial health officer, said the life-expectancy data reinforces the negative impact the overdose crisis is having on communities.
"I believe we need to continue to focus on this crisis and there is more to do including decriminalization of people who use drugs and providing people addicted to drugs and at high risk of dying with pharmaceutical alternatives to the poisoned street-drug supply," she said in a statement.
The First Nations Health Authority in British Columbia said 193 First Nations men and women fatally overdosed last year, a 21 per cent increase from a year earlier.
Compared with their counterparts in the general population in B.C., First Nations women are more likely to fatally overdose, the health authority said, adding about 40 per cent of women die from overdose versus 17 per cent of non-First Nations women.
Grand Chief Doug Kelly, chairman of the First Nations Health Council, which governs the health authority, said the legacy of the residential school system, ongoing racism and family violence have marginalized women.
The stigma of mental health and substance use among both women and men is an issue that needs to be addressed so the "grannies and aunties and uncs" understand the "swamp of addiction" and provide support for people who are suffering, he said.
"I think there needs to be a debate so we understand what's happening."
— Follow @CamilleBains1 on Twitter.
Camille Bains, The Canadian Press
Liberals planning temporary solution to dental care promise: sources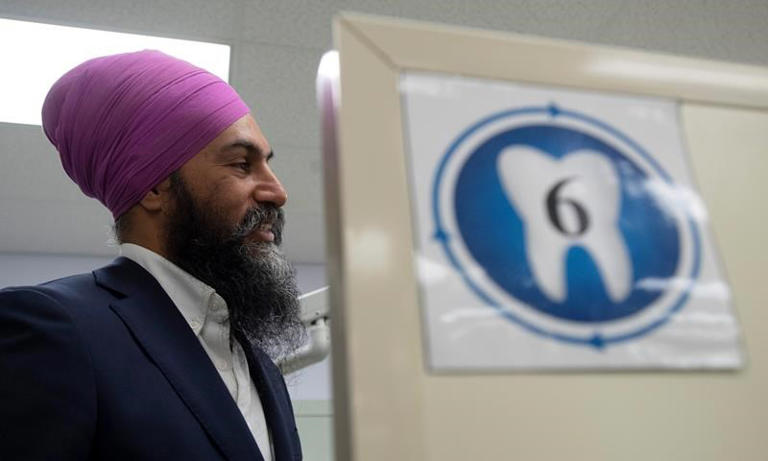 Ottawa – Sources close to the government's proposed $5.3-billion dental-care program say the Liberals are planning a temporary solution that involves giving money directly to patients in order to keep their promise to the NDP while they work on a permanent answer.
The Liberals promised the NDP a new dental-care program for low- and middle-income families in March as part of a supply and confidence agreement to prevent an election before 2025.
The government has until the end of the year to provide some kind of coverage for children under the age of 12 with an annual household income of less than $90,000.
The NDP have vowed to walk away from the deal if the deadline isn't met.
Four sources with knowledge of the government's plan, but who are not authorized to speak publicly, say the government is unlikely to meet its deadline, and is planning a stopgap solution until a permanent incarnation of the program is put in place.
Though details are scarce, the sources say the temporary solution would involve giving qualifying families the money directly to fund their dental health services while the government works on a more permanent, expanded program.
In a statement, the health minister's staff did not confirm or deny the temporary plan but say they are on track to deliver on the dental-care commitment as outlined in the agreement with the New Democrats.
NDP health critic Don Davies did not directly address the temporary plan either, but said in a statement the party has "identified several ways to ensure the target groups can access dental care on the identified timelines."
The NDP are now focused on pushing the Liberals to introduce dental-care legislation when Parliament resumes in the fall, Davies said.
"That legislation will deliver the resources needed to help children under 12 see a dentist and care for their teeth this year," he said.
NDP Leader Jagmeet Singh echoed the health minister's faith about meeting the deadline last week.
"We're very confident we can achieve that before the end of the year, as our agreement outlines," Singh said at a news conference last Thursday.
The agreement isn't prescriptive about how the coverage should be achieved, and the government hasn't committed to any particular means of administering the program yet.
Health Minister Jean-Yves Duclos's office has said repeatedly the department is looking at several options to meet its commitment and its end-of-year deadline.
The NDP originally envisioned a federal program that functions similarly to the federal health-benefits program run for uninsured First Nations and Inuit people.
The federal government could also offer money to provinces and territories to take it over, since many already offer similar programs and dental care has traditionally fallen within their jurisdiction.
Meanwhile, the Liberals put out a formal request for information (RFI) to members of the insurance industry two weeks ago to explore what role private companies could play in administering the program.
In that RFI, the government says if a contract is awarded the winning company would be given six months to get ready before processing claims. That timeline would be impossible to achieve before the end of December.
According to the statement from Duclos's staff, they're still consulting on the best way forward.
The Liberals have promised to extend the program to qualifying teens, seniors and persons living with disabilities next year and everyone else in the qualifying family-income bracket by the end of the supply and confidence agreement in 2025.
"It comes as no surprise that the Trudeau government is not living up to a commitment it made to buy the NDP's support," Conservative health critic Michael Barrett said in a statement.
Barrett said Canadians should be concerned that the government is not committed to maintaining the current health system, "much less adding a new complex and expensive program to it."
The government set aside $5.3 billion over five years for the program, but the parliamentary budget officer's estimate is nearly double that at $9 billion.
Once the program is fully implemented, the Liberals' 2022 budget predicts it will cost about $1.7 billion per year to run, which is in line with the PBO's estimate.
This report by The Canadian Press was first published Aug. 8, 2022.
Leading cause of death in Alberta (BY A LONG SHOT) is "Unknown". Why isn't our next Premier talking about this?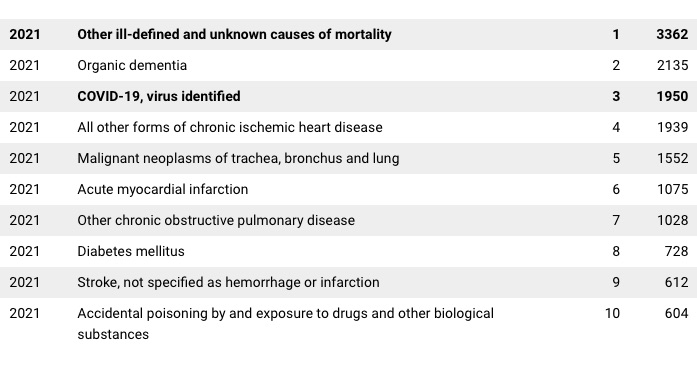 If you were to ask 10 random Albertans what the leading cause of death was in 2021, many would respond with either COVID-19, or perhaps cancer. If they really pay attention to things like this they might say heart disease or maybe dementia (old age).
Lucky for us the Province of Alberta has made the cause of death statistics public since 2001. If you'd like to see them, click here and download "Leading Causes of Death". If you do, you'll see that for 15 years in a row, from 2001 to 2015 the leading cause of death for Albertans was heart disease. Dementia makes a strong push toward the end of that time frame. By 2016 dementia became the leading cause of death for the next 5 years in a row. Here's what the list of the top 10 causes of death looked like in 2019. That was the last year 'before' COVID-19 appeared on the list.
| | | | |
| --- | --- | --- | --- |
| 2019 | Organic dementia | 1 | 1997 |
| 2019 | All other forms of chronic ischemic heart disease | 2 | 1886 |
| 2019 | Malignant neoplasms of trachea, bronchus and lung | 3 | 1523 |
| 2019 | Other chronic obstructive pulmonary disease | 4 | 1159 |
| 2019 | Acute myocardial infarction | 5 | 1061 |
| 2019 | Atherosclerotic cardiovascular disease, so described | 6 | 678 |
| 2019 | Accidental poisoning by and exposure to drugs and other biological substances | 7 | 677 |
| 2019 | Stroke, not specified as hemorrhage or infarction | 8 | 602 |
| 2019 | Diabetes mellitus | 9 | 569 |
| 2019 | Other ill-defined and unknown causes of mortality | 10 | 522 |
Then along came COVID-19. In 2020 dementia remained the leading cause of death for Albertans, but COVID-19 came charging out of nowhere to become the 6th most common cause of death. It's important to note though the stats say COVID-19 "identified". That makes it unclear whether COVID was THE cause, A cause, or A symptom. The other interesting thing to note was that in 2020, suddenly "Unknown Causes" skyrocketed up to the fourth leading cause of death, outpacing even COVID.
| | | | |
| --- | --- | --- | --- |
| 2020 | Organic dementia | 1 | 2081 |
| 2020 | All other forms of chronic ischemic heart disease | 2 | 1897 |
| 2020 | Malignant neoplasms of trachea, bronchus and lung | 3 | 1563 |
| 2020 | Other ill-defined and unknown causes of mortality | 4 | 1464 |
| 2020 | Other chronic obstructive pulmonary disease | 5 | 1178 |
| 2020 | COVID-19, virus identified | 6 | 1084 |
| 2020 | Acute myocardial infarction | 7 | 1067 |
| 2020 | Accidental poisoning by and exposure to drugs and other biological substances | 8 | 920 |
| 2020 | Diabetes mellitus | 9 | 743 |
| 2020 | Atherosclerotic cardiovascular disease, so described | 10 | 670 |
In 2021 you might expect COVID-19 would leap into top place in the list of leading causes of death for Albertans. That's not what happened. COVID did climb from the 6th most common cause of death to the 3rd most common cause, but at the same time "Unknown causes of mortality" EXPLODED into the top position.
Looking back on the last 20 years before 2021 the number 1 cause of death ranged from a low of 1,581 people dying of heart disease in 2012, to a high of 2,018 people dying of dementia in 2020. It was only 2020 when the number of people dying from any single cause topped 2,000 for the first time.
Then in 2021 a whopping 2,135 people died of dementia. That would be enough to be the number one cause of death any other year since records have been kept. Except it wasn't because in 2021 3,362 people died of unknown causes! Not only did "unknown causes" of death rise above that threshold of 2,100. It DEMOLISHED that number.
| | | | |
| --- | --- | --- | --- |
| 2021 | Other ill-defined and unknown causes of mortality | 1 | 3362 |
| 2021 | Organic dementia | 2 | 2135 |
| 2021 | COVID-19, virus identified | 3 | 1950 |
| 2021 | All other forms of chronic ischemic heart disease | 4 | 1939 |
| 2021 | Malignant neoplasms of trachea, bronchus and lung | 5 | 1552 |
| 2021 | Acute myocardial infarction | 6 | 1075 |
| 2021 | Other chronic obstructive pulmonary disease | 7 | 1028 |
| 2021 | Diabetes mellitus | 8 | 728 |
| 2021 | Stroke, not specified as hemorrhage or infarction | 9 | 612 |
| 2021 | Accidental poisoning by and exposure to drugs and other biological substances | 10 | 604 |
It's worth repeating, in 2021 "Unknown Causes" were responsible for the deaths of 3,362 Albertans! That's over 50% more deaths than any of the leading causes since records have been made public!
Considering the Government of Alberta closed businesses, schools, and recreation centres for a virus responsible for 1,950 deaths in 2021 it is astounding that our media isn't screaming and our government is not aggressively trying to figure out what caused the deaths of 3,362 Albertans!
It's not just Alberta and Canada seeing this alarming trend. In England officials are reporting an increase in excess deaths of over 15% compared to the 5 year average. " Harley Street GP Charles Levinson told The Spectator that while "every slight bump or uptick in the Covid numbers demands endless column inches", there had been "total silence from so many" on the "damning" overall death statistics. "
British health researcher John Campbell reveals the situation in England.
—
It used to be the media's job to take the data and ask questions. Somehow they've failed to recognize the significance of THE LEADING CAUSE OF DEATH sweeping much of the planet.
If you were unable to come up with your own questions when you watched John Campbell's video, you might very much appreciate this commentary from Jimmy Dore.