MacKinnon signs 8-year deal, highest paid in NHL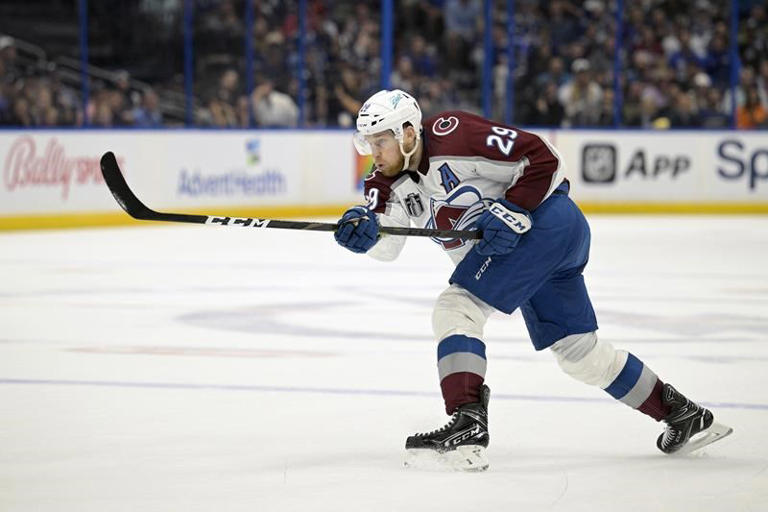 DENVER (AP) — The Colorado Avalanche are making Nathan MacKinnon the highest-paid player in the NHL's salary cap era.
MacKinnon, who just turned 27 earlier this month, signed an eight-year contract that is worth $100.8 million, according to a person with knowledge of the situation. The person spoke to The Associated Press on condition of anonymity Tuesday because the team did not announce terms of the contract.
His new $12.6 million salary cap hit that goes into effect at the start of the 2023-24 season surpasses Connor McDavid's $12.5 million as the highest in the league. McDavid's $100 million, eight-year deal with the Edmonton Oilers signed in 2017 was the previous record for the highest annual cap hit since the system went into place in 2005.
The only richer deals than MacKinnon's in NHL history are: Alex Ovechkin's $124 million, 13-year contract with Washington, Shea Weber's $110 million, 14-year contract with Nashville and Sidney Crosby's $104.4 million, 12-year contract with Pittsburgh. The collective bargaining agreement has since limited contract lengths to eight years for a players re-signing with his own team and seven for free agents.
MacKinnon agreed to the deal with training camp about to start. It's been a short offseason for MacKinnon and the Avalanche after they captured their first Stanley Cup title since 2001.
The hard-shooting, fast-skating center tied for the league-lead with 13 postseason goals. It was second-highest in a single playoff run in franchise history, trailing only Hall of Famer Joe Sakic's 18 goals in 1996 (when Colorado won its first Cup).
MacKinnon, the top overall pick in the 2013 draft, has been a finalist for the Hart Trophy in three of the last five seasons ('17-18, '18-19, '20-21). He has 242 career goals and 406 assists — the most of anyone from his draft class.
"Nathan is obviously one of the premier players in the NHL so a long-term extension was something we wanted to get done before the season started," Avalanche general manager Chris MacFarland said in a statement Tuesday about the extension. "He has that rare combination of speed and power with a high compete level that makes him a generational player. We are thrilled he will continue to be a member of this team and this community for many years to come."
The native of Halifax, Nova Scotia, was the youngest player in franchise history to make his NHL debut (18 years, 31 days) and went on to win the Calder Trophy that season as the league's top rookie. He also won the Lady Byng Award for sportsmanship and gentlemanly conduct in 2020. In addition, he's been named a captain for the Central Division in the last three All-Star Games.
MacKinnon's last contract, signed in 2016 and expires after the upcoming season, was worth $44.1 million over seven years at a cap hit of $6.3 million. Only four players topped the 495 points he put up in the regular season since that deal went into effect, and his 83 in the playoffs are second-most in the NHL since then.
That's why for years, MacKinnon was known as the most underpaid player in hockey — a title he really didn't care for.
These days, he has another one — Stanley Cup champion.
He's part of a core Avalanche group that also includes defenseman Cale Makar, forward Mikko Rantanen and captain Gabriel Landeskog.
MacKinnon is now signed through 2031. Colorado also has versatile forward Valeri Nichushkin signed through 2030, Landeskog through 2029 and Makar, the playoff MVP, through 2027. MacFarland's task next summer is an extension with Rantanen.
"Denver's the only place I want to be, for sure," MacKinnon recently said in Henderson, Nevada, during a preseason player media tour.
McDavid considers being surpassed as the highest-paid player, "good for hockey, I guess, to keep raising the bar."
"But ultimately the salary cap system's a weird system where the more money you make, the less money someone else can make," McDavid added. "It's kind of a weird system that way. There's always going to be give and take."
___
More AP NHL: https://apnews.com/hub/NHL and https://twitter.com/AP_Sports
Stephen Whyno And Pat Graham, The Associated Press
Blue Jays earn top wild card, beat Os 5-1 as Guerrero homers
By Todd Karpovich in Baltimore
BALTIMORE (AP) — Vladimir Guerrero Jr. hit his 32nd homer and the Toronto Blue Jays earned the top seed for an American League wild card series with a 5-1 rain-shortened victory over the Baltimore Orioles on Monday night.
Play was halted by rain with Toronto batting with two outs in the eighth and called after a wait of 55 minutes.
Toronto clinched the right to host a best-of-three playoff series against Seattle or Tampa Bay starting Friday when the Mariners lost to Detroit later Monday.
"There was one singular focus today when the game did start and that was to win," Blue Jays interim manager John Schneider said. "You really can't say enough how they responded."
Whit Merrifield went 3 for 3 with an RBI for the Blue Jays, who have won four straight.
Before a crowd of just 10,642, José Berríos (12-7) allowed one run and three hits with five strikeouts and three walks over six innings.
"I thought we were going to have a delay but we started on time," Berríos said. "I just went there to compete and get that win for the team and we did it. The mound was wet and it was raining all night."
Tim Mayza earned his second save.
Baltimore's Jorge Mateo stole his American League-leading 35th base, one ahead of teammate Cedric Mullins.
Baltimore already had secured a winning season for the first time since 2016.
Toronto took a 2-0 lead off Dean Kremer in the second on a single by Merrifield that scored Teoscar Hernández and Matt Chapman.
Guerrero boosted the lead to 3-0 with a 422-drive over the left-field wall in the third. He became the fourth player in Blue Jays franchise history to hit at least 32 home runs at age 24 or younger.
The Orioles got the board in the bottom half on a sacrifice fly by Anthony Santander that Hernandez was able to snag with a running, leaping catch at the right-field fence.
A wild pitch by Kremer allowed Merrifield to score in the fifth as the Blue Jays increased the lead to 4-1.
"I can do different things to help and impact the game," Merrifield said. "It's nice that they're coming at big times for us."
Kremer (8-7) allowed four runs and six hits with four strikeouts and one walk over six innings. He ends the season with a 3.23 ERA over 21 starts.
Chapman added an RBI single in the eighth.
"Not easy to play in," Orioles manager Brandon Hyde said. "Kind of a tough night all around. Wet, cold. Dean, it affected him a little bit. His stuff wasn't the same as it is normally."
MVO
Orioles catcher Adley Rustchman is the winner of the 2022 Most Valuable Oriole Award. Rutschman is the third rookie to win the award since its inception in 1954, joining right-handed pitchers Gregg Olson in 1989 and Rodrigo López in 2002.
TRAINER'S ROOM
Blue Jays: OF Lourdes Gurriel Jr. (left hamstring strain) could be available when the postseason begins on Friday.
Orioles: RHP Félix Bautista, who leads the team with 15 saves, has been shut down for the season with left knee soreness.
UP NEXT​​
Blue Jays: RHP Mitch White (1-6, 5.21) has pitched against the Orioles once in his career, allowing five runs on three hits, two strikeouts and three walks over 2 1/3 innings last month.
Orioles: RHP Mike Baumann (1-3, 4.34 ERA) is 0-1 with an 8.10 ERA in three appearances, including one start, against Toronto.
___
More AP MLB: https://apnews.com/hub/MLB and https://twitter.com/AP_Sports
RDP Queens drop Trojans, share first place in the south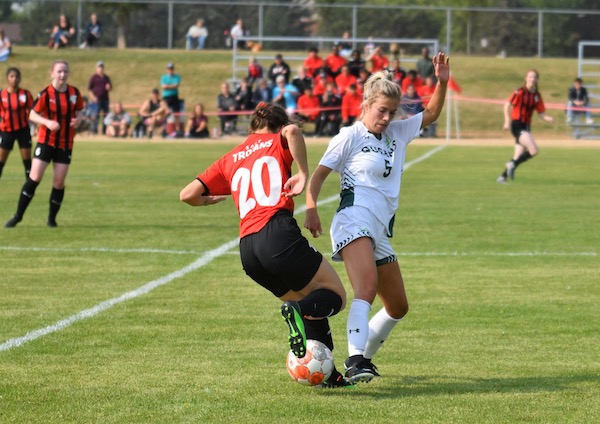 Ever since the Red Deer Polytechnic Queens were edged by the SAIT Trojans 4-3 in the season opener, they had the October 2 rematch circled on their calendars.
Despite playing the Trojans tough in the first game, the RDP Queens had several injuries and ill student-athletes, and believed if they were healthy and played up to their potential they could topple the defending Alberta Colleges Athletic Conference (ACAC) Champions.
That belief turned into reality Sunday afternoon in Calgary.
The visitors struck twice in the first half and earned an impressive 2-1 road decision over the second ranked women's soccer team in the Canadian Collegiate Athletic Association (CCAA).
In the 28th minute, Queens first-year striker Sein Furuyama controlled the ball on the left side and fired a high shot that eluded Trojans goalkeeper Erin Mergen into the right side of the net. It was Furuyama's league leading 19th goal of the season.
Furuyama (20)
The RDP Queens kept the pressure on and went up by a pair of goals 11 minutes later. Alisha Coules set up Grace Smith and the Bachelor of Commerce student found space in the left side of the net.
The 2-0 lead held until the 68th minute. On a two-on-one, SAIT's Meaghan Wiebe, the 2021/2022 ACAC Women's Soccer Rookie of the Year, elected to shoot and beat Queens goalkeeper Abby Kotyk with a low shot.
Both Kotyk (five saves) and Mergen (four saves) were unbeatable over the final 22 minutes and the Red Deer Polytechnic Queens sealed a 2-1 victory.
The RDP Queens (6-1-0) and SAIT Trojans (6-1-0) now share first place in the south.
Edmonton's Estel Quinteros was recognized as the Queens Player of the Game.
E. Quinteros (8)
Harleen Singh was named the Trojans Player of the Game.
The Red Deer Polytechnic Queens (6-1-0) will play the Ambrose University Lions (0-8-0) on Friday, October 7 on the road.
Janet Alvarez Perez (6)