MacKenzie Scott gives $123M to Big Brothers Big Sisters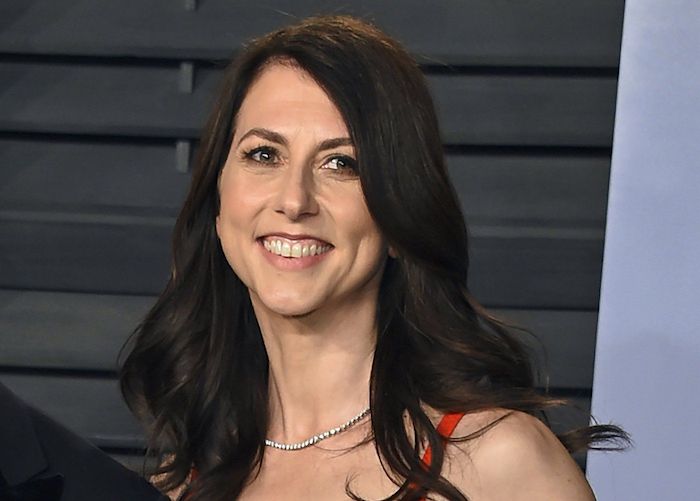 MacKenzie Scott gave $122.6 million to Big Brothers Big Sisters of America, the national youth-mentoring charity announced on Tuesday. The gift is the latest of several the billionaire writer has given to large national nonprofits that carry out their missions through local chapters in neighborhoods throughout the country.
With this latest donation, Scott has contributed a total of nearly $12.5 billion since 2020 to at least 1,253 nonprofits, many of which aim to help low-income and underserved populations. Her latest gift to Big Brothers Big Sisters of America follows three other nine-figure donations she gave to large national charities with local affiliates in March.
Those include $275 million to Planned Parenthood Federation of American for its national office and 21 of its local affiliates, $436 million to Habitat for Humanity International and 84 of its U.S. affiliates, and $281 million to the Boys & Girls Clubs America and 62 of its local chapters.
So far Scott has given at least $1.5 billion in the first five months of 2022, according to roughly 30 nonprofits that have announced Scott gifts this year.
Like almost all of Scott's donations, the contribution is unrestricted, so the charity can use it for programs, operations, or any other purpose.
"This is a moonshot for the work that we are going to do," said Artis Stevens, the group's CEO, who said it has spent the past two years designing a strategic plan for expanding its mentoring capabilities and was starting to devise fundraising efforts when Stevens received news of the gift last week. "Even though this gift is going to be transformative, one in three kids in this country don't have a positive sustained mentor in their lives and so this challenge is bigger than one organization can take on. We know we have to be able to build a capacity both in our organization as well as partnering with others to take this on."
Stevens says the organization plans to use Scott's gift for a variety of efforts in both its national office in Tampa, Florida, and at 38 of its 230 chapters throughout the county. Many of the families and youths the nonprofit serves are from underserved populations and were hit hard by the pandemic and recent social-justice struggles.
The organization currently has 30,000 youths waiting for a mentor. Stevens says Scott's gift will help expand its ability to match more youths with mentors and provide more mentor-training programs. It also aims to attract more volunteers who identify as people of color and LGBTQ+, as well as those in rural areas.
The nonprofit plans to broaden its offerings beyond its traditional format of one-to-one mentoring for children and teens by creating more group mentoring, peer-to-peer mentoring, and workplace mentoring for 18- to 25-year-olds.
"We're the largest provider of youth workplace mentoring in the country," said Stevens. "We want to be able to expand and extend our vision to every company in America to have a youth-mentoring program that both helps supply more of the work force and helps engage employees and give opportunities to kids in underrepresented, underserved communities."
Youth-mentoring programs take a tremendous amount of resources and staff time to be run well, said David DuBois, a University of Illinois professor who has studied mentoring programs for three decades and was a volunteer mentor for Big Brothers Big Sisters for two years earlier in his academic career.
"You've got to be able to support those relationships and check in and make sure that all parties — the kid, the volunteer, the parents — are getting the encouragement and the guidance," DuBois said. "So there's a lot of moving parts to these programs."
A key part is the extensive interview and vetting process volunteer mentors must go through before they are approved to work with youths, he said. Volunteers must be trained, and then the relationship between the volunteer and the young person needs continued guidance and monitoring. Having enough resources to carry all of that out is crucial.
While Scott's gift is a windfall for the organization, Stevens says with all that the charity hopes to accomplish, he knows it will go only so far. He and his team are already having conversations with the organization's donors about its ongoing needs. Stevens says he sees the gift as an "invitation" to other donors to support the group's plans for the future.
As with all big gifts, however, some donors might think that Big Brothers Big Sisters no longer needs their support, said Tyrone McKinley Freeman, associate professor of philanthropic studies and director of undergraduate programs at the Indiana University Lilly Family School of Philanthropy.
"There's that kind of tension that organizations have long dealt with," Freeman said. "It will be important to communicate how the resources are being used and what's being done and then how (others) can continue to contribute — especially for something like this where the need outpaces the group's volunteer base."
Stevens said he is having those conversations with his other donors now.
He described the gift as "awesome," saying, "It is transformative for 38 of our agencies, but we've got 230 agencies, and we know that there's much more work to do. There is more opportunity and more growth and more need in this country. But we need more people at the table. It takes all of us."
____
This article was provided to The Associated Press by the Chronicle of Philanthropy. Maria Di Mento is a senior reporter at the Chronicle. Email: [email protected] The AP and the Chronicle receive support from the Lilly Endowment for coverage of philanthropy and nonprofits. The AP and the Chronicle are solely responsible for all content. For all of AP's philanthropy coverage, visit https://apnews.com/hub/philanthropy.
North American stock markets wrap up brutal quarter and first half of 2022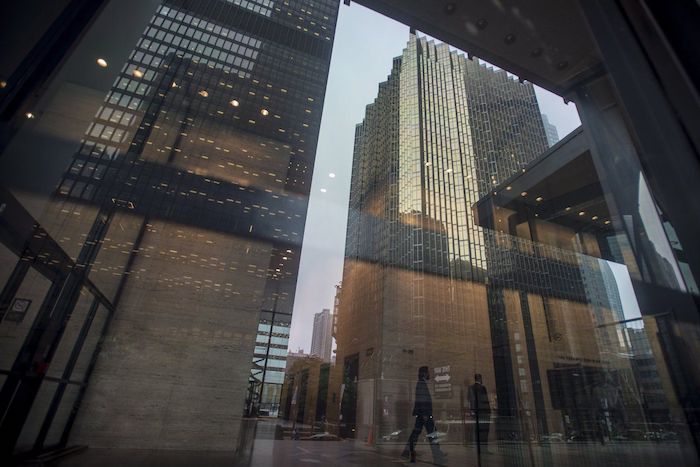 By Ross Marowits in Toronto
Allan Small said the first half of 2022 has proven to be the worst run of his 25-year investment career.
Canada's main stock index concluded its weakest quarter since before the pandemic while U.S. markets endured their worst six-months runs in decades on fears that rising interest rates will throw the economy into recession.
"As we hit the mid-point of the year, when you look back I think the first part of the year will be known for just a bloodbath in the markets," the senior investment adviser at IA Private Wealth said in an interview.
The S&P/TSX composite index closed down 217.28 points to 18,861.36 to end the quarter off nearly 14 per cent for the biggest decrease since December 2019. The TSX is closed Friday for Canada Day while U.S. markets will be closed Monday for Independence Day.
In New York, the Dow Jones industrial average was down 253.88 points at 30,775.43. The S&P 500 index was down 33.45 points at 3,785.38, while the Nasdaq composite was down 149.15 points at 11,028.74.
The TSX is down 11 per cent so far this year, while the Dow is down 15 per cent, the S&P 500 is off 20.6 per cent for the worst six months in 50 years and Nasdaq fell a record 29.5 per cent.
"I don't remember a year that started off the six months this poorly," said Small.
Soaring inflation has been stoked by Russia's invasion of Ukraine while supply chain bottlenecks have been accentuated by China's COVID-19 lockdowns.
While markets endured steep declines in the past due to COVID-19 and the financial crisis, they were always followed by people buying the dip. This time, many investors remain on the sidelines after getting hammered and unsure about when markets will bottom out.
Economic data out of the U.S. on Thursday said core inflation numbers, the Fed's preferred inflation measure, rose 4.7 per cent in May. That's 0.2 of a per cent lower than April but still around 40-year highs.
In Canada, economic growth slowed in April to 0.3 per cent, while a preliminary estimate for May suggests it likely contracted 0.2 per cent. The U.S. previously said its economy slipped 1.6 per cent in the first quarter.
A negative number in the second quarter will mean the U.S. economy is technically in recession. But Small said many people think the economy is already there and that Canada is either in recession or about to go into one.
Small said he wouldn't be surprised to see markets rise during a recession in anticipation of things getting better, with inflation moving down after peaking.
Real estate and utilities were the lone sectors in positive territory Thursday in a broad-based slump with six of nine sectors falling by more than one per cent.
Health care led the declines, losing 4.1 per cent with Canopy Growth Corp. plunging 18.5 per cent after the pot producer announced a convertible notes exchange.
Materials lost 3.6 per cent on a drop in metals prices, particularly copper.
The August gold contract was down US$10.20 at US$1,807.30 an ounce and the September copper contract was down 7.1 cents at US$3.71 a pound.
"Whenever you have fear of a recession, those types of metals which are used to build homes and build things, the fear is that you're not going to need to use as much of these building materials," Small said.
Energy lost 1.7 per cent on lower prices with crude oil dropping as Advantage Oil & Gas Ltd. shares were down six per cent.
The August crude contract was down US$4.02 at US$105.76 per barrel and the August natural gas contract was down US$1.07 at US$5.42 per mmBTU.
The Canadian dollar traded for 77.60 cents US compared with 77.65 cents US on Wednesday.
Shopify Inc. decreased 5.6 per cent to push technology lower while Laurentian Bank fell 2.5 per cent to lead a drop in the heavyweight financial sector.
Small is hoping for a better second half of the year after central banks conclude their aggressive interest rate hikes to tame soaring inflation.
"I don't know if we're going to make back enough to get us in the green for the year, but I'm hopeful that we'll see a positive second half and we'll make back some of the losses."
This report by The Canadian Press was first published June 30, 2022.
Companies in this story: (TSX:AAV, TSX:WEED, TSX:LB, TSX:SHOP, TSX:GSPTSE, TSX:CADUSD=X)
Supreme Court limits EPA in curbing power plant emissions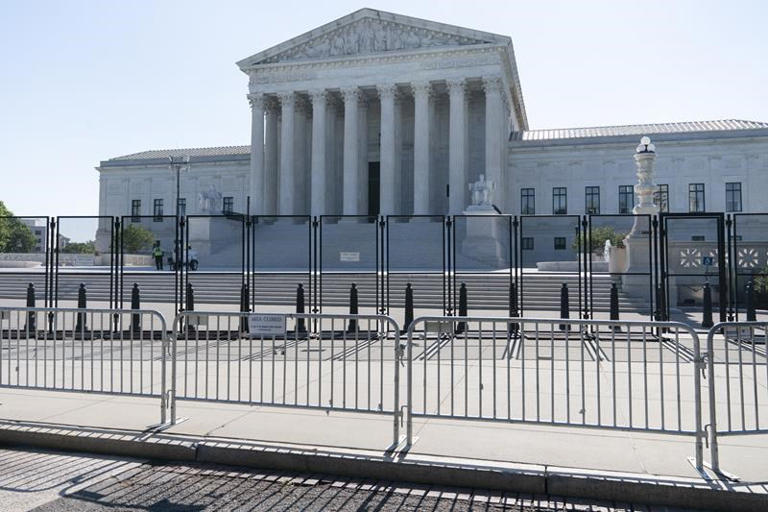 WASHINGTON (AP) — In a blow to the fight against climate change, the Supreme Court on Thursday limited how the nation's main anti-air pollution law can be used to reduce carbon dioxide emissions from power plants.
By a 6-3 vote, with conservatives in the majority, the court said that the Clean Air Act does not give the Environmental Protection Agency broad authority to regulate greenhouse gas emissions from power plants that contribute to global warming.
The court's ruling could complicate the administration's plans to combat climate change. Its proposal to regulate power plant emissions is expected by the end of the year.
President Joe Biden aims to cut the nation's greenhouse gas emissions in half by the end of the decade and to have an emissions-free power sector by 2035. Power plants account for roughly 30% of carbon dioxide output.
The Associated Press