Liberal MP questions Justice Department's legal advice on fired scientists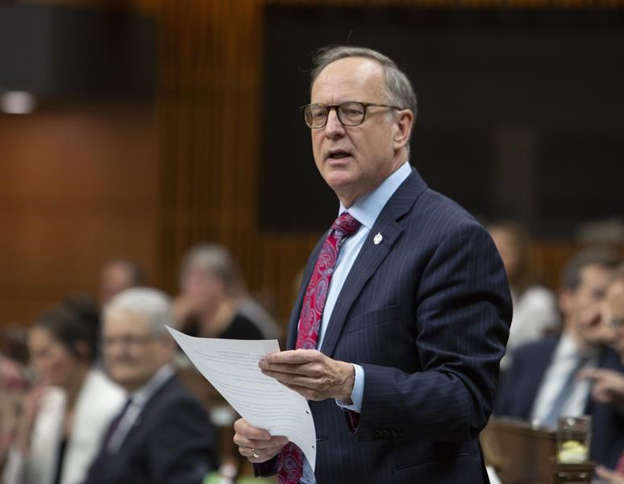 OTTAWA — A Liberal MP is advising the Public Health Agency of Canada not to rely on legal advice from the federal Justice Department because it is not always right.
Toronto MP Rob Oliphant, parliamentary secretary to the Foreign Affairs minister, gave the advice late Monday at a House of Commons committee that is trying to find out why two scientists at Canada's highest security laboratory were fired.
PHAC president Iain Stewart told the special committee on Canada-China relations that revealing details would breach the Privacy Act and jeopardize national security and an ongoing RCMP investigation.
He says that advice was given by the Justice Department.
Committee members, backed up by parliamentary law clerk Phiippe Dufresne, insist they have the constitutional authority to order the production of any documents they please and that their authority takes precedence over any other laws.
But Christian Roy, director and senior general counsel of health legal services at the Justice Department, says the department has never recognized the power of committees to compel documents in violation of the Privacy Act or other laws.
Oliphant questioned Roy's legal opinion.
"Lawyers are not always right and Justice lawyers are particularly, in my mind, not always right," he told the committee.
He noted that Justice lawyers were wrong in claiming a law banning genetic discrimination was unconstitutional, after fighting it all the way to the Supreme Court of Canada.
Moreover, Oliphant said he was "horrified" to discover that Justice lawyers had advised the Canadian Security Intelligence Service to illegally keep potentially revealing electronic data about people over a 10-year period.
"I have learned to now question of Department of Justice lawyers," Oliphant said, suggesting that Stewart get "a second opinion because the Justice Department is not giving you the best advice."
The committee voted unanimously later Monday to give PHAC 10 days to turn over unredacted documents about the fired scientists, which the parliamentary law clerk is to review and advise committee members as to what needs to be blacked out to protect privacy, national security and the police investigation.
If the agency continues to refuse to disclose the unredacted documents, the committee will seek an order to do so from the House of Commons.
PHAC formally terminated the employment of Canadian scientists Xiangguo Qiu and her husband, Keding Cheng, in January.
The pair was escorted out of the National Microbiology Laboratory (NML) in July 2019 over what Stewart has described as "relating to possible breaches in security protocols."
The Winnipeg lab is Canada's only Level Four laboratory, designed to deal safely with deadly contagious germs such as Ebola.
PHAC has previously said the pair's escorted exit had nothing to do with the fact that four months earlier, Qiu had been responsible for a shipment of Ebola and Henipah viruses to China's Wuhan Institute of Virology.
Stewart has released some redacted documents to the committee about that virus transfer, which he said show that all laws and protocols were followed.
He also assured the committee Monday that there is no link between those viruses and the coronavirus that causes COVID-19, which first surfaced in China's Wuhan province.
That didn't stop Conservative MP Michael Chong, who referred to the two fired scientists as being Chinese when they are in fact Canadians.
"There is no doubt that (Qui) trained technicians at that very institute of virology to establish a Level Four lab, the only Level Four lab in the People's Republic of China, and there is no doubt that the coronavirus emerged ostensibly in Wuhan a number of months later," Chong said.
He dismissed suggestions that he was peddling a conspiracy theory, citing various experts who've posited that the coronavirus may have been inadvertently released from the Wuhan lab.
Oliphant accused Chong of "drawing two threads that are completely unrelated together," calling it "absolutely irresponsible" and "cheap politics."
Bloc Quebecois MP Stephane Bergeron agreed that Chong's language was inflammatory.
This report by The Canadian Press was first published May 10, 2021.
The Canadian Press
Blue Jays earn top wild card, beat Os 5-1 as Guerrero homers
By Todd Karpovich in Baltimore
BALTIMORE (AP) — Vladimir Guerrero Jr. hit his 32nd homer and the Toronto Blue Jays earned the top seed for an American League wild card series with a 5-1 rain-shortened victory over the Baltimore Orioles on Monday night.
Play was halted by rain with Toronto batting with two outs in the eighth and called after a wait of 55 minutes.
Toronto clinched the right to host a best-of-three playoff series against Seattle or Tampa Bay starting Friday when the Mariners lost to Detroit later Monday.
"There was one singular focus today when the game did start and that was to win," Blue Jays interim manager John Schneider said. "You really can't say enough how they responded."
Whit Merrifield went 3 for 3 with an RBI for the Blue Jays, who have won four straight.
Before a crowd of just 10,642, José Berríos (12-7) allowed one run and three hits with five strikeouts and three walks over six innings.
"I thought we were going to have a delay but we started on time," Berríos said. "I just went there to compete and get that win for the team and we did it. The mound was wet and it was raining all night."
Tim Mayza earned his second save.
Baltimore's Jorge Mateo stole his American League-leading 35th base, one ahead of teammate Cedric Mullins.
Baltimore already had secured a winning season for the first time since 2016.
Toronto took a 2-0 lead off Dean Kremer in the second on a single by Merrifield that scored Teoscar Hernández and Matt Chapman.
Guerrero boosted the lead to 3-0 with a 422-drive over the left-field wall in the third. He became the fourth player in Blue Jays franchise history to hit at least 32 home runs at age 24 or younger.
The Orioles got the board in the bottom half on a sacrifice fly by Anthony Santander that Hernandez was able to snag with a running, leaping catch at the right-field fence.
A wild pitch by Kremer allowed Merrifield to score in the fifth as the Blue Jays increased the lead to 4-1.
"I can do different things to help and impact the game," Merrifield said. "It's nice that they're coming at big times for us."
Kremer (8-7) allowed four runs and six hits with four strikeouts and one walk over six innings. He ends the season with a 3.23 ERA over 21 starts.
Chapman added an RBI single in the eighth.
"Not easy to play in," Orioles manager Brandon Hyde said. "Kind of a tough night all around. Wet, cold. Dean, it affected him a little bit. His stuff wasn't the same as it is normally."
MVO
Orioles catcher Adley Rustchman is the winner of the 2022 Most Valuable Oriole Award. Rutschman is the third rookie to win the award since its inception in 1954, joining right-handed pitchers Gregg Olson in 1989 and Rodrigo López in 2002.
TRAINER'S ROOM
Blue Jays: OF Lourdes Gurriel Jr. (left hamstring strain) could be available when the postseason begins on Friday.
Orioles: RHP Félix Bautista, who leads the team with 15 saves, has been shut down for the season with left knee soreness.
UP NEXT​​
Blue Jays: RHP Mitch White (1-6, 5.21) has pitched against the Orioles once in his career, allowing five runs on three hits, two strikeouts and three walks over 2 1/3 innings last month.
Orioles: RHP Mike Baumann (1-3, 4.34 ERA) is 0-1 with an 8.10 ERA in three appearances, including one start, against Toronto.
___
More AP MLB: https://apnews.com/hub/MLB and https://twitter.com/AP_Sports
CPNewsAlert: Coalition Avenir Québec wins majority government
MONTREAL — The Canadian Press is projecting that François Legault's right-of-centre Coalition Avenir Québec will form a majority government after dominating in the polls since the start of the campaign.
Legault promised Quebecers his nationalist government would cut income taxes, increase the role of the private sector in the health-care system and maintain immigration levels at 50,000 people per year.
More coming.
The Canadian Press