Liberal MP caught stark naked during House of Commons video conference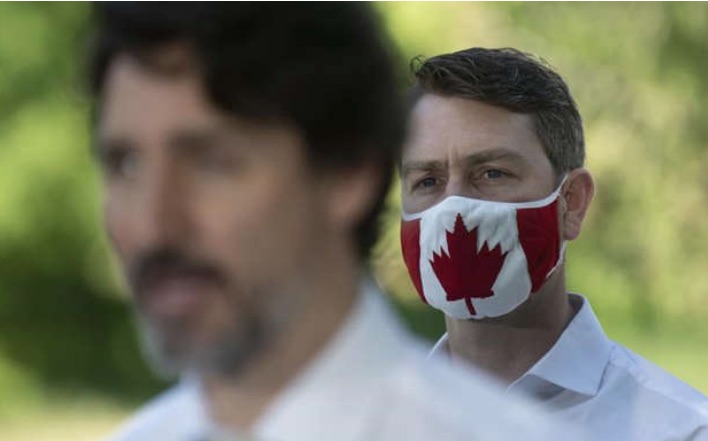 OTTAWA — A Liberal MP was caught wearing his birthday suit in the virtual House of Commons.
William Amos, who has represented the Quebec riding of Pontiac since 2015, appeared on the screens of his fellow members of Parliament completely naked Wednesday.

A screenshot obtained by The Canadian Press shows him standing behind a desk between the Quebec and Canadian flags, his private parts hidden by what appears to be a mobile phone in one hand.

"This was an unfortunate error," Amos said in a statement sent by email Wednesday.

"My video was accidentally turned on as I was changing into my work clothes after going for a jog. I sincerely apologize to my colleagues in the House of Commons for this unintentional distraction. Obviously, it was an honest mistake and it won't happen again."

Bloc Québécois MP Claude DeBellefeuille, the party whip, raised the incident in a point of order after question period, suggesting a reminder about parliamentary decorum.

"It may be necessary to remind the members, especially the male ones, that a tie and jacket are obligatory, but so are a shirt, boxer shorts or pants," she said in French.

"We have seen that the member is in great physical shape, but I think members should be reminded to be careful and control the camera well."
Speaker Anthony Rota later thanked DeBellefeuille for her "observations" and clarified that while he had not seen anything, he checked with technicians and confirmed they saw something.
He reminded MPs to always be vigilant when they are near a camera and microphone.
Amos, the parliamentary secretary to Industry Minister Francois-Philippe Champagne, was visible only to MPs and staffers on an internal video conference feed. Because he was not speaking during question period, his image did not show up on the public feed.
Liberal whip Mark Holland said Amos was "utterly mortified."
Holland said he was satisfied with the explanation from his caucus colleague.
"I don't think there was any ill intent … It's certainly an unfortunate circumstance," Holland said in an interview.
"I think it's part of the circumstances of the world we're in right now, where the line between our home and our office place is so blurred and trying to manage that is sometimes challenging," he added.
"This is a warning to everybody. You've got to really always assume that camera is on and be very careful any time you wander anywhere near that camera that you're dressed appropriately."
Asked if he'll be issuing a warning to all Liberal MPs to that effect, Holland said: "Oh, big time."
This report by The Canadian Press was first published April 14, 2021.
Catherine Lévesque and Joan Bryden, The Canadian Press
Note to readers: This is a corrected story. A previous version referred to William Amos, the parliamentary secretary to Industry Minister Francois-Philippe Champagne, as a backbench Liberal MP.
Canadian sprinter Andre De Grasse wins bronze in men's 100 metres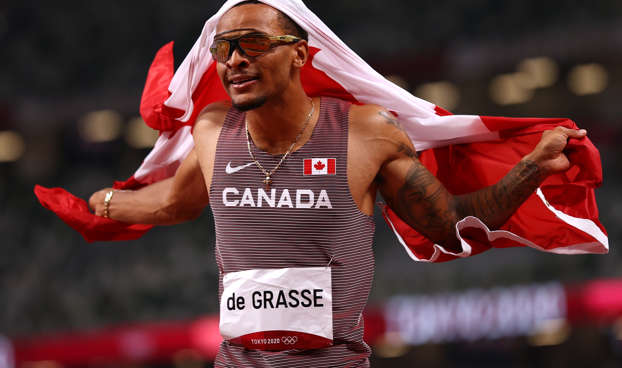 TOKYO — Canada's Andre De Grasse has claimed the bronze medal in the men's 100 metres for the second straight Olympics.
The 26-year-old from Markham, Ont., overcame a rough start and raced to third in a personal-best time of 9.89 seconds.
Italy's Lamont Jacobs took the gold in 9.80 seconds, followed by American Fred Kerley in 9.84 seconds. All three medallists ran personal bests.
It's Canada's first track and field medal at the Tokyo Olympics. It's also the latest piece of hardware in the event for De Grasse, who won bronze in the 100 in both the 2016 Olympics and 2019 world championships.
Two hours earlier, De Grasse ran 9.98 to finish second in his semifinal and seventh overall.
De Grasse is the first Canadian male to climb the medal podium in Tokyo. Led by swimming superstar Penny Oleksiak, women had captured all of Canada's 13 previous medals.
De Grasse will have a day off before he's back on the track for the 200 heats and semifinal on Tuesday. He captured silver in the 200 at both the 2016 Olympics and 2019 world championships.
There was no clear-cut favourite in the men's 100 this year with the retirement of Usain Bolt. The Jamaican superstar and world record-holder (9.58) captured gold and silver in the 100 and 200 in the Beijing, London and Rio, and what the media dubbed his "bromance" with fellow Puma athlete De Grasse was an entertaining storyline in Rio.
American Christian Coleman, the reigning world 100-metre champion and the sprinter considered De Grasse's biggest challenge in Tokyo, is serving a doping suspension through May of next year.
This report by The Canadian Press was first published Aug. 1, 2021.
The Canadian Press
Penny Oleksiak makes history as Canada swims to bronze in medley relay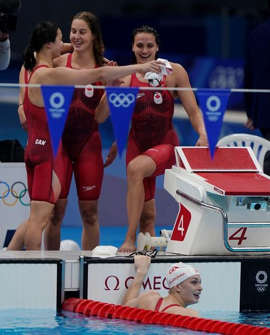 Masse, 25, earned a pair of silver in backstroke. Oleksiak also claimed bronze in the 200-metre freestyle.
The women's swim team amassed six medals in Tokyo to equal its Rio count of five years ago.
Taylor Ruck of Kelowna, B.C., Pickrem, Mac Neil and Toronto's Kayla Sanchez posted the fastest qualification time in Friday's heats to give Canada a middle lane Sunday.
The medley relay medal was Canada's first since 1988 and fourth in the 61-year Olympic history of race. Canadian women were bronze medallists in 1976, 1984 and '88.
Oleksiak won 100-freestyle gold, 100-butterfly silver and anchored Canada to a pair of freestyle relay bronze medals at age 16 in Rio.
Heats, semifinals, finals and relays added up to 10 races over nine days for Oleksiak in Tokyo, where she added a pair of relay medals and the 200 free bronze to her total.
Oleskiak, Mac Neil and Masse claimed their third medals at the Tokyo Aquatic Centre.
This report by The Canadian Press was first published July 31, 2021.
The Canadian Press