Leslyn Lewis joins Pierre Poilievre in skipping third Conservative leadership debate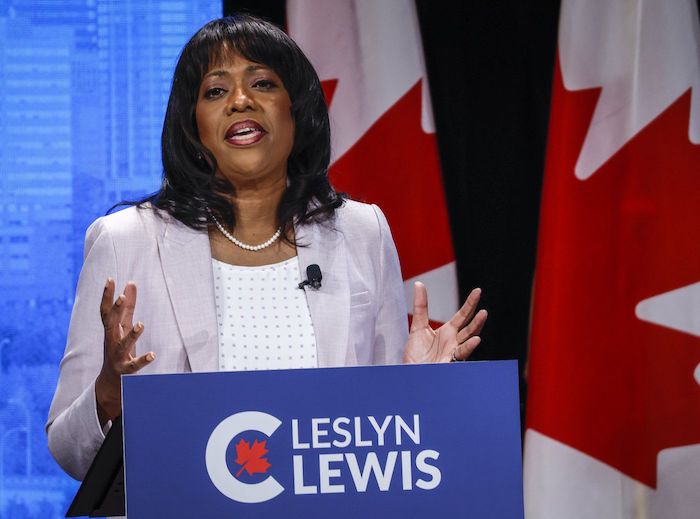 Leslyn Lewis has officially decided to skip out on the Conservative party's next leadership debate.
Her campaign says it informed the race's organizing committee she will not attend the "all-candidate event" set for Aug. 3.
The five candidates vying to replace former leader Erin O'Toole have been told by the party they are expected to appear in Ottawa for a third and final official debate before results are revealed Sept. 10.
Longtime MP Pierre Poilievre, the contest's perceived front-runner, has announced on social media he won't attend because he is focused on getting out the vote.
Lewis had expressed concerns about the need for another debate and in a recent open letter to the party asked whether it would cover topics including abortion and the World Economic Forum, issues she says members are inquiring about.
Under Conservative rules, candidates who do not attend party debates will be fined $50,000.
This report by The Canadian Press was first published July 28, 2022.
U.S. launches second USMCA dispute panel as dairy battle with Canada goes to Round 2
WASHINGTON — The United States is filing another formal dispute over what it considers Canada's failure to live up to its trade obligations to American dairy farmers and producers.
It's the second time the U.S. has launched such a dairy-driven escalation, formally known as a dispute settlement panel, in less than two years.
U.S. Trade Representative Katherine Tai says the new panel has become necessary because Canada has so far refused to take the steps necessary to properly address the first one.
That panel ruled in December 2021 that Canada was indeed violating the terms of the U.S.-Mexico-Canada Agreement with the way it was allocating import quotas for U.S. dairy products.
U.S. trade officials and dairy industry advocates say a large share of those quotas were being allocated to processors rather than producers.
The U.S. says the federal government amended its policies, but that the new procedures remain "inconsistent" with the terms of the agreement, known as USMCA in the U.S. and CUSMA in Canada.
"The Canadian government's revised measures have not fixed the problem," Tai said in a statement announcing the decision. "Canada made commitments to the United States in the USMCA, and the Biden-Harris administration is ensuring that they honour those commitments."
This report by The Canadian Press was first published Jan. 31, 2023.
The Canadian Press
Parks Canada updating its reservation system to book camping and other activities
Calgary – Parks Canada says visitors will be able to start booking reservations for camping and other activities at its sites across the country in March.
The reservation dates, which are posted online, are different at each national park, historic site and marine conservation area.
Parks Canada says in a statement that the bookings are a couple months later than recent years because the reservation system was getting outdated and needed some upgrades.
The agency says the system will look different from the previous one, but it will offer the same features and functions.
It adds, however, that anyone who wants to save information about previous bookings to do so before Feb. 26.
All users will be required to create a new user account on the upgraded system after March 3 and before they start booking any reservations later that month.
This report by The Canadian Press was first published Jan. 30, 2023.