Legault says minority government better for Quebec, calls NDP, Liberals 'dangerous'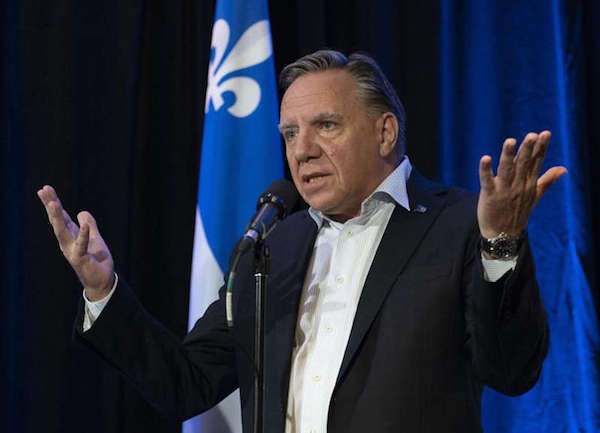 MONTREAL — Premier François Legault on Thursday called the NDP and Liberals "dangerous" for Quebec and strongly suggested he preferred the Conservatives to win a minority government in the Sept. 20 federal election.
Legault praised Conservative Leader Erin O'Toole for promising to increase health transfers without conditions, to give the province more control over immigration and for pledging not to join a challenge to Quebec's secularism law, known as Bill 21. That law bans some public sector workers such as teachers from wearing religious symbols on the job.
But the premier said he was unhappy the Tory leader is promising to cancel a $6-billion child-care deal the province signed with the Liberals, adding that O'Toole needed to explain himself on the issue. That money is without conditions, meaning it can be spent on sectors unrelated to child care.
"We don't want to see religious symbols for people in authority, Mr. O'Toole respects this, so for the Quebecois nation, it's a good approach," Legault told reporters in Quebec City a day after the second French-language leaders debate of the federal election.
"On the other hand, Mr. O'Toole wants to deprive us of $6 billion that comes without conditions, it's not nothing."
But despite his satisfaction with the child-care deal, Legault said the Liberals would reduce Quebec's autonomy in the Canadian federation, adding that the NDP and Green Party would do the same.
"I find that dangerous," he said.
In particular, Legault said Liberal Leader Justin Trudeau and NDP Leader Jagmeet Singh want to impose national standards for health care, which he described as appropriation of provincial powers.
"Mr. Trudeau, he has an approach where he wants to meddle in health care, he doesn't want to give us power over immigration, when it's important for protecting our identity, our nation," Legault said. "He has not ruled out opposing Bill 21, so it's very concerning for all Quebecers who are nationalists."
And while Legault said the increased federal health transfers proposed by O'Toole aren't sufficient, he said Trudeau hasn't proposed any increases.
Legault said he won't tell Quebecers how to vote, but he said given that no federal party is giving Quebec everything it wants, a minority government would be best for the province.
"It's up to Quebecers to choose, but I'll tell you this, I'm a nationalist, I want Quebec to have more autonomy and power," he said.
This report by The Canadian Press was first published Sept. 9, 2021.
———
This story was produced with the financial assistance of the Facebook and Canadian Press News Fellowship.
Jacob Serebrin, The Canadian Press
NewsAlert: Senate gives speedy passage to bill banning conversion therapy
OTTAWA — The Senate has passed legislation to ban conversion therapy in Canada.
After minimal debate, senators have agreed to fast-track Bill C-4 through all stages of the legislative process and deem it passed.
The move was proposed by the interim leader of the Conservative Senate caucus, Sen. Leo Housakos.
It follows a similar move by Conservatives in the House of Commons last week to speed the bill through that chamber without lengthy debate, committee study or votes.
The bill makes it a criminal offence to force a person to undergo the traumatizing practice of "conversion therapy" aimed at altering their sexual orientation or gender identity.
More than half of the 119 Conservative MPs voted against a similar bill last June, which gave Liberals ammunition to accuse the party of being anti-LGBTQ during the fall election campaign.
More Coming.
This report by The Canadian Press was first published Dec. 7, 2021.
The Canadian Press
Military's former head of human resources charged with sexual assault, indecent acts
OTTAWA — Military police say they have charged the former head of human resources for the Canadian Armed Forces with one count of sexual assault.
The Canadian Forces National Investigation Service says Vice-Admiral Haydn Edmundson has also been charged with one count of indecent acts.
The charges come weeks after Defence Minister Anita Anand announced she had accepted retired Supreme Court justice Louise Arbour's call to have the investigation and prosecution of military sexual assault cases transferred to civilian authorities.
In announcing the charges against Edmundson, the CFNIS noted Arbour left open the door to leaving investigations in the hands of military police if they are near completion.
Edmundson's case will proceed through the civilian justice system rather than the military's justice system.
Edmundson stepped down as head of military personnel command in March due to a police investigation after a CBC report of alleged sexual assault. He has denied the allegations.
His successor, Lt.-Gen. Steven Whelan, stepped aside in October due to a military police investigation into an allegation of sexual misconduct. He has also denied any wrongdoing.
This report by The Canadian Press was first published Dec. 7, 2021.
The Canadian Press