Lawyer questions coverage of First Nations water settlement as deal to be ratified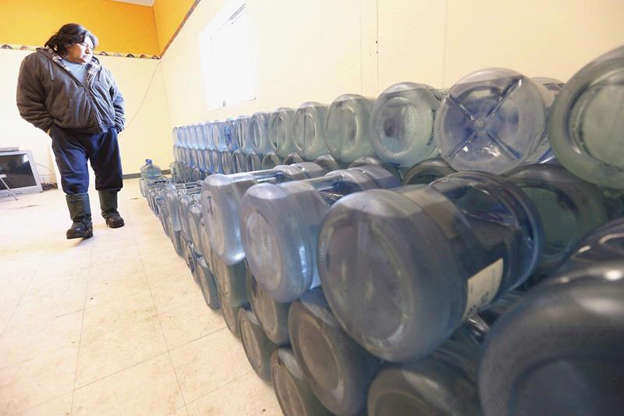 An $8-billion class-action settlement on First Nations drinking water due to be ratified next week still isn't clear on who it will cover, says a lawyer involved with the issue.
Clayton Leonard, who represents several Alberta bands that have filed their own drinking water lawsuits, said Wednesday he's getting conflicting answers from the Justice Department and federal lawyers who worked on the deal.
"Who are the members of the class?" he asked. "Who gets left behind?
"There are still lots of things that don't seem to have a sense of clarity or fairness around them."
In July, the federal government reached an agreement in principle on an out-of-court settlement for a class-action lawsuit brought over the lack of clean, safe, drinking water in First Nations communities.
The agreement includes $1.5 billion in compensation for people deprived of clean drinking water, $400 million for a First Nations economic and cultural restoration fund, and at least $6 billion to support reliable access to safe drinking water on reserves.
The class action, brought by Tataskweyak Cree Nation in Manitoba and the Curve Lake and Neskantaga First Nations in Ontario, included all First Nations people whose communities were subject to a drinking water advisory for at least a year starting on Nov. 8, 1995.
The settlement is scheduled for a ratification hearing Tuesday in parallel hearings in Federal Court and Manitoba Court of Queen's Bench.
But Leonard points out the settlement could exclude a lot of First Nations. Some bands, he said, solved their own problem or had water advisories that didn't meet the one-year advisory threshold.
"Why a year?" he asked. "There might have been 30 in a year that were six months long and were lifted because a First Nation took its own steps to respond."
Others have had recurring short-term water problems, he said.
"Sometimes they're seasonal, during high turbidity levels in the spring, but when you look at the big picture it's a compelling story of chronic drinking water problems. Doesn't match the class, but it tells the same story.
"Why are those nations being left behind?"
Leonard said federal officials have told him the $6 billion is for all First Nations, but federal lawyers who negotiated the deal have told him it's only for members of the class action.
Leonard said the settlement is also ambiguous on which advisories are counted. It's not clear if they have to be Health Canada advisories, provincial advisories or advisories issued by band councils.
He said he's aware of at least five court actions against the federal government on drinking water, including two brought by his clients, that won't be settled by the class action.
Spokespeople from Indigenous Services Canada or the Assembly of First Nations, which supported the class action, were not immediately available for comment.
Leonard said the confusion stems from using a class-action lawsuit to settle an issue that should have been addressed through legislation.
It has been estimated the settlement will affect 120 First Nations across Canada.
A government website says there remain 43 water advisories in 31 First Nations communities. Since 2015, 119 such advisories have been lifted.
In 2011, a national engineering assessment estimated the cost of bringing all First Nations water systems up to Canadian standards would be $4.9 billion over 10 years.
In a report tabled Wednesday, Parliamentary Budget Officer Yves Giroux said the government has set aside more than enough money to meet the expected capital costs to build water and wastewater systems over the next five years but needs to fund training programs to run and maintain the systems.
This report by The Canadian Press was first published Dec. 1, 2021.
— Follow Bob Weber on Twitter at @row1960
Bob Weber, The Canadian Press
CFL, CFL Players' Association reach another tentative agreement
By Dan Ralph
The CFL and CFL Players' Association have reached another tentative agreement.
According to a league source, the two sides hammered out a second agreement in principle Thursday, two days after CFL commissioner Randy Ambrosie unveiled the league's final offer to its players.
The source spoke on the condition of anonymity as neither the CFL nor the CFLPA have confirmed the deal.
The new agreement is pending ratification by both the CFL Players' Association membership and league's board of governors. According to two sources, the players will vote on the deal Thursday night.
Time is of the essence as the CFL exhibition schedule is slated to kick off Friday night with two games.
On Monday, the players voted against a tentative deal that the union had recommend they accept. The CFLPA is also recommending acceptance of Thursday's tentative agreement.
The Canadian ratio will remain at 21 on the roster and seven starters for this season. Teams will be able to rotate two nationalized Canadians — Americans who've spent either four years in the CFL or at least three with the same team — in 2023 for up to 49 per cent of snaps on either side of the ball.
Teams can move to three nationalized Canadians in 2024 but the two franchises that play the most Canadians at the end of the season will receive additional draft picks.
The CFL will also provide $1.25 million in a ratification pool for players.
The two sides had been at odds regarding the Canadian ratio.
Last Wednesday, the CFL and CFLPA reached a tentative seven-year agreement, ending a four-day strike by seven of the league's nine teams. At first glance, there seemed to be many positives for the players, including a revenue-sharing model the ability to reopen the pact in five years once the CFL signed a new broadcast deal and veteran players having the ability to negotiate partially guaranteed contracts.
But the agreement also called for CFL teams to increase the number of Canadian starters from seven to eight. The extra would be a nationalized Canadian.
In addition, three other nationalized Canadians could play up to 49 per cent of all snaps on either side of the ball. And the deal also didn't include a ratification bonus.
And despite a recommendation to accept from the union, the players voted against ratifying the deal.
On Tuesday, Ambrosie unveiled an amended proposal that included a $1-million ratification pool and the abolition of the three nationalized Canadians playing 49 per cent of snaps. However, it also reduced the number of Canadian starters to seven, including one nationalized Canadian.
Not only did Ambrosie say it was the CFL's final offer, but it was good until midnight ET on Thursday, given the league's exhibition schedule was slated to begin Friday night with two games. Ambrosie added if the players rejected the offer and opted to go back on strike, they'd be served notice to vacate their respective training-camp facilities.
It marked the second time Ambrosie had gone public with a final contract offer to the CFLPA. On May 14, he posted a letter to fans on the league's website detailing the league's proposal to players hours before the former CBA was set to expire.
The next day, players on seven CFL teams opted against reporting to training camp and went on strike. The Edmonton Elks and Calgary Stampeders both opened camp as schedule because they weren't in a legal strike position, as per provincial labour laws, at the time.
It marked just the second work stoppage in league history and first since 1974.
This report by The Canadian Press was first published May 24.
Police: Texas gunman was inside the school for over an hour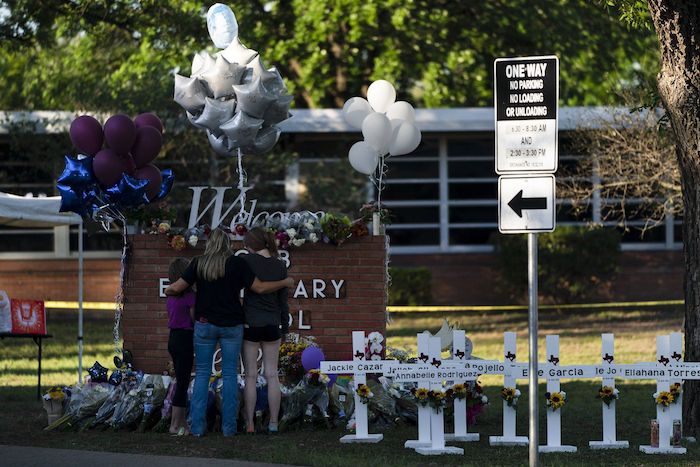 By Jake Bleiberg, Jim Vertuno And Elliot Spagat in Uvalde
Texas authorities say the gunman who massacred 21 people at an elementary school was in the building for over an hour before he was killed by law enforcement officers.
The amount of time that elapsed has stirred anger and questions among family members, who demanded to know why they did not storm the place and put a stop to the rampage more quickly.
Texas Department of Public Safety spokesperson Travis Considine said 18-year-old Salvador Ramos entered Robb Elementary School and began his rampage at 11:40 a.m. Tuesday.
A Border Patrol tactical unit began trying to get inside an hour later, and at 12:58 p.m., radio chatter noted he was dead.
THIS IS A BREAKING NEWS UPDATE. AP's earlier story follows below.
UVALDE, Texas (AP) — Law enforcement authorities faced mounting questions and criticism Thursday over how much time elapsed before they stormed a Texas elementary school classroom and put a stop to the rampage by a gunman who killed 19 children and two teachers.
Separately, after two days of unclear and contradictory accounts from police, a Texas law enforcement official said that an armed school district officer did not encounter or exchange fire with the attacker, 18-year-old Salvador Ramos, before he entered Robb Elementary in the town of Uvalde, as previously reported.
But many other details about the timing of events and the police response remained murky. The motive for the massacre — the nation's deadliest school shooting since Newtown, Connecticut, a decade ago — remained under investigation, with authorities saying Ramos had no known criminal or mental health history.
During the siege, which ended when a U.S. Border Patrol team burst in and shot the gunman to death, frustrated onlookers urged police officers to charge into the school, according to witnesses.
"Go in there! Go in there!" women shouted at the officers soon after the attack began, said Juan Carranza, 24, who watched the scene from outside a house across the street.
Carranza said the officers should have entered the school sooner: "There were more of them. There was just one of him."
Texas Department of Public Safety Director Steve McCraw said Wednesday that 40 minutes to an hour elapsed from when Ramos opened fire on the school security officer to when the tactical team shot him.
"The bottom line is law enforcement was there," McCraw said. "They did engage immediately. They did contain (Ramos) in the classroom."
But a department spokesman said Thursday that authorities were still working to clarify the timeline of the attack, uncertain whether that period of 40 minutes to an hour began when the gunman reached the school, or earlier, when he shot his grandmother at home.
"Right now we do not have an accurate or confident timeline to provide to say the gunman was in the school for this period," Lt. Christopher Olivarez told CNN.
Border Patrol Chief Raul Ortiz did not give a timeline but said repeatedly that the tactical officers from his agency who arrived at the school did not hesitate. He said they moved rapidly to enter the building, lining up in a "stack" behind an agent holding up a shield.
"What we wanted to make sure is to act quickly, act swiftly, and that's exactly what those agents did," Ortiz told Fox News.
But a law enforcement official said that once in the building, the Border Patrol agents had trouble breaching the classroom door and had to get a staff member to open the room with a key. The official spoke on condition of anonymity because he was not authorized to talk publicly about the investigation.
Olivarez said investigators were trying to establish whether the classroom was, in fact, locked or barricaded in some way.
Javier Cazares, whose fourth grade daughter, Jacklyn Cazares, was killed in the attack, said he raced to the school as the massacre unfolded. When he arrived, he saw two officers outside the school and about five others escorting students out of the building. But 15 or 20 minutes passed before the arrival of officers with shields, equipped to confront the gunman, he said.
As more parents flocked to the school, he and others pressed police to act, Cazares said. He heard about four gunshots before he and the others were ordered back to a parking lot.
"A lot of us were arguing with the police, 'You all need to go in there. You all need to do your jobs.' Their response was, 'We can't do our jobs because you guys are interfering,'" Cazares said.
Ramos crashed his truck into a ditch outside the school, grabbed his AR-15-style semi-automatic rifle and shot at two people outside a funeral home, who ran away uninjured, according to authorities and witnesses.
As for the armed school officer, he was driving nearby but was not on campus when Ramos crashed his truck, according to a law enforcement official who was not authorized to discuss the case and spoke of condition of anonymity. Investigators have concluded that school officer was not positioned between the school and Ramos, leaving him unable to confront the shooter before he entered the building, the law enforcement official said.
As Ramos entered the school, two Uvalde police officers exchanged fire with him, and were wounded, according to Olivarez. Ramos began killing his victims in a classroom.
On Wednesday night, hundreds packed the bleachers at the town's fairgrounds for a vigil. Some cried. Some closed their eyes tight, mouthing silent prayers. Parents wrapped their arms around their children as the speakers led prayers for healing.
Before attacking the school, Ramos shot and wounded his grandmother at the home they shared. Gilbert Gallegos, 82, who lives across the street and has known the family for decades, said he was puttering in his yard when he heard the shots.
Ramos ran out the front door and across the yard to a truck parked in front of the house and raced away: "He spun out, I mean fast," spraying gravel in the air, Gallegos said.
Ramos' grandmother emerged covered in blood: "She says, 'Berto, this is what he did. He shot me.'" She was hospitalized.
Gallegos said he had heard no arguments before or after the shots, and knew of no history of bullying or abuse of Ramos, whom he rarely saw.
Lorena Auguste was substitute teaching at Uvalde High School when she heard about the shooting and began frantically texting her niece, a fourth grader at Robb Elementary. Eventually she found out the girl was OK.
But that night, her niece had a question.
"Why did they do this to us?" the girl asked. "We're good kids. We didn't do anything wrong."
___
Bleiberg reported from Dallas.
___
More on the school shooting in Uvalde, Texas: https://apnews.com/hub/school-shootings