Latest GOP 2024 hopeful DeSantis 'blazing a trail' on book bans in Republican-controlled states
Florida last year became the first in a wave of red states to enact laws making it easier for parents to challenge books in school libraries they deem to be pornographic, deal improperly with racial issues or are in other ways inappropriate for students.
Books ensnared in the Florida regulations include explicit graphic novels about growing up LGBTQ+, a children's book based on a true story of two male penguins raising a chick in a zoo and "The Bluest Eye," a novel by Nobel laureate Toni Morrison that includes descriptions of child sexual abuse. Certain books covering racial themes also have been pulled from library shelves, sometimes temporarily, as school administrators try to assess what material is allowed under the new rules.
The day before DeSantis entered the presidential race earlier this week, a K-8 school in Miami-Dade County put the poem "The Hill We Climb" by Amanda Gorman on a restricted list for elementary students after a parent complained. The reasons for the objection to the poem, which Gorman read during President Joe Biden's inauguration, were not clear. The book version remains available to the middle school students, but Gorman criticized the decision to restrict it for younger grades, saying it robbed "children of the chance to find their voices in literature."
While efforts to ban books or censor education material have come up sporadically over the years, critics and supporters credit DeSantis with inspiring a new wave of legislation in other conservative states to regulate the books available in schools — and sometimes even in public libraries. The number of attempts to ban or restrict books across the U.S. last year was the highest in the 20 years the American Library Association has been tracking such efforts.
EveryLibrary, a national political action committee, said it's tracking at least 121 different proposals introduced in state legislatures this year targeting libraries, librarians, educators and access to materials. The group said 39 of those proposals would allow for criminal prosecution.
"He really is blazing a trail," said Tiffany Justice, the Florida-based co-founder of the conservative parents group Moms for Liberty, whose members have filed challenges to books in libraries in several states. "What Ron DeSantis does that I think is effective is he uses all the levers of power to make long-term change happen."
"Other governors," Justice said, "are paying attention and following suit."
In Arkansas, Republican Gov. Sarah Huckabee Sanders signed a law, set to take effect this summer, that could impose criminal penalties on librarians who knowingly provide "harmful" materials to minors. The law also would establish a process for the public to challenge materials and ask they be relocated to a section minors can't access.
"It's a perverse world when we're talking about trying to criminalize librarians," said Nate Coulter, executive director of the Central Arkansas Library System in Little Rock, which is expected to sue over Arkansas' law.
In Indiana, school libraries will be required by July 1 to publicly post a list of books they offer and provide a complaint process for community members under a law Republican Gov. Eric Holcomb signed this month. In Texas, a bill creating new standards for banning books from schools that the government considers too explicit has been sent to Republican Gov. Greg Abbott's desk.
In Oklahoma, the state school board has approved new rules that prohibit "pornographic materials and sexualized content" in school libraries and allow parents to submit formal complaints. The rules still must be approved by Republican Gov. Kevin Stitt.
DeSantis insists books aren't actually being "banned" in his state's schools, preferring to call the forced removal of some books "curation choices that are consistent with state standards."
"There has not been a single book banned in the state of Florida," DeSantis said during a live appearance on Twitter Wednesday when he announced his campaign. He later said "our mantra in Florida is education, not indoctrination."
Librarians, free speech advocates and some parents and educators say the push is driven by a small, conservative minority that happens to have outsized clout in Republican primaries, like the one DeSantis is now competing in.
"This is all part of his plan to run for president, and he believes his vilification of books and what's happening in public schools is his path to the presidency," said Andrew Spar, president of the Florida Education Association, the state's main teachers union.
Kasey Meehan, who directs the Freedom to Read program at the writers' organization PEN America, said that, when books are targeted in Florida, they later become the subject of complaints filed by parents in other states.
"It's something that continues to cause alarm for individuals who are advocating for the freedom to read or for a diversity of knowledge, ideas and books to be available to students across the country," Meehan said.
PEN earlier this month sued the Escambia school district in Florida over the removal of 10 books, including "The Bluest Eye" and "Lucky," a bestselling memoir by Alice Sebold about her rape when she was 18 years old.
There have been challenges to books in schools for decades — "The Bluest Eye" has been targeted in various states for years, long before DeSantis became governor. But the restrictions accelerated in Florida after DeSantis signed bills last year barring discussion of sexual orientation and gender identity in kindergarten through third-grade classrooms, a ban that has since expanded through 12th grade. He also created a mechanism for parents to challenge books in school libraries and has targeted how race is taught in Florida schools.
Many teachers and districts complain that the laws' standards are so vague they don't know what books might place them in legal jeopardy.
Michael Woods, a special education teacher in Palm Beach, said new rules compelling him to catalog books in his classroom led him to empty a small library he set up where students could choose to read something that interested them. Now those volumes are stored in a box he's stashed in his closet for fear of getting in trouble.
"That kind of positive connection to reading is no longer there," he said.
The individual challenges to books might be coming from a fairly narrow segment of the population, according to PEN and the American Library Association, which track requests to pull books. The library association said 40% of all requests challenged 100 or more books at a time.
Raegan Miller of Florida Freedom to Read, a group fighting the book restrictions, said she has talked about education issues with fellow parents of all political persuasions for years, and no one has ever complained about inappropriate material in their children's schools. She contends the issue has been ginned up by a small group of conservative activists.
"Do you really think we are all just happily dropping our kids off at Marxist indoctrination and pornography?" Miller said. "You only hear this stuff at school board meetings."
Moms for Liberty, which boasts 285 chapters, has a strong presence at school board meetings in the state and nationwide. It also has successfully backed several candidates for school board.
Justice, the group's co-founder, notes the books are still available in public libraries and through booksellers. The question, she said, is whether it's appropriate for taxpayer-funded schools to provide them to children.
Some books don't belong in certain settings, she said: "A seminary library would have different books than a medical school library."
It's the local, elected officials, she added, who should determine what's appropriate.
"That's representative government," Justice said.
___
Associated Press writers Sean Murphy in Oklahoma City and Arleigh Rodgers in Indianapolis contributed to this report.
THE JACKPOT IS OVER $14000 AND THE WINNER WILL TAKE HALF!!!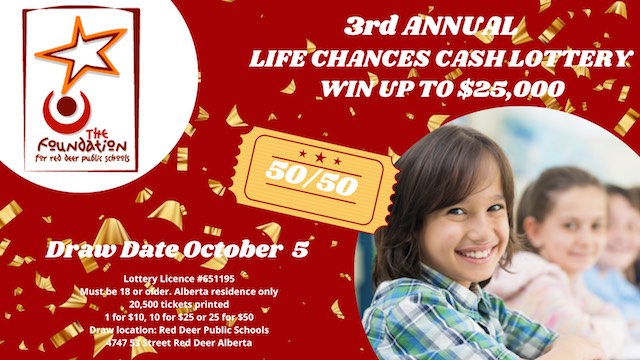 GET YOUR 50/50 TICKETSTODAY!!!! Winner could take home up to $25,000!!!
The Foundation for Red Deer Public Schools supports programs that have a significant impact on the LIFE CHANCES of students across the Division. By purchasing a ticket to support our 50/50 cash lottery you are giving students opportunities to have better life chances.
From giving kids a Bright Start to school to reconnecting with students so they graduate and cross the Finish Line, the Foundation helps students who face challenges in school and makes things better. We motivate struggling students and inspire them to read and write through Reading College. For students who come to school without basic needs, we give them that needed Step Up.
With the support from the Foundations 50/50 Life Chances Raffle, you are providing a student with opportunities that will improve their life. They can't always control the situations they're in but with your help students will continue to have these chances.
Don't miss your chance, CLICK HERE to buy your tickets today – Draw will be held on October 5! Good luck!
NOTE: This raffle is open to all community members in Alberta and over the age of 18.
The Red Deer Polytechnic Alumni Association is inviting you to Palate: A Taste of Local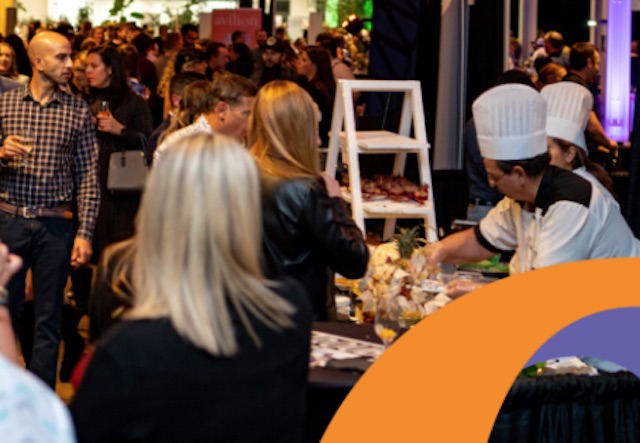 Palate: A Taste of Local is an elegant tasting experience, featuring 35 food and beverage vendors from across central Alberta. This award-winning event will take place on October 19. Do you have your tickets yet? Your ticket includes everything you need for a full tasting experience, with no hidden costs. Consider treating your team, your clients, or your friends and family to a night out while supporting our local business community, RDP Alumni Relations and RDP students at this year's kick-off to Homecoming – Palate: A Taste of Local!
Get your tickets now! Please note, this event is 18+.
This signature event, presented by the Red Deer Polytechnic Alumni Association (RDPAA), provides an elevated tasting experience, with a focus on local food producers, craft breweries and distilleries and restaurateurs. At Palate, we celebrate the amazing vendors and alumni businesses that call Central Alberta home. If you're interested in seeing your name on this event, sponsorship opportunities are still available, with more information here.
Check out everything happening Homecoming Weekend at RDP
Palate: A Taste of Local
Thursday, October 19, 2023
Cenovus Energy Learning Common | Red Deer Polytechnic
Palate: A Taste of Local is an elegant tasting event that builds on the well-established reputation of the Fine Wine and Food Tasting Festival. We've combined the elegant experience you have enjoyed in the past with new elements we know you are going to love. This redesigned special event recently received national recognition, earning a silver medal in the annual Canadian Council for the Advancement of Education Prix d'Excellence!
Your ticket is all-inclusive, providing access to all of the items available from every vendor attending the Palate. There are no extra costs – the only thing you have to worry about, is how you will be able to sample everything.
Begin your evening with a champagne toast as you enter the event space. Palate vendors will offer a variety of food items, including sweet, savoury and international dishes, as well as small batch spirits, craft beer and soda, hand-crafted cocktails and mocktails, and other beverages.
Guests will immerse themselves in central Alberta's local food and beverage culture, meeting the makers, owners and mixologists that bring these flavours to life while networking with other alumni and guests.
---
2023 Vendors
Blindman Brewing

Bo's Bar & Stage

Caballo Blanco

Café Millennium

The Curvy Bottle

Cilantro & Chive

C Zone Coffee

Dark Woods Brewing and Coffee Roasting

Delidais Estate Winery (DNA Gardens)

Field and Forge Gastro Pub

Hash & Forno

The Hideout

Jumble Eats

May Cakes

Memphis Blues Barbeque House

Moxies

Occam's Razor

One Eleven Grill

Oodles of Chocolates

Pampa Brazilian Steakhouse

Pupuseria Cristy

Red Deer Resort and Casino

Red Deer Polytechnic Cook Apprentice Program

Red Hart Brewing

Riverbend Golf & Recreation

Sawback Brewing

Share-a-tea

Silver Devil

Snake Lake Brewing

Solarzano Spa Café & Wine Bar

State & Main

Sunterra

Stems Flowers & Café

Troubled Monk

Wild Brewing
---
---
Looking for Additional Information?
Thank you to our Palate: A Taste of Local 2023 Sponsors