Lafreniere scores in OT to lift Rangers over Flames 5-4
By Allan Kreda in New York
NEW YORK (AP) — Alexis Lafreniere scored 1:37 into overtime and Jaroslav Halak made 28 saves as the New York Rangers beat the Calgary Flames 5-4 on Monday night.
Lafreniere led a 2-on-1 rush and then tracked down the rebound of Mika Zibanejad's shot, beating netminder Jacob Markstrom for his seventh goal this season. That ended a frenzied game that was tied four times and featured several fights following big hits — two by Rangers captain Jacob Trouba.
"Getting the game-winning goal in OT is always fun," the 21-year-old Lafreniere said. "It was a great up-and-down game with two really good goalies. It was fun to play."
Calgary's Andrew Mangiapane and Michael Stone scored two minutes apart early in the third period to give the Flames a 4-3 lead, but Zibanejad scored his second goal of the game — his team-leading 24th — to tie it for the fourth time at 12:55.
Filip Chytil also scored twice for the Rangers, who improved to 9-2-3 in their last 14 games and are 17-4-3 since Dec. 5.
Halak has won six straight and seven of his last eight appearances.
Zibanejad put New York ahead 3-2 with 14 seconds left in the second but Mangiapane scored at 6:38 of the third to tie it. The play was reviewed to determine if Mangiapane kicked in the puck with his skate, but the goal stood.
"It wasn't pretty at times. … It was a hard battle. We just kept going," Zibanejad said. "It was a big two points and a great way to come back from the break."
Zibanejad's first goal came as he roofed the puck past Markstrom on the power play with assists to Chris Kreider and Artemi Panarin. The assist was Panarin's 300th point with the Rangers.
Chytil opened the scoring at 5:37 of the first, rifling a high shot past Markstrom. Kaapo Kakko and Adam Fox assisted.
Calgary forward Blake Coleman tied it at 10:25 with his 11th goal.
There were several skirmishes in the first as both teams were playing for the first time since Jan. 27 following the All-Star break.
"It wasn't a great hockey game, but it was an exciting game," Rangers coach Gerard Gallant said. "It was different — a bunch of fights going on. … Maybe the break was too short."
Trouba tussled with Calgary's Chris Tanev after the defenseman leveled Flames forward Dillon Dube with an open-ice check.
Later in the first, several fights ensued after Rangers forward Sammy Blais drilled Flames forward Milan Lucic. New York rookie Will Cuylle fought Calgary's MacKenzie Weegar, and Lucic was assessed an extra two minutes for roughing against Rangers forward Jake Leschyshyn.
"Exciting game. Fun game. I thought we were valiant to come back," Flames coach Darryl Sutter said. "I thought we played really well. … There were three or four hits. They were clean, big hits."
Chytil put the Rangers ahead 2-1 on a breakaway at 2:02 of the second. Fans at Madison Square Garden chanted the 23-year-old Czech forward's name after his second goal.
"That's cool, feels very good," he said. "It motivates me to be better the next shift and show what I can do."
Chytil has a career-best 18 goals and 31 points this season. He has six goals in his last four games and 14 points — 10 goals — in his last 12 games.
Calgary's Tyler Toffoli tied it at 2 with his 19th goal on the power play at 16:45 of the second.
Trouba struck again with just under a minute left in the second, body-checking Nazem Kadri hard in the Rangers zone, then fighting Dube who rushed to his teammate's defense. Dube received an extra two-minute penalty for instigating, and Zibanejad scored the go-ahead goal on the ensuing power play.
NOTES: Zibanejad's 83rd power-play goal for the Rangers moved him ahead of Phil Esposito and Jean Ratelle into a tie with Vic Hadfield for sixth place on the franchise list. … Calgary scratched defensemen Dennis Gilbert and Connor Mackey, plus forward Brett Ritchie. … The Rangers scratched forwards Julien Gauthier and Vitali Kravtsov, plus defenseman Libor Hajek. … The teams meet again Feb. 18 in Calgary.
UP NEXT
Flames: Visit the Detroit Red Wings on Thursday.
Rangers: Host the Vancouver Canucks on Wednesday.
___
AP NHL: www.apnews.com/hub/NHL and www.twitter.com/AP_Sports
Police investigating how shooter got firearm after autopsy and balistic analysis
News release from the Edmonton Police Service
Autopsy on shooter, ballistic analysis complete in line of duty deaths
An autopsy on the shooter and ballistic analysis of the firearm have been completed in the Mar. 16, 2023 EPS line of duty deaths.
The Edmonton Medical Examiner conducted an autopsy on Mar. 22, 2023, and confirmed that the 16-year-old male shooter's cause of death was a single gunshot wound to the head consistent with being self-inflicted.
"We recognize that there is intense public interest in this investigation," says EPS Deputy Chief Devin Laforce. "At this time, our priorities need to be the integrity of ongoing investigations, including the origin of the firearm, as well as the safety and privacy of all the families affected by this tragedy. For these reasons, we are not releasing or confirming the name of the deceased."
A bullet casing recovered from the scene of a Mar. 12, 2023 shooting at a nearby restaurant in the area of 133 Street and 114 Avenue has been forensically matched to the firearm that was recovered at the 132 Street and 114 Avenue apartment, where Constable Brett Ryan and Constable Travis Jordan were fatally shot on Mar. 16, 2023.
Investigators believe the suspect in the Mar. 12 shooting to be the same 16-year-old male responsible for the deaths of the two EPS members, although this has yet to be confirmed. Detectives are also working to trace the origins of the firearm and how it came to be in the youth's possession.
At this time, investigators continue to believe that the youth's parents, police dispatch and Constables Ryan and Jordan had no information to suggest there was a firearm in the home when the family dispute call for service was made on Mar. 16.
"Both events have been served by robust investigations that have followed all lines of inquiry," says Deputy Chief Devin Laforce. "All tips and other investigative avenues were pursued exhaustively by the investigating teams."
The male shot on Mar. 12 in the restaurant remains in hospital in critical but stable condition, and the youth's mother who was shot on Mar. 16 remains in hospital in serious but stable condition.
Search of four Edmonton homes results in Cocaine and Meth bust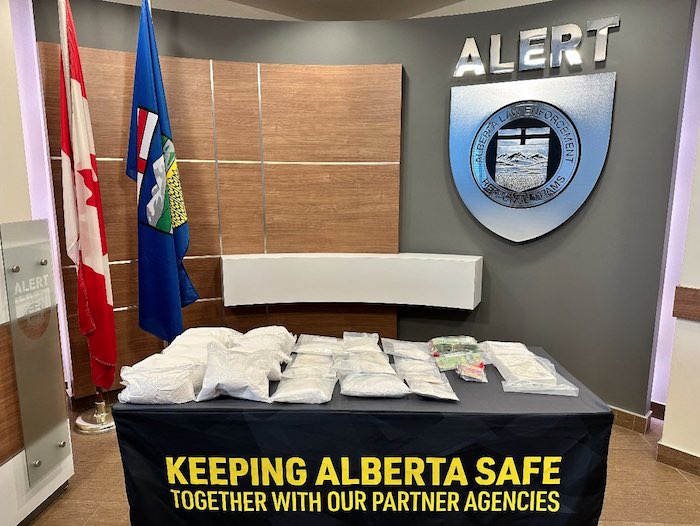 News release from the Alberta Law Enforcement Response Team (ALERT)
Cocaine seized after four Edmonton homes searched
More than two kilograms of cocaine, cash, and four vehicles have been seized following an ALERT Edmonton investigation into cocaine trafficking.
The investigation began in October 2022. Police were able to identify four homes and four vehicles linked to the drug trafficking operation.
"Through the course of this five-month investigation, officers were able to identify several suspects, and seized several pieces of equipment which were being used to produce large, commercial-sized quantities of product. This tells us that this was a much bigger, sophisticated operation," said Sgt. Jeff Woodliffe, ALERT Edmonton.
On February 23, 2023, police searched four homes and seized the following items as evidence:
2.6 kgs of cocaine;
28 grams of methamphetamine;
10 kgs of a cocaine buffing agent; and
$11,000 in cash.
The investigation remains ongoing as investigators prepare reports and disclosure for Crown Counsel.
The Edmonton Police Service assisted throughout the investigation.
Members of the public who suspect drug or gang activity in their community can call local police, or contact Crime Stoppers at 1-800-222-TIPS (8477). Crime Stoppers is always anonymous.
ALERT was established and is funded by the Alberta Government and is a compilation of the province's most sophisticated law enforcement resources committed to tackling serious and organized crime.