Kershaw disagrees with Dodgers' decision to reinstate gay 'nun' group for Pride Night award
The Sisters of Perpetual Indulgence show their support during the gay pride parade in West Hollywood, Calif., on Sunday, June 12, 2016. The Los Angeles Dodgers have reinvented a satirical LGBTQ+ group called the Sisters of Perpetual Indulgence to receive an award at the team's annual Pride Night, nearly a week after rescinding the original invitation. The Dodgers said Monday, May 22, 2023, that the charity and performance group will receive the Community Hero Award on June 16. (AP Photo/Richard Vogel,File)
Los Angeles Dodgers starting pitcher Clayton Kershaw looks out of the dugout during the first inning of a baseball game against the Tampa Bay Rays Friday, May 26, 2023, in St. Petersburg, Fla. (AP Photo/Chris O'Meara)
LOS ANGELES (AP) — Clayton Kershaw says he disagrees with the Los Angeles Dodgers' decision to welcome a satirical LGBTQ+ group called the Sisters of Perpetual Indulgence at the team's annual Pride Night.
Kershaw told The Los Angeles Times on Monday that the team's decision to honor the group after it rescinded its original invitation prompted him to approach the Dodgers about expediting the announcement that the team was bringing back Christian Faith and Family Day later this season.
"I think we were always going to do Christian Faith Day this year, but I think the timing of our announcement was sped up," Kershaw said. "Picking a date and doing those different things was part of it as well. Yes, it was in response to the highlighting of the Sisters of Perpetual Indulgence (by the Dodgers)."
Kershaw announced via Twitter last Friday that Christian Faith and Family Day will be held July 30 when the Dodgers face the Cincinnati Reds. The last time the Dodgers held it was 2019.
Kershaw, who has been with the organization since being drafted in 2006, said his issues were with the Sisters and not the LGBTQ+ community. He also added the he will not boycott Pride Night on June 16 when the Dodgers host the San Francisco Giants.
"This has nothing to do with the LGBTQ community or Pride or anything like that," said Kershaw, who held a players-only meeting in the clubhouse before Monday's game. "This is simply a group that was making fun of a religion, that I don't agree with."
The Dodgers rescinded their original invitation to the Sisters on May 17 after receiving backlash from some conservative Roman Catholics and politicians, including Florida's Republican U.S. Sen. Marco Rubio, who accused the group of mocking nuns and the Christian faith.
However, the Dodgers' decision sparked its own backlash from LGBTQ+ groups around the country, with some deciding to pull out of Pride Night. The Dodgers reversed their decision five days later and welcomed them back.
The Sisters, a group of mainly men who dress as nuns, is a charity, protest and performance group founded in 1979 in San Francisco. Its Los Angeles chapter will receive the Community Hero Award.
The group denied it was anti-Catholic. On its website, the group said it uses "humor and irreverent wit to expose the forces of bigotry, complacency and guilt that chain the human spirit."
Trevor Williams, a pitcher for the Washington Nationals, also criticized the Dodgers on Tuesday, posting a statement on Twitter saying he was "deeply troubled" by the decision.
The Nationals are in Los Angeles this week to face the Dodgers.
"To invite and honor a group that makes a blatant and deeply offensive mockery of my religion, and the religion of over 4 million people in Los Angeles county alone, undermines the values of respect and inclusivity that should be upheld by any organization," Williams wrote on his account to his more than 43,000 followers.
"Creating an environment in which one group feels celebrated and honored at the expense of another is counterproductive and wrong. It is a clear violation of the Dodgers' Discrimination Policy, which explicitly states that any conduct or attire at the ballpark that is deemed to be indecent or prejudice against any particular group (or religion) is not tolerated."
Pride Nights have caused some division on the sports landscape in recent years. Last season, five pitchers with the Tampa Bay Rays cited their Christian faith in refusing to wear Pride jerseys.
Also on Tuesday, Toronto Blue Jays pitcher Anthony Bass apologized for expressing support on social media for anti-LGBTQ+ boycotts of Target and Bud Light.
During the recent NHL regular season, seven players opted out of wearing rainbow-colored jerseys on their teams' Pride nights. The Chicago Blackhawks, New York Rangers and Minnesota Wild did not wear rainbow warmup jerseys after doing so in previous seasons.
___
Celebrity Owners– Fun, Yes, But The Equity Is Even Better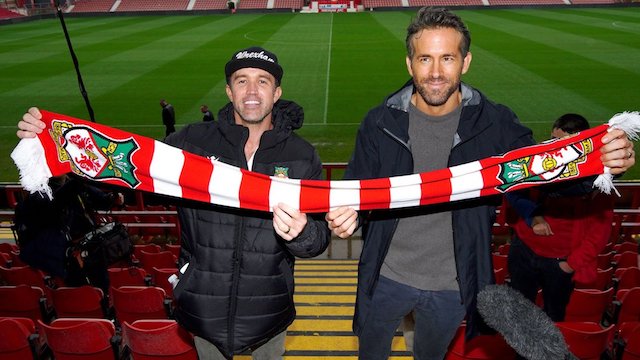 In case you hadn't noticed. Celebrity Sports Ownership is all the rage. When the Ottawa Senators were for sale Ryan Reynolds, Snoop and The Weeknd were all mentioned among the bidders (that eventually went to Montreal businessman Michael Andlauer). LeBron James now holds a minority position with Liverpool FC.
Jay-Z owns part of the Brooklyn Nets, Usher a piece of the Cleveland Cavaliers while Fergie of Black Eyed Peas fame also partly owns the Miami Dolphins. Gloria and Emilio Estefan, Marc Anthony, and tennis superstars Serena and Venus Williams are owners of pro sports teams. Famously, Elton John owned Watford FC, although he's now just an honorary chairman.
And, of course, Reynolds and Rob McElhenney used a documentary TV series that showed their Welsh Wrexham soccer team promoted to the FA's League Two. What's the attraction?
Clearly a little PR is always a good thing. But sports team ownership has also become a lucrative equity play. As BMO reports, "The average compound annual growth rate since the last purchase price… is 15 percent, a meaningful outperformance to the TSX and S&P. Forbes estimates the Toronto Blue Jays are currently worth US$2.1 billion or roughly C$2.85 billion.
Based on recent sports franchise transactions, expansion fees and annual estimations of franchise values by Forbes Magazine, an $8 billion enterprise value is easily defendable for the Jays' owners MLSE (who also own the Maple Leafs, Toronto FC and Argonauts)."
It's the same across the major pro sports leagues. The estimated average franchise value in the NFL since 2013 is $5.1B with a compound annual growth rate (CAGR) of 16 percent; in the NBA it is $2.9B with a CAGR of 18 percent. For MLB it is $2.3B with a CAGR of 12 percent; the NHL is $1.0B with a CAGR of 11 percent; while MLS is $0.6B with a CAGR 21%.
But, BMO cautions, owning a sports franchise is considered "an equity investment strategy rather than a cash flow or income play." In other words, don't think that ticket sales and hot dogs are going to make you rich. (Although the NHL's salary cap, which guarantees owners' profits is a sweet deal.) The key is sports media which is thriving despite the move to cord cutting..
Sports media rights contracts have grown in tandem with franchise valuations. Not to be ignored in the advertising growth and viewer interaction is the bear knowns as legalized sports betting. Betting companies are flooding the airwaves with commercials while bettors tune in to watch how their selections work out. The casinos and online shops have replaced lower-paying traditional advertisers who've dropped off.
In Canada, league or team ownership of broadcast properties is still common. For that reason the real value of those broadcast rights is often opaque. (We had some irritated pushback from Rogers and Bell for writing on this tidy arrangement in the mid 2010s, forcing some limited disclosures). Rogers Sportsnet and TSN own (via MLSE) own a stable of teams in MLB, NHL, CFL and MLS. Good luck finding out what they pay themselves for media rights.
It's more open in the U.S. Since the New York Yankees pioneered the YES network in 2002— sparking multiple imitators in other markets—the move in the U.S. has been away from outright ownerships of regional sports networks. A number of RSNs in the U.S. are either in bankruptcy or nearing it. Digital and network sources are now absorbing these sources. ESPN, via its owner Disney, is looking to find partners for its many broadcast properties as their bottom line in general has suffered.
Still, ESPN's legacy business generates revenue and operating income of approximately $12.5 billion and $4.0 billion in 2023. It remains to be seen what new model emerges in the U.S. to answer cord cutting and the death of conventional TV. The NFL's experiment on Monday, having two MNF games compete on separate networks is one experiment.
In Canada's monopolistic market, "TSN/RDS penetration rates have declined at a quicker pace than ESPN over the past 10 years. ESPN penetration has dropped from 81 percent of U.S. households in 2013 to 56 percent in 2022, while TSN/RDS penetration has decreased from 89% of Canadian households in 2013 to 49 percent in 2022.
In addition, BMO admits that cord cutting is a thing. "SportsNet subscribers have decreased -23 percent to 5.8 million over the same period. Subscriber and advertising revenues are 60 percent and 40 percent of total revenue, respectively. Since 2017, TSN revenues have increased 13 percent. TSN subscribers have decreased -29 percent to ~7.8 million over the same period."
But! In the last five years, TSN and SN have increased advertising revenues by 13 percent and 15 percent respectively. The same figure for the top five Canadian non-sports channels (collectively) is six percent. Thank you legalized wagering in Ontario. So who wouldn't want a piece of this action, especially in Canada?
The red flag in this surging equity market comes in the form of smaller Canadian NHL markets. The Senators sale for $950 suggests a healthy interest in owning, but the Sens sale was also tied into the new LeBreton Flats arena. Ownership or control of a Canadian arena means more than NHL games. It also includes revenue from concerts, rallies, monster-truck events etc.
Even with that can Andlauer produce a winner just two hours from the Montreal Canadiens market? Likewise, the Winnipeg Jets are desperately in need of a larger arena to replace the 15,321 Canada Life Centre. Having Canada's richest man, David Thomson, as an owner is no guarantee of getting one. And should Thomson tire of being the saviour of a losing Jets hockey property, who in that market has C$1-2B lying around needed to fund the franchise properly?
Likewise, the Calgary Flames. Despite the political press conference this summer about as new agreement the arena that management promised by 2013 has still not seen a shovelful of dirt turned over. The latest gaffe was architect's drawings for the rink being rejected by the NHL due to inadequate dressing-room space. Start again.
Should the rink not be available till 2025-26 will an evolving ownership group still be interested in shelling out the money to keep the Flames (and Stampeders, Roughnecks and Hitmen) operating in Calgary? And if they don't, because losing sucks? While energy-rich Calgary has plenty of billionaires, few will want to risk the money needed to keep a competitive team in a small market.
Connor McDavid's brilliance plasters over the same small-market crack in Edmonton. Yes, they have their new building, but can owner Darryl Katz fund the moves need to keep his stars and build a winner? Vancouver, owned by the Aqulini family, has a larger market base, but with Seattle Kraken just two hours away can they too write the cheques needed to create the first Stanley Cup winner since the Canucks entered the NHL in 1970.
If these Canadian markets do survive longterm it might have to be with foreign ownership. Certainly there is money to be made riding the equity train. But there also no guarantees that those carpetbagger owners might replicate the Montreal Expos and scoot to richer markets.
Sign up today for Not The Public Broadcaster newsletters. Hot takes/ cool slants on sports and current affairs. Have the latest columns delivered to your mail box. Tell your friends to join, too. Always provocative, always independent. https://share.hsforms.com/16edbhhC3TTKg6jAaRyP7rActsj5

Bruce Dowbiggin @dowbboy is the editor of Not The Public Broadcaster A two-time winner of the Gemini Award as Canada's top television sports broadcaster, he's a regular contributor to Sirius XM Canada Talks Ch. 167. Inexact Science: The Six Most Compelling Draft Years In NHL History, his new book with his son Evan, was voted the seventh-best professional hockey book of all time by bookauthority.org . His 2004 book Money Players was voted sixth best on the same list, and is available via http://brucedowbigginbooks.ca/book-personalaccount.aspx
New Chiefs logo for Red Deer Minor Hockey designed with guidance of indigenous leaders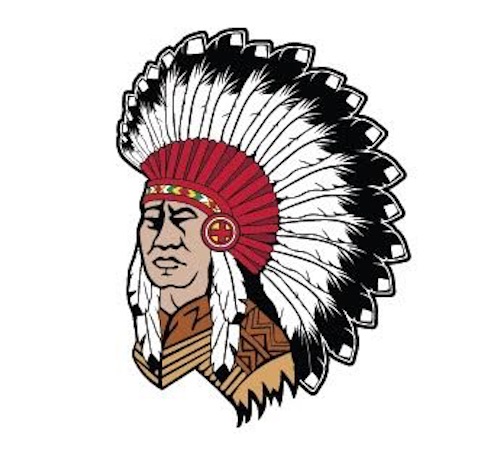 News release from Red Deer Minor Hockey Board of Directors
Red Deer Minor Hockey Commission proudly announces the unveiling of their new Primary Logo, paying homage to the indigenous heritage and peoples of the region.
The revamped logo is a result of two years of dedicated efforts to align with the values and traditions of Treaty Six and Seven peoples, who are the original founders of the land on which we live, play, and work.
In 1967 in our Centennial Year, Red Deer Minor Hockey's Earl Chadwick, with the permission of Chief John Samson, adopted the Chiefs name and logo as a tribute to the indigenous community's and their rich cultural heritage on the Treaty 6 and 7 land that we play on. Since then, the Red Deer Minor Hockey Chiefs have strived to maintain a strong connection with the indigenous peoples of the area.
Recognizing the need to further honour and respect the indigenous heritage, the Red Deer Minor Hockey Chiefs embarked on a comprehensive logo redesign project. The objective was to create a logo that not only represents the team but also reflects the values and traditions of Treaty Six and Seven peoples.
After extensive consultation with indigenous leaders from Treaty Six and Seven, the Red Deer Minor Hockey Chiefs are proud to unveil their new logos. These logos symbolize the unity, strength, and resilience of the indigenous community, while also paying tribute to the original founders of the land.
The Red Deer Minor Hockey Commission expresses their gratitude to the indigenous leaders for their guidance and support throughout this process. Their blessing and endorsement of the new logos reinforce the team's commitment to fostering inclusivity, diversity, and cultural appreciation within the hockey community.
The Red Deer Minor Hockey Board of Directors along with Chief Wilton Littlechild along with the Treaty 6 and 7 Chiefs invite our members and friends to join them in celebrating the unveiling of their new logos on Friday Oct 13 2023 for the Home Opener of our U18 Optimist Chiefs at the Servus Arena. The Red Deer Minor Hockey Commission remains dedicated to promoting a positive and respectful environment for all players, coaches, and fans, while honoring the indigenous heritage and peoples that have shaped the community and land we play on . We will provide the Celebration details as soon as we have finished the plans.
Red Deer Minor Hockey Board of Directors