Kane, McDavid, Draisaitl lead Oilers over Flames 4-1 to take 2-1 series lead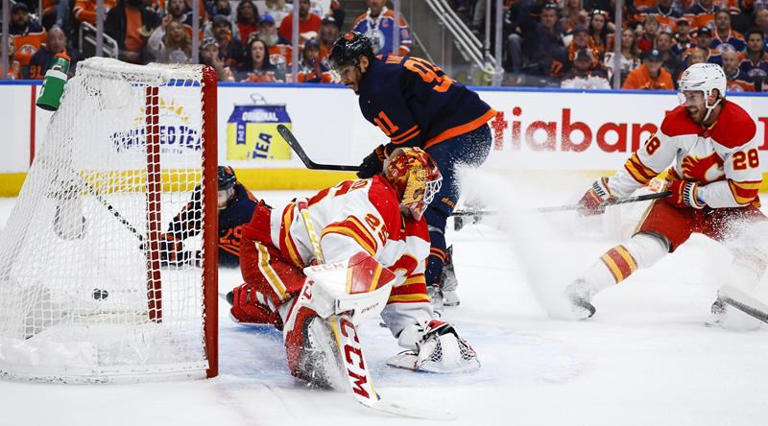 EDMONTON — Evander Kane didn't have a team four months ago.
The controversial winger lugging around plenty of off-ice baggage was confident of an NHL return at some point. He just didn't know when or where.
Now he's filling the net alongside two of hockey's best.
Kane scored a natural hat trick during an electric six-minute span and Connor McDavid provided more magic with three assists in another dominant performance as the Edmonton Oilers downed the Calgary Flames 4-1 on Sunday to take a 2-1 lead in their second-round playoff series.
I'm just happy to be part of this group," said Kane, who had his contract terminated by the San Jose Sharks in January before signing on in the Alberta capital. "Just trying to do my part."
McDavid, meanwhile, now has 23 points (six goals, 17 assists) through 10 playoff games this spring. The only players in post-season history with more over the same span are Wayne Gretzky (29 in 1983 and 25 in 1985), Mario Lemieux (25 in 1992) and Rick Middleton (23 in 1983).
"He's been on fire in the playoffs and has taken his game to the next level," Kane said. "He's not just doing it on the scoresheet. That's what's allowing him to really showcase his skill. He's physical, he's involved. A dominant force."
Leon Draisaitl, meanwhile, became the first player in league history to register four assists in a playoff period by setting up each of the home side's goals in a frantic second as the Oilers' top line combined for 10 points. Zach Hyman had the other goal for Edmonton.
"(Draisaitl) has been really good for our group," Kane said of a teammate sitting second behind McDavid in the overall playoff scoring race with 19 points despite battling through a suspected injury.
"Seems to find another level each and every night."
Mike Smith, who was briefly pulled from the action by the league's independent concussion spotter midway through the third after getting clobbered into the boards by Milan Lucic, made 32 saves for the victory.
Oliver Kylington replied for Calgary, while Jacob Markstrom allowed four goals on 34 shots before getting the hook behind a Flames group that has been outscored 8-1 since taking a 3-1 lead in the second period of Game 2. Dan Vladar made seven saves in relief.
"We lose the second period 4-0," Calgary defenceman Rasmus Andersson said. "We let one guy (McDavid) dominate."
The Oilers will look to take a 3-1 stranglehold on the best-of-seven Battle of Alberta — the first post-season meeting between the provincial rivals in 31 years — Tuesday night back at Rogers Place.
The first playoff contest in Edmonton to feature the Oilers and Flames since April 14, 1991, when Theo Fleury scored in overtime of Game 6 to spark a wild and memorable celebration, the Oilers exploded for those four goals in just over 12 minutes in the middle period, including Kane's second hat trick of the month.
Hyman opened the scoring with his sixth of the post-season 52 seconds after the restart following a 21-shot Edmonton first off a setup from Draisaitl and McDavid to ignite the crowd inside and outside the raucous, packed-to-the rafters arena.
"I think we had a lot of our younger guys that haven't been in this situation before (and) were a little bit intimidated by the atmosphere," Calgary head coach Darryl Sutter said.
Kane scored his first of the night at 6:58 off a feed from Draisaitl after the Flames turned the puck over at the offensive blue line.
He then pushed the lead to 3-0 on an outrageous McDavid rush after stepping past Calgary defenceman Noah Hanifin like he wasn't even there just 53 seconds later.
"We've let one guy beat us a few nights now," Flames forward Matthew Tkachuk said of McDavid's mastery.
"Back to the drawing board and figure out a way to stop him."
Smith made a great stop on a Johnny Gaudreau breakaway later in the period before also denying Tkachuk.
"Just trying to make saves for our group," said the 40-year-old goaltender, who spent a big chunk of the season out injured. "Trying to stay as poised as possible."
Kane completed his hat trick — the seventh-fastest in post-season history — with his 10th goal of the 2021-22 playoffs at 12:58 on a 2-on-1 with McDavid before fans littered the ice with headgear.
The 30-year-old Vancouver native is just the third Edmonton player to score three straight goals in a post-season game, joining Gretzky (1983) and Petr Kilma (1991).
After his contract was voided by San Jose, Kane signed on with his fourth NHL team despite plenty of questions about his past — from suspensions due to COVID-19 protocol violations, a bankruptcy and self-confessed gambling problems.
The biggest headlines from his personal life, however, were related to allegations of abuse lodged by his former wife, which were not proven in court. Kane has custody of the former couple's daughter.
"I didn't know Evander Kane at all," said Edmonton interim head coach Jay Woodcroft, who replaced the fired Dave Tippett in February. "What I've learned is he is a hockey player with really, really good habits.
"There's a reason why he finds success."
Markstrom, who allowed 11 combined goals in Games 1 and 2 after posting a .941 save percentage in the opening round against the Dallas Stars, got the hook in favour of Vladar to start the third with the Flames turning their attention to Game 4.
Seven points clear of Edmonton in the standings to top the Pacific Division and minus injured defenceman Chris Tanev (undisclosed) for a fourth straight contest, Calgary got a power play early in the final period looking for a spark, but Smith was sharp at every turn.
Lucic subsequently ran over the veteran netminder behind the Oilers' net midway through the third to ignite a melee involving all 10 skaters.
"When you're getting run through the end wall and you're not expecting it … it's not an ideal situation," Smith said.
"A play out of frustration, running our goalie," added Kane.
Smith was removed by the spotter in favour of Koskinen, who didn't have to make a save in just over four minutes of action, before Edmonton's starter returned to a huge ovation after re-emerging from the locker room.
Kylington got a consolation goal for the visitors — his first of the playoffs — with under five minutes to go in regulation.
The Oilers fell behind early in both games at Calgary's Scotiabank Saddledome, but following a wild 9-6 loss in the opener, rebounded with a 5-3 comeback victory two nights later to even the series.
Edmonton had a much better start Sunday, including Brett Kulak's point shot that leaked through Markstrom and hit post before being cleared.
The Flames had hoped to keep the action at 5-on-5 as much as possible after McDavid, Draisaitl and the Oilers took advantage of power play, short-handed and four-on-four situations in Game 3, but took two penalties to Edmonton's one in the first.
McDavid, who seemed to have the puck all night, went on one of his jaw-dropping rushes during his team's second man advantage, but Markstrom was there to deny the Oilers captain in what was a sign of things to come.
"Good to come back home and play these guys on our home ice," Kane said. "A good win for our group."
And one he probably didn't envision being part of not that long ago.
This report by The Canadian Press was first published May 22, 2022.
___
Follow @JClipperton_CP on Twitter.
Joshua Clipperton, The Canadian Press
Elks down Tiger-Cats 29-25 for first win of CFL season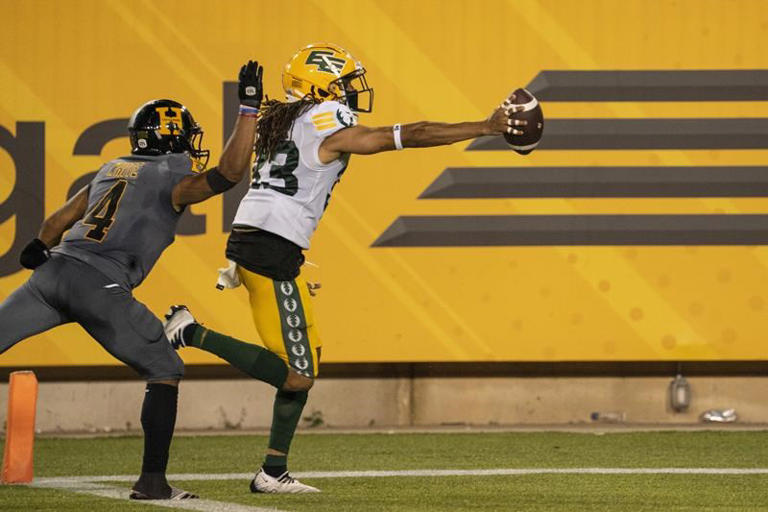 HAMILTON — Tre Ford was in his happy place Friday in Hamilton.
The Edmonton Elks quarterback got a win in his first career CFL start 30 minutes down the Queen Elizabeth Highway from his hometown of Niagara Falls, Ont.
The Elks came from behind to beat the Tiger-Cats 29-25 in front of 20,233 at Tim Hortons Field.
"To come back to Hamilton and have all my family watching me get that first start and that first win has been fantastic," Ford said.
Among Ford's supporters were his wife, parents, sister, sister-in-law and mother-in-law, his high school football coach from A.N. Myer Secondary, his University of Waterloo head coach Chris Bertoia, eight of his former university teammates and more friends.
Ford was shaky at times as the Elks trailed by 13 points early in the second half.
But the 2021 winner of the Hec Crighton Trophy winner that goes to the most outstanding Canadian university football player threw a game-tying touchdown pass to Kenny Lawler early in the fourth quarter.
The winning play for the Elks (1-3) arrived with 1:38 remaining when defensive back Scott Hutter tackled Hamilton quarterback Dane Evans and knocked the ball loose.
Jalen Collins recovered for a 14-yard touchdown.
"I saw him tackle him and thought, 'please punch the ball out," Collins said. "All we needed was an opportunity to close the game out. We were fighting all night. It was ugly."
The winless Tiger-Cats opened a season with four straight losses for the first time since 2017 when they started 0-8.
"I want to apologize to all the guys. I put both home losses on me," Evans said. "I just have to take care of it, and we win the game."
Evans was 20-for-31 in passing for 197 yards and a touchdown throw. He was intercepted twice.
Ford's numbers didn't sparkle, although he did rush for 61 yards on six carries. The 24-year-old competed 15 of 26 passes for 159 yards and a touchdown. He was intercepted once.
Edmonton's defence helped out with interceptions by Sheldon Brady and Matthew Thomas, as well as the pivotal late-game recovered fumble by Collins.
"A big shout out to the defence," Ford said. "They won us that game. They made what, three or four turnovers? They did super well.
"I have room for improvement. I'm not going to complain because we did win. But I'm going to hit the film room to see what I can critique and where I can get better."
Hamilton went after the rookie with various blitzes in the first half.
"My legs are going to open things up for my arm," Ford said.
Ford credited teammate and quarterback Nick Arbuckle, who started in Edmonton's three losses this season, for advising him during the game on defensive reads.
"He's been like that since day one, even though we're competitors for the position," Ford said.
He admitted to early jitters as Hamilton led 16-6 after the first quarter and 19-9 at halftime.
"I always get nervous for the first play of every game," Ford said. "I think it's a good thing because it means I care and that I want to win."
Evans hit Steven Dunbar for a 21-yard strike, and Lawrence Woods returned a kickoff of 72 yards for Hamilton's first-half touchdowns.
Edmonton's Kai Locksley scored on a one-yard plunge.
Elks kicker Sergio Castillo made two of his three field-goal attempts, while Hamilton counterpart Michael Domagala nailed his three and gave the Ticats at lead with a 33-yarder with 3:10 remaining in the game
"We're not good enough right now," Hamilton head coach Orlondo Steinauer said. "We're not executing at the level which needs to happen. We're just not making those plays we need to make."
This report by The Canadian Press was first published July 1, 2022.
Tim Wharnsby, The Canadian Press
Calgary Stampede receives $10M from federal government to aid recovery from pandemic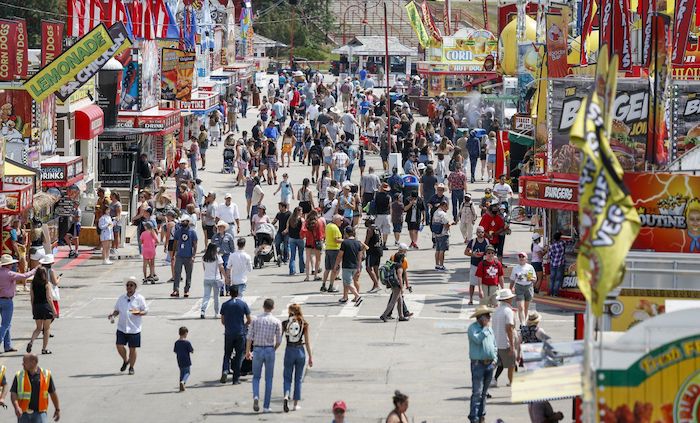 Calgary – The Calgary Stampede has received more than $10 million from the federal government to help it bounce back after last year's event was scaled down due to the COVID-19 pandemic.
A report to the city this week showed the Stampede had an operating loss of $8.3 million in 2021.
Last year's Stampede ran at half capacity because of COVID-19 public health measures and was cancelled all-together the year before.
Daniel Vandal, the federal minister for Prairies Economic Development Canada, says the money aims to support a full-scale Stampede to deliver the "authentic western experience" this year.
He says it would also help to reignite Alberta's visitor economy.
The 2022 Stampede is set to run from July 8 to 17.
"Festivals large and small were hard hit during the pandemic," Vandal said in a news release. "They are events where families and friends come together and take in the exciting atmosphere.
"The tourism industry is facing a strong comeback providing quality jobs across the country, showcasing stunning landscapes and offering exciting experiences right here in Alberta."
The federal government also provided about $1.8 million for four other tourism projects in southern Alberta: Charmed Resorts, Cochrane Tourism Association, Heritage Park and Tourism Calgary.
This report by The Canadian Press was first published June 30, 2022.