Kane has hat trick, Oilers roll to 8-2 rout of Kings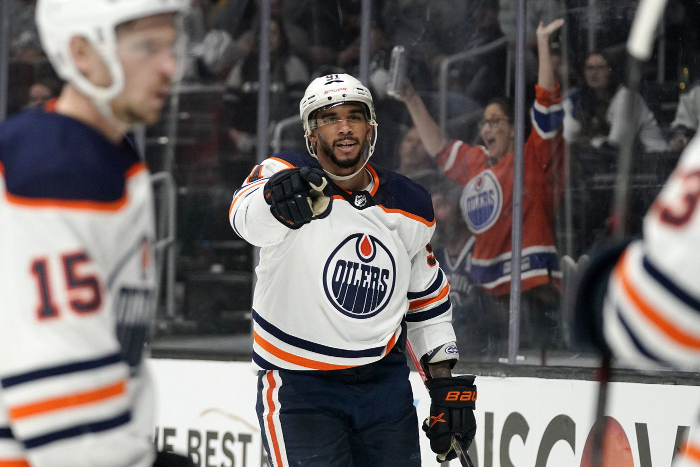 LOS ANGELES (AP) — Evander Kane picked up his first hat trick in a Stanley Cup playoff game, Ryan Nugent-Hopkins and Zach Hyman each had two goals, and the Edmonton Oilers dominated the Los Angeles Kings for the second straight game, posting a 8-2 victory in Game 3 of their first-round playoff series Friday night.
Kane is the 12th different player to score a playoff hat trick with the Oilers and the first since Connor McDavid in 2020. He was part of an Edmonton offense that put up eight goals in a playoff game for the first time since it beat Chicago 8-4 in a 1990 conference final game.
"We're a real good team with the lead. I think scoring early, countering their push there in the first period and getting two was a good start for us," Kane said. "We knew we had a lot better after that first period going in the second. I thought we did a great job of responding to the push ourselves."
It is the second straight game with at least two goals for Kane, who came to the Oilers in midseason after he was released by San Jose. The last time an Edmonton player accomplished that was Bernie Nicholls in 1992 in Games 2 and 3 of the 1992 Smythe Division Semifinals, also against the Kings.
Kane had a pair of rebound goals in the second period and finished the hat trick with a wrist shot with 20 seconds remaining.
"He's a finisher, someone who can score, and he's paired up with Connor (McDavid) who is one of the best playmakers in the world, the best player in the world. If you pair a finisher with the best player in the world, good things are going to happen," Edmonton coach Jay Woodcroft said.
McDavid added a goal and two assists for the Oilers, who have scored six or more goals in consecutive playoff games for the first time since Games 4 and 5 of the 2006 Western Conference Finals against San Jose.
The Oilers have a 2-1 lead in the series. Game 4 is Sunday night in Los Angeles.
"We're just finding ways to win games. That's all that matters this time of year. It doesn't really matter how it looks or what happens," McDavid said. "I think we've done a good job of playing well, playing hard, we've been physical. They kind of pushed back today and I thought we responded well."
Leon Draisaitl had a goal and assist for the Oilers. He is the third Edmonton player in the past 25 years to score in each of the first three games of a postseason, joining McDavid (2020) and Bill Guerin (1998). Cody Ceci had three assists and Mike Smith made 44 saves.
Anze Kopitar had a goal and an assist while Phillip Danault also scored for Los Angeles, who had a 45-37 advantage in shots on goal. Jonathan Quick and Cal Peterson each allowed four goals with Quick making 13 saves in 28 minutes and Peterson stopping 16 shots the final 32 minutes.
"I can summarize it all up for you, we can all go home. We weren't any good, we're really disappointed, we got trapped playing their game. You can ask me about individuals, I'll give you the same answer for all of them. They weren't any good, and we have to regroup tomorrow," coach Todd McLellan said in a press conference that only went 31 seconds.
It was the first time in Hyman's seven-year career he has had a two-goal game in the playoffs.
Nugent-Hopkins scored his goals in a 81-second span during the third period.
Edmonton won 6-0 Wednesday night and built a five-goal lead midway through the second period of this one as it took a 2-1 lead in the best-of-seven series.
Draisaitl took a cross-ice pass from McDavid on a 2-on-1 rush and slid a wrist shot past Quick 3:50 into the first period to open the scoring.
Edmonton didn't waste any time extending its lead to 2-0 with a power-play goal at 6:07. McDavid drew in a defender and then found Hyman open at the back post.
The Oilers then put it away with three second-period goals in a span of 3:24.
Kane knocked in a rebound at 6:27 and Hyman chased Quick at 7:42 with a wrist shot to the near post to make it 4-0. Kane then put a rebound through Petersen's legs at 9:51.
Los Angeles averted a shutout 16 seconds after Kane's second goal when Kopitar went top shelf on a backhand in front of the net. Danault got the Kings within 5-2 on a power-play goal at 17:29.
"That's a big slap in the face tonight, and we gotta regroup. Luckily, it's only 2-1 in the series, so we gotta regroup and step up next game," Danault said.
MARVELOUS McDAVID
McDavid — who has six points in the series (one goal, five assists) — has multiple points in each game. It is the first time since Joe Murphy and Nicholls in 1992 an Oiler has had multiple points in each of the first three games of the postseason.
___
More AP NHL: https://apnews.com/hub/nhl and https://twitter.com/AP_Sports
'A crisis': Calgary charity seeks one-month homes for Ukrainian refugees after influx
Ukrainian evacuees Dmytro Syrman, left, his wife, Anastasiia, centre, and their four-year-old daughter Varvara attend a news conference highlighting the need for temporary housing in Calgary on Wednesday, March 29, 2023. THE CANADIAN PRESS/Jeff McIntosh
By Bill Graveland in Calgary
After six months under Russian occupation, Dmytro Syrman and his family decided to flee Ukraine for a safer life abroad and are now in Calgary.
The family lived in Dniprorudne, a mining city of 17,000 in southern Ukraine. Syrman worked as a human resources manager at an iron factory.
In August, Syrman, his wife, Anastasiia, and four-year-old daughter Varvara embarked on a six-day, 3,000-kilometre drive to Poland.
"On the 24 of February, when the Russian army attacked Ukraine and occupied our city in March 2022, we lost everything," Syrman said Wednesday.
He said they began planning their escape when they realized Russian soldiers weren't leaving their city.
"We started all of this because we were scared for Varvara," he said. "When Russian bombs were falling near our city it was really scary."
Their home is still under Russian occupation.
For the past year the family stayed in Poland, sent in their paperwork to come to Canada, and two weeks ago arrived in Calgary.
They're now staying with a host family for a month while they look for long-term accommodation and to find jobs.
"We are here and starting a new life. We can't believe about people who don't know us and many helped us. We're really shocked," Syrman said.
The Syrmans were helped by Calgary's Centre for Newcomers, which started a campaign to find 100 hosts for Ukrainian families or individuals for a month while they find housing of their own.
Kelly Ernst, chief program officer with the centre, said there has been a flood of Ukrainians trying to take advantage of a federal program that allows them to temporarily resettle in Canada.
The Canada-Ukraine Authorization for Emergency Travel program has been extended until July and Ernst said he expects people will continue to flee the war-torn country.
"We're in a desperate, dire need at the moment for host homes to try to accommodate the evacuees coming from Ukraine. It's reaching the proportions of being a crisis moment," said Ernst.
He said people arriving elsewhere in Canada are migrating to Calgary because the rents are lower than in larger cities such as Toronto and Vancouver.
Ernst said approximately 450 people have been arriving in Calgary every week from Ukraine and his organization has helped people staying nights in the airport, off the street and at homeless shelters.
Natalia Shem, who is the manager of housing for the Ukrainian evacuees, said it's difficult for the newcomers to find somewhere to live before arriving.
"It's almost impossible to find long-term rent being outside of Canada and people who come here need one month of stay," Shem said. "It's an average time a family can find long-term rent, job and settle down here in Canada."
This report by The Canadian Press was first published March 29, 2023.
Budget measures unlikely enough to spur major carbon capture investments: Experts
Deputy Prime Minister and Minister of Finance Chrystia Freeland delivers the federal budget in the House of Commons on Parliament Hill in Ottawa, Tuesday, March 28, 2023. Industry watchers say Tuesday's federal budget likely won't be enough to convince Canadian oil and gas companies to pull the trigger on expensive, emissions-reducing carbon capture and storage projects. THE CANADIAN PRESS/Sean Kilpatrick
By Amanda Stephenson in Calgary
A question mark continues to hang over the future of carbon capture and storage projects in Canada, in spite of a pledge in Tuesday's federal budget to deliver more investment certainty for major emissions-reducing projects.
"Look, we have set some very aggressive climate targets in Canada. You can't kick the can down the road," said carbon capture advocate James Millar, arguing that's exactly what the federal government did Tuesday when it provided no additional details around its previously stated intention to reduce the risk of investing in pricey emissions-reduction projects by essentially guaranteeing the future price of carbon.
"The difference comes down to investment certainty in the U.S., versus the promise of investment certainty in Canada."
As president and CEO of the International CCS (carbon capture and storage) Knowledge Centre, a non-profit organization based in Regina, Millar had been closely watching Tuesday's budget in hopes of obtaining more federal support for the expensive technology that can be used to trap harmful greenhouse gas emissions from industrial processes and store them safely underground.
Heavy emitters — in particular, the oil and gas sector — have identified carbon capture and storage technology as key to helping the sector meet its emissions reduction targets and have been looking for government incentives akin to what is being offered south of the border, where the U.S. Inflation Reduction Act promises to pay companies a guaranteed US$85 price for each tonne of injected carbon.
While Canada has already announced an investment tax credit that will help to offset some of the up-front capital costs of carbon capture projects, companies have so far been hesitant to pull the trigger and go ahead with proposed large-scale projects.
The Pathways Alliance, for example, a consortium of oilsands companies, has proposed building a $16.5-billion carbon capture and storage transportation line to combat emissions from existing oilsands infrastructure in northern Alberta.
But the group has not yet made a final investment decision, saying it needs to know its project will be competitive with those in the U.S. before proceeding.
One thing the oil and gas sector has said will help with that is some kind of mechanism that would reduce the risk to companies that the federal price on carbon could be lowered or eliminated. If a new government were to be elected and remove or change Canada's carbon pricing system, investing in expensive carbon-reducing technology could suddenly become uneconomical.
On Tuesday, the federal government reiterated that it intends to create such a mechanism through a so-called carbon contracts for difference system — but disappointed many who were hoping for details. Instead, the government announced it plans to begin consultations around the development of such a program.
Millar said while he doesn't doubt the government's good intentions, companies that have proposed large-scale projects need to get moving now if they have any hope of meeting Canada's goal to reduce this country's overall emissions by 40 per cent below 2005 levels by 2030 looms.
"We're already in 2023, we're seven years out. The consultations that were announced yesterday will take months," he said. "I think it will take at least a year because it's going to take time to set up the process."
The Pathways Alliance itself took a diplomatic tone Tuesday, issuing a statement after the tabling of the budget saying it was "encouraged" by the signal that more policy certainty is coming, and adding it looks forward to a "better understanding" of the government's intentions.
But Greg Pardy of RBC Capital said in a research note that in spite of some enhancements to the previously announced investment tax credit, budgetary support for carbon capture and storage was "somewhat limited — perhaps even disappointing."
"In our view, Canada's federal government needs to shift into much higher gear when it comes to incentivizing decarbonization investment if it is to achieve its bold climate change ambitions," Pardy said.
A report from BMO Capital Markets published just before the release of Tuesday's budget said Canada's policy framework for large-scale deployment of carbon capture and storage disadvantages producers here compared to the U.S., "despite claims to the contrary from some proponents of the environmental lobby."
Environmentalists have been critical of any additional federal support for carbon capture, calling it akin to a subsidy for oil and gas companies that enables them to increase production when the world should be scaling down fossil fuel usage.
But the BMO report said carbon capture is an essential part of the energy transition, and without offering improved incentives to keep up with the U.S., Canada risks not meeting its 2030 emissions reduction targets.
"Canada's market-based carbon price systems are much too uncertain to act as 'incentive' for industry to invest in major decarbonization projects," the BMO report stated.
"Emitters need financial supports that are tangible and recognized by financial institutions to underwrite bank financing."
This report by The Canadian Press was first published March 29, 2023.