Juneteenth, recalling end of slavery, is marked across US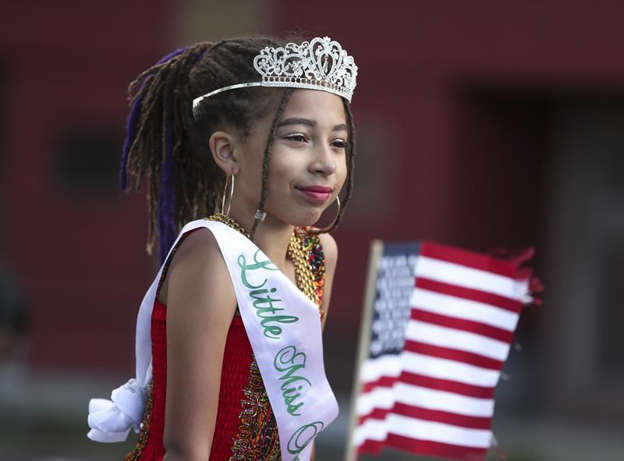 Parades, picnics and lessons in history were offered Saturday to commemorate Juneteenth in the U.S., a day that carried even more significance after Congress and President Joe Biden created a federal holiday to observe the end of slavery.
A new holiday was "really awesome. It's starting to recognize the African American experience," said Detroit artist Hubert Massey, 63. "But we still have a long way to go."
In Detroit, which is about 80% Black, students from University Prep Art & Design School dodged rain to repaint Massey's block-long message, "Power to the People," which was created last year on downtown Woodward Avenue.
The 'o' in "Power" was a red fist in memory of George Floyd and other victims of excessive force by police, Massey said.
"We did the original," said Olivia Jones, 15, leaning on a long paint roller. "It's important that we return and share that same energy."
Juneteenth commemorates June 19, 1865, when Union soldiers brought the news of freedom to enslaved Black people in Galveston, Texas, two months after the Confederacy had surrendered. It was about 2 1/2 years after the Emancipation Proclamation freed slaves in Southern states.
Biden on Thursday signed a bill creating Juneteenth National Independence Day. Since June 19 fell on a Saturday, the government observed the holiday Friday. At least nine states have designated it in law as an official paid state holiday, all but one acting after Floyd, a Black man, was killed last year in Minneapolis.
In Galveston, the birthplace of the holiday, celebrations included the dedication of a 5,000-square-foot mural titled "Absolute Equality." Opal Lee, 94, who was at Biden's side when he signed the bill, returned to Fort Worth, Texas, to lead a 2.5-mile walk symbolizing the 2 1/2 years it took for slaves in Texas to find out they had been freed.
Officials in Bristol, Rhode Island, unveiled a marker that describes the seaport's role in the slave trade. The marker was placed at the Linden Place Museum, a mansion built by Gen. George DeWolf, who was a slave trader. The Rhode Island Slave History Medallion organization raises public awareness about the state's role in slavery.
A street in Fort Lauderdale, Florida, was renamed Saturday for civil rights activists Harry and Harriette Moore. Harry was credited with registering more than 100,000 Black voters. They were killed on Christmas Day 1951 — their 25th wedding anniversary — when a bomb exploded under their bed.
The final scene of a movie about the couple, "The Price For Freedom," was also being shot.
"They were ordinary people who brought about extraordinary change, and we are privileged to pay tribute to them here in Broward County," county Commissioner Dale V.C. Holness said before the event.
Hundreds of people gathered for a free concert in New York's Times Square organized by The Broadway League, the trade group for the Broadway entertainment industry.
At dusk, the Empire State Building brightened the sky with red, black and green lights to mark the day as it turned to night. Lights were used in similar fashion at other New York state landmarks including the World Trade Center, Niagara Falls and the Albany International Airport Gateway.
A Juneteenth parade was held in Evanston, Illinois, a Chicago suburb that is using tax revenue from marijuana sales to offer housing grants to Black residents for past discrimination and the lingering effects of slavery.
Sacramento's Black community has organized Juneteenth festivals for 20 years, and this year's featured a parade, talent show, food fair, the reading of the Emancipation Proclamation and even a golf tournament.
"This is the first Juneteenth where it's being recognized nationally and socially, by the masses and not just within the Black community," organizer Gary Simon said. "We've seen an uptick in non-Black folks coming here for the last several years, and I'm seeing the difference in just the conversations taking place today."
New York civil rights activist the Rev. Al Sharpton offered a tough message during a speech at his National Action Network, saying Senate Republicans who voted unanimously to make Juneteenth a federal holiday should also support Democratic bills that change voting laws and make it easier to crack down on rogue police officers.
"The celebration of Juneteenth is not a party. … The way to deal with Juneteenth now is to deal with where race is in 2021," Sharpton said.
In Portland, Maine, Joe Kings said his great-great-great-grandmother was enslaved. He has a picture of her on the wall of his auto detailing shop. As he has for years, Kings commemorated Juneteenth with barbecue for adults and activities for kids.
"It's a little bit more celebratory knowing that it's official," Kings said, referring to his annual tradition and the new holiday. "I'm not saying we were in the closet about it, but now it's more widely recognized — and more importantly understood."
___
Associated Press writers Jamie Stengle, Kelli Kennedy, David Sharp, Julie Walker and Daisy Nguyen contributed to this report.
Ed White, The Associated Press
Blue Jays earn top wild card, beat Os 5-1 as Guerrero homers
By Todd Karpovich in Baltimore
BALTIMORE (AP) — Vladimir Guerrero Jr. hit his 32nd homer and the Toronto Blue Jays earned the top seed for an American League wild card series with a 5-1 rain-shortened victory over the Baltimore Orioles on Monday night.
Play was halted by rain with Toronto batting with two outs in the eighth and called after a wait of 55 minutes.
Toronto clinched the right to host a best-of-three playoff series against Seattle or Tampa Bay starting Friday when the Mariners lost to Detroit later Monday.
"There was one singular focus today when the game did start and that was to win," Blue Jays interim manager John Schneider said. "You really can't say enough how they responded."
Whit Merrifield went 3 for 3 with an RBI for the Blue Jays, who have won four straight.
Before a crowd of just 10,642, José Berríos (12-7) allowed one run and three hits with five strikeouts and three walks over six innings.
"I thought we were going to have a delay but we started on time," Berríos said. "I just went there to compete and get that win for the team and we did it. The mound was wet and it was raining all night."
Tim Mayza earned his second save.
Baltimore's Jorge Mateo stole his American League-leading 35th base, one ahead of teammate Cedric Mullins.
Baltimore already had secured a winning season for the first time since 2016.
Toronto took a 2-0 lead off Dean Kremer in the second on a single by Merrifield that scored Teoscar Hernández and Matt Chapman.
Guerrero boosted the lead to 3-0 with a 422-drive over the left-field wall in the third. He became the fourth player in Blue Jays franchise history to hit at least 32 home runs at age 24 or younger.
The Orioles got the board in the bottom half on a sacrifice fly by Anthony Santander that Hernandez was able to snag with a running, leaping catch at the right-field fence.
A wild pitch by Kremer allowed Merrifield to score in the fifth as the Blue Jays increased the lead to 4-1.
"I can do different things to help and impact the game," Merrifield said. "It's nice that they're coming at big times for us."
Kremer (8-7) allowed four runs and six hits with four strikeouts and one walk over six innings. He ends the season with a 3.23 ERA over 21 starts.
Chapman added an RBI single in the eighth.
"Not easy to play in," Orioles manager Brandon Hyde said. "Kind of a tough night all around. Wet, cold. Dean, it affected him a little bit. His stuff wasn't the same as it is normally."
MVO
Orioles catcher Adley Rustchman is the winner of the 2022 Most Valuable Oriole Award. Rutschman is the third rookie to win the award since its inception in 1954, joining right-handed pitchers Gregg Olson in 1989 and Rodrigo López in 2002.
TRAINER'S ROOM
Blue Jays: OF Lourdes Gurriel Jr. (left hamstring strain) could be available when the postseason begins on Friday.
Orioles: RHP Félix Bautista, who leads the team with 15 saves, has been shut down for the season with left knee soreness.
UP NEXT​​
Blue Jays: RHP Mitch White (1-6, 5.21) has pitched against the Orioles once in his career, allowing five runs on three hits, two strikeouts and three walks over 2 1/3 innings last month.
Orioles: RHP Mike Baumann (1-3, 4.34 ERA) is 0-1 with an 8.10 ERA in three appearances, including one start, against Toronto.
___
More AP MLB: https://apnews.com/hub/MLB and https://twitter.com/AP_Sports
CPNewsAlert: Coalition Avenir Québec wins majority government
MONTREAL — The Canadian Press is projecting that François Legault's right-of-centre Coalition Avenir Québec will form a majority government after dominating in the polls since the start of the campaign.
Legault promised Quebecers his nationalist government would cut income taxes, increase the role of the private sector in the health-care system and maintain immigration levels at 50,000 people per year.
More coming.
The Canadian Press