Judge grants interim injunction against loud honking at Ottawa protest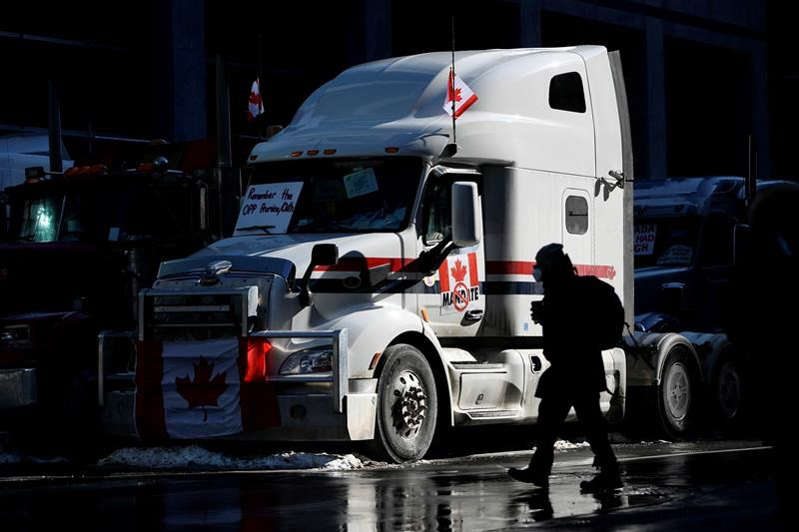 OTTAWA — An Ontario judge has granted a 10-day injunction to prevent protesting truckers in downtown Ottawa from honking their horns incessantly as the mayor of the national capital city asked for a near doubling of his police force.
Ottawa Mayor Jim Watson said in a letter to Prime Minister Justin Trudeau and Ontario Premier Doug Ford that the city needed 1,800 more officers, in addition to his current contingent of 2,100 police and civilian members, to "quell the insurrection" the local police cannot contain.
Steve Bell, the city's deputy police chief, said a person from Ohio was arrested in connection with a threat against Ottawa police headquarters in downtown Ottawa. He said threats are coming in from across North America, and they are very taxing on already stretched resources.
Watson said the city is keeping a tally of all extraordinary costs associated with the demonstrations and will seek compensation from higher levels of government when the protest finally ends. Ottawa police now say the demonstrations in the central core are costing the city $1.8 million to $2.2 million per day for police alone.
The daily cost will only grow if Watson's plea for more officers is granted.
Ottawa's request for more policing help came as Ontario Superior Court Justice Hugh McLean granted a temporary injunction that could bring an end to the cacophony of horns heard in streets for more than a week. McLean said his order was temporary because he needs to hear more evidence, but that he heard enough to make this ruling as a protest against COVID-19 pandemic measures continues to paralyze neighbourhoods around Parliament Hill.
Paul Champ, a lawyer representing central Ottawa residents in a proposed multimillion-dollar class-action lawsuit, argued the loud and prolonged honking is causing irreparable harm.
Keith Wilson, representing three of the respondents in the case, had told McLean the ruling on the injunction would carry national importance.
McLean said he heard enough evidence that the continual blaring of horns was having an effect on residents that their right for "quiet, if we can use that term," trumped the honking truckers' right to protest.
But McLean said the injunction was temporary because a "myriad of people" may still wish to come before the court to be heard.
An injunction is a court order that a person cease certain behaviour. If they don't comply, they can be charged with contempt of court.
Watson said the loud honking that has reverberated through downtown Ottawa for the last nine days is "tantamount to psychological warfare."
Steve Bell, Ottawa deputy police chief, said the force welcomes any new tool it can leverage when it comes to enforcing the injunction.
"We'll continue to assess our ability to enforce (the injunction) at different points and at different times to make sure that we're having the most impact we can," Bell said
Amid blaring truck horns, the demonstration has included open fires, makeshift feeding stations, encampments and numerous — sometimes profane — antigovernment signs.
In his letter for more police resources, Watson wrote: "We need your help to end this siege in the heart of our nation's capital and in our residential neighbourhoods, and to regain control of our city."
Ottawa's city council voted to formally petition the federal government to assume responsibility for public safety in the parliamentary precinct to free up Ottawa officers to return to protect residential neighbourhoods.
Council also voted to ask the provincial and federal governments to provide support for businesses and employees who have lost income during the demonstration, and social support services that have helped Ottawa's most vulnerable through the disruptions.
Ford said Sunday the province has given Ottawa everything the municipality has requested, and will continue to do so.
Federal Transport Minister Omar Alghabra said Monday the provinces have "extensive regulatory powers" they can use to go after companies who are allowing their equipment to be used for the illegal occupation in Ottawa and near the U.S. border in southern Alberta.
He said provinces can use their highway safety laws to suspend the commercial licences and insurance of the owners of commercial trucks "blockading the streets, days on end, in a city or on a highway."
"It's clear blockades of streets and bridges is against the law and should bring serious consequences for the owners," Alghabra said during a federal update on the ongoing events that included several cabinet ministers.
Alghabra urged the Ontario government to learn lessons from how convoys of anti-COVID-19 protesters were managed successfully in other provinces over the weekend.
In Quebec City, a protest wrapped up Sunday evening with police handing out 170 tickets for noise complaints, parking and highway safety code violations.
About a dozen large trucks and farm vehicles continued Monday to sit by the main entrance to the Manitoba legislature.
Federal Public Safety Minister Marco Mendicino said an "angry crowd" should not be allowed to dictate policies to fight COVID-19, and that protesters have "crossed the line of acceptable conduct" toward fellow Canadians in their bid to pressure the government.
"We believe in peace, order and good government in Canada," he said. "Canadians deserve to feel safe in their communities and no one is above the law."
Emergency Preparedness Minister Bill Blair said it is not the role of any government to direct law-enforcement operations but he announced that a trilateral table of federal, provincial and municipal partners would help oversee the response.
On Monday evening, Trudeau appeared in the House of Commons to take part in an emergency debate on the protest in Ottawa. It was his first time there since before the holiday break. Last week, he was isolating after having tested positive in COVID-19. He has also been staying at a location in the National Capital Region that was not being publicized for security reasons.
"This pandemic has sucked for all Canadians," said Trudeau.
"Everyone is tired of COVID, but these protests are not the way to get through it."
Public Safety Minister Marco Mendicino said in the House the government had approved a request by the RCMP for additional resources to police the protests. He said "hundreds of charges would continue to be laid" against the truckers protesting outside Parliament. He said Ottawa had been blockaded by "an angry, intolerant and often violent" group of protesters.
NDP Leader Jagmeet Singh, who had called for the emergency debate, said Canadians are demanding answers about who is funding the protests. He also said the waving of Nazi flags was offensive, particularly to racialized Canadians.
Conservative MP Raquel Dancho, the public safety critic, accused the government of using vaccination as a "wedge issue" and a "bludgeon." She said Canadians were divided and it was "time to build a bridge." She urged protesters to "stay peaceful" but accused the government of stoking the fires of the protests with divisive rhetoric and "name calling."
New federal Conservative interim leader Candice Bergen also Canada had never been so divided.
Earlier Monday, Bergen wrote to request a meeting with Trudeau and other party leaders to discuss the ongoing protest in Ottawa.
She charged the prime minister with being "largely absent" since dismissing protesters as a "fringe" with "unacceptable views" last week.
Bergen wrote she hopes the leaders can talk about how to "take the temperature down" and find solutions that would allow the people of Ottawa to get back to normal life.
Singh has accused Trudeau of a lack of leadership, saying the prime minister "needs to be present" to deal with the protest, but had "not been visible" so far.
This report by The Canadian Press was first published Feb. 7, 2022.
— With files from Mia Rabson and Marie Woolf
Mike Blanchfield and Laura Osman, The Canadian Press
The Choice Is Liberty or Lockdown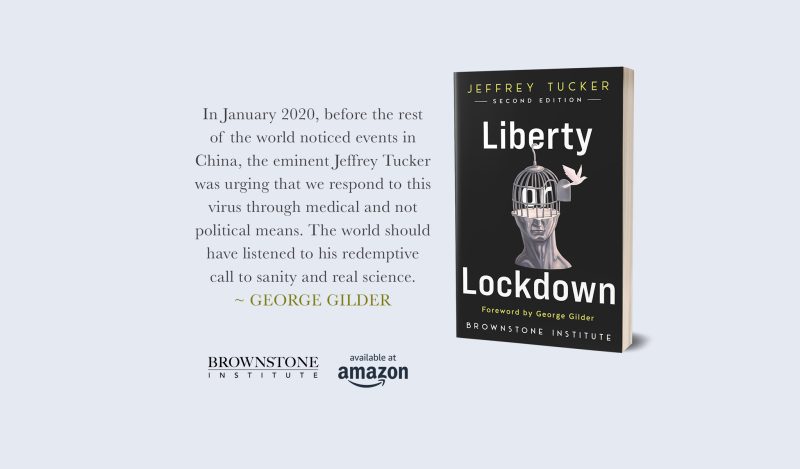 BY
JEFFREY A. TUCKER
Two years after the first edition, the second edition of Liberty or Lockdown is now in print, just as the US president announced the end of the pandemic. The emergency declaration that excused the mass violation of human rights is still in effect.
The significance of the timing of the first edition of this book is obvious to anyone who has lived through our strange times: September 2020. That was six months following the lockdown of most of the world during which places where people might "congregate" were shut by governments.
The reason was to avoid, mitigate, eliminate maybe, or otherwise diminish the disease impact of the virus that caused Covid. This was before the vaccine came out, before the Great Barrington Declaration, and before data on excess deaths the world over showed vast carnage from these policy decisions.
The state was unleashed on the population as never before, in the name of science. There are no words to describe my outrage then and now.
The onset of lockdowns put me to work trying to understand the thinking, a process which took me back through the history of pandemics, the relationship between infectious disease and freedom, and the origin of lockdown ideology in 2005.
The times during which this book was written were beyond strange. People went full medieval in every way in which that term can be understood. There was public flogging in the form of masking and the abolition of fun, feudalistic segregation and disease shaming, the practical end of most medical care unless it was for Covid, the scapegoating of non-compliers, the neglect and abuse of children, and a turn to other pre-modern forms. All of this became worse once the non-sterilizing vaccines appeared on the market that many if not most people were forced to accept at pains of losing their jobs.
Writing now in September of 2022, I cannot even imagine going through the pain of putting this research together again. I'm very pleased it was done then because now this book survives as a marker that there was dissent, if nothing else. I've added no new essays though I've written hundreds since then. The second edition should really stand as is.
This was also a period of time – still is today – when vast numbers of people feel betrayed by technology, media, politicians, and even their one-time intellectual heroes. It is a time of grave destruction with still-broken supply chains, roaring inflation, mass cultural demoralization, labor market confusions, shattered lives of young and old, and terrible uncertainty about the future.
When I put this book to bed in 2020, I had hoped we were near the end of this disaster. How wrong I was! Let us hope, too, that it is a period of rebuilding, however quietly it is taking place.
Starting Brownstone Institute is part of that for me. So many others have joined. Today we published articles from all over the world since so many around the world have shared in this suffering. What will it take to emerge from the other side?
From my point of view, it is not complicated. We need a renewed appreciation of human liberty and rights. That's it. That is the whole prescription. It does not sound hard but apparently it is. This task will likely consume the rest of our lives.
Jeffrey Tucker
September 2022
Introduction to the Portuguese Edition (2021)
As I write, and much to my astonishment and sadness, the world is still in chains. These chains have been created by governments. They bind their citizens' choices and actions in the name of virus control. I had expected the folly of lockdowns to end within weeks after their imposition, once the data were in on the demographics of severe outcomes. But through a terrible combination of factors – government and public ignorance and fear, media frenzy, big tech censorship, the outsized voice of fake lockdown science, and an unwillingness on the part of the lockdown industry to admit error – they continued for a full year and continue today.
On the day I'm writing, Paris and Berlin are once again under lockdown, Sao Paulo is being brutalized, and ever larger parts of Eastern and Western Europe are experimenting with a third round of failure. Anthony Fauci in the US is all over the media essentially denying that human immunity exists in any meaningful sense, kids are still being kept out of school, businesses are being forced to engage in preposterous rituals just to survive, most members of the ruling class parade in masks in a theatrical affectation that they are following the science, and a weary people are massively divided between those who want to believe the authorities and those who have lost all credulity in public health.
Our communities are shattered, our houses of worship in diaspora, our spirits crushed, and our expectations for the good life in tatters.
Also pouring in are the devastating data on the consequences of lockdown. The economic costs are stupefying, beyond anything we imagined we would ever see. The cultural costs are too, with arts and music devastated, along with the industries that support them. The most interesting and possibly counterintuitive costs are related to public health itself: the missed cancer screenings, the missed appointments, the prevalence of suicide ideation, the record drug overdoses, the alcoholism, the mental and emotional despair. As for settled matters of human rights – the freedom to speak, travel, worship, learn, trade – they are suddenly all in question.
It's true that parts of the world are entirely open, and thank goodness for them. These places are experiencing no worse outcomes, and often much better outcomes, from the severe aspects of this disease than those who are still experimenting with rolling lockdowns. More evidence pours in by the day: this is a normal virus, with natural immunity, with distinct characteristics that should be mitigated by medical professionals one person at a time – not managed by politicians and their advisors with agendas that have nothing to do with public health.
I've been involved in the debate over the government's role in disease control for at least 15 years. Until last year, the consensus of the experts was that governments have a very limited role, simply because of the capacity of pathogens to outsmart even the best intentions of the powerful and their plans. In the golden age of public health in the 20th century, such brutal methods as public quarantines, shutdowns, mandatory masks, closures, travel restrictions, and universal stay-at-home orders were specifically ruled out as counterproductive, overly disruptive, and futile for achieving the task of minimizing damage from new pathogens. The powers to do all this have been there for the better part of 15 years or possibly for longer but they were not deployed for good reasons.
For reasons that will become increasingly clear over time, 2020 became the year of the great experiment. Suddenly, "nonpharmaceutical interventions" would replace our laws, our settled traditions of liberty, and love of peace and prosperity, and even the ideals of the Enlightenment itself. We put fear above rationality, division above community, power above rights, wild experiments above settled science, and the intellectual pretensions of a tiny ruling class above the interests of the social order.
It was all so shocking and inexplicable that most of the world's population sat through month after month in a state of confused delirium, attached to screens with pundits preaching to us daily that all of this was necessary and good. And yet, we all recall now that humanity has always lived amidst pathogens new and old. We dealt with them and cobbled together an implicit social contract around infectious disease: we agreed nonetheless to build civilization and experience social progress, treating sickness and death as something to mitigate within the context of human rights. For the first time ever, we tried a global lockdown as scripted by scientific elites.
But now writing one year later, I'm pleased to say that the days of shock and awe are over, gradually being replaced by disillusionment with the ruling class and incredulity toward those who did this to us. There is no power on earth strong enough or rich enough to suppress truth. Truth exists within the realm of ideas, and that is a realm of infinite reproducibility, malleability, and portability, subject only to the willingness of the curious and courageous to tell that truth in every possible way to as many people as possible in every venue available. This is how truth wins, reaching one mind at a time.
We've all been tested during this last year. What are our intellectual commitments? Do we really believe them or have we adopted them for career reasons? What are the pressures to which we will succumb in order to relinquish our principles for prestige? How much are we willing to give up in order to fight for a cause larger than ourselves? I've been surrounded by heroes this year who have inspired me – God bless them – and others who were unwilling to step up when their voices were most needed, much to my sadness.
That aside, let's all admit something: part of each of us has been broken by these lockdowns. No one wants to live in a world in which our essential rights and liberties can be granted or taken away based on the judgment calls of a handful of scientists who have no regard for our traditions of law. That's called tyranny. We now know how terrible it is. And how futile. How demoralizing. How utterly ghastly and unconscionable.
I somehow always come around to silver linings, not only because it is my personality but also because they always exist. The silver lining is that much of the world has lived through the apotheosis of statism, that ugly ideology that posits that force is a better way to organize the world than choice. We dabbled in it as societies for the better part of 100 years and then suddenly in one year we went full on, just as a test. That test completely failed. We know it first hand. As I write, I'm confident that we've seen the worst of it.
Now is our chance – right now – to choose another path. We don't need to work out every detail. We don't need an alternative plan. And it's not just about getting a new set of political leaders. What we need is a different philosophy. I humbly suggest that the philosophy that built modern civilization – that which we once called liberalism – will do just fine as a base line. Let us believe it, rally around it, institutionalize it, protect it, and fight for it. In doing so, we are not just working in our own self-interest but also in the common good of all.
Never lockdowns. Never again.
Effect of pandemic border restrictions could be long-lasting: Critics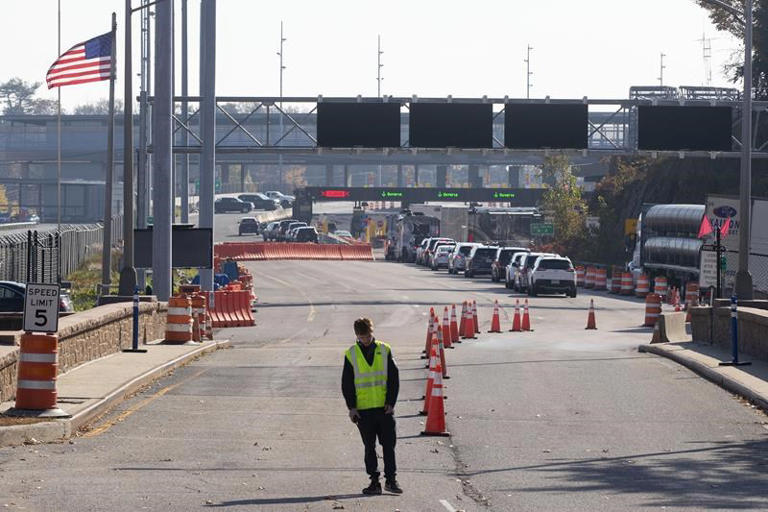 BANFF, Alta. — The last of Canada's COVID-19 border restrictions are set to disappear at the end of this month, but some critics say they fear the measures have already caused a lasting decrease in cross-border travel.
At the Global Business Forum in Banff, Alta. on Friday, prominent voices who have been arguing for months in favour of the lifting of restrictions such as mandatory vaccinations, testing and quarantine requirements for international visitors said they're now worried the economic impacts of such measures could be permanent.
In a panel discussion at what is an annual conference for business leaders in Canada's most-visited national park, Meredith Lilly – an associate professor at Carleton University and a former international trade advisor to Prime Minister Stephen Harper – said cross-border day trips by Canadians to the U.S. never fully recovered after the terrorist attacks of Sept. 11, 2001.
She said her research has showed part of that is due to the heightened U.S. border controls put in place after that event.
"Fewer Canadians travelled to the United States to shop or fill up their tank of gas because of the unfriendly border," Lilly said.
"Canada is now doing the same thing to Americans. So it's going to take major effort to get Americans to come back."
Earlier this week, federal government sources confirmed the cabinet order maintaining COVID-19 border measures will not be renewed when it expires on Sept. 30.
The change means international travellers will no longer have to prove they are fully vaccinated against COVID-19. Under the current rule, Canadians returning to the country who aren't vaccinated must show a negative COVID-19 test result before arriving, and undergo further testing after arrival. They also must quarantine for 14 days.
The expiry also spells the end of insisting travellers use the ArriveCan app to input their vaccine status and test results, though the app will live on as an optional tool for customs and immigration.
But Lilly said the two-and-a-half years that pandemic-related border rules were in place was likely long enough to change the habits of some Americans, who will now no longer consider visiting Canada in the future.
Statistics Canada reported Friday that the number of international arrivals to this country increased in July even as they remain well below pre-pandemic levels.
The agency said the number of trips by U.S. residents in July was 2.2 million, 11 times the number of trips taken in July 2021, but still about 60 per cent of the trips reported in July 2019.
"So the picture still isn't great," Lilly said. "And three years is a long time for people to permanently change their behaviour."
Canadian Chamber of Commerce president and CEO Perrin Beatty, who also spoke in Banff Friday, said this country's tourism industry has now missed out on two summer seasons.
He said multiple medical experts have argued that testing asymptomatic travellers for COVID-19 at the border is far less effective than testing symptomatic Canadians within their communities.
"We've maintained these restrictions that simply make no sense. The cost to us, for small businesses in every part of this country, of the friction that we've put on at the border has been billions of dollars," Beatty said.
"And we're out of step with other countries around the world, we're out of step with the science, and we're out of step with the rest of Canadian society because of these self-inflicted wounds we've put on ourselves."
A report released by the Canadian Travel and Tourism Roundtable on Friday aimed to assess the impact and effectiveness of border measures and other travel restrictions implemented by the federal government to slow the spread of COVID-19.
The report, which was authored by four Canadian doctors specializing in infectious diseases, emergency medicine and pandemic management, concluded border measures have been largely ineffective at preventing new COVID-19 variants from entering the country.
It also said there is no convincing evidence that pre-departure and on-arrival testing and surveillance have had a significant impact on local transmission in Canadian communities.
The expiry of the cabinet order on Sept. 30 doesn't deal with whether passengers must wear masks on domestic and international trains and planes because that rule is contained in a separate order issued by the minister of transport.
The tourism industry has argued masking on planes is also "inconsistent" from a policy perspective, given that the high air exchange rates on passenger aircraft make them one of the safest ways to travel from a COVID-19 perspective.
"But the government of Canada is saying the single most dangerous thing you can be doing is travelling by air," Beatty said.
This report by The Canadian Press was first published Sept. 23, 2022.
Amanda Stephenson, The Canadian Press