Iran's hard-line president-elect says he won't meet Biden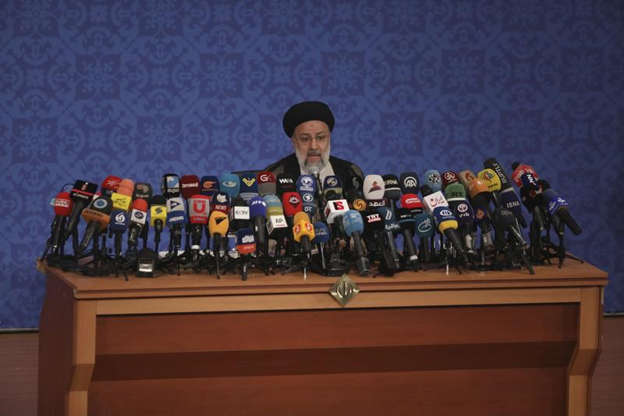 DUBAI, United Arab Emirates (AP) — Iran's president-elect said Monday he would not meet with President Joe Biden or negotiate over Tehran's ballistic missile program and its support of regional militias, sticking to a hard-line position following his landslide victory in last week's election.
Judiciary chief Ebrahim Raisi also described himself as a "defender of human rights" when asked about his involvement in the 1988 mass execution of about 5,000 people. It marked the first time he's been put on the spot on live television over that dark moment in Iranian history at the end of the Iran-Iraq war.
"The U.S. is obliged to lift all oppressive sanctions against Iran," Raisi said at his first news conference after Friday's election, a contest widely seen as a coronation after his strongest competition found themselves barred from running.
Raisi, 60, sat in front of a sea of microphones, most from Iran and countries home to militias supported by Tehran. He looked nervous at the beginning of his comments but slowly became more at ease over the hourlong news conference.
Asked about Iran's ballistic missile program and its support of regional militias, Raisi described the issues as "nonnegotiable."
Tehran's fleet of attack aircraft date largely back to before the 1979 Islamic Revolution, forcing Iran to instead invest in missiles as a hedge against its regional Arab neighbors, who have bought billions of dollars in American military hardware over the years. Those missiles, with a self-imposed range limit of 2,000 kilometers (1,240 miles), can reach across the Mideast and U.S. military bases in the region.
Iran also relies on militias like Yemen's Houthi rebels and Lebanon's militant Hezbollah group for counterbalance against enemies such as Saudi Arabia and Israel, respectively.
On a possible meeting with Biden, Raisi curtly answered: "No." His moderate competitor in the election, Abdolnasser Hemmati, had suggested during campaigning that he might be willing to meet Biden.
The White House did not immediately respond to Raisi's statements. Raisi will become the first serving Iranian president sanctioned by the U.S. government even before entering office, in part over his time as the head of Iran's internationally criticized judiciary.
The victory of Raisi, a protégé of Iran's Supreme Leader Ayatollah Ali Khamenei, came amid the lowest voter turnout in the Islamic Republic's history. Millions of Iranians stayed home in defiance of a vote they saw as tipped in Raisi's favor after a panel under Khamenei disqualified prominent reformist candidates.
Of those who did vote, 3.7 million people either accidentally or intentionally voided their ballots, far beyond the amount seen in previous elections and suggesting some wanted none of the four candidates. In official results, Raisi won 17.9 million votes overall, nearly 62% of the total 28.9 million cast. Tehran had a 34% turnout, far lower than previous years, with many polling stations across the capital noticeably empty.
Raisi's election puts hard-liners firmly in control across the government as negotiations in Vienna continue to try to save a tattered deal meant to limit Iran's nuclear program.
Then-U.S. President Donald Trump unilaterally withdraw America from the landmark agreement in 2018, setting in motion months of tensions across the region. In response, Iran has abandoned the limits of the deal and is now enriching uranium at 60%, its highest levels ever, though still short of weapons-grade levels. Representatives of the world powers party to the deal returned to their capitals for consultations following the latest round of negotiations on Sunday.
Raisi's victory has raised concerns that it could complicate a possible return to the nuclear agreement. In his remarks Monday, Raisi called sanctions relief as "central to our foreign policy" and exhorted the U.S. to "return and implement your commitments" in the deal.
"No matter the timing, a U.S.-Iran agreement in Vienna leaves unanswered whether the United States can achieve a broader rapprochement with an Iran led by an avowed proponent of the core tenets of Iran's Islamic Revolution," the New York-based Soufan Center said in an analysis Monday.
On Sunday, Iran's sole nuclear plant at Bushehr underwent an unexplained emergency shutdown. Previously, Iranian officials had warned that U.S. sanctions affected their ability to get parts for the facility.
On Saudi Arabia, which has recently started secret talks with Iran in Baghdad over several points of contention between the regional heavyweights, Raisi said that Iran would have "no problem" with a possible reopening of the Saudi Embassy in Tehran and that the "restoration of relations faces no barrier." The embassy was closed in 2016 as relations deteriorated.
Raisi struck a defiant tone, however, when asked about the 1988 executions, which saw sham retrials of political prisoners, militants and others that would become known as "death commissions."
After Iran's then-Supreme Leader Ayatollah Ruhollah Khomeini accepted a U.N.-brokered cease-fire, members of the Iranian opposition group Mujahedeen-e-Khalq, heavily armed by Saddam Hussein, stormed across the Iranian border from Iraq in a surprise attack. Iran ultimately blunted their assault.
The trials began around that time, with defendants asked to identify themselves. Those who responded "mujahedeen" were sent to their deaths, while others were questioned about their willingness to "clear minefields for the army of the Islamic Republic," according to a 1990 Amnesty International report.
International rights groups estimate that as many as 5,000 people were executed. Raisi served on the commissions.
"I am proud of being a defender of human rights and of people's security and comfort as a prosecutor wherever I was," he said. "All actions I carried out during my office were always in the direction of defending human rights."
He added: "Today in the presidential post, I feel obliged to defend human rights."
Isabel Debre And Jon Gambrell, The Associated Press
Government policy tells CRTC to exclude social media users from online streaming bill
Canadians who make content online are to be excluded from future regulations that the Liberal government is imposing on digital giants, a new draft policy shows.
The government's online streaming bill, which passed in April, aims to force platforms such as Netflix, YouTube and TikTok to contribute to and promote Canadian content — a requirement traditional broadcasters already follow.
But the Canadian Radio-television and Telecommunications Commission must now develop regulations to implement the bill's intentions.
Draft policy issued by the government on Thursday instructs the CRTC to leave out social media users, including local businesses, who upload content online, even if they use commercial songs.
For example, a person who records a makeup tutorial or dance trend while with a Harry Styles song in the background would not fall under the regulations.
The draft policy states that the measures will not apply to such users because their content is mainly meant for the internet.
However, platforms like TikTok and YouTube will likely be regulated for streaming music promoted by record labels or commercial artists, when that content is also broadcast on other platforms — like on the radio.
A senior official within the Canadian Heritage Department said the key to understanding which broadcaster will be regulated is knowing if commercial content that is on their platform also appears in other media, such as on TV, radio or other digital streaming services.
For example, a television show can appear both on Netflix and on cable, and a live sports game could stream on social media platforms, TV and radio.
YouTube, which has opposed the bill, said it is committed to keeping intact the ecosystem of its platform, which relies on creators.
"That's something we're committed to preserving," a spokesperson for YouTube said in a statement on Thursday.
"We are reviewing the policy direction, and will continue to advocate for the interests of Canada's digital creators and audiences through the remaining stages of this process."
The draft policy said people who make local podcasts or stream video games online will also be excluded from the bill's regulations, which are set to take shape over the summer before a final policy directive is released in the fall.
Digital media giants that fall under the regulations will have to promote Canadian content, and are encouraged to put forward their own ideas on how they can do that.
The Canadian Heritage Department said it wants input from digital platforms on how they can promote Canadian content, but they say it could come in a variety of ways — from billboards promoting artists to designating sections of their sites to local music and stories.
The government's draft policy states that the solution should minimize the need for companies to alter their algorithms in order to comply with the law.
Heritage Minister Pablo Rodriguez, who sponsored the bill, has said the law is intended to help highlight local stories and music on streaming platforms, many of which are based in the United States.
"We've said it from the start: if you benefit from the system, you should contribute to it. With the Online Streaming Act, we're acting to support our creators, our artists, our independent producers and our culture so that they thrive in the digital age," Rodriguez said in a statement Thursday.
"Canadians deserve to see themselves in what they watch and listen to, and this legislation is an essential step forward in ensuring that our cultural industry and our talent shine."
The government's directive also asked the commission to prioritize parts of the bill dealing with redefining Canadian content, advancing Indigenous storytelling and achieving better representation from Black and LGBTQ communities.
The CRTC will hold public consultations in the weeks ahead, in which people will have the opportunity to provide input.
This report by The Canadian Press was first published June 8, 2023.
Why is the federal government looking to create a national emergency agency?
A heavy machinery operator works on cleanup from the post-tropical storm Fiona in Port aux Basques, N.L. on Thursday, Sept. 29, 2022. The federal government is looking at creating some kind of national disaster response agency in the face of an unusually intense and destructive start to the wildfire season across the country. THE CANADIAN PRESS/Frank Gunn
By Sarah Ritchie in Ottawa
The federal government is looking at creating some kind of national disaster response agency in the face of an unusually intense and destructive start to the wildfire season across the country.
At the moment, federal departments including Emergency Preparedness, Public Safety and National Defence co-ordinate when there is a request for help from one of the provinces or territories after a major event like a flood, hurricane or wildfire.
Here's a look at what a national emergency agency could consist of, and how it would be different from what's already in place.
What happens right now during an emergency in Canada?
The federal government used to get between five and 10 formal requests for assistance from the provinces and territories each year.
Between March 2020 and October 2022, there were more than 200 calls ranging from hurricanes, floods and fires to helping in care homes during COVID-19. About 157 of those calls involved the military.
The government operations centre in the Department of Public Safety is the main agency that leads the response.
Director-general Deryck Trehearne told a House of Commons committee last fall that there's a rigorous check whenever a province or territory asks for military help.
"Things we would look at, for instance, are regional capacity, commercial options and other federal sources. We discuss a number of criteria with the province or territory before we get to a situation of deploying the (Canadian Armed Forces)," he said in early October.
The government also gets help from organizations such as the Red Cross and the United Way to co-ordinate things like fundraising and distribution of emergency funding, for example.
Its Disaster Financial Assistance Program helps individuals and municipalities get the money they need to rebuild and recover from natural disasters.
Trehearne said he thinks Canada has a good system for responding to emergencies, though he noted the "multiple levels of responsibility" with the provinces and local municipalities make things complicated.
Can't governments just keep calling on the military?
The Canadian Armed Forces has immediate response units that are activated to respond to disasters.
But the chief of the defence staff, Gen. Wayne Eyre, has made no secret of the fact that he would like the Canadian Armed Forces to get fewer domestic calls for help — especially while it's dealing with a personnel crisis.
Members responding to wildfires need to get special firefighting training, which takes up critical time in an emergency.
Each province and territory has different certification for wildland firefighting, and there is no basic, across-the-board training available for military members, so members only get trained when they're being deployed.
Soldiers don't actually put out wildfire flames, and they don't have firefighting gear. The people deployed to fire zones in Alberta, Quebec and Nova Scotia are there to help stop the spread of fires once they flames have abated, put out hot spots and clean up.
About 100 soldiers have been trained at CFB Gagetown in New Brunswick and are standing by to help in Nova Scotia, but they haven't been able to help yet and are waiting for tasks. A small number of ignition specialists is helping to prevent the fires from flaring up.
The Canadian Armed Forces has about 370 trained firefighters across the country. Some of them help with wildfires, but they must also remain on standby in case of emergencies on their local base or wing.
What do other countries do?
Perhaps the best-known example of a national disaster-assistance organization is the United States Federal Emergency Management Agency.
FEMA, as it's known, is responsible for preparing for, preventing, responding to and recovering from major incidents such as terrorist attacks and natural disasters. It runs a national response co-ordination centre, which organizes federal support for major disasters and can deploy teams of doctors and nurses to disaster sites.
Its workforce swells to more than 50,000 people in a disaster.
Australia also has a National Emergency Management Agency, which was created "in the face of devastating fires and floods" to help respond to and recover from disasters, according to the agency's website.
Its national aerial firefighting centre, formed in 2003, shares specialized aircraft between states to ensure they have the resources needed without having to own and maintain the expensive equipment.
The agency has "round-the-clock all-hazards monitoring" and co-ordinates the operations for anything from flooding and fires to supply chain disruptions, cyber attacks and infrastructure outages.
It also funds programs to prepare for and prevent disasters. The agency notes that disasters cost an average of $38 billion Australian each year and that cost is projected to nearly double by 2060.
What does the federal government want?
Emergency Preparedness Minister Bill Blair has been asked if the country needs a national firefighting service. He said Wednesday that because there are more frequent and more severe emergencies, responding governments need to be more agile.
"There's a need in all of the provinces and territories, in every part of the country for additional firefighting resources," he said.
He noted that Natural Resources Canada is training 1,000 new firefighters and is buying more equipment. And while the Canadian Interagency Forest Fire Centre co-ordinates firefighting resources across provinces and with other countries, Blair said there is a need for more water bombers, for example.
The military's main role in a disaster is to help local officials with logistics, planning and manpower.
On Wednesday, Prime Minister Justin Trudeau said Armed Forces members were doing "everything from delivering food and supplies to people in Minganie, Quebec, to providing logistic support for waterbombers at CFB Greenwood."
Given what Eyre has said in the past about his desire to make the Armed Forces the call of last resort in an emergency, it's possible that a new centralized federal emergency agency could be made responsible for planning and logistics.
This report by The Canadian Press was first published June 8, 2023.