Iran morality police status unclear after 'closure' comment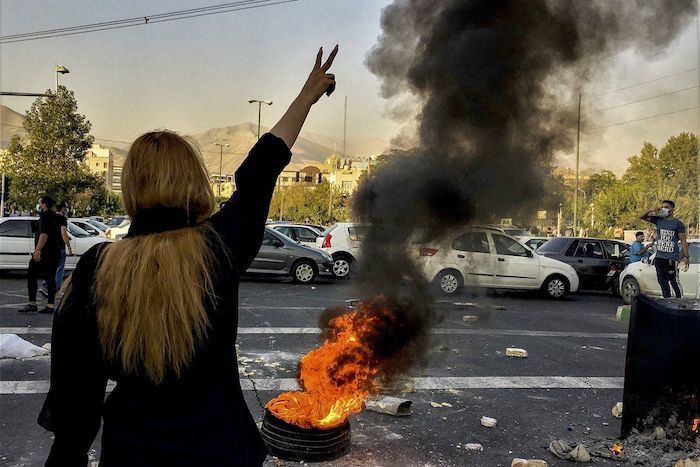 By Jack Jeffery in Cairo
CAIRO (AP) — An Iranian lawmaker said Sunday that Iran's government is "paying attention to the people's real demands," state media reported, a day after a top official suggested that the country's morality police whose conduct helped trigger months of protests has been shut down.
The role of the morality police, which enforces veiling laws, came under scrutiny after a detainee, 22-year-old Mahsa Amini, died in its custody in mid-September. Amini had been held for allegedly violating the Islamic Republic's strict dress codes. Her death unleashed a wave of unrest that has grown into calls for the downfall of Iran's clerical rulers.
Iran's chief prosecutor Mohamed Jafar Montazeri said on Saturday the morality police "had been closed," the semi-official news agency ISNA reported. The agency did not provide details, and state media hasn't reported such a purported decision.
In a report carried by ISNA on Sunday, lawmaker Nezamoddin Mousavi signaled a less confrontational approach toward the protests.
"Both the administration and parliament insisted that paying attention to the people's demand that is mainly economic is the best way for achieving stability and confronting the riots," he said, following a closed meeting with several senior Iranian officials, including President Ebrahim Raisi.
Mousavi did not address the reported closure of the morality police.
The Associated Press has been unable to confirm the current status of the force, established in 2005 with the task of arresting people who violate the country's Islamic dress code.
Since September, there has been a reported decline in the number of morality police officers across Iranian cities and an increase in women walking in public without headscarves, contrary to Iranian law.
Montazeri, the chief prosecutor, provided no further details about the future of the morality police or if its closure was nationwide and permanent. However he added that Iran's judiciary will ''continue to monitor behavior at the community level.''
In a report by ISNA on Friday, Montazeri was quoted as saying that the government was reviewing the mandatory hijab law. "We are working fast on the issue of hijab and we are doing our best to come up with a thoughtful solution to deal with this phenomenon that hurts everyone's heart," said Montazeri, without offering details.
Saturday's announcement could signal an attempt to appease the public and find a way to end the protests in which, according to rights groups, at least 470 people were killed. More than 18,000 people have been arrested in the protests and the violent security force crackdown that followed, according to Human Rights Activists in Iran, a group monitoring the demonstrations.
Ali Alfoneh, a senior fellow at the Arab Gulf States Institute in Washington, said Montazeri's statement about closing the morality police could be an attempt to pacify domestic unrest without making real concessions to protesters.
''The secular middle class loathes the organization (morality police) for restricting personal freedoms," said Alfoneh. On the other hand, the "underprivileged and socially conservative class resents how they conveniently keep away from enforcing the hijab legislation" in wealthier areas of Iran's cities.
When asked about Montazeri's statement, Iranian Foreign Minister Hossein Amirabdollahian gave no direct answer. ''Be sure that in Iran, within the framework of democracy and freedom, which very clearly exists in Iran, everything is going very well,'' Amirabdollahian said, speaking during a visit to Belgrade, Serbia.
The anti-government demonstrations, now in their third month, have shown no sign of stopping despite a violent crackdown. Protesters say they are fed up after decades of social and political repression, including a strict dress code imposed on women. Young women continue to play a leading role in the protests, stripping off the mandatory Islamic headscarf to express their rejection of clerical rule.
After the outbreak of the protests, the Iranian government hadn't appeared willing to heed the protesters' demands. It has continued to crack down on protesters, including sentencing at least seven arrested protesters to death. Authorities continue to blame the unrest on hostile foreign powers, without providing evidence.
But in recent days, Iranian state media platforms seemed to be adopting a more conciliatory tone, expressing a desire to engage with the problems of the Iranian people.
'The eyes of the world': Trial starts for Calgary pastor charged in border blockade
By Bill Graveland in Lethbridge
A court has seen video of a Calgary pastor encouraging truckers to keep blocking the Canada-U.S. border to protest COVID-19 restrictions because the world was watching.
The trial for Artur Pawlowski began Thursday in southern Alberta on charges of breaching a release order and mischief for inciting people to block public property at the border crossing at Coutts, Alta.
He is also charged under the Alberta Critical Infrastructure Defence Act with the wilfully damaging or destroying essential infrastructure.
The blockade that began in late January 2022 paralyzed Alberta's main U.S. border crossing for more than two weeks .
The Crown's case against Pawlowski consists of an agreed statement of facts and the 20-minute video of the speech that the pastor gave to protesters on Feb. 3, 2022.
In it, Pawlowski pleads with truckers to stay the course and not leave the protest, which was aimed at COVID-19 restrictions and vaccine mandates.
Pawlowski visited the group at Smuggler's Saloon, a location that became their headquarters. At the time, protesters were considering whether to leave Coutts for Edmonton to demonstrate in front of the legislature.
"I believe that the eyes of the world are fixed on this place right here. That's right — this little pitiful piece of land," Pawlowski told a cheering crowd in the video played for provincial court Judge Gordon Krinke in Lethbridge, Alta.
"The eyes of the world are fixed right here on you guys. You are the heroes. Don't you dare go breaking the line.
"For the first time in two years, you have the power. You pack your stuff, you go to Edmonton and you will be lost."
The pastor also told the crowd there weren't enough police or a big enough army to deal with the protesters. He was arrested days later.
Pawlowski was greeted by about 300 supporters outside court Thursday before trial. Some held Canadian flags and signs reading "Free Pastor Pawlowski."
Pawlowski told the group he had no regrets.
"I told the people this is a peaceful uprising. No guns. No swords. I stand by what I said a year ago," he said outside of court.
"I am proud that I stood with the people that simply stood for their God and state. Our rights do not belong to the politicians or bureaucrats or even judges or Crown prosecutors. They belong to us, the people."
Prosecutor Steve Johnston said the court must determine whether Pawlowski is guilty because he was a party to the events, and the Crown argues that he was.
The defence said it would not be calling witnesses in the trial, and closing arguments were expected Thursday afternoon.
This report by The Canadian Press was first published Feb. 2, 2023
Peru's protest 'deactivators' run toward tear gas to stop it
By Daniel Politi in Lima
LIMA, Peru (AP) — When police fire tear gas at protesters demanding the resignation of Peruvian President Dina Boluarte, most run away.
A few, though, run toward the gas canisters as quickly as possible — to neutralize them.
These are the "deactivators." Donning gas masks, safety goggles and thick gloves, these volunteers grab the hot canisters and toss them inside large plastic bottles filled with a mixture of water, baking soda and vinegar.
The deactivators made their debut in Peru street protests in 2020, inspired by protesters in Hong Kong who in 2019 unveiled new strategies to counteract the eye-stinging, breath-stealing effects of tear gas. With protesters in Lima facing a nearly daily fusillade of tear gas, more people have joined the ranks of deactivators trying to shield them and keep the demonstrations going.
Peruvians have been protesting since early December, when former President Pedro Castillo was impeached after a failed attempt to dissolve Congress. His vice president, Boluarte, immediately took over — and has faced strong opposition ever since.
Fifty-eight people have died in connection with the unrest, including one police officer. Forty-six of the deaths occurred during direct clashes between protesters and police.
The protests have exposed deep divisions in the country between the urban elites and the rural poor. Demonstrations were first largely concentrated in the south, a long-neglected region of Peru that felt a particular kinship to Castillo's humble background as a rural teacher from the Andean highlands. But earlier this month, thousands descended on Peru's capital, and police met them with tear gas. Lots and lots of tear gas.
On Thursday, as protesters gathered in downtown Lima, Alexander Gutiérrez Padilla, 45, was giving a brief course to anyone who would listen around Plaza San Martín about how to mix vinegar and baking soda into the water and how to grab the tear gas canisters most efficiently.
"If we don't deactivate, people disperse and the protest breaks," Gutiérrez said. "That's why we're pillars of this demonstration."
Next to him was Wilfredo Huertas Vidal, 25, who has taken it upon himself to collect donations to buy gloves and other protective equipment and hand them out to those who want to help.
"Who wants gloves? Who wants gloves?" he yelled as he stood next to several large bottles of water, gas masks and eye goggles.
When protesters descended on Lima earlier this month, old networks were reactivated. A tactic first seen in Peru in late 2020 during protests against then-President Manuel Merino resurfaced.
Vladimir Molina, 34, who participated in the 2020 protests, now runs what he calls a "brigade." It consists of around 60 people, including paramedics, deactivators and "front-line" activists who stand in the middle of protesters and police with shields, in an effort to block any pellets or tear gas police may fire into the crowd.
"Every day more and more people are joining," Molina said. Interest in his group is so great that he's made it a requirement for anyone who wants to join to have their own equipment.
By tossing the hot tear gas cartridges into the water solution, "what they do is extinguish the pyrotechnical charge so the tear gas cannot come out anymore," said Sven Eric Jordt, a professor of anesthesiology at Duke University.
Water alone should achieve what the protesters want, although the carbon dioxide created by mixing vinegar and baking soda could "form a foam bath that suffocates the charge" further, Jordt speculated.
It may be only a matter of time before authorities deploy methods to blunt the deactivators' effectiveness. Manufacturers are now developing tear gas with plastic cartridges that stick to the road so it "can't be lifted up anymore," Jordt said.
Fearful of being targeted by police and prosecutors, many of the deactivators prefer to remain anonymous, keeping their faces covered even when there's no tear gas around.
Boluarte has given strong backing to law enforcement, and the government recently announced a bonus for police officers. Boluarte has characterized the work of police controlling the Lima protests as "immaculate," despite their often indiscriminate firing of tear gas and pellets. In contrast, she says the demonstrations are violent and financed by drug-trafficking rings and illegal miners.
Andrea Fernández, 22, is new to deactivating tear gas.
"The truth is I love the adrenaline," Fernández said shortly after grabbing a pair of gloves from Huertas and listening to the instructions closely.
She said she hadn't been really interested in the country's political crisis at first. Then the deaths started piling up.
"There are a lot of farmers who've come from lots of parts of Peru and they come here to march, face-to-face, but don't have the necessary protection," Fernández said.
Felix Davillo, 37, also says the casualties pushed him to become a deactivator.
"I made this decision for all the death that is going on in Puno right now," Davillo said, referring to a region in Peru that has experienced some of the deadliest protests.
A general lack of protective equipment has also meant protesters have been injured by the widespread use of less lethal weapons.
From January 19 to 24, Doctors Without Borders treated 73 patients at the Lima protests suffering from exposure to tear gas, pellet wounds, contusions or psychological distress, the non-profit organization said.
The deactivators' increased chance of injury doesn't scare Julio Incarocas Beliz, who grabbed one of the big water bottles in the plaza for his first day trying to diffuse tear gas.
"I served in the military and I've never been afraid," Incarocas, 28, said. "I'm fighting for my homeland."