Iran calls Natanz atomic site blackout 'nuclear terrorism'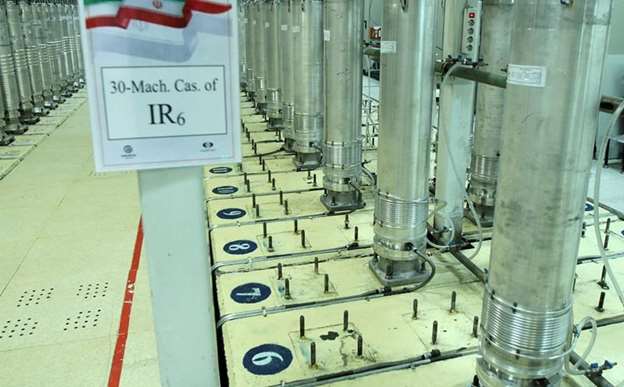 Biden ready to sell $2.3T infrastructure plan in Louisiana
President Joe Biden will push the case for his $2.3 trillion infrastructure plan in the reliably Republican state of Louisiana — directly challenging GOP lawmakers who say that low taxes for corporations and the wealthy will fuel economic growth.
Biden is leaning into the stagecraft of the presidency on Thursday by choosing to speak in the city of Lake Charles in front of a 70-year-old bridge that is 20 years past its designed lifespan.
Even as he engages with Republicans in Washington, Biden is trying to sell their voters on the idea that higher corporate taxes can provide $115 billion for roads and bridges and hundreds of billions of dollars more to upgrade the electrical grid, make the water system safer, rebuild homes and jump-start the manufacturing of electric vehicles.
A White House official, who insisted on anonymity to discuss the speech ahead of delivery, said Biden would pose a basic question to voters about whether tax cuts for big companies and CEOs will make the country stronger than programs designed to bolster the middle class.
Biden hinted at the theme when answering questions from reporters after a Wednesday speech at the White House that also emphasized his separate $1.8 trillion plan for education and children to be funded by higher taxes on the wealthiest Americans.
"What's going to grow America more?" Biden said. "What's going to help you and your security more? The super wealthy having to pay 3.9% less tax or having an entire generation of Americans having associate degrees?"
Biden then began to whisper: "Guess what. It grows the economy. Benefits everybody. Hurts nobody."
Republican lawmakers have doubled down on low taxes as a core pillar of their ideology and partisan identity. Several GOP senators favour spending $568 billion on infrastructure over five years, a small fraction of what the Democratic president has proposed — a sign of how difficult a deal might be.
Senate Minority Leader Mitch McConnell of Kentucky said that Republicans would rather finance infrastructure through user fees such as tolls and gasoline taxes, though he declined to specify which fees he would back.
"We're open to doing a roughly $600 billion package, which deals with what all of us agree is infrastructure and to talk about how to pay for that in any way other than reopening the 2017 tax reform bill," McConnell said Monday at the University of Louisville.
The Biden administration is banking that its message could play in Louisiana, which last backed a Democratic presidential candidate in 1996. Louisiana has been barraged by 30 extreme weather events over the past decade that caused $50 billion worth of damage. Biden is seeking $50 billion to make infrastructure better able to withstand storms, winds and flooding.
Hurricanes battered Lake Charles, a city of 78,000 residents, twice last year over the course of six weeks. Biden also plans to tour a water plant in New Orleans.
His infrastructure package received support in a newspaper editorial last week by Lake Charles Mayor Nic Hunter, a Republican, and Shreveport Mayor Adrian Perkins, a Democrat.
"The unfortunate truth is that our aging infrastructure and local government budgets cannot withstand the strain of increasingly frequent storms," they wrote. "As mayors of great American cities in the South, we lie awake at night dreading each forecasted storm."
There is general agreement among Democrats and Republicans in Washington about the need for infrastructure spending. But there are two significant hurdles for Biden's proposal to garner Republican backing.
First, Republican lawmakers would prefer a narrower definition of infrastructure that is concentrated on roads, bridges, airports, transit and broadband rather than renewable energy and access to caregivers. Second, they object to Biden's proposal to pay for his plan by undoing the 2017 tax cuts signed into law by President Donald Trump. Biden is seeking to raise the corporate tax rate from 21% to 28%.
Josh Boak, The Associated Press
US Justice Department worried about Arizona Senate recount
PHOENIX — The U.S. Department of Justice expressed concern Wednesday about ballot security and potential voter intimidation arising from the Republican-controlled Arizona Senate's unprecedented private recount of the 2020 presidential election results in Maricopa County.
In a letter to GOP Senate President Karen Fann, the head of the Justice Department's Civil Rights Division said the Senate's farming out of 2.1 million ballots from the state's most populous county to a contractor may run afoul of federal law requiring ballots to remain in the control of elections officials for 22 months.
And Principal Deputy Assistant Attorney General Pamela S. Karlan said that the Senate contractor's plans to directly contact voters could amount to illegal voter intimidation.
"Past experience with similar investigative efforts around the country has raised concerns that they can be directed at minority voters, which potentially can implicate the anti-intimidation prohibitions of the Voting Rights Act," Karlan wrote. "Such investigative efforts can have a significant intimidating effect on qualified voters that can deter them from seeking to vote in the future."
Karlan wants Fann to lay out how the Senate and its contractors will ensure federal laws are followed. She pointed to news reports showing lax security at the former basketball arena where the ballots are being recounted by hand.
Fann said Senate attorneys were working on a response she promised to share when it was completed.
The Justice Department letter came six days after voting rights groups asked federal officials to intervene or send monitors to the Veterans Memorial Coliseum in Phoenix at the state fairgrounds, where the ballots are being recounted.
"We are very concerned that the auditors are engaged in ongoing and imminent violations of federal voting and election laws," said the letter sent by the Brennan Center for Justice, the Leadership Conference and Protect Democracy.
In other developments Wednesday, the Arizona Democratic Party has reached a deal with the Republican-controlled state Senate to ensure that voter and ballot privacy is guaranteed during an unprecedented recount of the 2020 presidential election results in Maricopa County.
The agreement reached Wednesday puts teeth in a court order that already required the Senate and its contractor, Florida-based Cyber Ninjas, to follow state laws around ballot privacy. Any violations of the agreement would be enforceable by seeking an emergency court order.
The agreement also puts in writing a verbal agreement between the Senate and Arizona Secretary of State Katie Hobbs that allows her to have three observers inside the Veterans Memorial Coliseum at the state fairgrounds.
Under the court order, the Senate and Cyber Ninjas last week released their policies and procedures for the recount. Hobbs' elections director, Bo Dul, told The Associated Press there were major problems with those rules, including that they seemed haphazard, lacked specifics and left much room for interpretation — something that is never allowed in ballot counts.
Dul noted that the policies allow counters to accept a large enough error rate to perhaps show Trump won the state. Such an outcome would not change the outcome of the election because the results were certified months ago in the state and Congress.
Hobbs on Wednesday sent a letter to the Senate's liaison to its recount contractor, former Secretary of State Ken Bennett, formally laying out a series of problems with the policies.
"Mr. Bennett, as a former Secretary of State, you know that our elections are governed by a complex framework of laws and procedures designed to ensure accuracy, security, and transparency," Hobbs wrote. "You also must therefore know that the procedures governing this audit ensure none of those things."
The developments come as the counting of 2.1 million ballots from the November election won by President Joe Biden are off to a slow pace. Bennett told the Associated Press Tuesday night that teams doing a hand recount of the presidential race lost by former President Donald Trump and the U.S. Senate race won by Democrat Mark Kelly has tallied less than 10% of the ballots since starting on April 23.
Bennett said it is clear the count can't be done by the time the deal allowing the Senate to use the Coliseum ends on May 14. Several days of high school graduations are set to begin on May 15.
Bennett said the plan was to move the ballots and other materials into a secure area of the Coliseum to allow the events, then restart counting and continue until that is completed.
That seems far from certain, though, after a state fair board official told the Arizona Republic that extending the Coliseum lease is "not feasible." The fair board didn't immediately respond to a request for comment from the AP.
Trump and his backers have alleged without evidence that he lost Arizona and other battleground states because of fraud. Fann said she wants to prove one way or the other whether GOP claims of problems with the vote are valid and use the results of the audit to craft updated election laws.
Bob Christie, The Associated Press