Iran calls Natanz atomic site blackout 'nuclear terrorism'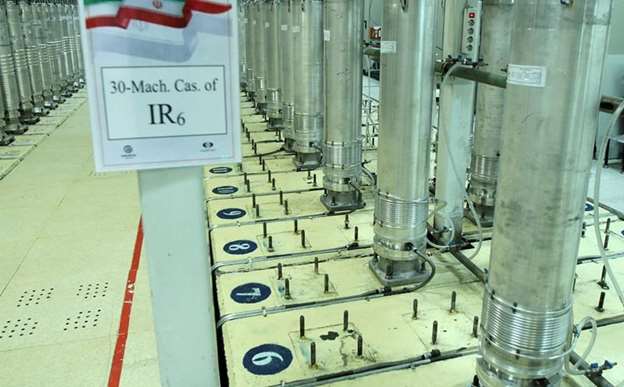 DUBAI, United Arab Emirates — Iran on Sunday described a blackout at its underground Natanz atomic facility an act of "nuclear terrorism," raising regional tensions as world powers and Tehran continue to negotiate over its tattered nuclear deal.
While there was no immediate claim of responsibility, suspicion fell immediately on Israel, where its media nearly uniformly reported a devastating cyberattack orchestrated by the country caused the blackout.


If Israel was responsible, it further heightens tensions between the two nations, already engaged in a shadow conflict across the wider Middle East. Israeli Prime Minister Benjamin Netanyahu, who met Sunday with U.S. Defence Secretary Lloyd Austin, has vowed to do everything in his power to stop the nuclear deal.

Details remained few about what happened early Sunday morning at the facility, which initially was described as a blackout caused by the electrical grid feeding its above-ground workshops and underground enrichment halls.

Ali Akbar Salehi, the American-educated head of the Atomic Energy Organization of Iran, who once served as the country's foreign minister, offered what appeared to be the harshest comments of his long career, which included the assassination of nuclear scientists a decade ago. Iran blames Israel for those killings as well.

He pledged to "seriously improve" his nation's nuclear technology while working to lift international sanctions.

Salehi's comments to state TV did not explain what happened at the facility, but his words suggested a serious disruption.

"While condemning this desperate move, the Islamic Republic of Iran emphasizes the need for a confrontation by the international bodies and the (International Atomic Energy Agency) against this nuclear terrorism," Salehi said.

The IAEA, the United Nations' body that monitors Tehran's atomic program, earlier said it was aware of media reports about the incident at Natanz and had spoken with Iranian officials about it. The agency did not elaborate.

However, Natanz has been targeted by sabotage in the past. The Stuxnet computer virus, discovered in 2010 and widely believed to be a joint U.S.-Israeli creation, once disrupted and destroyed Iranian centrifuges at Natanz amid an earlier period of Western fears about Tehran's program.

Natanz suffered a mysterious explosion at its advanced centrifuge assembly plant in July that authorities later described as sabotage. Iran now is rebuilding that facility deep inside a nearby mountain. Iran also blamed Israel for the November killing of a scientist who began the country's military nuclear program decades earlier.

Multiple Israeli media outlets reported Sunday that an Israeli cyberattack caused the blackout in Natanz. Public broadcaster Kan said the Mossad was behind the attack. Channel 12 TV cited "experts" as estimating the attack shut down entire sections of the facility.

While the reports offered no sourcing for their information, Israeli media maintains a close relationship with the country's military and intelligence agencies.

"It's hard for me to believe it's a coincidence," Yoel Guzansky, a senior fellow at Tel Aviv's Institute for National Security Studies, said of Sunday's blackout. "If it's not a coincidence, and that's a big if, someone is trying to send a message that 'we can limit Iran's advance and we have red lines.'"

It also sends a message that Iran's most sensitive nuclear site is "penetrable," he added.

Netanyahu later Sunday night toasted his security chiefs, with the head of the Mossad, Yossi Cohen, at his side on the eve of his country's Independence Day.

"It is very difficult to explain what we have accomplished," Netanyahu said of Israel's history, saying the country had been transformed from a position of weakness into a "world power."

Israel typically doesn't discuss operations carried out by its Mossad intelligence agency or specialized military units. In recent weeks, Netanyahu repeatedly has described Iran as the major threat to his country as he struggles to hold onto power after multiple elections and while facing corruption charges.

Speaking at the event Sunday night, Netanyahu urged his security chiefs to "continue in this direction, and to continue to keep the sword of David in your hands," using an expression referring to Jewish strength.

Meeting with Austin on Sunday, Israeli Defence Minister Benny Gantz said Israel viewed America as an ally against all threats, including Iran.

"The Tehran of today poses a strategic threat to international security, to the entire Middle East and to the state of Israel," Gantz said. "And we will work closely with our American allies to ensure that any new agreement with Iran will secure the vital interests of the world, of the United States, prevent a dangerous arms race in our region, and protect the state of Israel."

The Israeli army's chief of staff, Lt. Gen. Aviv Kochavi, also appeared to reference Iran.

The Israeli military's "operations in the Middle East are not hidden from the eyes of the enemy," Kochavi said. "They are watching us, seeing (our) abilities and weighing their steps with caution."

On Saturday, Iran announced it had launched a chain of 164 IR-6 centrifuges at the plant. Officials also began testing the IR-9 centrifuge, which they say will enrich uranium 50 times faster than Iran's first-generation centrifuges, the IR-1. The nuclear deal limited Iran to using only IR-1s for enrichment.

Since then-President Donald Trump's withdrawal from the Iran nuclear deal in 2018, Tehran has abandoned all the limits of its uranium stockpile. It now enriches up to 20% purity, a technical step away from weapons-grade levels of 90%. Iran maintains its atomic program is for peaceful purposes.

The nuclear deal had granted Tehran sanctions relief in exchange for ensuring its stockpile never swelled to the point of allowing Iran to obtain an atomic bomb if it chose.

On Tuesday, an Iranian cargo ship said to serve as a floating base for Iran's paramilitary Revolutionary Guard forces off the coast of Yemen was struck by an explosion, likely from a limpet mine. Iran has blamed Israel for the blast. That attack escalated a long-running shadow war in Mideast waterways targeting shipping in the region.

___

Associated Press writers Nasser Karimi in Tehran, Iran, and Josef Federman and Ilan Ben Zion in Jerusalem contributed to this report.

Jon Gambrell, The Associated Press
Government policy tells CRTC to exclude social media users from online streaming bill
Canadians who make content online are to be excluded from future regulations that the Liberal government is imposing on digital giants, a new draft policy shows.
The government's online streaming bill, which passed in April, aims to force platforms such as Netflix, YouTube and TikTok to contribute to and promote Canadian content — a requirement traditional broadcasters already follow.
But the Canadian Radio-television and Telecommunications Commission must now develop regulations to implement the bill's intentions.
Draft policy issued by the government on Thursday instructs the CRTC to leave out social media users, including local businesses, who upload content online, even if they use commercial songs.
For example, a person who records a makeup tutorial or dance trend while with a Harry Styles song in the background would not fall under the regulations.
The draft policy states that the measures will not apply to such users because their content is mainly meant for the internet.
However, platforms like TikTok and YouTube will likely be regulated for streaming music promoted by record labels or commercial artists, when that content is also broadcast on other platforms — like on the radio.
A senior official within the Canadian Heritage Department said the key to understanding which broadcaster will be regulated is knowing if commercial content that is on their platform also appears in other media, such as on TV, radio or other digital streaming services.
For example, a television show can appear both on Netflix and on cable, and a live sports game could stream on social media platforms, TV and radio.
YouTube, which has opposed the bill, said it is committed to keeping intact the ecosystem of its platform, which relies on creators.
"That's something we're committed to preserving," a spokesperson for YouTube said in a statement on Thursday.
"We are reviewing the policy direction, and will continue to advocate for the interests of Canada's digital creators and audiences through the remaining stages of this process."
The draft policy said people who make local podcasts or stream video games online will also be excluded from the bill's regulations, which are set to take shape over the summer before a final policy directive is released in the fall.
Digital media giants that fall under the regulations will have to promote Canadian content, and are encouraged to put forward their own ideas on how they can do that.
The Canadian Heritage Department said it wants input from digital platforms on how they can promote Canadian content, but they say it could come in a variety of ways — from billboards promoting artists to designating sections of their sites to local music and stories.
The government's draft policy states that the solution should minimize the need for companies to alter their algorithms in order to comply with the law.
Heritage Minister Pablo Rodriguez, who sponsored the bill, has said the law is intended to help highlight local stories and music on streaming platforms, many of which are based in the United States.
"We've said it from the start: if you benefit from the system, you should contribute to it. With the Online Streaming Act, we're acting to support our creators, our artists, our independent producers and our culture so that they thrive in the digital age," Rodriguez said in a statement Thursday.
"Canadians deserve to see themselves in what they watch and listen to, and this legislation is an essential step forward in ensuring that our cultural industry and our talent shine."
The government's directive also asked the commission to prioritize parts of the bill dealing with redefining Canadian content, advancing Indigenous storytelling and achieving better representation from Black and LGBTQ communities.
The CRTC will hold public consultations in the weeks ahead, in which people will have the opportunity to provide input.
This report by The Canadian Press was first published June 8, 2023.
Why is the federal government looking to create a national emergency agency?
A heavy machinery operator works on cleanup from the post-tropical storm Fiona in Port aux Basques, N.L. on Thursday, Sept. 29, 2022. The federal government is looking at creating some kind of national disaster response agency in the face of an unusually intense and destructive start to the wildfire season across the country. THE CANADIAN PRESS/Frank Gunn
By Sarah Ritchie in Ottawa
The federal government is looking at creating some kind of national disaster response agency in the face of an unusually intense and destructive start to the wildfire season across the country.
At the moment, federal departments including Emergency Preparedness, Public Safety and National Defence co-ordinate when there is a request for help from one of the provinces or territories after a major event like a flood, hurricane or wildfire.
Here's a look at what a national emergency agency could consist of, and how it would be different from what's already in place.
What happens right now during an emergency in Canada?
The federal government used to get between five and 10 formal requests for assistance from the provinces and territories each year.
Between March 2020 and October 2022, there were more than 200 calls ranging from hurricanes, floods and fires to helping in care homes during COVID-19. About 157 of those calls involved the military.
The government operations centre in the Department of Public Safety is the main agency that leads the response.
Director-general Deryck Trehearne told a House of Commons committee last fall that there's a rigorous check whenever a province or territory asks for military help.
"Things we would look at, for instance, are regional capacity, commercial options and other federal sources. We discuss a number of criteria with the province or territory before we get to a situation of deploying the (Canadian Armed Forces)," he said in early October.
The government also gets help from organizations such as the Red Cross and the United Way to co-ordinate things like fundraising and distribution of emergency funding, for example.
Its Disaster Financial Assistance Program helps individuals and municipalities get the money they need to rebuild and recover from natural disasters.
Trehearne said he thinks Canada has a good system for responding to emergencies, though he noted the "multiple levels of responsibility" with the provinces and local municipalities make things complicated.
Can't governments just keep calling on the military?
The Canadian Armed Forces has immediate response units that are activated to respond to disasters.
But the chief of the defence staff, Gen. Wayne Eyre, has made no secret of the fact that he would like the Canadian Armed Forces to get fewer domestic calls for help — especially while it's dealing with a personnel crisis.
Members responding to wildfires need to get special firefighting training, which takes up critical time in an emergency.
Each province and territory has different certification for wildland firefighting, and there is no basic, across-the-board training available for military members, so members only get trained when they're being deployed.
Soldiers don't actually put out wildfire flames, and they don't have firefighting gear. The people deployed to fire zones in Alberta, Quebec and Nova Scotia are there to help stop the spread of fires once they flames have abated, put out hot spots and clean up.
About 100 soldiers have been trained at CFB Gagetown in New Brunswick and are standing by to help in Nova Scotia, but they haven't been able to help yet and are waiting for tasks. A small number of ignition specialists is helping to prevent the fires from flaring up.
The Canadian Armed Forces has about 370 trained firefighters across the country. Some of them help with wildfires, but they must also remain on standby in case of emergencies on their local base or wing.
What do other countries do?
Perhaps the best-known example of a national disaster-assistance organization is the United States Federal Emergency Management Agency.
FEMA, as it's known, is responsible for preparing for, preventing, responding to and recovering from major incidents such as terrorist attacks and natural disasters. It runs a national response co-ordination centre, which organizes federal support for major disasters and can deploy teams of doctors and nurses to disaster sites.
Its workforce swells to more than 50,000 people in a disaster.
Australia also has a National Emergency Management Agency, which was created "in the face of devastating fires and floods" to help respond to and recover from disasters, according to the agency's website.
Its national aerial firefighting centre, formed in 2003, shares specialized aircraft between states to ensure they have the resources needed without having to own and maintain the expensive equipment.
The agency has "round-the-clock all-hazards monitoring" and co-ordinates the operations for anything from flooding and fires to supply chain disruptions, cyber attacks and infrastructure outages.
It also funds programs to prepare for and prevent disasters. The agency notes that disasters cost an average of $38 billion Australian each year and that cost is projected to nearly double by 2060.
What does the federal government want?
Emergency Preparedness Minister Bill Blair has been asked if the country needs a national firefighting service. He said Wednesday that because there are more frequent and more severe emergencies, responding governments need to be more agile.
"There's a need in all of the provinces and territories, in every part of the country for additional firefighting resources," he said.
He noted that Natural Resources Canada is training 1,000 new firefighters and is buying more equipment. And while the Canadian Interagency Forest Fire Centre co-ordinates firefighting resources across provinces and with other countries, Blair said there is a need for more water bombers, for example.
The military's main role in a disaster is to help local officials with logistics, planning and manpower.
On Wednesday, Prime Minister Justin Trudeau said Armed Forces members were doing "everything from delivering food and supplies to people in Minganie, Quebec, to providing logistic support for waterbombers at CFB Greenwood."
Given what Eyre has said in the past about his desire to make the Armed Forces the call of last resort in an emergency, it's possible that a new centralized federal emergency agency could be made responsible for planning and logistics.
This report by The Canadian Press was first published June 8, 2023.