Inflation puts tighter squeeze on already pricey kids sports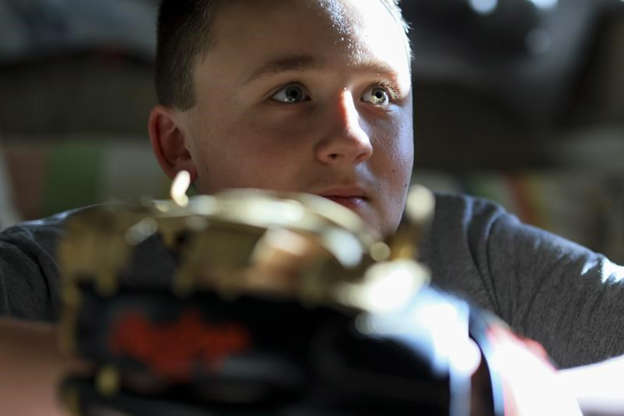 It only took a few seconds for Rachel Kennedy to grab her phone after she left the checkout line at the sporting-goods store, where she had just finished buying a new glove, pants, belt, cleats and the rest of the equipment for her son, Liam's, upcoming baseball season.
"I texted his dad and asked him, 'Did we really spend $350 on all this last year?'" Kennedy said.
Sticker shock in youth sports is nothing new, but the onslaught of double-digit inflation across America this year has added a costly wrinkle on the path to the ballparks, swimming pools and dance studios across America. It has forced some families, like Kennedy's, to scale back the number of seasons, or leagues, or sports that their kids can play in any given year, while motivating league organizers to become more creative in devising ways to keep prices down and participation up.
Recent studies, conducted before inflation began impacting daily life across America, showed families spent around $700 a year on kids' sports, with travel and equipment accounting for the biggest portion of the expense.
Everyone from football coaches to swim-meet coordinators are struggling to to find less-expensive ways of keeping families coming through the doors. Costs of uniforms and equipment, along with facility rental, are shooting up — all products of the onslaught of supply-chain issues, hard-to-find staff, lack of coaches and rising gas and travel costs that were exacerbated, or sometimes caused, by the COVID-19 pandemic that disrupted and sometimes canceled seasons altogether. The annual inflation rate for the 12 months ending in September was 8.2%.
Kennedy, who lives in Monroe, Ohio, and describes her family as "on the lower end of middle class," opted Liam out of summer and fall ball, not so much because of the fees to join the leagues but because "those don't include all the equipment you need."
"And gas prices have gotten to the point where we don't have the bandwidth to drive one or two hours away" for the full slate of weekend games and tournaments that dot the typical youth baseball schedule each season. The Kennedys rarely stayed the night in hotels for multi-day tournaments.
A study published by The Aspen Institute that was conducted before COVID-19 said on average across all sports, parents already spent more each year on travel ($196 per child, per sport) than any other facet of the sport: equipment, lessons, registration, etc. A number of reports say hotel prices in some cities are around 30% higher than last year, and about the same amount higher than in 2019, before the start of the pandemic.
At the venues, it costs more to hire umpires to call the games, groundskeepers to keep fields ready, janitors to clean indoor venues and coaches to run practices. Even sports that are traditionally on the less-expensive end of the spectrum are running into issues.
"You talk to people and you say 'What do you mean you get $28 an hour to be a lifeguard?'" said Steve Roush, a former leader in the Olympic world who now serves as executive director of Southern California Swimming, which sanctions meets across one of America's most expensive regions. "The going rate has just gone through the roof, and that's if you can find somebody at all. And that accounts for part of the big gap" in prices for swimming meets today versus three years ago.
One Denver-area dance studio director, who did not want her name used because of the competitive nature of her business, said she started looking for new uniform suppliers as a way of keeping costs down for families. Some destinations for the two out-of-state competitions that are typical in a given season have been shifted to cities that have more — and, so, less expensive — flight options. Some of those teams only make a third trip, this one to a major competition, if it receives a "paid" invitation.
"The cost is just so much to ask them to travel a third time," the director said. "And oftentimes you don't know that you're getting that bid until February or March and you have to turn around and travel to it in April, and that turnaround just makes it very hard from an expense standpoint."
At stake is the future of a youth-sports industry that generated around $20 billion, according to one estimate, before COVID-19 sharply curtailed spending in 2020.
Also, inflation is giving some families a chance to revisit an issue that first came up when COVID-19 more or less canceled all youth leagues for a year or more.
"There was some optimism that maybe families would be like, 'OK, let's maybe have a more balanced approach to how we're going to participate in sports,'" said Jennifer Agans, an assistant professor at Penn State who studies the impact of youth sports. "But until this economic wave, everyone was so excited to go back to normal that we forgot the lessons we learned from slowing our lives down. Maybe this gives another chance to reevaluate that."
It's a choice not everyone wants to make, but still one that is being imposed more on people in the middle and lower class. Another Aspen Institute report from before the pandemic concluded children from low-income families were half as likely to play sports as kids from upper-income families.
Kennedy said she has long been fortunate to have a supportive family — including grandparents who chip in to defray some costs of Liam's baseball. But some things had to go. A spot on a travel team can reach up to $1,200, and that's before equipment and travel, "and we just don't have that kind of money," Kennedy said.
Still, Liam loves baseball and sitting it out altogether wasn't a real choice.
"It's the whole parental, 'I'll go hungry to make sure my kids get what they need' situation,'" Kennedy said. "So if I give up my Starbucks, or some little extras for me, then it's worth it to make sure he gets to play. But it's certainly not getting any less expensive."
___
AP sports: https://apnews.com/hub/sports and https://twitter.com/AP_Sports
Eddie Pells, The Associated Press
Unemployment rate ticks higher in May for first time in nine months: StatCan
OTTAWA — Statistics Canada says the unemployment rate rose to 5.2 per cent in May, marking the first increase since August 2022.
The federal agency says overall employment was little changed last month as the economy lost a modest 17,000 jobs.
The job report comes two days after the Bank of Canada raised its key interest rate by a quarter of a percentage point, citing concerns about a string of hot economic data, including low unemployment.
The unemployment rate previously hovered at five per cent for five consecutive months.
Last month, there were fewer people working in business, building and other support services as well as professional, scientific and technical services, while employment rose in manufacturing, utilities and services such as maintenance.
Meanwhile, wages continued to grow rapidly in May, rising by 5.1 per cent compared to a year ago.
This report by The Canadian Press was first published June 9, 2023.
The Canadian Press
Liberal budget bill passes in House of Commons after Conservative filibuster attempt
Parliamentarians passed the Liberal government's budget bill today, rolling out new incentives for Canadians and support for Ukraine, while trumping the Conservatives attempt to block it all. Deputy Prime Minister and Minister of Finance Chrystia Freeland delivers the federal budget in the House of Commons on Parliament Hill in Ottawa, Tuesday, March 28, 2023. THE CANADIAN PRESS/Sean Kilpatrick
Ottawa
The House of Commons passed the Liberal government's budget bill today, which seeks to roll out vast new incentives for clean energy and expending dental care subsidies — despite a Conservative attempt to hold it up.
The bill passed 177 to 146 with the support of Liberals and New Democrats, while the Tories and Bloc Québécois voted against it.
The bill includes a new anti-flipping tax for residential properties, a doubling of tradespeople's tools deduction and an enhancement to the Canada workers benefit, a refundable tax credit to help low income workers.
It also codifies sanctions on Russia following its invasion of Ukraine, and raises tariffs on Russia and Belarus.
The Conservatives attempted earlier this week to delete much of the bill by introducing amendments eliminating 900 of its clauses, saying they want a plan to balance the budget amid projections that show no end to federal deficits in sight.
The Senate must also pass the budget bill before it can become law, and senators have already been devoting hours study to its provisions.
This report by The Canadian Press was first published June 8, 2023.