Indigenous people can now reclaim traditional names on their passports and other ID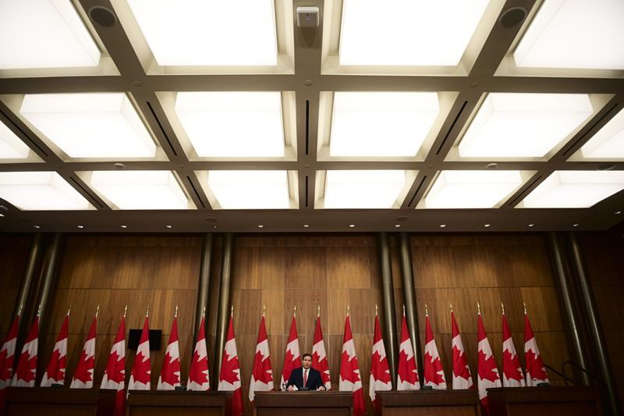 OTTAWA — The federal government is announcing that Indigenous people can now apply to reclaim their traditional names on passports and other government identification.

The announcement comes in response to a call to action from the Truth and Reconciliation Commission that demanded governments allow survivors and their families to restore names changed by the residential school system.

Indigenous Services Minister Marc Miller says the announcement applies to all individuals of First Nations, Inuit and Métis background, potentially affecting hundreds of thousands of people who aim to reclaim their identity on official documents.

Citizenship Minister Marco Mendicino says all fees will be waived for the process, which pertains to passports, citizenship certificates and permanent resident cards.
The move comes six years after the Truth and Reconciliation Commission made the recommendation, and follows last month's news that ground-penetrating radar detected what are believed to be the remains of 215 children at a former residential school in Kamloops, B.C.
Most of the commission's 94 calls to action remain unfulfilled, though cabinet ministers pointed to a pair of bills that would incorporate Indigenous rights into the oath of citizenship and align Canada's laws with the United Nations Declaration on the Rights of Indigenous Peoples.
This report by The Canadian Press was first published June 14, 2021.
The Canadian Press
Trucker sentenced to 12 1/2 years in hotel room death of Edmonton woman
EDMONTON — A judge has sentenced an Ontario truck driver to 12 1/2 years in prison for killing a woman in his Edmonton hotel room a decade ago.
Court of Queen's Bench Justice Stephen Hillier said Bradley Barton will get credit for the days he has already spent in custody, so about 11 years remain in his sentence.
A jury found Barton guilty in February of manslaughter in the death of Cindy Gladue, a 36-year-old Métis and Cree woman who bled to death at the Yellowhead Inn in June 2011.
Medical experts testified the mother of three had four times the legal limit of alcohol in her system when she was left bleeding in a bathtub.
Crown prosecutors argued that while Gladue was passed out, Barton performed a sexual act that caused a severe wound to her vagina, then dumped her in the tub and left her to die.
Barton, 53, testified that he had arranged to pay Gladue for sex and was shocked when he woke in the morning to find her dead and covered in blood in the tub.
Hillier said he rejected what he called the self-serving stories Barton told at his trial to avoid responsibility for the aggressive sexual assault that killed Gladue.
"No words can capture the tragedy and sorrow, particularly for the young family left suddenly without a mother," Hillier said.
Crown prosecutors had recommended Barton be sentenced to between 18 and 20 years. The defence suggested no more than nine years, saying the Crown did not prove beyond a reasonable doubt that Barton intended to kill Gladue.
The judge said there is no sentence that will bring Gladue back or undo the intergenerational trauma the woman's death has caused her family.
Outside the courthouse, Gladue's daughter Cheyanne Gladue said justice has been served but the heartache for the family lives on.
"I only wished Barton would've gotten medical help for her … maybe she would've been here today," said Gladue's mother, Donna McLeod.
She said the family was finally able to bury Gladue last week in northern Alberta.
"We took her home to Athabasca to be home," McLeod said. "I'd like to thank everyone across Canada all over who supported us. I'm glad to see this all over."
It was the second trial for Barton.
A jury found him not guilty in 2015 of first-degree murder, which sparked rallies and calls for justice for Indigenous women.
There was also outrage as Gladue's preserved vaginal tissue was presented in court during the first trial. She was also repeatedly referred to as a "native" and a "prostitute."
The Alberta Court of Appeal and later the Supreme Court of Canada ordered a new trial.
This report by The Canadian Press was first published July 27, 2021.
___
This story was produced with the financial assistance of the Facebook and Canadian Press News Fellowship.
Fakiha Baig, The Canadian Press
Canadian weightlifter Charron wins Canada's second gold in Tokyo
TOKYO — Weightlifter Maude Charron has won Canada's second gold medal at the Tokyo Games.
Charron, from Rimouski, Que., finished first in the women's 64-kilogram competition after a successful lift of 131 kilograms on her third and final clean and jerk attempt.
Charron also had the highest score in the snatch phase, lifting 105 kilograms. Her total of 236 points over the two phases was four better than silver medallist Giorgia Bordignon of Italy.
Wen-Huei Chen of Taiwan finished third.
Charron's gold is Canada's second of the games after swimmer Maggie Mac Neil won the women's 100-metre butterfly on Monday.
This report by The Canadian Press was first published July 27, 2021.
The Canadian Press