Indigenous leaders denounce Quebec Premier Legault as 'paternalistic,' 'arrogant'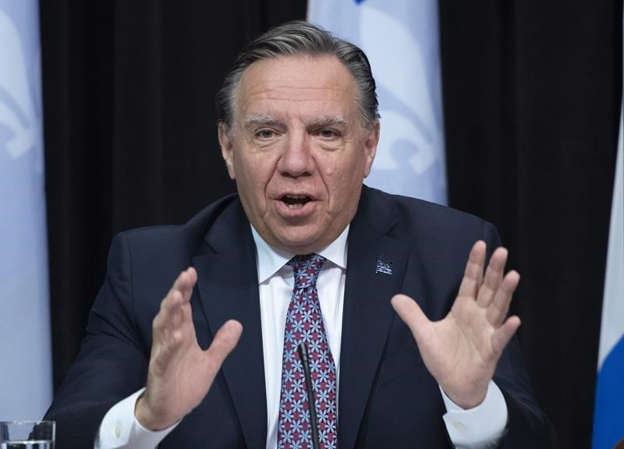 MONTREAL — Indigenous leaders in Quebec on Friday denounced Premier François Legault for his decision not to meet with them during a two-day economic summit in Montreal.
Ghislain Picard, chief of the Assembly of First Nations Quebec-Labrador, criticized Legault for speaking with reporters after the speech and for not meeting with Indigenous leadership.
"He did not have time to meet with the chiefs, but he did have time to speak to the media," Picard said at the conference, called the Grand Economic Circle of Indigenous People and Quebec.
Picard said Legault was in "electoral mode," adding that the premier's refusal to meet in person with the chiefs "shows a certain level of arrogance."
Indigenous leaders said Legault had only planned to deliver remarks to the gathering but then finally agreed to take three questions at the end of his speech from those in attendance.
Réal McKenzie, chief of the Innu Matimekush-Lac John of Schefferville, Que., asked Legault about royalties owed to Indigenous Peoples in exchange for the use of their lands. John Martin, chief of the Micmacs of Gesgapegiag, asked the premier about First Nations communities being excluded from accessing natural resources.
Neither chief said they were satisfied with the premier's responses.
The two-day event, which concluded Friday, aimed to bring Indigenous and non-Indigenous business people together.
During his speech, Legault announced a $10-million investment over five years for First Nations Executive Education, a program based at HEC Montréal business school.
Earlier Friday, Indigenous Affairs Minister Ian Lafrenière announced a $3.3-million investment for a hotel project in Kahnawake, south of Montreal.
This report by The Canadian Press was first published Nov. 26, 2021.
———
This story was produced with the financial assistance of the Facebook and Canadian Press News Fellowship.
The Canadian Press
Deputy commissioner Mike Duheme to becomes interim top Mountie as Lucki retires
Deputy RCMP Commissioner Mike Duheme appears as a witness at the Public Order Emergency Commission, Tuesday, November 15, 2022 in Ottawa. Duheme will step into the role as the force's top Mountie until a permanent replacement is found for Brenda Lucki. THE CANADIAN PRESS/Adrian Wyld
Ottawa (CP) – The federal government says Mike Duheme will be the interim commissioner of the RCMP, until a replacement is found for Brenda Lucki.
Lucki, who was appointed commissioner in April 2018, is retiring as of today.
Her tenure as the top Mountie has been marked by internal and external challenges, including allegations of systemic racism within the force, growing calls to defund the police, and the devastating mass shooting in Nova Scotia in 2020.
Public Safety Minister Marco Mendicino says Duheme, who currently oversees federal policing for the Mounties, will take over the job on Saturday.
Duheme was among the RCMP officials to testify during last fall's Public Order Emergency Commission into the federal government's decision to use the Emergencies Act during the "Freedom Convoy" protests.
Mendicino says details of the process to find a permanent commissioner will be announced in due course.
This report by The Canadian Press was first published March 17, 2023.
Internal documents show what RCMP considered 'lessons learned' from 'Freedom Convoy'
RCMP Commissioner Brenda Lucki appears as a witness at the Standing Committee on Public Safety and National Security on Parliament Hill in Ottawa on Monday, July 25, 2022. THE CANADIAN PRESS/Sean Kilpatrick
By Stephanie Taylor in Ottawa
After policing the "Freedom Convoy," the RCMP came away with lessons learned, newly released documents show — including the need to better prepare for the potential targeting of emergency phone lines.
Briefing notes obtained by The Canadian Press under access-to-information laws also point to security pressures to protect leaders in Ottawa and detail the challenges that arose from the fact the protests had no clear leadership.
The force compiled the documents before six top RCMP officials, including Commissioner Brenda Lucki, were interviewed by lawyers with the Public Order Emergency Commission last September.
In early 2022, Lucki was among the officials Prime Minister Justin Trudeau and members of his cabinet looked to as they grappled with how to respond to protests staged near Parliament Hill in Ottawa and at several U.S. border crossings.
To clear the protesters, who were demonstrating against Trudeau's government and COVID-19 public health measures, Ottawa ultimately invoked the federal Emergencies Act — a move that Justice Paul Rouleau ruled was justified in a final report released a month ago.
The hundreds of hours of testimony and thousands of pages of documents presented over six weeks of public hearings last fallculminated in 56 recommendations, 27 of which were directed at improving police operations.
But long before the Rouleau report's release, the RCMP had already prepped its own list of "preliminary lessons learned," two of the briefing documents show.
The Mounties acknowledged that "setting the tone early with protesters" was important and was "complicated by the lack of clear leadership."
Another lesson learned was the need to prevent vehicles or other encampments from becoming "entrenched" in a public space, according to the document.
Other suggested improvements to future operations included "anticipating swatting of emergency call lines," providing officers with hearing protection and planning for an uptick in security demands for members of Parliament and cabinet ministers.
University of Ottawa criminology professor Michael Kempa suggests that the lessons learned show the RCMP realizes that it cannot use its approach to policing past protests as a blueprint for future ones.
"They're saying, 'We can't rely on our past experience.'"
In an interview, Kempa said the convoy was an example of a "new form of mass protest," which can be organized through social media and can raise tons of money, but that doesn't have clear leadership among different protest groups.
The RCMP did not respond to a request for comment.
The document prepared for its officials came complete with a timeline and description of the tasks the RCMP performed during the weeks-long protest in Ottawa, which included providing security escorts for cabinet ministers, party leaders and judges.
It says the force's protective division saw a sharp uptick in the number of threats and "inappropriate comments" made against officials under its protection, the majority of which were directed at Trudeau.
The briefing note says the RCMP opened 168 "adverse files" from Jan. 21 to the end of Feb. 28 in 2022, compared to 44 during the same period in 2021.
During last fall's inquiry, Lucki's performance came under heavy scrutiny when it was revealed that she did not share information with cabinet that a plan was in place to clear protesters from Ottawa.
While testifying, Lucki acknowledged: "I guess in hindsight, yeah, that might have been something significant."
The inquiry also learned that in the hours before the decision was made, Lucki had sent a note to a senior official that suggested she felt not "all available tools" had been explored.
In a "hot issues note" dated two days after her time on the stand — also obtained by The Canadian Press under access laws — the RCMP was more direct about its need for the emergency powers due to Ottawa's "unique challenges."
"While law enforcement partners including the RCMP eventually devised a viable plan to dismantle the convoy in Ottawa, the timeliness of these actions would not have been possible without the proclamation of a public order emergency under the Emergencies Act," the note reads.
It adds: "The (Emergencies Act) gave law enforcement the tools to get the job done quickly and safely."
Kempa said that while Lucki's testimony was "somewhat confusing" as to whether she felt the powers were needed, the force seemed more "unambiguous" internally in suggesting they were not only helpful but necessary.
The briefing documents show that before the inquiry began, the RCMP also compiled a set of "outcomes" it wanted the commission to consider.
One was the introduction of a "new National Police Act" that it hoped would provide "clear" authorities for peace officers and "clarify thresholds" between different levels of police when it comes to national crises.
The RCMP also wanted Rouleau to consider "effective deterrents and increased penalties with the Criminal Code of Canada and applicable legislation to prevent individuals from organizing, participating or conducting unlawful protest activity."
Asked if the government was considering any legislative changes following Rouleau's report and the convoy protests, a spokeswoman for Justice Minister David Lametti's office did not offer a direct answer.
"We are reviewing the report carefully, and as (Prime Minister Justin Trudeau) committed to, will issue a comprehensive, public response to the commissioner's recommendations within the next year," Diana Ebadi said in an email.
This report by The Canadian Press was first published March 17, 2023.