'I'm here but my mind is always there:' Ontario woman returns home from Afghanistan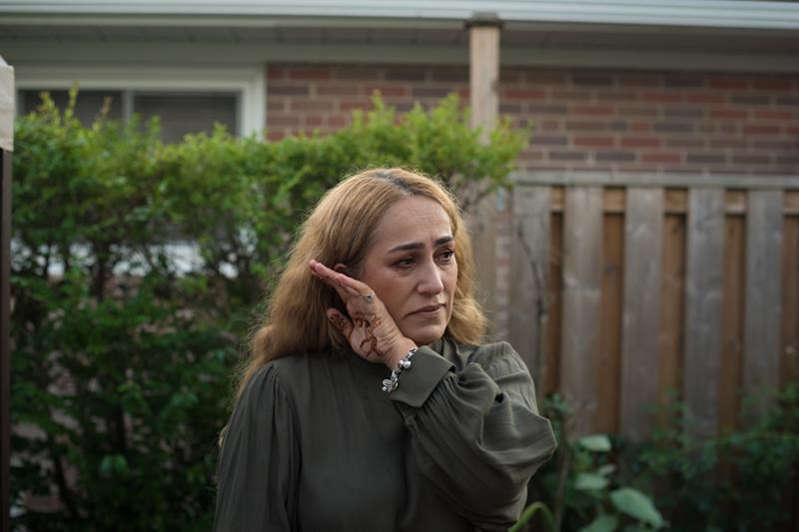 Heartbreak and guilt are all Zakia Zarifi has been feeling since she returned to her home in Ontario from Afghanistan.
"I'm happy to see my family here, but it's torture for me because I couldn't bring my parents with me," the real estate agent from Brampton said over the phone.
"It was the hardest goodbye ever, but deep down I have hope that I can bring them here."
The single mother says she was beaten, shot at and barely dodged a bomb outside Kabul airport during the chaotic journey. All she thinks about now is helping the people left behind.
"(A) genocide … is happening right now in Afghanistan and no one is talking about it. That's why I'm here but my mind is always there."
Zarifi, 50, arrived this week to tears and warm hugs from her three grown children. They frantically worked to bring their mother home after the Taliban seized control of Afghanistan in August. She had gone there to try to get her aging parents out of danger.
Before she got out herself, Zarifi was critical of Canada's evacuation of its citizens from the region.
She told The Canadian Press while she was stuck in Afghanistan that she twice tried to escape before the U.S.-led military mission's Aug. 31 deadline, but was beaten by Taliban members and pushed away from the airport's gates.
She was angry Canadian officials told her and others to meet at dangerous locations, while other countries helped their citizens get to military planes using safer routes. Ten days after Canadian Forces left the region, and as Prime Minister Justin Trudeau faced criticism for mishandling the evacuation, Zarifi got another call from Global Affairs Canada, she said. This time the plan was better. "They told me to be at (Kabul) Serena Hotel and then, from there, the Qatari government was in charge of taking us to the airport. We had a flight with the Qatar airline (to Qatar)." By Tuesday, she was on a plane from Doha to Canada.
"The first flight that left Afghanistan (had) all different citizens from all over the world. On the second flight … there were, I believe, 10 Canadians."
She said others on the flight home told horrifying stories about the Taliban knocking on their families' doors and taking their men.
"They took their birth certificates, and took them to this place. They are all vanished," she said.
"Someone even came to knock on my parents' door. The guy who looks after them (said), 'No one lives here,'  and they left."
Zarifi said her parents are a target because they are from the northeastern province of Panjshir, the heart of military resistance in Afghanistan and where her father fought against Taliban rule.
While she waited for a flight, she and her family helped other Afghans, she said.
They gave away items in their home, distributed 120 blankets and provided food supplies to 500 families. Many Afghans they helped are among thousands who are religious and ethnic minorities who worry the Taliban's return to power will lead to oppression or death.
Zarifi recalled a similar journey she made in 1987 during the Soviet Union's invasion of Afghanistan. She escaped to Pakistan from Kabul. Two years later, she moved to Canada.
"Afghans … a majority of them are refugees and they've all found a way to get out before and through significantly worse times," said Zarifi's daughter Marjan.
"When my mom first came to Canada, she had to walk two days, two nights to get to where she needed to go. They were being directly shot at. So she has done this twice.
"She keeps a lot of strength and says, 'It's gonna be OK,' but every day we can't think straight … Everyone just kind of moves on with life, but my mind is constantly with my family and what's going on."
Despite her frustration with the Canadian government, Zarifi said she's thankful Trudeau did not forget her and other citizens.
"I just hope that the Liberal (government) do their best to bring people, because their life is in danger," Zarifi said.
"When I moved here, I worked 20-hour days. I worked as a bookkeeper, did accounting, night shifts at Walmart. I worked hard. I made a living for myself."
She said she prays that other Afghans will have the same chance at a new life. For her part, she plans to continue helping people in Afghanistan in whatever way she can.
This report by The Canadian Press was first published Sept. 17. 2021.
___
This story was produced with the financial assistance of the Facebook and Canadian Press News Fellowship.
Fakiha Baig, The Canadian Press
Supreme Court of Canada sides with injured woman in snow-clearing squabble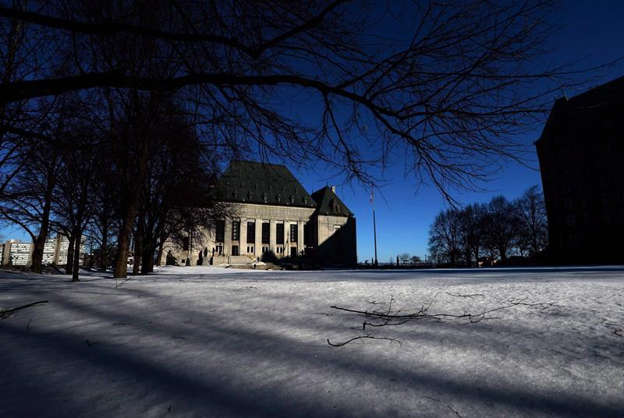 OTTAWA — A woman will get another chance to sue for damages over a leg injury she suffered while climbing through snow piled by a city's plow, the Supreme Court of Canada has ruled.
Taryn Joy Marchi alleged the City of Nelson, B.C., created a hazard when it cleared snow from downtown streets after a storm in early January 2015.
The removal effort left snow piles at the edge of the street along the sidewalk early in the morning of Jan. 5.
Late in the afternoon of Jan. 6, Marchi — then a 28-year-old nurse — parked in an angled spot on the street and, wearing running shoes with a good tread, tried to cross a snow pile to get on to the sidewalk.
Her right foot dropped through the snow and she fell forward, seriously injuring her leg.
Marchi contended the city should have left openings in the snowbank to allow safe passage to the sidewalk.
She pointed to the neighbouring municipalities of Castlegar, Rossland and Penticton in arguing there were preferable ways to clear the streets so as to ensure safe access for pedestrians.
However, the trial judge dismissed her case, saying the city was immune from liability because it made legitimate policy decisions about snow clearing based on the availability of personnel and resources.
In any event, the judge concluded, Marchi assumed the risk of crossing the snow pile and was "the author of her own misfortune."
The B.C. Court of Appeal overturned the decision and ordered a new trial, saying the judge erred in addressing the city's duty of care and the question of Marchi's negligence.
The ruling prompted the City of Nelson to seek a hearing in the Supreme Court.
In a written submission to the high court, the city said its actions amount to "a clear example of a core policy decision" that should be immune from liability.
In her filing with the court, Marchi said city employees made a number of operational decisions that fell below the expected standard of care of a municipality — decisions not required by the written policy.
In its 7-0 ruling Thursday, the Supreme Court said a fresh trial should take place because the city has not proved that its decision on how to clear the snow was "a core policy decision" immune from liability.
While there is no suggestion the city made an irrational or "bad faith decision," the city's core policy defence fails and it owed Ms. Marchi a duty of care, justices Sheilah Martin and Andromache Karakatsanis wrote on behalf of the court.
"The regular principles of negligence law apply in determining whether the City breached the duty of care and, if so, whether it should be liable for Ms. Marchi's damages."
This report by The Canadian Press was first published Oct. 21, 2021.
Jim Bronskill, The Canadian Press
Pfizer will ship millions of vaccine doses for kids as soon as it's approved: Trudeau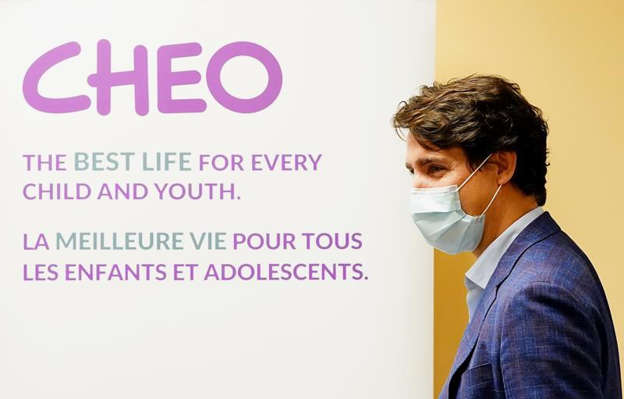 OTTAWA — Prime Minister Justin Trudeau says as soon as Health Canada approves the COVID-19 vaccine for kids, Pfizer will ship millions of doses to vaccinate children as young as five.
Pfizer and BioNTech asked Health Canada Monday to approve the vaccine for children between five and 11 years old but said the doses already shipped for adults are different.
The pediatric formula is for a dose one-third the size as that given to adults and teenagers.
Trudeau said he knows Canadian parents are anxious to get their children vaccinated as soon as possible but urged patience because Health Canada will take the time it needs to complete its process to ensure the data confirms the vaccine is safe and effective for children.
The United States is expected to make a decision for this age group by the end of this month. While Canada has co-operated with both the U.S. and the European Medicines Agency to have common authorization requirements for vaccines, there is no deadline in Canada for the decision to be made.
Trudeau says as soon as that happens, Pfizer will ship "enough to get all kids between five and 11 vaccinated as quickly as possible."
Public Services and Procurement Minister Anita Anand said in a statement that the first shipment will be 2.9 million doses, which is enough to give the first dose to all children in that age group.
Anand said Pfizer agreed to accelerate the deliveries, and that Canada has procured the syringes and other supplies needed to administer the doses.
She said second doses will be delivered depending on how fast the first doses are rolled out.
"This will ensure that Canadian children have vaccines when they need them without keeping doses in freezers for extended periods of time when global demand is so high," said Anand.
Pfizer and BioNTech reported that two 10 microgram doses of vaccine, given approximately 21 days apart, generated a similar antibody response in children between five and 11 years old as the adult-sized doses did when given to people between 16 and 25 years of age.
They earlier had tested three different sized doses for kids, and landed on the 10 microgram dose as the best option.
As of Wednesday, 29.6 million Canadians over the age of 12 have received at least one dose and 27.9 million of those are fully vaccinated with both required doses.
That amounts to 88.5 per cent of all eligible Canadians having at least one dose, and 83 per cent of them being fully vaccinated.
More than 414,000 Canadians have now received a third dose, mainly people with compromised immune systems and some residents in long-term care homes, for whom two doses did not give the same level of immunity as they did to most healthy adults.
Pfizer spokeswoman Christina Antoniou said the pediatric doses will come in vials of 10 doses, with a unique label for children and a different coloured cap to ensure it is differentiated from the vials of adult doses.
The adult doses are shipped in vials with six doses in each.
Moderna is also testing its vaccine on children, with results expected later this fall.
Pfizer and Moderna are both testing the vaccine on children younger than five as well, with clinical trials underway but no certainty on when the data will be ready.
This report by The Canadian Press was first published Oct. 21, 2021.
Mia Rabson, The Canadian Press