'I am sorry': Man convicted in stabbing of Calgary chef apologizes at sentencing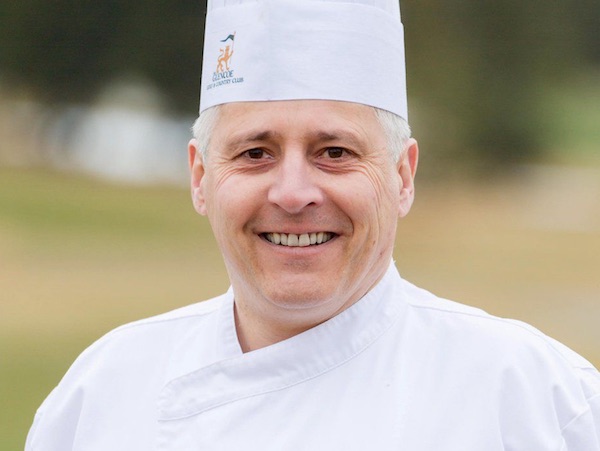 By Bill Graveland in Calgary
A man convicted of killing a chef apologized Monday and expressed dismay that no one with the victim's family was in court to to hear it.
Tommie Holloway was convicted of manslaughter while his accomplice, Anthony Dodgson, was found guilty of second-degree murder in the death of Christophe Herblin.
Herblin was stabbed to death in a parking lot outside his soon-to-be opened Calgary café following a break-in in 2020.
Holloway, 33, told his sentencing hearing that he hoped his words would get through to Herblin's wife, who wrote in a victim impact statement last December that the killing had left her broken and struggling "to make sense of this tragedy."
"It got to me. Got me emotional," said Holloway.
"I just wish they were here today so I could look at them eye-to-eye, apologize for my actions. I know no amount of words that I'm going to say is going to bring back their loved one, but I do want them to know that I am sorry."
The Crown has recommended Holloway serve 12 years in prison. Defence lawyer Kim Ross said his client had no previous criminal record, has made efforts to turn his life around and should serve three to five years.
"I'm not standing here saying that imprisonment is not appropriate here. The issue is how long," Ross told Court of King's Bench Justice Blair Nixon.
"Mr. Holloway has clearly learned his lesson … and I submit with some degree of confidence that this court will never see Mr. Holloway back here again."
Herblin was a longtime executive sous chef at the Glencoe Golf and Country Club, and his new restaurant was weeks away from opening.
Court heard Dodgson and Holloway broke into the restaurant with plans to get through a wall into an adjacent cannabis shop. They fled when a car drove by and returned later to continue their robbery attempt but became frustrated as Herblin had showed up.
Holloway smashed Herblin's car windows in order to lure him into the parking lot. Dodgson attacked him and stabbed him nine times.
Herblin staggered to a nearby gas station for help and died shortly after police officers came to his aid.
Ross said Holloway had no knowledge of what was going to happen and immediately ran off after smashing out the car's windows.
"Mr. Holloway at that point did not know what had happened. He did not know that Mr. Herblin was in the state that he was in and that he had gone to the Shell looking for help," Ross said.
"He was leaving the scene of a possible break and enter. Certainly at the time of his leaving he did not know."
Dodgson receives an automatic life sentence for the murder conviction. When the sentencing hearing began for both men in December, the Crown argued that Dodgson should not be eligible for parole for 15 to18 years. His lawyer asked for a range of 10 to 12 years.
The judge is scheduled to deliver his sentence for Holloway and Dodgson on Feb. 24.
This report by The Canadian Press was first published Feb. 6, 2023.
This is a corrected story. A previous version said lawyers were recommending the time Holloway should serve before he is eligible for parole.
Police investigating how shooter got firearm after autopsy and balistic analysis
News release from the Edmonton Police Service
Autopsy on shooter, ballistic analysis complete in line of duty deaths
An autopsy on the shooter and ballistic analysis of the firearm have been completed in the Mar. 16, 2023 EPS line of duty deaths.
The Edmonton Medical Examiner conducted an autopsy on Mar. 22, 2023, and confirmed that the 16-year-old male shooter's cause of death was a single gunshot wound to the head consistent with being self-inflicted.
"We recognize that there is intense public interest in this investigation," says EPS Deputy Chief Devin Laforce. "At this time, our priorities need to be the integrity of ongoing investigations, including the origin of the firearm, as well as the safety and privacy of all the families affected by this tragedy. For these reasons, we are not releasing or confirming the name of the deceased."
A bullet casing recovered from the scene of a Mar. 12, 2023 shooting at a nearby restaurant in the area of 133 Street and 114 Avenue has been forensically matched to the firearm that was recovered at the 132 Street and 114 Avenue apartment, where Constable Brett Ryan and Constable Travis Jordan were fatally shot on Mar. 16, 2023.
Investigators believe the suspect in the Mar. 12 shooting to be the same 16-year-old male responsible for the deaths of the two EPS members, although this has yet to be confirmed. Detectives are also working to trace the origins of the firearm and how it came to be in the youth's possession.
At this time, investigators continue to believe that the youth's parents, police dispatch and Constables Ryan and Jordan had no information to suggest there was a firearm in the home when the family dispute call for service was made on Mar. 16.
"Both events have been served by robust investigations that have followed all lines of inquiry," says Deputy Chief Devin Laforce. "All tips and other investigative avenues were pursued exhaustively by the investigating teams."
The male shot on Mar. 12 in the restaurant remains in hospital in critical but stable condition, and the youth's mother who was shot on Mar. 16 remains in hospital in serious but stable condition.
Search of four Edmonton homes results in Cocaine and Meth bust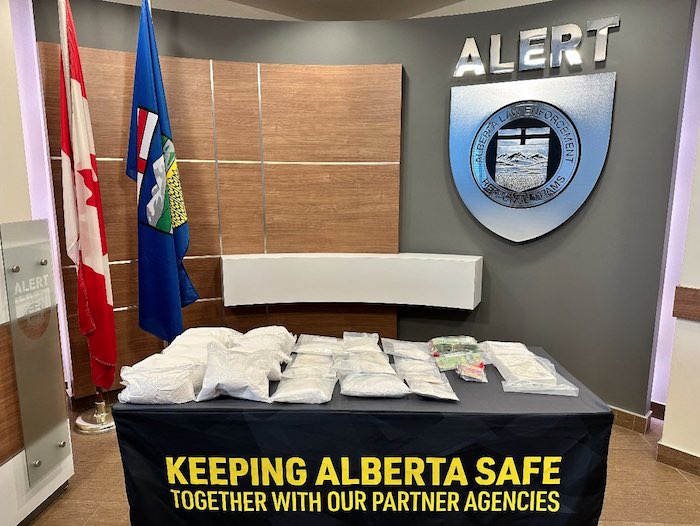 News release from the Alberta Law Enforcement Response Team (ALERT)
Cocaine seized after four Edmonton homes searched
More than two kilograms of cocaine, cash, and four vehicles have been seized following an ALERT Edmonton investigation into cocaine trafficking.
The investigation began in October 2022. Police were able to identify four homes and four vehicles linked to the drug trafficking operation.
"Through the course of this five-month investigation, officers were able to identify several suspects, and seized several pieces of equipment which were being used to produce large, commercial-sized quantities of product. This tells us that this was a much bigger, sophisticated operation," said Sgt. Jeff Woodliffe, ALERT Edmonton.
On February 23, 2023, police searched four homes and seized the following items as evidence:
2.6 kgs of cocaine;
28 grams of methamphetamine;
10 kgs of a cocaine buffing agent; and
$11,000 in cash.
The investigation remains ongoing as investigators prepare reports and disclosure for Crown Counsel.
The Edmonton Police Service assisted throughout the investigation.
Members of the public who suspect drug or gang activity in their community can call local police, or contact Crime Stoppers at 1-800-222-TIPS (8477). Crime Stoppers is always anonymous.
ALERT was established and is funded by the Alberta Government and is a compilation of the province's most sophisticated law enforcement resources committed to tackling serious and organized crime.