Hurricane Ian wallops Florida, heads north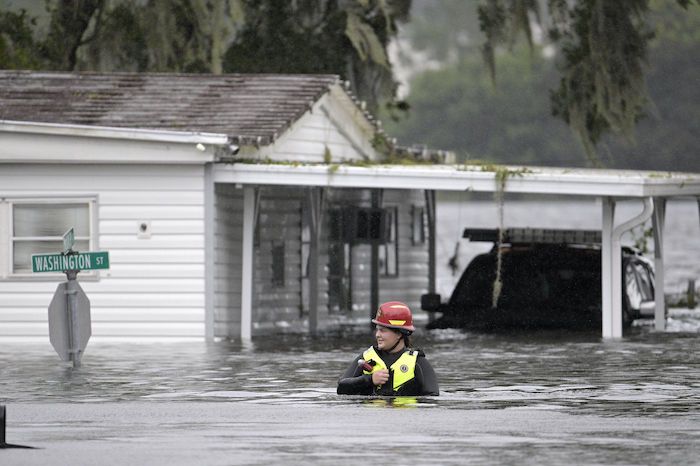 FLAGLER BEACH, Fla. — The Flagler Beach pier on the east coast of Florida has sustained significant damage as Hurricane Ian whipped up waves that broke off a large portion of the wooden structure. Locals captured video and photos of the destruction Thursday afternoon as waters rose and crashed onto the pier, leaving debris on the shoreline.
Flagler Sheriff Rick Staly told News4JAX Thursday that he didn't believe the pier — which was damaged by Tropical Storm Isaias in 2020, as well as Hurricane Matthew in 2016 — would survive the storm's impact.
Authorities advised residents to avoid the pier over safety concerns.
___
KEY DEVELOPMENTS:
— Ian regains hurricane strength as it heads to South Carolina
— Many trapped in Florida as Ian heads toward South Carolina
— Florida hospitals evacuate hundreds of patients
— Search on for migrants after boat sinks off Florida Keys
— Cuba begins to turn on lights
— Find more AP coverage here: https://apnews.com/hub/hurricanes
___
OTHER DEVELOPMENTS:
ENGLEWOOD, Fla. — Christine Bomlitz, of Las Vegas, had been anxious to reach her mother, Shirley Affolter, an 84-year-old resident of a retirement community just north of where Hurricane Ian made landfall.
She had no way to contact her mother, who had lost her cellphone before the storm. Then her landline went down. Affolter was supposed to have left with other residents as part of an evacuation plan but was never picked up. So she hunkered down. It was too late for anyone to get her.
Bomlitz grew distraught as the hours passed and as Ian's ferocity grew. Then morning came, but still no word. Frantic, she posted a plea for help on social media.
By Thursday afternoon, a Good Samaritan had waded into the chest-high flood waters of her mother's neighborhood to do a welfare check.
"I'm thankful for this stranger," she said, "a total stranger. People are amazing."
Bomlitz said she and others were trying to arrange for a boat rescue.
___
COLUMBIA, S.C. — Officials are warning people in South Carolina that Hurricane Ian will be a problem for much of the state on Friday.
The storm is forecast to make landfall midday Friday as a Category 1 hurricane. But the storm is so broad that gusty winds, heavy rain and storm surge will arrive hours before.
Along the coast, 4 to 7 feet of storm surge is expected, rivaling problems created by hurricanes over the past decade. If Ian comes ashore as a hurricane, it would be the first hurricane to strike the state since Matthew in 2016.
National Guard troops are being positioned to help with the aftermath, including any water rescues and highway crews will be ready to clear roads.
Thursday afternoon, a steady stream of vehicles were heading out of Charleston on Interstate 26 with just a few heading into the city.
Gov. Henry McMaster issued no evacuations, but he said that doesn't mean the storm isn't dangerous.
"We know we can handle this if we use our heads and follow the rules," McMaster said.
___
FORT MYERS, Fla. — Lee Health announced Thursday that it was evacuating all of its facilities in Lee County, where Hurricane Ian first made landfall in Florida.
President and CEO Dr. Larry Antonucci said in a video posted online that the health care system's structures and facilities were in good shape, but infrastructure was challenged in the way of water and power. Generators were being used at some facilities, but three of the system's four hospitals were without water, Antonucci said.
"We cannot run a health system and a hospital without running water. It's critical to what we do," Antonucci said. "Not only from the perspective of patient care but also for fire protection."
Lee Health is working with the Agency for Health Care Administration in Florida, as well as state and local emergency operations management agencies, to arrange for the evacuation of patients to other hospitals outside of Lee County, officials said.
___
RALEIGH, N.C. — North Carolina Gov. Roy Cooper urged residents to prepare for lots of rain, high winds and potential power outages when the remnants of Hurricane Ian cross the state soon after the storm likely reaches landfall again in South Carolina.
Visiting the state's emergency operations center, the governor said at a Thursday afternoon news conference that up to 7 inches (17.8 centimeters) of rain could fall in some areas, with the potential for mountain landslides and tornadoes statewide.
"For North Carolinians, I want to be clear: This storm can still be dangerous and even deadly," Cooper said.
State Emergency Management Director Will Ray said widespread power losses and evacuations weren't anticipated at this time. Still, he urged people to keep an eye for changes to the storm's forecast track, which could bring more troubles Friday to central and coastal counties than currently projected.
___
TALLAHASSEE, Fla. — Other states are sending help to Florida after Hurricane Ian. New Jersey Gov. Phil Murphy said Thursday that he's calling up 135 National Guard members to send to Florida. Forty military and support vehicles will also be sent, he said.
Louisiana Gov. John Bel Edwards has approved sending 245 National Guard members to Florida. The state is also fulfilling requests for a family shelter task force and a hazmat team. "Louisiana knows all too well the chaos and destruction a hurricane as strong as Ian can bring, and we will do everything we can to help our neighbors in Florida and other states impacted by this storm," Edwards said in a news release.
Utility trucks from Texas made their way early Thursday along Interstate 75 toward the southwest Florida areas ravaged hardest by the storm.
___
HINDMAN, Ky. — Emergency officials in eastern Kentucky, which was devastated by historic flooding in July, are watching the path of Storm Ian closely.
Knott County Emergency Management Director Jeff Combs said officials there are keeping a close eye on the storm and plan to have spotters out beginning Friday to watch trigger points in area waterways that are the most likely to flood, "just in case everything starts to go south on us."
If things start looking bad, he said the agency will put out an alert so that rescue squads can respond quickly.
Historic floodwaters inundated parts of eastern Kentucky in late July, leaving dozens dead. A full recovery is expected to take years in the hardest-hit areas.
___
WASHINGTON — President Joe Biden said Thursday that "our entire country hurts" along with the people of Florida after Hurricane Ian flooded communities across the state, knocked out electrical power and forced people into shelters.
Biden said he would visit Florida and meet with Republican Gov. Ron DeSantis when "conditions allow." The president said he would also visit Puerto Rico, a U.S. territory that was slammed by Hurricane Fiona.
"We know many families are hurting," Biden said at the Washington headquarters of the Federal Emergency Management Agency, where he was briefed on federal response efforts. "Our entire country hurts with them."
UN food agency: Afghan malnutrition rates at record high
By Ebrahim Noroozi in Kabul
KABUL, Afghanistan (AP) — Malnutrition rates in Afghanistan are at record highs with half the country enduring severe hunger throughout the year, a spokesman for the World Food Program said Thursday.
The Taliban takeover in August 2021 drove millions into poverty and hunger after foreign aid stopped almost overnight. Sanctions on Taliban rulers, a halt on bank transfers and frozen billions in Afghanistan's currency reserves restricted access to global institutions and the outside money that supported the country's aid-dependent economy before the withdrawal of U.S. and NATO forces.
"Half of Afghanistan endures severe hunger throughout the year, regardless of the season, and malnutrition rates are at a record high for Afghanistan," said Phillipe Kropf, a spokesman for the U.N. food agency in Kabul.
"There are seven million children (under the age of 5) and mothers who are malnourished, in a country with a population of 40 million."
Afghans are not starving to death, he said, but they have no resources left to stave off the humanitarian crisis.
Aid agencies have been providing food, education and healthcare support to Afghans, including heating, cash for fuel and warm clothes. But distribution has been severely impacted by a Taliban edict banning women from working at national and international nongovernmental groups.
"The ban has come at the worst possible moment," said Kropf. "Families and communities don't know where their next meal is coming from."
The WFP scaled up its delivery and distribution of aid in anticipation of a tough winter before the ban came in, planning to reach 15 million this month with emergency food assistance and nutrition support. While it is not directly affected by the ban, 19 of its NGO partners suspended operations in Afghanistan following the Dec. 24 edict.
The NGO ban on women workers has seen the suspension of 115 of 437 mobile health clinics, affecting 82,000 children, and pregnant and lactating women. The suspension of a training project is hurting 39,300 people, mostly women, while the pause of a school snack program has hit 616,000 students.
At a nutrition clinic in Kabul, 32-year-old nurse Anisa Samadi said most children and mothers will die without support from agencies like the WFP and World Health Organization. Their help is needed now more than ever, she told The Associated Press on Thursday.
"In the last five months I have seen the number of patients increasing. Three months ago we had 48 patients. Last month, we had 76 and this month so far we have 69 or 70, mostly we have twins who are so weak, while their mothers are also weak."
Shortages of medicine alongside poverty and a lack of food means even a small illness can turn into a huge problem for many Afghans, she said.
Her colleague, 30-year-old nutrition adviser Sheba Hussanzada, said children at the clinic receive therapeutic food. But the children return with pneumonia, causing unhealthy weight loss. "Mothers are saying that they don't have wood or any other way to keep their children warm at home. They don't have enough food to feed them," she said.
First-time mother Fereshta, 24, visited the clinic because she doesn't have enough milk to feed her child. Her husband used to have a job, but now there is no work for him.
"Since the Taliban have come, the economic condition is so bad and people don't have food to eat. People don't have three meals. If there weren't such a center to support us, I might lose my child," the young mother said.
The NGO ban has followed in a slew of measures restricting the rights and freedoms of women and girls in Afghanistan, and has drawn international condemnation and weeks of campaigning to get it lifted.
The highest-ranking woman at the U.N. Amina Mohammed said Wednesday she used everything in her "toolbox" during meetings with Taliban ministers in Afghanistan to try to reverse their crackdown on women and girls, urging Muslim countries to help the Taliban move from the "13th century to the 21st" century.
___
Associated Press writer Riazat Butt contributed to this report from Islamabad.
68 confirmed dead after plane crashes in Nepal resort town
By Upendra Man Singh, Sheikh Saaliq And Anish Bhattarai in Pokhara
POKHARA, Nepal (AP) — A plane crash has killed at least 68 people, according to Nepal's Civil Aviation Authority. A regional passenger plane with 72 aboard crashed into a gorge while landing at a newly opened airport in the resort town of Pokhara Sunday, in the country's deadliest airplane accident in three decades.
Scores of rescue workers and onlookers crowded near a steep gorge Sunday afternoon, as rescuers combed the wreckage on the edge of the cliff and in the ravine below.
Local resident Bishnu Tiwari, who rushed to the crash site near the Seti River to help search search for bodies, said the rescue efforts were hampered by thick smoke and a raging fire.
"The flames were so hot that we couldn't go near the wreckage. I heard a man crying for help, but because of the flames and smoke we couldn't help him," Tiwari said.
It was not immediately clear what caused the accident.
A witness said he saw the aircraft spinning violently in the air after it began landing, watching from the terrace of his house. Finally, Gaurav Gurung said, the plane fell nose-first towards its left and crashed into the gorge.
The aviation authority said the aircraft last made contact with the airport from near Seti Gorge at 10:50 a.m. before crashing.
At the crash site, about 1.6 kilometers (nearly a mile) away from Pokhara International Airport, the search continued Sunday evening. Some bodies, burned beyond recognition, were carried by firefighters to hospitals, where grief-stricken relatives had assembled. At Kathmandu airport, where the flight began, family members appeared distraught as they were escorted in and at times exchange heated words with officials as they waited for information.
The twin-engine ATR 72 aircraft, operated by Nepal's Yeti Airlines, was flying from the capital, Kathmandu, to Pokhara, a 27-minute flight. It was carrying 68 passengers including 15 foreign nationals, as well as four crew members, Nepal's Civil Aviation Authority said in a statement. The foreigners included five Indians, four Russians, two South Koreans, and one each from Ireland, Australia, Argentina and France. No survivors have been found yet.
Tek Bahadur K. C., a senior administrative officer in the Kaski district, said he expected rescue workers to find more bodies at the bottom of the gorge.
Images and videos shared on Twitter showed plumes of smoke billowing from the crash site as rescue workers, Nepali soldiers, and crowds of people gathered around the wreckage of the aircraft to find survivors. The aircraft's fuselage was split into multiple parts that were scattered down the gorge.
Prime Minister Pushpa Kamal Dahal, who rushed to the airport after the crash, set up a panel to investigate the accident.
"The incident was tragic. The full force of the Nepali army, police has been deployed for rescue," he said.
South Korea's Foreign Ministry said in a statement that it's still trying to confirm the fate of two South Korean passengers and has sent staff to the scene. The Russian Ambassador to Nepal, Alexei Novikov, confirmed the death of four Russian citizens who were on board the plane.
Pokhara, located 200 kilometers (125 miles) west of Kathmandu, is the gateway to the Annapurna Circuit, a popular hiking trail in the Himalayas. The city's new international airport began operations only two weeks ago.
The type of plane involved, the ATR 72, has been used by airlines around the world for short regional flights. Introduced in the late 1980s by a French and Italian partnership, the aircraft model has been involved in several deadly accidents over the years.
In Taiwan two earlier accidents involving ATR 72-500 and ATR 72-600 aircrafts happened just months apart.
In July 2014, a TransAsia ATR 72-500 flight crashed while trying to land on the scenic Penghu archipelago between Taiwan and China, killing 48 people onboard. An ATR 72-600 operated by the same Taiwanese airline crashed shortly after takeoff in Taipei in February 2015 after one of its engines failed and the second was shut down, apparently by mistake.
The 2015 crash, captured in dramatic footage that showed the plane striking a taxi as it hurtled out of control, killed 43, and prompted authorities to ground all Taiwanese-registered ATR 72s for some time. TransAsia ceased all flights in 2016 and later went out of business.
ATR identified the plane involved in Sunday's crash as an ATR 72-500 in a tweet. According to plane tracking data from flightradar24.com, the aircraft was 15 years old and "equipped with an old transponder with unreliable data." It was previously flown by India's Kingfisher Airlines and Thailand's Nok Air before Yeti took it over in 2019, according to records on Airfleets.net.
Yeti Airlines has a fleet of six ATR72-500 planes, company spokesperson Sudarshan Bartaula said.
Nepal, home to eight of the world's 14 highest mountains, including Mount Everest, has a history of air crashes. According to the Flight Safety Foundation's Aviation Safety database, there have been 42 fatal plane crashes in Nepal since 1946.
Sunday's crash is Nepal's deadliest since 1992, when all 167 people aboard a Pakistan International Airlines plane were killed when it plowed into a hill as it tried to land in Kathmandu.
The European Union has banned airlines from Nepal from flying into the 27-nation bloc since 2013, citing weak safety standards. In 2017, the International Civil Aviation Organization cited improvements in Nepal's aviation sector, but the EU continues to demand administrative reforms.
___
Saaliq reported from New Delhi. Elise Morton in London, Kim Tong-hyung in Seoul, South Korea, and Adam Schreck in Bangkok contributed reporting.