Hurricane Ian nears Florida landfall with 155 mph winds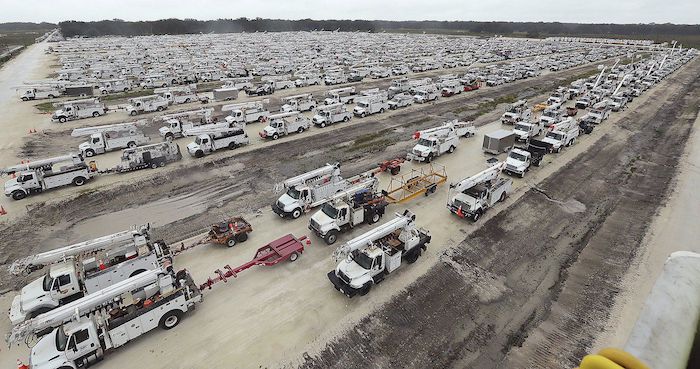 By Curt Anderson in St. Petersburg
ST. PETERSBURG, Fla., (AP) — Hurricane Ian's most damaging winds began hitting Florida's southwest coast Wednesday, lashing the state with heavy rain and pushing a devastating storm surge after strengthening to the threshold of the most dangerous Category 5 status.
Fueled by warm waters in the Gulf of Mexico, Ian grew to a catastrophic Category 4 hurricane overnight with top winds of 155 mph (250 kph), according to the National Hurricane Center. The storm trudged on a track to make landfall north of the heavily populated Fort Myers area, which forecasters said could be inundated by a storm surge of up to 18 feet (5.5 meters).
"This is going to be a nasty nasty day, two days," Florida Gov. Ron DeSantis said early Wednesday, stressing that people in Ian's path along the coast should rush to the safest possible shelter and stay there.
Ian's center was about 50 miles (80 kilometers) west of Naples at 10 a.m. Wednesday, as it churned toward toward the coast at 9 mph (15 kph). Ian's plodding pace meant the storm was expected to spend a day or more crawling across the Florida peninsula, dumping flooding rains of 12 to 18 inches (30 to 45 centimeters) across a broad area including Tampa, Orlando and Jacksonville in the state's northeast corner.
Catastrophic storm surges could push 12 to (3.6 meters) of water or more across more than 250 miles (400 kilometers) of coastline, from Bonita Beach to Englewood, the hurricane center warned.
"It's going to get a lot worse very quickly. So please hunker down," DeSantis said.
Off the coast on Sanibel Island near Fort Myers, swirling water covered residential streets and was halfway up mailbox posts by mid-morning. Seawater rushed out of Tampa Bay, leaving parts of the muddy bottom exposed, and waves crashed over the end of a wooden pier at Naples
More than 2.5 million people were under mandatory evacuation orders, but by law no one could be forced to flee. The governor said the state has 30,000 linemen, urban search and rescue teams, and 7,000 National Guard troops from Florida and elsewhere ready to help once the weather clears.
Florida residents rushed ahead of the impact to board up their homes, stash precious belongings on upper floors and join long lines of cars leaving the shore.
Some chose to stay and ride out the storm. Jared Lewis, a Tampa delivery driver, said his home has withstood hurricanes in the past, though not as powerful as Ian.
"It is kind of scary, makes you a bit anxious," Lewis said. "After the last year of not having any, now you go to a Category 4 or 5. We are more used to the 2s and 3s."
Forecasters predicted Ian would make landfall more than 100 miles (160 kilometers) south of Tampa and St. Petersberg, likely sparing the densely populated Tampa Bay area from its first direct hit by a major hurricane since 1921.
Officials warned Tampa residents that they still faced threats from powerful winds and up to 20 inches (50 centimeters) of rain.
"Please, please, please be aware that we are not out of danger yet," Tampa Mayor Jane Castor said in a video on Twitter. "Flooding is still going to occur."
During the night, Ian went through a natural cycle when it lost its old eye and formed a new one. The timing was bad for the Florida coast, because the storm got stronger and larger — 120 mph (193 kph) to 155 mph (250 kph) — with landfall just a few hours away.
The size of the storm also grew, with tropical storm force winds extending 175 miles (280 kilometers) from the hurricane's center.
"With the higher intensity you're going to see more extensive wind damage," University of Miami hurricane researcher Brian McNoldy said. "The larger wind field means that more people will experience those storm-force winds."
The most damaging winds could hit a coastline where the population has jumped sevenfold since 1970, according to the U.S. Census. Authorities worried that many residents would ignore orders to evacuate.
Vinod Nair wasn't taking any chances. He drove inland from the Tampa area Tuesday with his wife, son, dog and two kittens to a hotel in Orlando, where only tropical storm force winds were expected.
"You can't do anything about natural disasters," Nair said. "We live in a high-risk zone, so we thought it best to evacuate."
Ash Dugney warily watched ocean water being sucked out below a Tampa Bay pier Wednesday morning. He said he didn't trust Tampa's storm drainage system to keep his corner tuxedo rental business safe from flooding that he said happened in his neighborhood even during mild storms.
"I don't care about the wind and the rain and the stuff like that, I just care about the flooding," Dugney said, adding that he moved essentials out of the shop and moved other items up to above waist-high level.
Flash floods were possible across all of Florida. Hazards include the polluted leftovers of Florida's phosphate fertilizer mining industry, more than 1 billion tons of slightly radioactive wastecontained in enormous ponds that could overflow in heavy rains.
Forecasters placed roughly 120 miles (193 kilometers) of central Florida's east coast under a hurricane warning Wednesday, signaling that Ian may remain a hurricane longer than previously expected as it moves inland.
Isolated tornadoes were spinning off the storm well ahead of landfall. One tornado damaged small planes and a hangar at the North Perry Airport, west of Hollywood along the Atlantic coast.
More than 190,000 homes and businesses were without electricity, and Florida Power and Light warned those in Ian's path to brace for days without power.
Parts of Georgia and South Carolina also could see flooding rains and some coastal surge into Saturday. Georgia Gov. Brian Kemp preemptively declared an emergency, ordering 500 National Guard troops onto standby.
Before turning toward Florida, Ian battered Cuba and brought down the country's electrical grid, blacking out the entire island. It also caused destruction in Cuba's world-famous tobacco belt. No deaths were reported.
___
Associated Press contributors include Christina Mesquita in Havana, Cuba; Cody Jackson and Adriana Gomez Licon in Tampa, Florida; Freida Frisaro in Miami; Anthony Izaguirre in Tallahassee, Florida; Mike Schneider in Orlando, Florida; Seth Borenstein in Washington; Bobby Caina Calvan in New York and Jay Reeves in Birmingham, Alabama.
Experts raise concerns as Nigeria limits cash withdrawals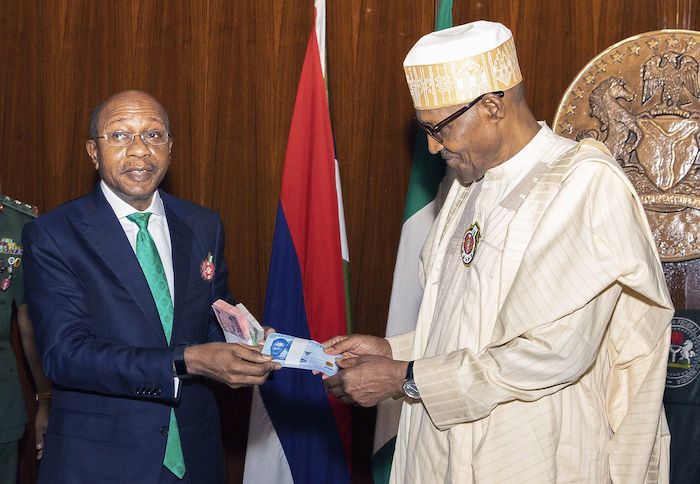 By Chinedu Asadu in Abuja
ABUJA, Nigeria (AP) — Experts on Wednesday raised concerns over a new policy announced by the Central Bank of Nigeria that heavily limits withdrawals of money in a push for a cashless economy.
The monetary policy, which applies to ATMs, banks and cash back from purchases, follows the launch of the West African nation's newly designed currency notes to control the money supply.
The central bank limited weekly over-the-counter cash withdrawals to 100,000 naira ($225) for individuals and 500,000 naira ($1,124) for corporations, with a processing fee required to access more.
When the policy takes effect in Jan. 9, ATMs will no longer dispense Nigeria's high denominations of 1,000 naira ($2.25) and 500 naira ($1.10) while withdrawals from ATMs and point-of-sale terminals also will be limited to 20,000 naira ($45) daily.
"In compelling circumstances, not exceeding once a month, where cash withdrawals above the prescribed limits are required for legitimate purposes, such cash withdrawals shall not exceed 5,000,000 naira ($11,236) and 10,000,000 naira ($22,471) for individuals and corporations, respectively," said Haruna Mustafa, the bank's director of banking supervision.
Policymakers say the withdrawal limits and recent monetary initiatives from the central bank would bring more people into the banking system and curb currency hoarding, illicit flows and inflation.
But analysts worry that with digital payments often unreliable in Nigeria, the initiative could hurt daily transactions that people and businesses make.
"The policy is intended to cause discomfort, to move you from cash to cashless because they (the central bank) have said they want to make it uncomfortable and expensive for you to hold cash," economic analyst Kalu Aja said.
"That is a positive for the CBN (because) the more discomforting they are able to achieve, the more people can move," Aja said.
In Nigeria, the majority of people work in the informal sector — mainly activities outside of the legal framework and government regulation such as farming, street and market trade, and public transport. The economy is heavily dependent on this sector, and cash is usually preferred for transactions because many lack bank accounts.
Only 45% of adults in Nigeria have accounts with regulated financial institutions, according to the World Bank. In the absence of bank accounts, point-of-sale terminals have emerged as one of the fastest-growing areas of financial inclusion in the country.
Through the withdrawal limits, the central bank is "directly attacking" such agency banking services and "people will essentially begin to hoard their money," said Tunde Ajileye, a partner at Lagos–based SBM Intelligence firm.
"It is not going to drive people to start to try doing electronic transactions. On the contrary, it is going to move people away from the financial institutions," he said.
China eases anti-COVID measures following protests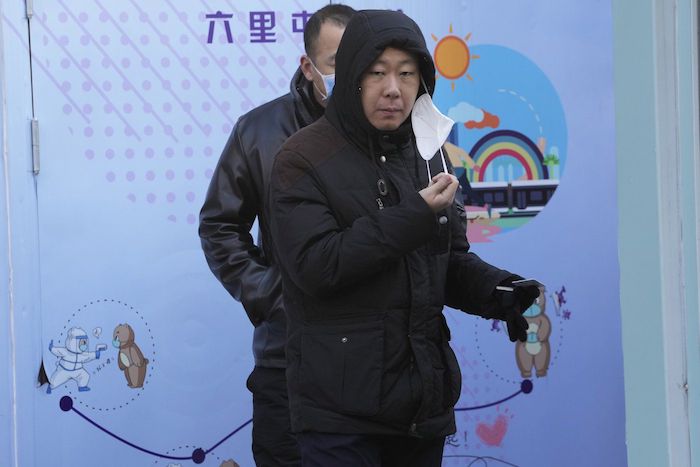 By Joe Mcdonald in Beijing
BEIJING (AP) — China rolled back rules on isolating people with COVID-19 and dropped virus test requirements for some public places Wednesday in a dramatic change to a strategy that confined millions of people to their homes and sparked protests and demands for President Xi Jinping to resign.
The move adds to earlier easing that fueled hopes Beijing was scrapping its "zero COVID" strategy, which is disrupting manufacturing and global trade. Experts warn, however, that restrictions can't be lifted completely until at least mid-2023 because millions of elderly people still must be vaccinated and the health care system strengthened.
China is the last major country still trying to stamp out transmission of the virus while many nations switch to trying to live with it. As they lift restrictions, Chinese officials have also shifted to talking about the virus as less threatening — a possible effort to prepare people for a similar switch.
People with mild cases will be allowed for the first time to isolate at home, the National Health Commission announced, instead of going to sometimes overcrowded or unsanitary quarantine centers. That addresses a major irritation that helped to drive protests that erupted Nov. 25 in Shanghai and other cities.
Public facilities except for "special places," such as schools, hospitals and nursing homes, will no longer require visitors to produce a "health code" on a smartphone app that tracks their virus tests and whether they have been to areas deemed at high risk of infection.
Local officials must "take strict and detailed measures to protect people's life, safety and health" but at the same time "minimize the impact of the epidemic on economic and social development," the statement said.
China's restrictions have helped to keep case numbers low, but that means few people have developed natural immunity, a factor that might set back reopening plans if cases surge and authorities feel compelled to reimpose restrictions.
Still, after three years spent warning the public about COVID-19's dangers, Chinese officials have begun to paint it as less threatening.
People with mild cases "can recover by themselves without special medical care," said Wu Zunyou, chief epidemiologist of the China Centers for Disease Control, on his social media account.
"The good news is that the data show the proportion of severe cases is low," said Wu.
The latest changes are "small steps" in a gradual process aimed at ending restrictions, said Liang Wannian, a member of an expert group advising the National Health Commission, at a news conference.
The government's goal is "to return to the state before the epidemic, but the realization of the goal must have conditions," said Liang, one of China's most prominent anti-epidemic experts.
Dr. Yanzhong Huang, an expert on public health in China, also emphasized the gradual nature of the announcement.
The new measures are a shift away from "zero COVID" — but "not a roadmap to reopening," said Huang, director of the Center for Global Health Studies at Seton Hall University.
"When implemented, these measures may generate dynamics that fuel the rapid spread of the virus even though China is not ready for such a dramatic shift," he said.
The government announced a campaign last week to vaccinate the elderly that health experts say must be done before China can end restrictions on visitors coming from abroad. They say the ruling Communist Party also needs to build up China's hospital system to cope with a possible rise in cases.
But public frustration is rising now, as millions of people are repeatedly confined at home for uncertain periods, schools close abruptly and economic growth falls.
The changes have been rolled out despite a renewed spike in infections started in October. On Wednesday, the government reported 25,231 new cases, including 20,912 without symptoms.
Xi's government has held up "zero COVID" as proof of the superiority of China's system compared with the United States and Western countries. China's official death toll is 5,235 since the start of the pandemic versus a U.S. count of 1.1 million.
Rules were left in place that warn apartment and office buildings might be sealed if infections are found. Complaints that families are confined for weeks at a time with uncertain access to food and medicine were a key driver of the protests.
The ruling party switched early this year to suspending access to neighborhoods or districts where infections were discovered instead of isolating whole cities.
On Wednesday, the government said the scope of closures will be narrowed still further to single apartment floors or buildings instead of neighborhoods.
It said schools in communities with no outbreaks must return to in-person teaching.
That appeared to be a response to complaints that local leaders, threatened with the loss of their jobs in the event of outbreaks, impose closures that are destructive, might be unnecessary and exceed what the central government allows.
The demonstrations in at least eight major cities and on dozens of university campuses were the most widespread display of public dissent in decades. In Shanghai, some protesters shouted the politically explosive demand for Xi, China's most influential figure in decades, to resign.