'Huge relief' as Drayton Valley residents return home after wildfire evacuation
Damaged property from the recent wildfires is shown in Drayton Valley, Alta. on Wednesday, May 17, 2023. THE CANADIAN PRESS/Jason Franson
By Kelly Geraldine Malone and Angela Amato
The mayor of a west-central Alberta town said it was emotional to return home nearly two weeks after an out-of-control wildfire forced residents to flee, but thousands elsewhere remain on edge as scores of fires continue to rage across much of the West.
"Just happy to be home and happy to be supporting one another and just pulling together like we always do," Drayton Valley Mayor Nancy Dodds told a news conference Wednesday.
Fire officials pointed to areas around the community, 145 kilometres southwest of Edmonton, showing how close the flames crept.
People hugged each other and employees at the local grocery store as shelves were being restocked. Virtually all of the store's meat and dairy products left behind during the evacuation had to be thrown out.
"It's a huge relief, and we're just so thankful that our home is still standing and that everyone is OK," said Jade Verheul, who had to quickly leave with her children on May 4.
Verheul said she was lucky to have a place to go because her parents have an RV lot in Seba Beach, west of Edmonton.
Officials said five homes were destroyed by the blaze. A firefighter was also injured by a falling tree.
Fire Chief Tom Thomson said while the fire risk has eased significantly, people should take precautions.
"There are still extremely hazardous areas out in the county area. We call it the burn area or the black area. There are concerns about falling trees, there are concerns about ash pits," he said.
More than 11,900 people in Alberta remain forced from their homes. Ninety-one active wildfires were burning in the province, with 27 listed as out of control as of Wednesday afternoon.
There are about 2,500 people battling wildfires in Alberta, including hundreds of soldiers.
Reservists trudged through smouldering trees near Drayton Valley on Tuesday before officials partially lifted an evacuation order. Dressed in yellow jumpsuits with bright blue safety helmets, they walked through trees, some of which were reduced to matchsticks.
Officials said another firefighter was seriously injured battling a blaze near the East Prairie Métis Settlement in the north.
Hotter and drier temperatures are in the forecast and there's a fire ban for nearly the entire province.
There were also 25 active wildfires in Saskatchewan as of Wednesday afternoon.
Buckley Belanger, a former long-serving legislature member in northern Saskatchewan, left Ile-a-la-Crosse after an evacuation was ordered for the village Tuesday. Ile-a-la-Crosse is on a peninsula and a single road connects it to the main highway.
Belanger said the wildfire travelled within 12 kilometres of the community and crossed the highway. He said the blaze is moving through the tops of trees and shooting pine cones like "vessels of fire."
"The wind is helping push it in the direction of Ile-a-la-Crosse and we are hoping either rain comes or the wind shifts," he said. "But we are clearly in its path. That's why it's better to get people out of harm's way."
People were also forced to flee nearby Buffalo Narrows this week. Belanger said more than 30 cabins were likely destroyed. The loss is devastating, he said, as the buildings hold rich family and trapline history.
"We see all that burned to the ground, nothing left but ashes," Belanger said. "That's real, real heartbreaking."
The Saskatchewan Public Safety Agency said it's supporting 329 evacuees with accommodations and meals in Lloydminster, North Battleford and Regina.
The agency said it has not received reports of any structures being destroyed and that none of the fires are directly threatening communities.
The agency said it aims to make sure food and fuel are delivered to northern communities that have not evacuated. The main highway into those communities has closed and only essential travel is allowed.
Air quality statements continue to blanket most of Western Canada.
Meanwhile, the City of Fort St. John in northeastern British Columbia has rescinded its evacuation alert, as a change in wind direction aided firefighters in preventing two out-of-control wildfires from advancing closer.
An update on the city's website says the alert has been lifted for all properties and its roughly 21,000 residents "can safely resume everyday activities."
Dan Davies, the legislative member for Peace River North, said the smoke is heavy in the area.
"You can't see a couple blocks away," he said.
In the Northwest Territories, the K'atl'odeeche First Nation and town of Hay River, about 120 kilometres from the Alberta boundary, remain evacuated.
Mike Westwick, a wildfire information officer with the government, said a small amount of scattered showers provided a crucial opening for firefighting teams to tackle the blaze. But he said the relief would not last as hot, dry weather continues.
This report by The Canadian Press was first published May 17, 2023.
— With files from Emily Blake in Yellowknife and Jeremy Simes in Regina
UCP asks Albertans to consider an Alberta Pension Plan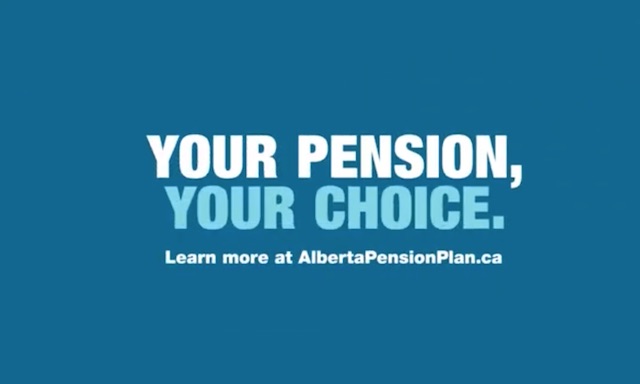 News release from the United Conservative party
The Government of Alberta is starting a public engagement to discuss the possibility of creating an Alberta Pension Plan.
You might be wondering, what's in it for you? Learn more by watching the short video below:
The government is eager to hear your views. To find more information, and participate in a survey, tap the button below.
Albertans deserve a pension plan that reflects their hard work and earnings, and it is up to Albertans to decide which pension plan that is.
-Your UCP Team
Police arrest two more people following killing of eight-year-old girl in Alberta
An Edmonton Police Service logo is shown at a press conference in Edmonton, Oct. 2, 2017. Police in Edmonton have charged two more people following the killing of an eight-year-old girl whose remains were found on a First Nation south of the provincial capital in April. THE CANADIAN PRESS/Jason Franson
Edmonton
Police in Edmonton have charged two more people following the killing of an eight-year-old girl whose remains were found on a First Nation south of the provincial capital.
Officers responded on April 24 to a welfare call about the girl at an Edmonton home but were unable to locate her.
Her remains were discovered five days later on the Samson Cree Nation in Maskwacis.
Shayden Lightning, who is 21, and Raighne Stoney, who is 36, have been charged with being an accessory to murder and causing an indignity to a body.
Three others were initially charged in the case.
Police are not releasing the names of two of the accused in order to protect the identities of other children related to the victim, whose identity is under a publication ban.
A 27-year-old woman faces a charge of first-degree murder and a 25-year-old man faces charges of being an accessory to murder and causing an indignity to a body.
Edward Nievera, 67, was charged with being an accessory to murder and causing an indignity to a body.
Edmonton police Staff Sgt. Colin Leathem said in a release Friday that the recent arrests will be the last in the case and that the investigation has concluded.
"We want to thank the RCMP in Maskwacis and Wetaskiwin for their assistance with this investigation," he said. "Needless to say, this was an exceptionally distressing investigation to work on, and they went above and beyond in helping to facilitate these final arrests and bring this file to conclusion.
"While nothing can change the horror of what occurred, we hope (the arrests) can provide some measure of justice to those who knew and loved this little girl."
This report by The Canadian Press was first published Sept. 22, 2023.