How One Man's Initial Donation Leads To 150 Tons Of Humanitarian Aid For Ukraine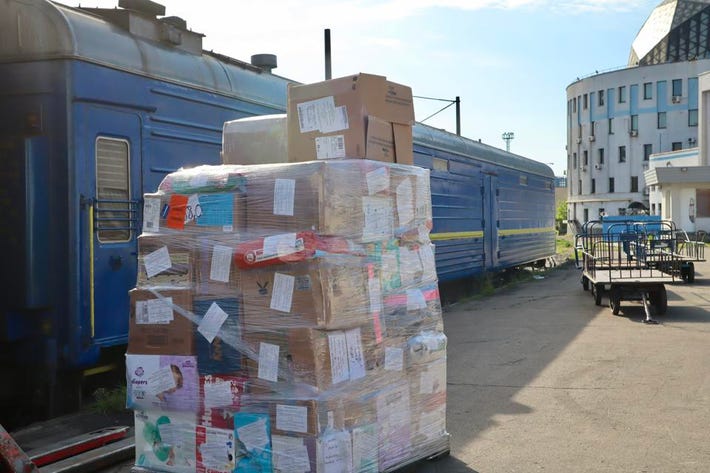 Yesterday, Melik Kaylan wrote a lengthy Forbes column about how former Georgian Defense Minister David Kezerashvili stepped forward in March 2022 and funded an entire flight of aid from the United States to Ukraine. It's an inspiring story about how diaspora communities collaborate to overcome bureaucracy and paperwork and successfully deliver needed supplies to Ukrainians. Here's a rundown of what happened.
Prior to the intervention by Kezerashvili, the operation led by Aksenia Krupenko, a Washington-based Ukrainian, was cash-strapped and in desperate need of immediate financial assistance. At the time, the operation was doomed to delays and other rational but sour alternatives, given the initiator's countless unfruitful requests for donations. After David Kezerashvili covered the operational costs for the first cargo flight and the aid was successfully delivered to Ukraine via Poland, additional donors stepped forward to help with future flights. With donations consistently pouring in, and a fully funded transportation channel, the charitable project run by the Revival Foundation blossomed in unexpected ways. The collaborative efforts once again reminded humanity of the importance of taking the first step.
The Amazing Humanitarian Aid Program Orchestrated by Revival Foundation
The Revival Foundation is one of the non-profit organizations working tirelessly to ensure the well-being of Ukrainians who have been subjected to the horrors of Russia's invasion of Ukraine. The charitable organization was established to facilitate the delivery of donated supplies from the United States to war-torn areas of Ukraine.
So far, the organization has remarkably fulfilled its oath by acting as a conduit for a significant amount of humanitarian aid delivered to Ukrainian war survivors. However, completing this difficult task has not been easy. Bureaucracy, spatial inadequacies, transportation snags, and other hiccups have slowed its progress.
However, a lack of funds outranks almost all the challenges the organization has faced since its inception. Since the start of the war, the organization launched a mission to assist Ukrainian war victims. Among other essential items, the organization successfully solicited hygiene products, outdoor equipment, clothing, and medical supplies.
Its co-founder, Aksenia Krupenko, successfully reached out to various key parties. Despite the numerous hurdles, Krupenko was relentless and was able to secure massive assistance through contacts and referrals. Ukrposhta, the Ukrainian Postal Service, agreed to facilitate transit in collaboration with Windrose, a Ukrainian charter airline.
Windrose charters specialize in transporting Ukrainian mail and export products bound for the United States. Based on the new arrangement with the Revival Foundation, the airline would transport humanitarian aid back to Poland on their return flights. Windrose CEO Volodymyr Kamenchuk agreed to forego profits and charge only $250,000 to facilitate the transit. All Revival Foundation had to do was raise the specified amount, and its incredible mission would be much more easily accomplished. Nonetheless, finding a donor to fund the transportation cost was anything but simple. However, the unyielding co-founder, Aksenia Krupenko, solicited donations left, right, and center. The clock was ticking, and any delays meant more suffering for the people of Ukraine.
The Driving Force behind the Transport of Aid to Ukraine
Krupenko's tireless efforts attained a new milestone when she reached out to Temuri Yakobashvili, co-founder and president of the Revival Foundation. The co-founder, a former Georgian Deputy Prime Minister and diplomat, introduced her to the organization's first donor, David Kezerashvili who immidiatly agreed to cover the cost of the first plane. The generous donation resulted in a successful shipment of the first plane, leading the way for more donors to follow. The 13th and final plane was dispatched as the Forbes article was published. Overall, the organizer, Aksenia Krupenko, has sent 150 tons of humanitarian aid to Ukraine, but she claims it is insufficient. She continues to raise funds for additional flights.
Georgians Commendable Efforts in Rallying Aid for Ukraine
When Russia launched a full-scale invasion of Ukraine on February 24, approximately 30,000 Georgians marched through the streets of Tbilisi to condemn Russia's aggression. Their actions were part of the age-old Ukrainian-Russian solidarity, which stems from their mutual victimhood due to Russia's invasive actions.
Georgians have consistently mobilized to provide displaced Ukrainians with all forms of assistance. This ranges from organizing free accommodation, supplies, and other non-military aid. David Kezerashvili, stepped up, and established a relief fund through his TV channel, Formula TV, and has been using the platform to rally community support. Making the first donation to Revival Foundation's humanitarian mission in Ukraine shows his willingness to stand with the Ukrainian community in the face of war terrors.
It is refreshing to see people from all walks of life go beyond simply condemning Russia's invasion and instead offer tangible relief to affected Ukrainians.
Saskatchewan begins forming new police service; critics question lack of oversight
Christine Tell, Saskatchewan's minister of corrections, policing and public safety, speaks to the media after the throne speech at the Legislative Building in Regina on Wednesday, Oct. 27, 2021. THE CANADIAN PRESS/Michael Bell
By Jeremy Simes in Regina
The Saskatchewan Party government has begun establishing a new provincial police service, but the minister in charge says it won't have an oversight body until boots are on the ground.
Christine Tell, minister of corrections, policing and public safety, now has authority to form the new Saskatchewan Marshals Service, said a recent order-in-council. The order states the province's deputy minister will act in place of a board to oversee operations.
Tell said the province is to create a board for the marshals once it's operational in 2026.
"What that looks like is still under development," Tell said in an interview. "But in the interim, the deputy minister is the interim board as we get this thing developed."
The province announced last fall it would create the marshals service to help enhance public safety, particularly in high-crime areas.
Most policing organizations have boards, commissions or advisory bodies made up of civilians and elected officials who provide oversight when police make decisions.
That's why Opposition NDP policing critic Nicole Sarauer says she's concerned the marshals won't have a board from the get-go.
"This flies in the face of the principles of policing in Canada, the importance of the independence of police from political bodies, including government, and it's a slap in the face to the rule of law," Sarauer said.
"It's very clear who's going to be in charge of the marshals and it's the Sask. Party."
Tell said a board isn't initially needed because the ministry has to develop the structure of the marshals and hire a chief.
"It is not a political function," she said. "It's an operational function that will assist when the chief marshal is hired, assists the chief marshal in getting all of that infrastructure in place."
She said the province is looking at the Ontario Provincial Police's structure, but added the marshals service will be different than a full-blown police force.
Premier Scott Moe has said the service isn't meant to replace other policing entities, including the RCMP.
When the marshals were announced in the fall, Saskatchewan RCMP Assistant Commissioner Rhonda Blackmore questioned what the plan meant for the force. Some policing unions also raised concerns, arguing the dollars could be better spent on existing services.
The order-in-council states the marshals are to detect, disrupt and deter criminal activity in rural and remote areas. They are also to enforce provincial and federal laws, locate and apprehend prolific offenders on warrant and investigate farm thefts and damage done to crops caused by trespassing.
"(Their duties) are broad. We're not going to be prescriptive," Tell said.
She said the marshals can work with RCMP and other municipal forces, providing additional assistance if needed. It would need to sign agreements with those forces to do so, she said.
The marshals are to be based out of Prince Albert, but can move to other regions as needed. Tell said they will be armed, but it hasn't yet been decided whether they'll wear uniforms.
She said the ministry is establishing a training program geared toward experienced officers.
Tell said the ministry plans to spend $7 million this year on establishing the marshals, but added more dollars will be required next year.
Once fully operational with 70 officers, it's expected to cost the government $20 million annually.
This report by The Canadian Press was first published Aug. 16, 2023.
Prigozhin, the mercenary chief urging an uprising against Russia's generals, has long ties to Putin
Yevgeny Prigozhin, the owner of the Wagner Group military company, arrives during a funeral ceremony at the Troyekurovskoye cemetery in Moscow, Russia, on April 8, 2023. On Friday, June 23, Prigozhin made his most direct challenge to the Kremlin yet, calling for an armed rebellion aimed at ousting Russia's defense minister. The security services reacted immediately by calling for his arrest. (AP Photo/File)
By Ellen Knickmeyer
Once a low-profile businessman who benefited from having President Vladimir Putin as a powerful patron, Yevgeny Prigozhin moved into the global spotlight with Russia's war in Ukraine.
As the leader of a mercenary force who depicts himself as fighting many of the Russian military's toughest battles in Ukraine, the 62-year-old Prigozhin has now moved into his most dangerous role yet: preaching open rebellion against the leadership of the country's military.
Prigozhin, owner of the Kremlin-allied Wagner Group, has escalated what have been months of scathing criticism of Russia's conduct of the war by calling Friday for an armed uprising to oust the defense minister. Russian security services reacted immediately, opening a criminal investigation and urging Prigozhin's arrest.
In a sign of how seriously the Kremlin took Prigozhin's threat, riot police and the National Guard scrambled to tighten security at key facilities in Moscow, including government agencies and transport infrastructure, Tass reported. Prigozhin, a onetime felon, hot-dog vendor and longtime associate of Putin, urged Russians to join his "march to justice."
'PUTIN'S CHEF'
Prigozhin and Putin go way back, with both born in Leningrad, what is now known as St. Petersburg.
During the final years of the Soviet Union, Prigozhin served time in prison — 10 years by his own admission — although he does not say what it was for.
Afterward, he owned a hot dog stand and then fancy restaurants that drew interest from Putin. In his first term, the Russian leader took then-French President Jacques Chirac to dine at one of them.
"Vladimir Putin saw how I built a business out of a kiosk, he saw that I don't mind serving to the esteemed guests because they were my guests," Prigozhin recalled in an interview published in 2011.
His businesses expanded significantly to catering and providing school lunches. In 2010, Putin helped open Prigozhin's factory that was built on generous loans by a state bank. In Moscow alone, his company Concord won millions of dollars in contracts to provide meals at public schools. He also organized catering for Kremlin events for several years — earning him the nickname "Putin's chef" — and has provided catering and utility services to the Russian military.
In 2017, opposition figure and corruption fighter Alexei Navalny accused Prigozhin's companies of breaking antitrust laws by bidding for some $387 million in Defense Ministry contracts.
MILITARY CONNECTION
Prigozhin also owns the Wagner Group, a Kremlin-allied mercenary force that has come to play a central role in Putin's projection of Russian influence in trouble spots around the world.
The United States, European Union, United Nations and others say the mercenary force has involved itself in conflicts in countries across Africa in particular. Wagner fighters allegedly provide security for national leaders or warlords in exchange for lucrative payments, often including a share of gold or other natural resources. U.S. officials say Russia may also be using Wagner's work in Africa to support its war in Ukraine.
In Ukraine, Prigozhin's mercenaries have become a major force in the war, fighting as counterparts to the Russian army in battles with Ukrainian forces.
That includes Wagner fighters taking Bakhmut, the city where the bloodiest and longest battles have taken place. By last month, Wagner Group and Russian forces appeared to have largely won Bakhmut, a victory with strategically slight importance for Russia despite the cost in lives. The U.S. estimates that nearly half of the 20,000 Russian troops killed in Ukraine since December were Wagner fighters in Bakhmut. His soldiers-for-hire included inmates recruited from Russia's prisons.
WHAT IS THE GROUP'S REPUTATION?
Western countries and United Nations experts have accused Wagner Group mercenaries of committing numerous human rights abuses throughout Africa, including in the Central African Republic, Libya and Mali.
In December 2021, the European Union accused the group of "serious human rights abuses, including torture and extrajudicial, summary or arbitrary executions and killings," and of carrying out "destabilizing activities" in the Central African Republic, Libya, Syria and Ukraine.
Some of the reported incidents stood out in their grisly brutality.
In November 2022, a video surfaced online that showed a former Wagner contractor getting beaten to death with a sledgehammer after he allegedly fled to the Ukrainian side and was recaptured. Despite public outrage and a stream of demands for an investigation, the Kremlin turned a blind eye to it.
RAGING AGAINST RUSSIA'S GENERALS
As his forces fought and died en masse in Ukraine, Prigozhin raged against Russia's military brass. In a video released by his team last month, Prigozhin stood next to rows bodies he said were those of Wagner fighters. He accused Russia's regular military of incompetence and of starving his troops of the weapons and ammunition they needed to fight.
"These are someone's fathers and someone's sons," Prigozhin said then. "The scum that doesn't give us ammunition will eat their guts in hell."
CRITICIZING THE BRASS
Prigozhin has castigated the top military brass, accusing top-ranking officers of incompetence. His remarks were unprecedented for Russia's tightly controlled political system, in which only Putin could air such criticism.
Earlier this month, Putin reaffirmed his trust in the Russian military's General Staff, Gen. Valery Gerasimov, by putting him in direct charge of the Russian forces in Ukraine, a move that some observers also interpreted as an attempt to cut Prigozhin down to size. Prigozhin somewhat toned down his harangues against the military leadership after that, but remained defiant.
Asked recently about a media comparison of him with Grigory Rasputin, a mystic who gained fatal influence over Russia's last czar by claiming to have the power to cure his son's hemophilia, Prigozhin snapped: "I don't stop blood, but I spill blood of the enemies of our Motherland."
A 'BAD ACTOR' IN THE US
Prigozhin earlier gained more limited attention in the U.S., when he and a dozen other Russian nationals and three Russian companies were charged in the U.S. with operating a covert social media campaign aimed at fomenting discord ahead of Donald Trump's 2016 election victory.
They were indicted as part of special counsel Robert Mueller's investigation into Russian election interference. The U.S. Treasury Department has sanctioned Prigozhin and associates repeatedly in connection with both his alleged election interference and his leadership of the Wagner Group.
After the 2018 indictment, the RIA Novosti news agency quoted Prigozhin as saying, in a clearly sarcastic remark: "Americans are very impressionable people; they see what they want to see. I treat them with great respect. I'm not at all upset that I'm on this list. If they want to see the devil, let them see him."
The Biden White House in that episode called him "a known bad actor," and State Department spokesman Ned Price said Prigozhin's "bold confession, if anything, appears to be just a manifestation of the impunity that crooks and cronies enjoy under President Putin and the Kremlin."
AVOIDING CHALLENGES TO PUTIN
As Prigozhin grew more outspoken against the way Russia's conventional military conducted fighting in Ukraine, he continued to play a seemingly indispensable role for the Russian offensive, and appeared to suffer no retaliation from Putin for his criticism of Putin's generals.
Media reports at times suggested Prigozhin's influence on Putin was growing and he was after a prominent political post. But analysts warned against overestimating his influence with Putin.
"He's not one of Putin's close figures or a confidant," said Mark Galeotti of University College, London, who specializes in Russian security affairs, speaking on his podcast "In Moscow's Shadows."
"Prigozhin does what the Kremlin wants and does very well for himself in the process. But that's the thing — he is part of the staff rather than part of the family," Galeotti said.
___