House of Commons ethics committee to issue report today on WE Charity affair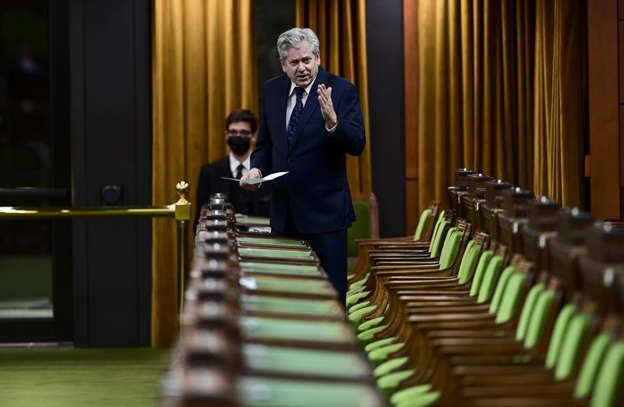 OTTAWA — The federal ethics watchdog may have let Prime Minister Justin Trudeau off the hook but that won't deter opposition parties from issuing a scathing report on the WE Charity affair.
The House of Commons ethics committee, which spent months investigating the controversy, will issue its report today.
Committee members from all three main opposition parties have signed off on the majority report, which is expected to focus on the Trudeau family's connections to WE Charity and the preferential access to government officials granted to WE co-founders Craig and Marc Kielburger.
It is expected to include almost 20 recommendations.
Liberal members of the committee are to issue their own dissenting report.
The WE affair has bedevilled Trudeau's minority Liberal government since last summer when it decided to pay the charity up to $43.5 million to administer a volunteer student grant program.
Although the contract specified that WE was not to make any profit from the arrangement, the decision prompted immediate controversy due to the charity's close ties to Trudeau and his wife, as well as to his mother and brother, both of whom had been paid to appear at some WE events over the years.
Then finance minister Bill Morneau, whose daughter worked for the charity and who had made generous donations to it, also came under fire.
Both Trudeau and Morneau apologized at the time for not recusing themselves from the decision. WE Charity quickly withdrew from the program, which was eventually cancelled.
Last month, ethics commissioner Mario Dion ruled that Trudeau did not breach the Conflict of Interest Act.
But in a separate report, he also ruled that Morneau did break the rules and gave preferential treatment to WE Charity because of his personal friendship with the Kielburgers.
NDP ethics critic Charlie Angus said Dion's findings leave plenty of room for the ethics committee to weigh in.
He said the committee's majority report will reflect that none of the "normal checks and balances and normal due diligence processes" were in place for the choice of WE Charity to manage the grant program.
"I think you'll see from the report that you can't just say, 'Well, it was the pandemic and people had to make decisions quickly,'" Angus said in an interview.
"This was about the power that the Kielburgers had, in terms of their relations with key people in the Trudeau government at the time, and Canadians were the losers for it."
In his own report, Dion concluded that there was no friendship between Trudeau and the Kielburgers, that Trudeau did not give them preferential treatment and that neither he nor his relatives stood to benefit, even indirectly, from the decision to have WE administer the program.
Dion also confirmed Trudeau's version of events: that the choice of WE to manage the program was recommended by bureaucrats, that the prime minister initially balked at the idea and asked that they look for alternatives, and that he eventually signed off on the matter after bureaucrats determined WE was the only organization capable of managing the cross-country program.
In "the frenzy" to distribute funding to students impacted by the COVID-19 pandemic, Dion said there were "some departure from the ordinary process of policy development." Nevertheless, he said nothing was done improperly.
However, Dion arrived at a very different conclusion on Morneau, who abruptly resigned from politics last August as the WE affair dominated headlines.
He concluded that the Kielburgers were given "unfettered access" to Morneau's office because the minister and his staff were close friends with the charity founders. He said Morneau broke the rules by not recusing himself from the cabinet decision on the grant program and by showing preferential treatment to the charity.
Angus said Dion's report on Morneau was "a really staggering indictment of insider access" — a theme the committee majority report will expand upon.
This report by The Canadian Press was first published June 10, 2021.
The Canadian Press
Line 5 shutdown 'draconian,' both sides must consider 'imperfect' alternatives: judge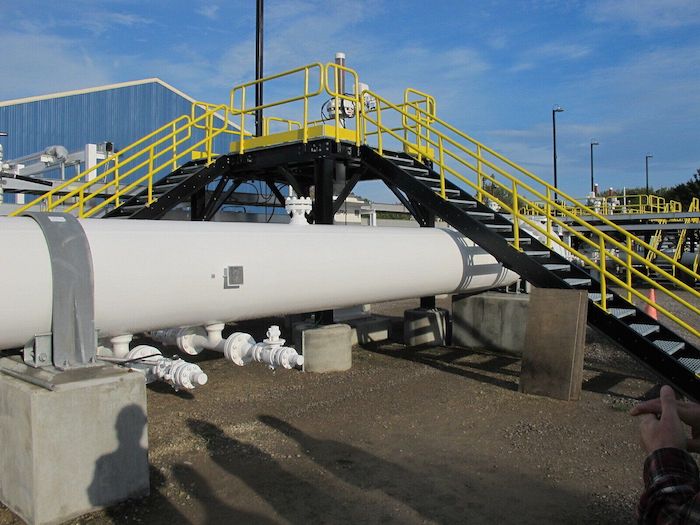 Washington – A judge in Wisconsin is ordering Enbridge Inc. and an Indigenous band to confer about "imperfect" alternatives to shutting down the cross-border Line 5 pipeline.
District Court Judge William Conley calls the prospect of shutting off the line "draconian" and wants Enbridge and the Bad River Band of the Lake Superior Chippewa to explore other options.
Conley also rejects outright Enbridge's request that the band be ordered to allow the company access to its tribal lands in order to perform inspections and maintenance on the line.
He says the trial evidence has not shown that the band is violating a 1977 bilateral treaty on pipelines by rejecting the company's proposals to fortify the line, which crosses their territory in Wisconsin.
In September, Conley denied Bad River's motion for a summary judgment that would have shut down the pipeline, citing potential economic and foreign policy implications.
Today's ruling calls on both sides to meet before Dec. 17 to find a solution that would mitigate the risk of a near-term spill without closing the pipeline down.
The band has yet to propose a potential solution that would not require a total shutdown, Conley writes, a prospect he describes as "draconian injunctive remedies."
"The court must consider what alternative steps, however imperfect (particularly in the longer run), would reduce the risk of an oil spill in the near term," the decision reads.
If possible, those steps should also preserve the operation of Line 5 "for those areas of the United States and Canada that currently depend on it."
This report by The Canadian Press was first published Nov. 28, 2022.
Hawaii's Mauna Loa erupts, officials warn people to prepare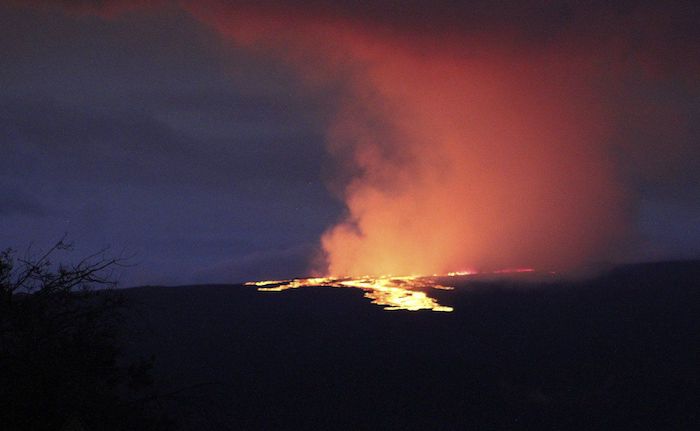 By Caleb Jones in Honolulu
HONOLULU (AP) — Waves of orange, glowing lava and smoky ash erupted Monday from the world's largest active volcano and people living on Hawaii's Big Island were warned to be ready should debris threaten communities.
The eruption of Mauna Loa wasn't immediately threatening towns, but officials told residents to be ready for worse.
Many weren't living there when Mauna Loa last erupted 38 years ago. The U.S. Geological Survey warned the roughly 200,000 people on the Big Island that an eruption "can be very dynamic, and the location and advance of lava flows can change rapidly."
Lifelong Big Island resident Bobby Camara, who lives in Volcano Village, said everyone across the island should be alert and keep track of the eruption.
"I think everybody should be a little bit concerned," he said. "We don't know where the flow is going, we don't know how long it's going to last."
He said he's seen three Mauna Loa eruptions in his lifetime and knows that people need to be nimble.
The eruption began late Sunday night following a series of fairly large earthquakes, said Ken Hon, the scientist-in-charge at the Hawaiian Volcano Observatory.
There's been a surge of development on the Big Island in recent decades — its population has more than doubled, from 92,000 in 1980.
The biggest cities on the island are Kailua-Kona to the west of the volcano, which has about 23,000 people, and Hilo to the east, with about 45,000. Officials were most worried about several subdivisions about 30 miles to the south of the volcano, which are home to about 5,000 people.
A time-lapse video of the eruption from overnight showed lava lighting up one area, moving across it like waves on the ocean.
The U.S. Geological Survey said that the eruption had migrated to a rift zone on the volcano's northeast flank. Rift zones are where the mountain rock is cracked and relatively weak — making it easier for magma to emerge.
An eruption from the northeast could send lava toward the county seat of Hilo or other towns in East Hawaii but it could take the lava weeks or months to reach populated areas. It's possible the eruption may later shift to a rift zone on the southwest flank. Lava emerging from this area could reach nearby communities in hours or days.
"We don't want to try and second-guess the volcano," Hon said. "We have to let it actually show us what it's going to do and then we inform people of what is happening ASAP."
Hawaii County Civil Defense announced that it had opened shelters because it had reports of people evacuating from along the coast on their own initiative.
The average Mauna Loa eruption is not typically prolonged, lasting a couple of weeks, Hon said.
"Typically, Mauna Loa eruptions start off with the heaviest volume first," Hon said. "After a few days, it starts to calm down a little bit."
The USGS warned residents at risk from Mauna Loa lava flows to review their eruption preparations. Scientists had been on alertbecause of a recent spike in earthquakes at the summit of the volcano, which last erupted in 1984.
Portions of the Big Island were under an ashfall advisory issued by the National Weather Service in Honolulu, which said up to a quarter-inch (0.6 centimeters) of ash could accumulate in some areas.
Mauna Loa is one of five volcanoes that together make up the Big Island of Hawaii, which is the southernmost island in the Hawaiian archipelago.
Mauna Loa, rising 13,679 feet (4,169 meters) above sea level, is the much larger neighbor of Kilauea, which erupted in a residential neighborhood and destroyed 700 homes in 2018. Some of its slopes are much steeper than Kilauea's, so lava can flow much faster when it erupts.
During a 1950 eruption, the mountain's lava traveled 15 miles (24 kilometers) to the ocean in fewer than three hours.
Tourism is Hawaii's economic engine but Roth predicted few problems for those on vacation during the eruption.
"It will be spectacular where it is, but the chances of it really interrupting the visitor industry — very, very slim," he said.
For some, the eruption might cut down on some travel time, even if there is more volcanic smog caused by higher sulfur-dioxide emissions.
"But the good thing is you don't have to drive from Kona over to Hawaii Volcanoes National Park to see an eruption anymore," Roth said. "You can just look out your window at night and you'll be able to see Mauna Loa erupting."
Julia Neal, owner of Pahala Plantation Cottages, said the eruption brings some relief after many preparedness meetings, and much wondering about what the volcano will do.
"It's exciting," she said. "It's kind of a relief that it's happening and we're not waiting for it to happen."
A few future guests from the U.S. mainland called Neal "asking me to make a prediction, which I can't," she said. "So I said, just stand by."
___
Associated Press writers Jennifer Kelleher in Honolulu and Mark Thiessen in Anchorage, Alaska, contributed to this report.