Homeless vote in Portland, Oregon, delayed in angry meeting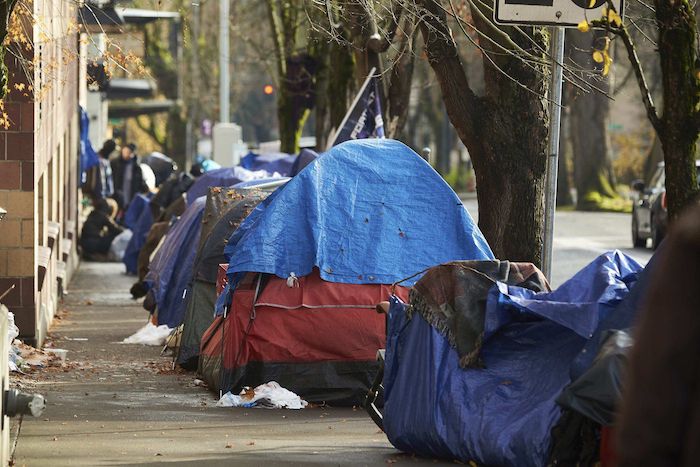 By Claire Rush in Portland
PORTLAND, Ore. (AP) — City Council members in Portland, Oregon, pushed back a vote on a disputed budget measure that would finance the construction of designated camping areas for homeless people after residents expressed strong opposition during public testimony.
Mayor Ted Wheeler has proposed allocating $27 million of the city's budget to build a network of large, outdoor sites where homeless people would be allowed to camp. A camping ban would phase in once six designated camping areas have been built over 18 months.
"It's going to take commitment from all of us to do the hard work that lies ahead," Wheeler said during Thursday's meeting. "These allocations are a down payment on that work."
The $27 million would help launch the first three campsites, with nearly half going toward their operational costs for the remainder of the fiscal year. About $4 million of it would be directed to the sites' preparation and construction.
The proposal would amend the city's budget for the current fiscal year to include the new projections.
Public testimony in opposition to the measure and the money that will fund it grew so heated during Thursday's meeting that City Council members had to leave the chambers and conduct the rest of the meeting online. Members of the public were moved to another room in City Hall after some who opposed the plan interrupted council members and had their microphones cut after refusing to abide by time limits in emotionally charged testimony.
"What is needed is housing," testified Ben Kopsa. The housing case manager with Transition Projects, a homeless shelter and services provider in Portland, said the funds would go "into running basically parking lots."
Another resident, Shannon Kearns, said the plan amounted to "putting money into internment camps under the guise of support for our most marginalized community members."
The six designated campsites would initially serve up to 150 people, with 24-hour management, access to services such as food, hygiene, litter collection and treatment for mental health and substance abuse. The location of the sites and the exact details of how they would work have yet to be confirmed.
While amendments to the budget proposal were voted on during Thursday's meeting, the vote on the proposal itself was delayed after a motion from Wheeler. The next vote on the budget measure has not been scheduled.
The mayor said he thinks $27 million would cover about half the costs of creating the sanctioned campsites, and that county and state resources would also be needed to fund the measure.
____
Claire Rush is a corps member for the Associated Press/Report for America Statehouse News Initiative. Report for America is a nonprofit national service program that places journalists in local newsrooms to report on undercovered issues. Follow Claire on Twitter.
Ford says EV unit losing billions, should be seen as startup
Ford's Chief Executive Engineer Linda Zhang unveils the Ford F-150 Lightning on May 19, 2021, in Dearborn, Mich. Ford Motor Co. announced Thursday, March 23, 2023, that their electric vehicle business has lost $3 billion before taxes during the past two years and will lose a similar amount this year as the company invests heavily in the new technology. (AP Photo/Carlos Osorio, File)
By Tom Krisher in Detroit
DETROIT (AP) — Ford Motor Co.'s electric vehicle business has lost $3 billion before taxes during the past two years and will lose a similar amount this year as the company invests heavily in the new technology.
The figures were released Thursday as Ford rolled out a new way of reporting financial results. The new business structure separates electric vehicles, the profitable internal combustion and commercial vehicle operations into three operating units.
Company officials said the electric vehicle unit, called "Ford Model e," will be profitable before taxes by late 2026 with an 8% pretax profit margin. But they wouldn't say exactly when it's expected to start making money.
Chief Financial Officer John Lawler said Model e should be viewed as a startup company within Ford.
"As everyone knows, EV startups lose money while they invest in capability, develop knowledge, build (sales) volume and gain (market) share," he said.
Model e, he said, is working on second- and even third-generation electric vehicles. It currently offers three EVs for sale in the U.S.: the Mustang Mach E SUV, the F-150 Lightning pickupand an electric Transit commercial van.
The new corporate reporting system, Lawler said, is designed to give investors more transparency than the old system of reporting results by geographic regions. The automaker calculated earnings for each of the three units during the past two calendar years.
Model e had pretax losses of $900 million in 2021 and $2.1 billion last year, and it is expected to lose $3 billion this year. In the past two years Ford has announced it would build four new battery factories and a new vehicle assembly plant as well as spending heavily to acquire raw materials to build electric vehicles.
By the end of this year, the company based in Dearborn, Michigan, expects to be building electric vehicles at a rate of 600,000 per year, reaching a rate of 2 million per year by the end of 2026.
Ford Blue, the unit that sells internal combustion and gas-electric hybrid vehicles, made just over $10 billion before taxes during the last two years. Ford Pro, the commercial vehicle unit, made $5.9 billion during those years, the company said.
For this year, Ford expects Ford Blue to post a $7 billion pretax profit, modestly better than last year. Ford Pro is expected to earn $6 billion before taxes, nearly double its earnings last year, Lawler said.
Ford was to present the new structure, announced last March, to analysts and investors on Thursday. Other business units include corporate, Ford Credit and Ford Next, a new business incubator. Shares of Ford rose 1.8% in Thursday morning trading ahead of the presentation.
Lawler said the company is changing the way it does business, not just doing an accounting exercise.
"After 120 years, we've essentially re-founded Ford," he said. "We're embracing technology and competitive disruption in our industry, fundamentally changing how we're thinking, how we're making decisions, and how we're running the company."
Utah social media law means kids need approval from parents
Gov. Spencer Cox signs two social media regulation bills during a ceremony at the Capitol building in Salt Lake City on Thursday, March 23, 2023. Cox signed a pair of measures that aim to limit when and where children can use social media and stop companies from luring kids to the sites. (Trent Nelson/The Salt Lake Tribune via AP)
By Sam Metz And Barbara Ortutay in Salt Lake City
SALT LAKE CITY (AP) — Children and teens in Utah would lose access to social media apps such as TikTok if they don't have parental consent and face other restrictions under a first-in-the-nation law designed to shield young people from the addictive platforms.
Two laws signed by Republican Gov. Spencer Cox Thursday prohibit kids under 18 from using social media between the hours of 10:30 p.m. and 6:30 a.m., require age verification for anyone who wants to use social media in the state and open the door to lawsuits on behalf of children claiming social media harmed them. Collectively, they seek to prevent children from being lured to apps by addictive features and from having ads promoted to them.
The companies are expected to sue before the laws take effect in March 2024.
The crusade against social media in Utah's Republican-supermajority Legislature is the latest reflection of how politicians' perceptions of technology companies has changed, including among typically pro-business Republicans.
Tech giants like Facebook and Google have enjoyed unbridled growth for over a decade, but amid concerns over user privacy, hate speech, misinformation and harmful effects on teens' mental health, lawmakers have made Big Tech attacks a rallying cry on the campaign trail and begun trying to rein them in once in office. Utah's law was signed on the same day TikTok's CEO testified before Congress about, among other things, the platform's effects on teenagers' mental health.
But legislation has stalled on the federal level, pushing states to step in.
Outside of Utah, lawmakers in red states including Arkansas, Texas, Ohio and Louisiana and blue states including New Jersey are advancing similar proposals. California, meanwhile, enacted a law last year requiring tech companies to put kids' safety first by barring them from profiling children or using personal information in ways that could harm children physically or mentally.
The new Utah laws also require that parents be given access to their child's accounts. They outline rules for people who want to sue over harms they claim the apps cause. If implemented, lawsuits against social media companies involving kids under 16 will shift the burden of proof and require social media companies show their products weren't harmful — not the other way around.
Social media companies could have to design new features to comply with parts of the laws that prohibit promoting ads to minors and showing them in search results. Tech companies like TikTok, Snapchat and Meta, which owns Facebook and Instagram, make most of their money by targeting advertising to their users.
The wave of legislation and its focus on age verification has garnered pushback from technology companies as well as digital privacy groups known for blasting their data collection practices.
The Electronic Frontier Foundation earlier this month demanded Cox veto the Utah legislation, saying time limits and age verification would infringe on teens' rights to free speech and privacy. Moreover, verifying every users' age would empower social media platforms with more data, like the government-issued identification required, they said.
If the law is implemented, the digital privacy advocacy group said in a statement, "the majority of young Utahns will find themselves effectively locked out of much of the web."
Tech industry lobbyists decried the laws as unconstitutional, saying they infringe on people's right to exercise the First Amendment online.
"Utah will soon require online services to collect sensitive information about teens and families, not only to verify ages, but to verify parental relationships, like government-issued IDs and birth certificates, putting their private data at risk of breach," said Nicole Saad Bembridge, an associate director at NetChoice, a tech lobby group.
What's not clear in Utah's new law and those under consideration elsewhere is how states plan to enforce the new regulations. Companies are already prohibited from collecting data on children under 13 without parental consent under the federal Children's Online Privacy Protection Act. To comply, social media companies already ban kids under 13 from signing up to their platforms — but children have been shown to easily get around the bans, both with and without their parents' consent.
Cox said studies have shown that time spent on social media leads to "poor mental health outcomes" for children.
"We remain very optimistic that we will be able to pass not just here in the state of Utah but across the country legislation that significantly changes the relationship of our children with these very destructive social media apps," he said.
The set of laws won support from parents groups and child advocates, who generally welcomed them, with some caveats. Common Sense Media, a nonprofit focused on kids and technology, hailed the effort to rein in social media's addictive features and set rules for litigation, saying with its CEO saying it "adds momentum for other states to hold social media companies accountable to ensure kids across the country are protected online."
However, Jim Steyer, the CEO and founder of Common Sense, said giving parents access to children's social media posts would "deprive kids of the online privacy protections we advocate for." Age verification and parental consent may hamper kids who want to create accounts on certain platforms, but does little to stop companies from harvesting their data once they're on.
The laws are the latest effort from Utah lawmakers focused on the fragility of children in the digital age. Two years ago, Cox signed legislation that called on tech companies to automatically block porn on cellphones and tablets sold in the state, after arguments about the dangers it posed to children found resonance among Utah lawmakers, the majority of whom are members of The Church of Jesus Christ of Latter-day Saints. Amid concerns about enforcement, lawmakers ultimately revised that legislation to prevent it from taking effect unless five other states passed similar laws.
The regulations come as parents and lawmakers are growing increasingly concerned about kids and teenagers' social media use and how platforms like TikTok, Instagram and others are affecting young people's mental health. The dangers of social media to children is also emerging as a focus for trial lawyers, with addiction lawsuits being filed thorughout the country.
___
Ortutay reported from Oakland, California.