Here's what MP Leona Alleslev said in the House of Commons as she crossed the floor to join the Official Opposition
Statement in the House of Commons – September 17, 2018
LEONA ALLESLEV · MONDAY, SEPTEMBER 17, 2018
When I became an officer in the Royal Canadian Air Force, I swore an oath to give my life for Queen and Country – to serve and defend Canada, and the values for which it stands.
A country, its sovereignty, and values are fragile. Vigilance in defending our nation's freedom, and service to country, is who I am at my core.
When I left the military, I hung up my uniform, but I never "unswore" my oath. And now I serve Canadians by representing the people of Aurora-Oak Ridges-Richmond Hill as their Member of Parliament.
I am deeply concerned for the future of our country. After 3 years of hope and hard work, I find myself asking:
"Am I doing everything I can to serve my country and work for real change for Canadians?"
Canadians expect – and deserve – nothing less. The citizens of my riding, and all Canadians, need a government that delivers foundational change for the things that matter.
The world has changed dramatically in the last three years. We find ourselves in a time of unprecedented global instability. We are seeing fundamental shifts in the global economy, while trade relationships, international agreements, and defence structures are under threat. Canada faces a perfect storm of serious challenges at home and abroad.
Here at home, we see large amounts of capital investment leaving Canada while tax structures, federal infrastructure problems and politics prevent us from getting goods to market, deter companies from expanding and undermine our competitiveness. For the first time in many years, Canadians don't believe that tomorrow will be better than today and that their children's future will be than theirs.
This is not a strong economy.
Beyond our borders, our position remains vastly diminished. Our foreign policy is disconnected from our trade relationships and our ability to deliver on our defence commitments is undermined by politics.
And on the world stage Canada has yet to rise to the occasion. The world has changed, and Canada must change with it. We don't have the luxury of time.
We must recognize that foreign policy, trade, defence, and our economy all depend on each other and can't be viewed separately.
As a former Air Force Officer, a global business consultant at IBM, an aircraft manufacturing manager at Bombardier, and a small business owner. I understand the role and impact of government actions on Canada's economy.
To have a strong economy and a strong country we need strong Federal leadership to rebuild our nation's foundations; tax reform, employment reform, federal infrastructure, a comprehensive foreign policy, and a modernized military to reassure our allies and defend Canada's interests at home and abroad.
Our parliamentary system consists of political parties. However, political parties are only made up of the people who are in them at the time and must also be judged by what the country needs at the time. Today, we find ourselves at a tipping point in our country's history.
It's my duty to stand and be counted. Our country is at risk. My attempts to raise my concerns with this government were met with silence.
The government must be challenged openly and publicly. But for me to publicly criticize the government as a Liberal, would undermine the government and, according to my code of conduct, be dishonourable.
After careful and deliberate consideration, I must withdraw from the government benches to take my seat among the ranks of my Conservative colleagues and join Her Majesty's Loyal Opposition whose role it is to challenge and hold the government to account.
Le gouvernement doit être défié ouvertement et publiquement. Mais, pour moi, critiquer le gouvernement comme libérale, minerait le gouvernement, et serait un déshonneur selon mon code de conduite.
Après une réflexion délibérée et attentive, je dois quitter les banquettes du gouvernement, pour prendre place parmi mes collègues conservateurs et joindre la Loyale Opposition de Sa Majesté dont le rôle est de contester et demander des comptes au gouvernement.
The Leader of Her Majesty's opposition is committed to delivering foundational changes to strengthen Canada's economy, and a comprehensive foreign and defence policy that ensures our global competitiveness and security.
I look forward to working with my Conservative colleagues who are unafraid to do the real work to tackle the priorities of our time.
To my Liberal colleagues, I want to thank them for the opportunity to work with them and for their friendship. But my oath is to country, not party, and my sacred obligation is to serve my
constituents. I look forward to working with my Liberal colleagues, across the aisle, to shape the future of the country for all Canadians.
To my constituents, I want to re-assure them that I am the same person today that they elected on October 19, 2015. I believe in a strong, ethical Federal Government that unites us as Canadians. To achieve what they demand of me, I must change political parties.
I must do what is right, not what is easy.
I ask the citizens of Aurora Oak Ridges Richmond Hill to continue to hold me to account as I serve them and work as part of a new team focused on the fundamental challenges facing our riding and our nation.
And to all Canadians across this country – I say:
Challenge your Member of Parliament.
Demand that they work for you to strengthen our country's foundations, foreign policy and global security.
Do not accept the status quo.
This is a time in our nation's history where we must act with urgency. We must all, have the courage to do what is right not what is easy.
Our country is at stake.
Thank you.
Leona
Leona Alleslev, M.P.
Military launches formal proceedings against more than 900 unvaccinated troops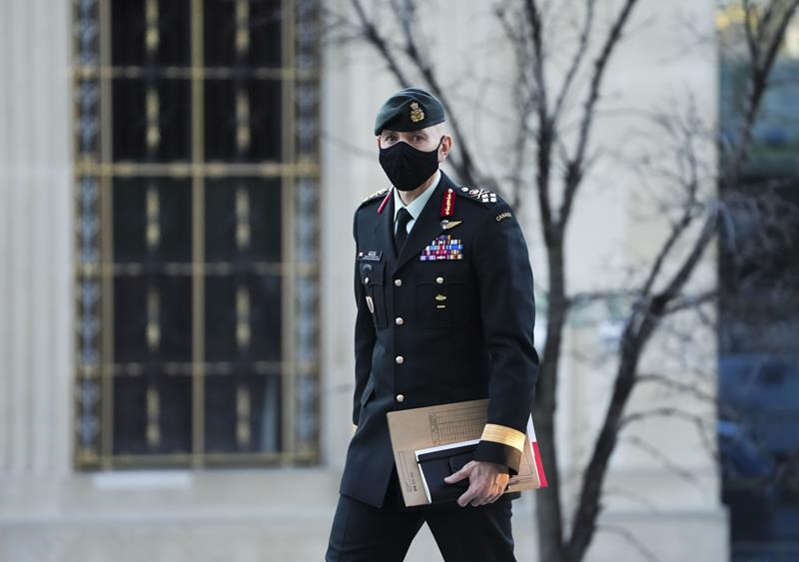 OTTAWA — The Department of National Defence says proceedings have been launched against more than 900 Canadian Armed Forces members for refusing to get vaccinated, though none have yet been forced to hang up their uniforms.
Chief of the defence staff Gen. Wayne Eyre ordered all military personnel be fully vaccinated by mid-October, saying the measure was intended to protect the military during the pandemic. The deadline was later extended to mid-December.
While most Armed Forces members complied with the order, with the Defence Department reporting a 98.3 per cent vaccination rate among Canadian troops, hundreds of others did not. Those soldiers are now facing the possibility of release from the military.
According to the Defence Department's latest statistics, by the end of December, more than 830 Armed Forces members had received formal warnings, orders to attend counselling and probation for refusing to get jabbed.
Formal reviews had been launched against another 100 unvaccinated troops who continued to defy the vaccination order even after those other remedial measures had been exhausted.
The launch of such reviews is usually the first step toward forcing service members from the military, though Defence Department spokesman Daniel Le Bouthillier said the first forced releases aren't expected until the end of the month.
Forty-four full-time members of the Armed Forces have opted to voluntarily leave the military rather than get vaccinated, Le Bouthillier added. The number of part-time reservists who have chosen to leave wasn't immediately available.
"For those few who are unable to be vaccinated, each case will be assessed to determine whether and what accommodation is reasonable," Le Bouthillier said in a statement.
"The accommodations will take into account the health and safety of the defence team while focusing on continuing to achieve the Canadian Armed Forces mission."
While Eyre has made getting the COVID-19 vaccine a requirement for continuing to serve in uniform, the loss of any troops would further exacerbate the Canadian military's personnel shortfall.
The federal Liberal government has authorized the Armed Forces to have 68,000 regular-force members and 29,000 reservists, but it is short several thousand on both counts as recruiting has dried up during the pandemic.
The shortfall coincides with the military having faced unprecedented demands over the past two years as it has conducted numerous missions abroad while helping provinces with the COVID-19 pandemic and a growing number of natural disasters.
Eyre in an interview in November acknowledged the Canadian Armed Forces is "a fragile organization right now because of our numbers being down, because of the (operational) tempo, because of this crisis in (sexual) misconduct."
Several Armed Forces members tried to challenge the vaccine requirement in Federal Court last month, where they asked Justice Janet Fuhrer to intervene and stop the military from forcing them to get their shots.
But continuing a string of legal defeats for federal employees fighting vaccine requirements, Fuhrer dismissed their arguments.
"The applicants have failed to demonstrate that their interests outweigh the public interest in ensuring the readiness, health and safety of the Forces, the defence team, and the vulnerable groups they may be called on to serve," Fuhrer wrote in her decision.
She added: "If the requested injunction were issued, material harm to the public interest would ensue, in terms of increased health risks to CAF members and the public they serve."
Edmonton lawyer Catherine Christensen, who represented four of the military members challenging the vaccine requirement, said she was preparing to file a lawsuit on behalf of her clients.
This report by The Canadian Press was first published Jan. 14, 2022.
Lee Berthiaume, The Canadian Press
CP NewsAlert: City of Iqaluit confirms trace amounts of fuel found in drinking water
IQALUIT, Nunavut — The City of Iqaluit says trace amounts of fuel have been detected in the Nunavut capital's water supply.
The city says an initial review of data from its real-time monitoring station indicates fuel entered the water on Monday and Wednesday.
It says there have been no measurements above low-alarm thresholds, but the city is proactively opening distribution valves to flush the water.
The city had already confirmed it was investigating after residents complained they could smell fuel in their tap water again.
Its 8,000 people spent nearly two months under a do-not-consume order last fall after fuel was found in the water.
The city says in a release that it believes there may have been left over hydrocarbons that got into the water supply again.
More coming …
The Canadian Press