Health agency wants jail time for Calgary pastor and brother for breaking COVID rules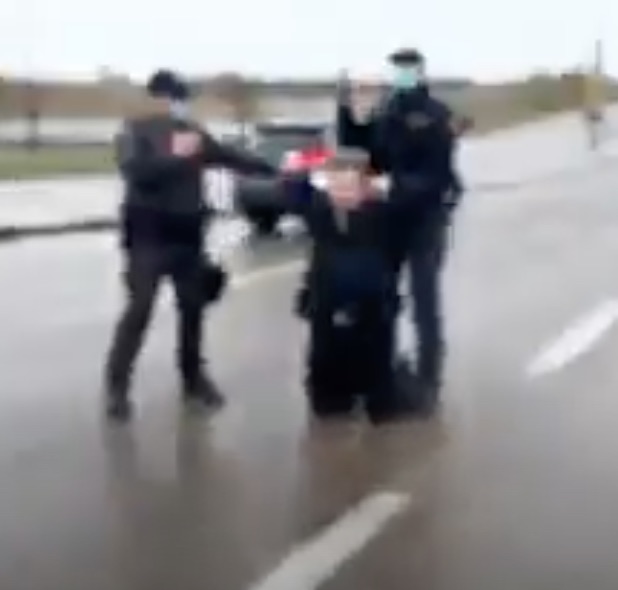 CALGARY — Alberta Health Services is asking for jail time for an Alberta pastor and his brother found guilty of contempt after deliberately violating COVID-19 health orders.
Artur Pawlowski and his brother, Dawid Pawlowski, of Calgary were arrested in May and accused of organizing an illegal gathering as well as of promoting and attending an illegal gathering.
The arrests came after court orders were granted allowing Alberta Health Services and police to charge those who advertised gatherings that would breach health restrictions.
At a sentencing hearing today, the health provider asked that the pastor be jailed for 21 days and that his brother be sentenced to 10 days.
The court is also being asked to fine Artur Pawlowski $2,000 and impose $15,000 in costs.
The lawyer for the Pawlowskis is to finish her case Tuesday, but says her clients should not face incarceration.
This report by The Canadian Press was first published Sept. 13, 2021.
The Canadian Press
Veteran Canadian rider Mario Deslauriers wins Spruce Meadows Grand Prix
CALGARY — Canada's Mario Deslauriers and Bardolina 2 posted two clear rounds Saturday to take the Queen Elizabeth II Cup Grand Prix at Spruce Meadows.
In a jump-off with Mexico's Carlos Hank Guerreiro and Australian Katie Laurie, Deslauriers and the 12-year-old mare didn't put a rail down and topped the leaderboard with a time of 53.05 seconds.
Deslauriers said Bardolina 2 can be difficult to ride, but she was on her game Saturday in Calgary.
"Today, she jumped incredible," Deslauriers said. "She was straight like an arrow and she jumped beautiful."
Deslauriers and Bardolina 2 were Canada's lone show jumping entry in the summer's Tokyo Olympics where the duo placed 22nd.
"She was very good I think in the medal round (there)," Deslauriers said. "She had two fences down that were very cheap, but overall she jumped super well.
"Before she came here, she had to do three weeks quarantine because I was over my limit when I came back from Europe.
"Really, I jumped her one time at home, she got in the truck and came here, so I think she's matured a lot. I can count on her. I don't need to practise so much any more."
Deslauriers, 56, is from Saint-Jean, Que., but lives in New York.
The North American is the last of three September tournaments totalling $5.6 million in prize money.
Spruce Meadows resumed hosting international show jumping events after a two-year hiatus because of the COVID-19 pandemic.
This report by The Canadian Press was first published Sept. 18, 2021.
The Canadian Press
Mother and child lived in same complex as man charged in their murders: Alberta RCMP
HINTON, Alta. — RCMP in Alberta say a man charged in the deaths of a woman and her 16-month-old toddler lived in the same apartment complex as the victims, but otherwise had no connection to them.
Police say in a news release that Robert Keith Major, 53, from Hinton, Alta., has been charged with two counts of second-degree murder and one count of indignity to human remains.
Mounties in Hinton have said the bodies of the 24-year-old woman and her child were found after they'd been reported missing on Thursday night from the community 290 kilometres west of Edmonton.
Police say they are not releasing the names of the woman and child out of respect for the wishes of the family, adding the family has asked for privacy to grieve.
They say they are not seeking any other suspects in the case.
Major remains in custody and will appear in Edson provincial court on Tuesday.
Autopsies are taking place Saturday and Sunday, police say.
This report by The Canadian Press was first published Sept. 18, 2021.
The Canadian Press