Guerrero Jr, Semien power surging Jays past Yanks 8-0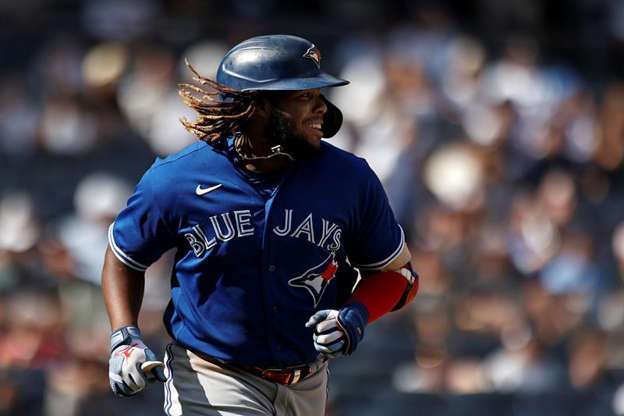 NEW YORK — Vladimir Guerrero Jr. hit his 40th homer, Marcus Semien went deep twice and the Toronto Blue Jays beat the New York Yankees 8-0 on Monday for their fifth straight win.
Hyun Jin Ryu (13-8) pitched six effective innings as the Blue Jays won for the eighth time in nine games. Toronto also improved to 5-2 in the Bronx this year.
Guerrero hit his 40th homer on Jameson Taillon's 13th pitch, a full-count curveball that landed a few rows into the seats in right. The slugger and his Hall of Fame father joined Cecil and Prince Fielder as the second father-son duo to hit 40 homers.
Guerrero finished with three hits, extending his hitting streak to a career-high 14 games.
Guerrero Sr. hit 449 homers in his 16-year career. His career high was 44 for the 2000 Montreal Expos when Toronto's slugging first baseman was 1 year old.
"I have front-row seats to watch this whole season," said Toronto manager Charlie Montoyo, a teammate of Guerrero Sr. in 1996 with Double-A Harrisburg. "What he's done, that's not easy to do. This guy he's going to be one of the best players in baseball. Actually, he already is and it's been fun to watch somebody that young be that good at the plate."
The 22-year-old Guerrero also became the youngest player in Toronto history to hit 40 homers, well ahead of Jesse Barfield, Tony Batista and Shawn Green, who were all 26 years old when they hit 40 homers for the first time.
Guerrero also became the 10th player in MLB history with 40 homers in his age-22 season. The last was Atlanta's Ronald Acuña Jr. in 2019.
"That's amazing," Semien said. "I knew when we took BP, it was a good day to hit to right field. He didn't hit on the field but I mentioned that to him. He's so good he did it in his first at-bat. It's something special."
Semien hit a solo drive in the first and his fifth career grand slam in the ninth. He has five homers in his last five games and a career-high 37 on the year.
Teoscar Hernández also went deep in the ninth for the Blue Jays.
Ryu held the Yankees to three singles after losing his previous two starts. He struck out six, including Joey Gallo three times, and walked none.
Ryu was lifted after 80 pitches. He said he felt some tightness in his right forearm when he threw a slider. He did not seem to think it would prevent him from making his next start.
"I felt really good with all my pitches today and I feel like it's one of those games that I felt my best," Ryu said through a translator.
Ryu also got some help from a slimmed-down Guerrero at first base. Guerrero, who lost 42 pounds in the offseason, made two nice stretches to get a throw from shortstop Bo Bichette in the fifth and a toss from Semien on a double play in the sixth.
Coming off a pair of one-run losses to the lowly Orioles, the Yankees lost for the seventh time in nine games following their first 13-game winning streak since 1961. The Yankees began the day with a half-game lead over Boston for the AL's first wild card.
"It's a concern," Yankees manager Aaron Boone said. "These are big-time games right now. These are important games. I want us to play well. We need to dig ourselves out of this little funk we've been in for a week."
New York struck out 10 times and had one at-bat with runners in scoring position. Its 2-3-4 hitters of Gallo, Aaron Judge and Giancarlo Stanton finished a combined 0 for 11 with seven strikeouts.
Taillon (8-6) allowed three runs and three hits in seven innings. He lost his second straight start following a 15-start unbeaten stretch.
Trevor Richards and Tim Mayza pitched a scoreless inning apiece. Adam Cimber finished the five-hitter for Toronto's AL-best 14th shutout.
YANKEE ERRORS
The Yankees committed three errors but Toronto did not capitalize on any of them.
Shortstop Gleyber Torres bobbled a grounder in the second by Gurriel, who was thrown out trying to steal second base later in the inning.
Gio Urshela also committed a pair of miscues at third in his first game back from a brief absence with a hand injury.
Danny Jansen's soft liner deflected off Urshela's glove in the second, and he also bobbled a grounder by Guerrero. The Yankees ended the third when Brett Gardner made a diving catch in center and easily doubled off Guerrero.
TRAINER'S ROOM
Blue Jays: DH George Springer fouled a ball off his knee in the eighth. He was checked out, stayed in but gingerly walked back to the dugout after striking out. He was replaced by Jake Lamb in the ninth. Montoyo said Springer has a contusion and is day to day.
UP NEXT
RHP Gerrit Cole (14-6, 2.73 ERA), who struck out 15 in seven innings Wednesday against the Angels, starts for New York against Toronto LHP Steven Matz (10-7, 3.80 ERA). Matz pitched 6 2/3 innings of one-run ball on May 25 in New York.
___
More AP MLB: https://apnews.com/hub/MLB and https://twitter.com/AP_Sports
Larry Fleisher, The Associated Press
NewsAlert: Senate gives speedy passage to bill banning conversion therapy
OTTAWA — The Senate has passed legislation to ban conversion therapy in Canada.
After minimal debate, senators have agreed to fast-track Bill C-4 through all stages of the legislative process and deem it passed.
The move was proposed by the interim leader of the Conservative Senate caucus, Sen. Leo Housakos.
It follows a similar move by Conservatives in the House of Commons last week to speed the bill through that chamber without lengthy debate, committee study or votes.
The bill makes it a criminal offence to force a person to undergo the traumatizing practice of "conversion therapy" aimed at altering their sexual orientation or gender identity.
More than half of the 119 Conservative MPs voted against a similar bill last June, which gave Liberals ammunition to accuse the party of being anti-LGBTQ during the fall election campaign.
More Coming.
This report by The Canadian Press was first published Dec. 7, 2021.
The Canadian Press
Military's former head of human resources charged with sexual assault, indecent acts
OTTAWA — Military police say they have charged the former head of human resources for the Canadian Armed Forces with one count of sexual assault.
The Canadian Forces National Investigation Service says Vice-Admiral Haydn Edmundson has also been charged with one count of indecent acts.
The charges come weeks after Defence Minister Anita Anand announced she had accepted retired Supreme Court justice Louise Arbour's call to have the investigation and prosecution of military sexual assault cases transferred to civilian authorities.
In announcing the charges against Edmundson, the CFNIS noted Arbour left open the door to leaving investigations in the hands of military police if they are near completion.
Edmundson's case will proceed through the civilian justice system rather than the military's justice system.
Edmundson stepped down as head of military personnel command in March due to a police investigation after a CBC report of alleged sexual assault. He has denied the allegations.
His successor, Lt.-Gen. Steven Whelan, stepped aside in October due to a military police investigation into an allegation of sexual misconduct. He has also denied any wrongdoing.
This report by The Canadian Press was first published Dec. 7, 2021.
The Canadian Press