Guerrero Jr., Bichette homer, Manoah dominates as Blue Jays dump Rays 8-1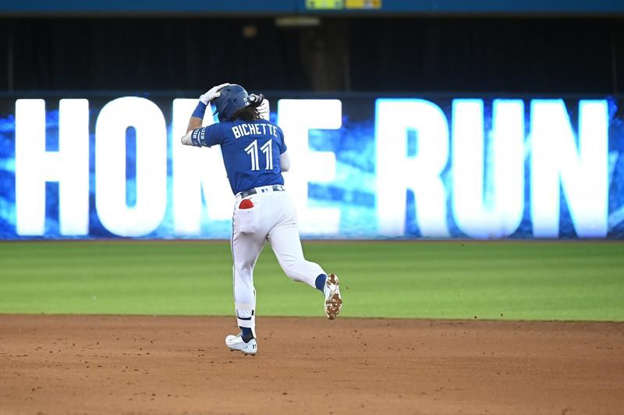 TORONTO — Fresh from delivering a weekend beatdown in Baltimore, the surging Toronto Blue Jays picked up where they left off Monday against Tampa Bay.
Starter Alek Manoah was brilliant over eight shutout innings and Toronto's offence continued its torrid pace in an 8-1 rout of the Rays at Rogers Centre. Vladimir Guerrero Jr., hit his major league-leading 45th home run and Teoscar Hernandez had a career-high five hits as the Blue Jays dominated the opener of the three-game series.
"They created momentum early and we just had no answers," said Rays outfielder Kevin Kiermaier. "It was a good old-fashioned butt whuppin' to be honest."
Toronto scored four runs in the fourth and tacked on three more in the fifth inning. The Blue Jays extended their winning streak to four games — scoring a whopping 52 runs along the way — and have won 12 of their last 13 games overall.
Manoah had the Rays handcuffed all evening, retiring the first 14 batters he faced before a giving up a single to Joey Wendle in the fifth inning. The rookie right-hander had 10 strikeouts, hit a batter and didn't issue a walk.
"It felt amazing man, just going out there and competing," Manoah said. "It's a lot easier to pitch when you've got an 8-0 lead."
In the sixth, Guerrero belted a 3-1 pitch just inside the left-field foul pole to move ahead of Angels slugger Shohei Ohtani in the home run race.
The line drive came off a 97-m.p.h. fastball from Adam Conley and had a game-high exit velocity of 113.9 m.p.h. The ball's launch angle was just 15 degrees, tied for the lowest on a fence-clearing homer this season.
"I keep using the same line: 'I don't believe what I just saw,'" said Blue Jays manager Charlie Montoyo, who thought the ball would hit the wall since he saw an infielder jump for it.
Bo Bichette also hit a solo shot and Hernandez scored twice. The bottom third of Toronto's order — Lourdes Gurriel Jr., Randal Grichuk and Breyvic Valera – had three hits apiece.
Austin Meadows spoiled Toronto's shutout bid with a two-out solo homer in the ninth off reliever Trevor Richards.
Toronto (81-63) moved a season-high 18 games above the .500 mark. Tampa Bay (89-55) has dropped four of its last five but the first-place Rays still have a comfortable eight-game lead on Toronto in the AL East divisional race.
The Blue Jays moved a half-game up on Boston in the race for the first wild-card spot. The Red Sox were scheduled to play later Monday night at Seattle.
Toronto was one game ahead of the New York Yankees, who needed 10 innings to beat the Minnesota Twins 6-5 earlier in the day.
Tampa Bay starter Collin McHugh pitched into the third inning as the Rays' opener. He was replaced by Ryan Yarbrough (8-5), who gave up three straight one-out singles before Grichuk's RBI double made it 2-0. Valera followed with a two-run single.
In the fifth, Bichette turned on a 2-2 pitch for his 24th homer. Hernandez doubled and scored on a single by Gurriel, who came across on a Valera single and the rout was on.
One of the few Tampa Bay highlights came in the seventh when Kiermaier made a highlight-reel catch against the wall to deny Gurriel an extra-base hit.
Announced attendance was 12,119 and the game took two hours 53 minutes to play.
Notes: Gurriel is batting .435 (20-for-46) this month. … The Blue Jays recalled left-hander Ryan Borucki before the game and optioned right-hander Trent Thornton to triple-A Buffalo. … The retractable roof was closed in the sixth inning. … Right-handers will face off Tuesday with Toronto sending Jose Berrios (11-7, 3.52 ERA) to the mound against Drew Rasmussen (2-1, 3.25). The three-game series will wrap Wednesday with a matinee. … Softball pitcher Jenna Caira threw out the ceremonial first pitch. She helped the Canadian softball team win bronze at the Tokyo Olympics.
This report by The Canadian Press was first published Sept. 13, 2021.
Follow @GregoryStrongCP on Twitter.
Gregory Strong, The Canadian Press
'Belfast' wins People's Choice prize at Toronto International Film Festival
TORONTO — "Belfast" from writer-director Kenneth Branagh has won the People's Choice prize at the Toronto International Film Festival.
The Northern Ireland-set family drama was announced as winner of the honour during the TIFF Tribute Awards broadcast on CTV, which marked the end of 10 days of pandemic-tailored in-person screenings and digital at-home viewing.
The prize chosen through online votes is often a predictor of Academy Award success.
Last year's winner, the road drama "Nomadland," won the best-picture Oscar. 
Other previous People's Choice winners that have nabbed best picture include "Green Book," "12 Years a Slave," "The King's Speech" and "Slumdog Millionaire."
This year's People's Choice race had a caveat, though: films that didn't screen on the festival's digital site were not eligible for the prize, including buzzy titles "Spencer" and "Dune."
This report by The Canadian Press was first published Sept. 18, 2021.
Victoria Ahearn, The Canadian Press
'I'm here but my mind is always there:' Ontario woman returns home from Afghanistan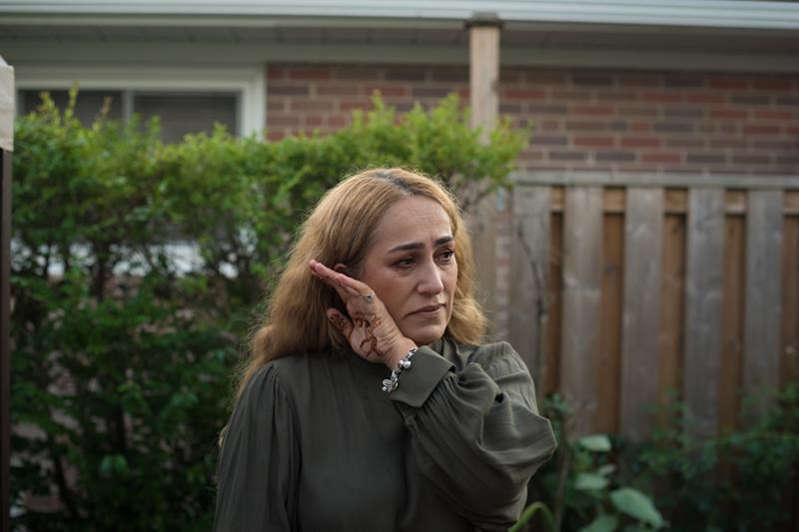 Heartbreak and guilt are all Zakia Zarifi has been feeling since she returned to her home in Ontario from Afghanistan.
"I'm happy to see my family here, but it's torture for me because I couldn't bring my parents with me," the real estate agent from Brampton said over the phone.
"It was the hardest goodbye ever, but deep down I have hope that I can bring them here."
The single mother says she was beaten, shot at and barely dodged a bomb outside Kabul airport during the chaotic journey. All she thinks about now is helping the people left behind.
"(A) genocide … is happening right now in Afghanistan and no one is talking about it. That's why I'm here but my mind is always there."
Zarifi, 50, arrived this week to tears and warm hugs from her three grown children. They frantically worked to bring their mother home after the Taliban seized control of Afghanistan in August. She had gone there to try to get her aging parents out of danger.
Before she got out herself, Zarifi was critical of Canada's evacuation of its citizens from the region.
She told The Canadian Press while she was stuck in Afghanistan that she twice tried to escape before the U.S.-led military mission's Aug. 31 deadline, but was beaten by Taliban members and pushed away from the airport's gates.
She was angry Canadian officials told her and others to meet at dangerous locations, while other countries helped their citizens get to military planes using safer routes. Ten days after Canadian Forces left the region, and as Prime Minister Justin Trudeau faced criticism for mishandling the evacuation, Zarifi got another call from Global Affairs Canada, she said. This time the plan was better. "They told me to be at (Kabul) Serena Hotel and then, from there, the Qatari government was in charge of taking us to the airport. We had a flight with the Qatar airline (to Qatar)." By Tuesday, she was on a plane from Doha to Canada.
"The first flight that left Afghanistan (had) all different citizens from all over the world. On the second flight … there were, I believe, 10 Canadians."
She said others on the flight home told horrifying stories about the Taliban knocking on their families' doors and taking their men.
"They took their birth certificates, and took them to this place. They are all vanished," she said.
"Someone even came to knock on my parents' door. The guy who looks after them (said), 'No one lives here,'  and they left."
Zarifi said her parents are a target because they are from the northeastern province of Panjshir, the heart of military resistance in Afghanistan and where her father fought against Taliban rule.
While she waited for a flight, she and her family helped other Afghans, she said.
They gave away items in their home, distributed 120 blankets and provided food supplies to 500 families. Many Afghans they helped are among thousands who are religious and ethnic minorities who worry the Taliban's return to power will lead to oppression or death.
Zarifi recalled a similar journey she made in 1987 during the Soviet Union's invasion of Afghanistan. She escaped to Pakistan from Kabul. Two years later, she moved to Canada.
"Afghans … a majority of them are refugees and they've all found a way to get out before and through significantly worse times," said Zarifi's daughter Marjan.
"When my mom first came to Canada, she had to walk two days, two nights to get to where she needed to go. They were being directly shot at. So she has done this twice.
"She keeps a lot of strength and says, 'It's gonna be OK,' but every day we can't think straight … Everyone just kind of moves on with life, but my mind is constantly with my family and what's going on."
Despite her frustration with the Canadian government, Zarifi said she's thankful Trudeau did not forget her and other citizens.
"I just hope that the Liberal (government) do their best to bring people, because their life is in danger," Zarifi said.
"When I moved here, I worked 20-hour days. I worked as a bookkeeper, did accounting, night shifts at Walmart. I worked hard. I made a living for myself."
She said she prays that other Afghans will have the same chance at a new life. For her part, she plans to continue helping people in Afghanistan in whatever way she can.
This report by The Canadian Press was first published Sept. 17. 2021.
___
This story was produced with the financial assistance of the Facebook and Canadian Press News Fellowship.
Fakiha Baig, The Canadian Press