Grocery store closures loom amid labour, product shortages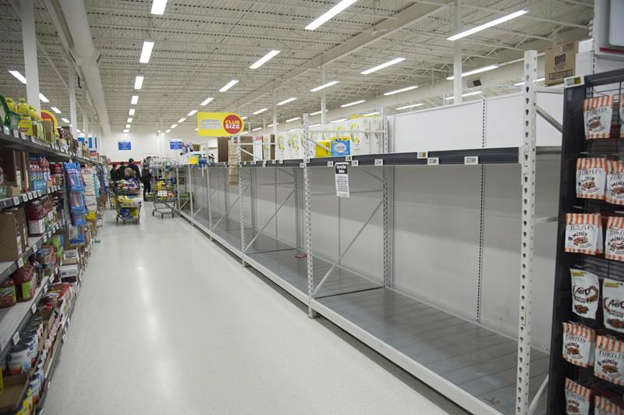 Grocery stores are struggling with rising labour and product shortages that could threaten Canada's food security, experts say.
Employee absenteeism due to workers calling in sick and COVID-19 protocols has hit about 30 per cent at some stores and is continuing to rise, Gary Sands, senior vice-president of public policy with the Canadian Federation of Independent Grocers, said Tuesday.
Without access to rapid testing in many provinces, he said workers are repeatedly forced to isolate for a week or more after an exposure to COVID-19.
If the situation worsens, some grocery stores won't be able to stay open — threatening food security in rural and remote areas that rely on a sole independent grocer, Sands said.
"If we have to keep sending people home, at a certain point stores are not going to be able to operate," he said. "We're very frustrated with the lack of rapid test kits for grocers."
Health Canada has made some rapid test kits available directly to companies in critical sectors, including the food industry, with 200 or more employees.
But many independent grocery stores don't meet that threshold, putting those kits out of reach, Sands said.
Yet many grocers cannot obtain rapid tests through provinces either, he said.
"Independent grocers are in a myriad of communities in this country where there is no other grocery store," Sands said. "If those stores close, you've got a food security issue."
Meanwhile, stores are also experiencing a shortage of goods stemming from supply chain issues, including a shortage of truckers, packaging and processing delays and the Canadian winter.
Grocers rely on "just in time" delivery, meaning even transient issues like inclement weather can cause delays and shortages, Retail Council of Canada spokesperson Michelle Wasylyshen said.
Still, empty shelves at some supermarkets should only be temporary, she said, noting that retailers are exploring all avenues to get products to stores as quickly as possible.
But some supply chain issues could be longer lasting, such as the trucker shortage intensified by the federal government's new vaccine mandate.
"The issue with the truckers having to be vaccinated is causing some delays, especially with the supply of fruit and vegetables from California," Sands said.
"Grocers in Central Canada are mostly reporting just delays of a couple weeks, but in the West the shortages seem to be more significant."
In some cases, Sands said grocers are short nearly 40 per cent of their usual stock of a variety of products.
"Especially in the West, some grocers are saying the situation is as bad as it was in the spring of 2020 in terms of supply," he said.
It's not just the produce aisle that experiencing shortages. Soups, cereals and cleaning supplies are all running lower than normal, Sands said.
Many shoppers have noticed empty shelves where Kellogg's cereal is normally stocked, for example.
Kellogg Canada said in an emailed statement that higher at-home consumption coupled with supply chain challenges have impacted the availability of some products in Canada, such as Kellogg's Rice Krispies cereal.
The company said the "intermittent shortages" reflect the challenging operating environment all manufacturers are experiencing, adding that it's working hard to get Kellogg's cereal brands back on store shelves.
About 1,400 union workers at Kellog's plants in the United States were on strike for several weeks last year. An agreement was reached Dec. 21.
This report by The Canadian Press was first published Jan. 18, 2022.
Brett Bundale, The Canadian Press
Mosque shooter Bissonnette can apply for parole after 25 years, Supreme Court rules
OTTAWA — The Supreme Court of Canada says Alexandre Bissonnette, who went on a deadly shooting spree at a Quebec City mosque, can apply for parole after 25 years.
In its unanimous decision today, the high court declares unconstitutional a 2011 Criminal Code provision that allowed a judge, in the event of multiple murders, to impose a life sentence and parole ineligibility periods of 25 years to be served consecutively for each murder.
The Supreme Court says the provision violates the Charter of Rights and Freedoms guarantee against cruel or unusual treatment because it can deny offenders a realistic possibility of being granted parole before they die — a punishment that is degrading and incompatible with human dignity.
Bissonnette pleaded guilty to six charges of first-degree murder in the January 2017 assault that took place just after evening prayers.
A judge found the parole eligibility provision unconstitutional but did not declare it invalid, ultimately ruling Bissonnette must wait 40 years before applying for parole.
Quebec's Court of Appeal ruled the provision invalid on constitutional grounds and said the parole ineligibility periods should be served concurrently, meaning a total waiting period of 25 years in Bissonnette's case.
This report by The Canadian Press was first published May 27, 2022.
The Canadian Press
Quebec to start monkeypox vaccination of contacts as officials confirm 25 cases
MONTREAL — Quebec's interim public health director says the province could start vaccinating people against monkeypox as soon as Friday.
Dr. Luc Boileau says there are now 25 confirmed cases of the disease in the province and about 30 suspected cases are under investigation.
He says the province has received supplies of smallpox vaccine from the federal government, and it will be administered to people who have been in close contact with confirmed cases of the disease.
Dr. Caroline Quach, the chair of Quebec's immunization committee, says the vaccine has been shown to prevent monkeypox in animal studies if it is administered within four days of an exposure and can reduce severity if it is administered up to 14 days after an exposure.
She says the disease is transmitted only through prolonged close contact.
Boileau says the majority of cases are in adult men who have been in sexual contact with people who have the disease, and there has been one case in a person under 18.
This report by The Canadian Press was first published May 26, 2022.
The Canadian Press