Graffiti artist completes world's tallest mural in downtown Calgary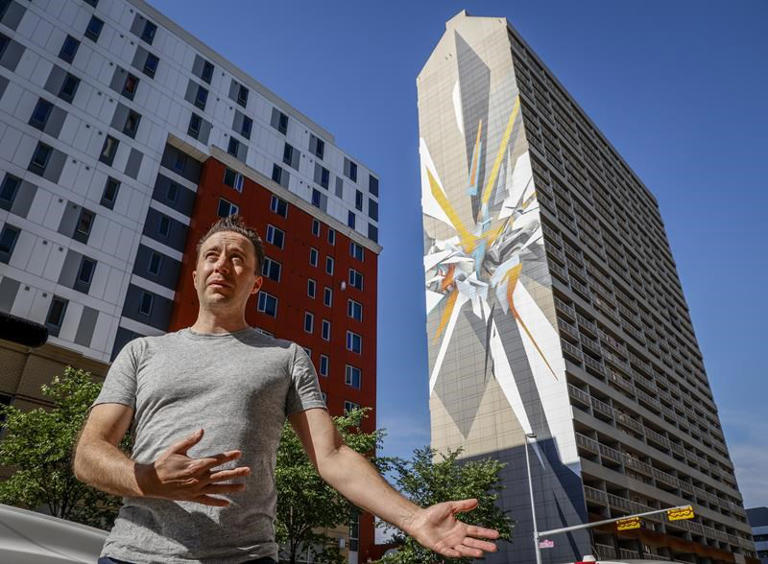 CALGARY — It looms on the edge of downtown a stone's throw from the Calgary Tower, a splash of colour amid aging buildings, railway tracks, parkades and a steady stream of traffic.
It's billed as the world's tallest mural, painted by one of the globe's top graffiti artists, and is part of a project to turn an austere area of downtown into an expansive open-air urban art gallery.
"The brutalism and dystopian look of this area with the giant parkades and the spiral ramps and stuff — it feels like Gotham. So turning this wall from concrete nothing to this is really fun," said Peter Oliver, president of the Beltline Urban Murals Project, or BUMP.
The mural is an abstract painting in various shades of orange, black, grey, blue, white and yellow and is the creation of DAIM, an internationally renowned German artist. DAIM, whose real name is Mirko Reisser, has been creating public artworks for more than 30 years.
"DAIM's work is rooted in graffiti art. It's abstract and he was actually the very first graffiti artist to start exploring three-dimensional works. So his work kind of obeys the laws of light and shadow but defies the laws of gravity," Oliver said.
"I think his work really marries well with the brutalism of this building and it's just a massive flat wall of concrete. It's the very first prefabricated concrete building in Calgary, built in 1980."
The mural is 95 metres high, making it the tallest mural in the world "by a long shot," said Oliver.
He said most cities don't have giant concrete walls available, with the majority being glass, steel or aluminum. So this was a perfect marriage.
DAIM, who was assisted by three local artists, spent over three weeks painting and went through more than 500 cans of spray paint after a base coat was added to the bare concrete. It is to be a permanent addition to the area and, as of last week, was awaiting a coat of UV sealant to make it complete.
Facing toward the east, it can be seen from a long way away.
"If you've got the window seat on the airplane, you can see it on the approach into the airport," Oliver said.
"I think what we're really doing with BUMP is re-architecting the identity of this city."
The project will be unveiling about 60 new murals during its annual festival, which runs from Aug. 1 to 28. Before that, the new art work can be viewed by visitors at the annual Calgary Stampede, which begins this week.
"If you're coming down, I'd check this out over the parade any day," Oliver said with a chuckle.
This report by The Canadian Press was first published July 4, 2022.
Bill Graveland, The Canadian Press
Premier Jason Kenney kicks off campaign to attract skilled workers to Alberta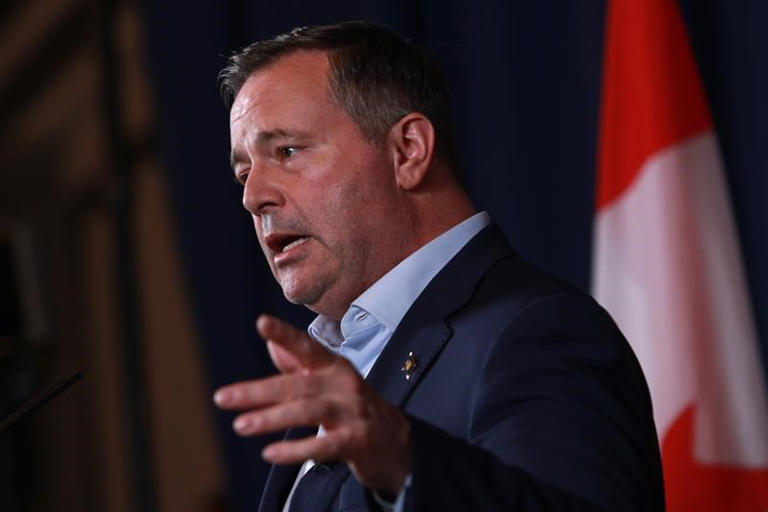 CALGARY — Premier Jason Kenney kicked off a campaign to lure skilled workers from Toronto and Vancouver as he doubled down on his criticism of a so-called Alberta sovereignty act pitched by one of the candidates running to replace him.
Kenney held a news conference Monday to announce the United Conservative government's plans to start recruiting workers to Alberta as the provincial economy grows.
"Alberta is back in a big way, but one of the biggest challenges to sustaining that amazing growth is having enough people who are filling the jobs that are being created," he said.
"As far as problems go, that's a pretty good one to have."
The campaign comes after Kenney called a key platform promise of one of the candidates to succeed him as leader and premier "nuts."
Candidate Danielle Smith has said if she wins the leadership, she would bring a bill this fall to give Alberta the power to ignore federal laws and court rulings deemed not in the province's interest.
Legal scholars say such a bill would be illegal, unenforceable and a dangerous dismissal of respect for the rule of law.
Kenney said he's certain that even if the legislature passed the law, the lieutenant-governor would refuse to give it royal assent and Alberta would become a "laughingstock."
Smith chastised Kenney in a statement Sunday for "interference" in the leadership contest, saying his comments were "ill-informed and disrespectful to a large and growing majority of UCP members that support this important initiative."
"If elected to replace him as leader and premier, I will work closely and collaboratively with our entire UCP Caucus to ensure the Sovereignty Act is drafted, passed and implemented in accordance with sound constitutional language and principles," Smith said in her statement.
Kenney said Monday that he's not interfering in the leadership campaign, but restating his position on an important public policy issue.
"This government was elected on a commitment to create jobs, grow the economy and get pipelines built," he said. "This so-called sovereignty act would be a body blow to all three of those things.
"It would massively drive away investment, it would cause people to leave the province, businesses not to come here just when our economy is experiencing fantastic economic investment."
Kenney said it could also hurt the campaign to attract people to the province.
"Here we are launching a campaign for Canadians to move to another part of Canada," he said. "If Alberta were to decide effectively to launch a separatist project, I think that would automatically exclude a lot of Canadians.
"To the contrary, instead of being able to attract people, we would start hemorrhaging people."
He said that's not theoretical because of what happened in Quebec in 1976 when René Lévesque and the Parti Québécois were elected on a separatist platform.
"Quebec overnight began to hemorrhage people, money and investment," Kenney said.
This report by The Canadian Press was first published Aug. 15, 2022.
Colette Derworiz and Bill Graveland, The Canadian Press
WEF? Capital NO: Danielle Smith replies to claims she endorses Justin Trudeau's green agenda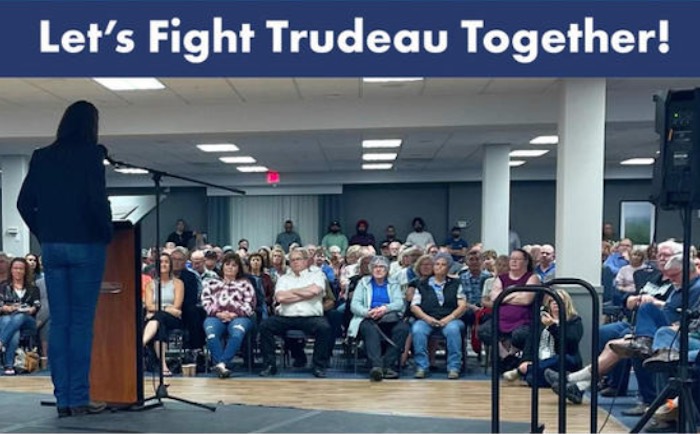 Submitted by Danielle Smith
Say No to the WEF and Trudeau Agenda!
In politics, negative attacks are still an unfortunate part of the process. I usually just tune them out.
However, I did have to do a bit of a double take on the latest attack by my friends, Travis Toews and Brian Jean, who accused me of endorsing…wait for it…Justin Trudeau's radical green agenda.
Now, that's a new one I haven't heard before! Until yesterday I was accused of being too tough on Ottawa…what changed gentlemen?
Danielle Smith and 300 friends in Grande Prairie, Alberta. August 6th.
Obviously, their accusation is absurd on many levels, but I thought this might be a good opportunity to share my thoughts with you on the dangers of Justin Trudeau's WEF-inspired radical climate agenda, and why we need to tackle environmental issues in a much different way – the Alberta way.
First off, the WEF is an anti-democratic group of woke elites that advocate for dangerous socialist policies that cause high inflation, food shortages and a lack of affordable energy, which in turn, leads to mass poverty, especially in the developing world.
There is no question what their agenda is – they want to shut down our energy and agriculture industries as fast as they can.
We need to join with allies, like Scott Moe in Saskatchewan, and stand up for our farmers and our provincial rights.
Justin Trudeau has openly adopted the WEF agenda and has instituted a wealth of policies meant to drive up the cost of energy and food production so he can meet arbitrary and aggressive WEF CO2 emissions targets.
Let me be perfectly clear – As Premier, no individual in my government or provincial agency will be permitted to associate with the WEF in any manner.
Secondly, WEF inspired policies imposed upon us by Ottawa will not be enforced by any Provincial agency under authority of the Alberta Sovereignty Act.
The fact is the Federal carbon tax, the recent announcement of a 30% reduction in fertilizer use by farmers, and the proposed arbitrary emissions cap on our energy sector are scams that do nothing to improve the environment.
You don't improve the environment or reduce emissions by destroying livelihoods and causing food shortages.
We can, however, lower emissions and pollutants the right way, the Alberta way – through Alberta technology and exporting our clean Alberta energy to the world.
We must support and recognize the work of Alberta companies working on technology that makes producing and using fossil fuels more sustainable.
Alberta is a world leader in carbon tech, carbon capture and hydrogen and we must maintain this advantage.
Our largest oilsands producers have proposed a pioneering project, called Pathways, to use carbon tech and small modular nuclear to dramatically reduce all types of emissions from oilsands production.
Further, we must get Alberta LNG and our other clean energy products to Asia, Europe and the US to replace reliance on higher polluting fuels such as coal, wood and dung.
Our forestry, ranching and farming sectors are also proud to provide nature based solutions to offset emissions, and they deserve recognition and credit for providing this service to the world.
These initiatives – advancing Alberta technology and exporting our clean energy to the world – will do more for the environment than all of the harmful virtue signaling policies of the WEF and Justin Trudeau combined – and will do so while creating jobs and wealth, rather than unemployment and poverty.
I invite my friends, Travis Toews and Brian Jean, to stop the silly attacks and join with me in fighting Justin Trudeau, Rachel Notley and their WEF Agenda together!
– Danielle Smith