GoFundMe withholding $4.7 million from trucker convoy until plan presented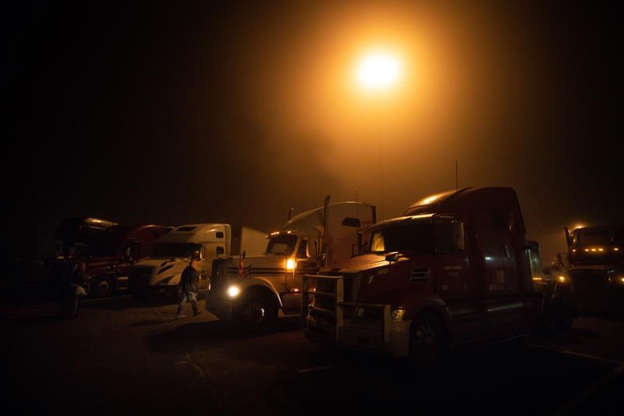 GoFundMe has frozen access to the more than $4.7 million in funds raised by the trucker convoy now wending its way across the country toward Ottawa in a protest against vaccine mandates.
"We require that fundraisers be transparent about the flow of funds and have a clear plan for how those funds will be spent. In this case, we are in touch with the organizer to verify that information," Rachel Hollis, a spokeswoman for the crowdfunding platform, said in an email.
"Funds will be safely held until the organizer is able to provide the documentation to our team about how funds will be properly distributed."
As of Tuesday afternoon, funds were raised from 61,100 donors, according to the GoFundMe page of the "Freedom Convoy."
Tamara Lich, who is also secretary of the fledgling Western separatist Maverick Party, launched the campaign on Jan. 14. It states that the money will go toward fuel as well as food and lodgings for big-riggers taking part.
"Our current government is implementing rules and mandates that are destroying the foundation of our businesses, industries and livelihoods," the convoy's GoFundMe page states.
"We are a peaceful country that has helped protect nations across the globe from tyrannical governments who oppressed their people, and now it seems it is happening here."
As of Jan. 15, the federal government required Canadian truckers to be fully vaccinated if they want to avoid a 14-day quarantine when they cross the border from the United States.
Labour Minister Seamus O'Regan has also announced that vaccination will become mandatory for workers in all federally regulated industries, though no timeline has been laid out.
The Canadian Trucking Alliance, which has denounced the convoy protest, says more than 85 per cent of the 120,000 Canadian truck drivers who regularly traverse the border are vaccinated, but that up to 16,000 may be sidelined due to the new restriction, exacerbating supply chain problems.
The big-riggers are bound for a protest set for Saturday in Ottawa, where drivers from across the country are planning to converge.
In a joint release Tuesday, the federal government and alliance president Stephen Laskowski acknowledged "unprecedented challenges" to a sector that ships the vast majority of food and consumer products, but stressed vaccination as the route to economic health.
"Vaccines, medications, personal protective equipment, food, and supplies continue to arrive where they need to be thanks to the efforts of our dedicated commercial truck drivers," said Laskowski, O'Regan, Transport Minister Omar Alghabra and Employment Minister Carla Qualtrough.
"The government of Canada and the Canadian Trucking Alliance both agree that vaccination, used in combination with preventive public health measures, is the most effective tool to reduce the risk of COVID-19 for Canadians, and to protect public health."
Last Saturday the U.S. barred unvaccinated Canadian drivers from entering the country, mirroring Canada's border filter for American truckers.
In a Twitter thread Monday showing pictures of depleted grocery store shelves, Alberta Premier Jason Kenney said he was "on the phone with U.S. governors" that morning who share his concerns. He said he is was working on a joint letter to U.S. President Joe Biden and Prime Minister Justin Trudeau to end the dual vaccine mandates.
The convoy was greeted in Saskatchewan on Monday night by supporters — Conservative members of Parliament Andrew Scheer and Warren Steinley were among them — and by more backers Tuesday morning before it left for Manitoba.
Conservative Leader Erin O'Toole warned last week that "we're going to see prices skyrocket for groceries, for everything," and that the Liberal government's vaccine mandate would spark "division and pink slips."
Trudeau said Monday that Conservative politicians were "fearmongering" about the supply chain.
"The best way to continue to prevent supply chain disruptions is to ensure that everyone gets vaccinated," Trudeau said in French. He noted the Canadian Trucking Alliance backs vaccination — though the association argued persistently against the mandate in the lead-up to its implementation earlier this month.
This report by The Canadian Press was first published Jan. 25, 2022.
Christopher Reynolds, The Canadian Press
'If there'd even been five minutes' warning': Woman questions storm alert system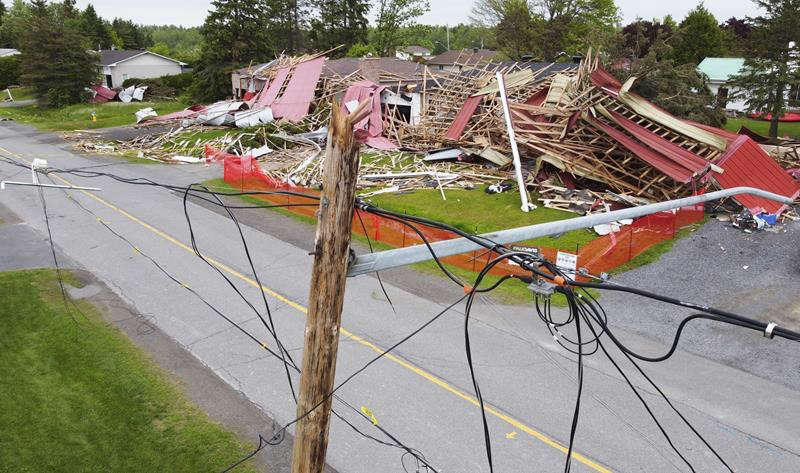 Bethany Armstrong watched as the sky turned a tint of green on Saturday afternoon.
The Peterborough, Ont., woman was out camping with friends in Lakehurst, Ont., at the time, so she checked a weather app on her phone and noticed a thunderstorm warning.
That was the only indication she said she had that a vicious storm was about to hit.
Armstrong said she never received the emergency alert that many Ontario residents got on their cellphones, warning them to seek shelter ahead of severe weather that ultimately killed 11 people.
One of those who died was a close friend of Armstrong's family – Armstrong says that friend didn't get the alert either.
"If there'd even been five minutes' warning … she would have gotten inside," Armstrong said of the woman she likened to her second mom.
Joanne Labelle, 64, of Cornwall, Ont., was among those killed as a result of the storm. She had been staying in a trailer on Armstrong's parents' property in the Peterborough area when the intense winds and rains hit.
Labelle's husband and Armstrong's father found Labelle struck by a tree – Armstrong said the family thinks Labelle had been trying to get from the trailer to a house on the property when she was hit.
Armstrong said her family and Labelle's husband later checked Labelle's cellphone, which was with her during the storm, but found no evidence of an alert.
"I just think like, 'Wow, you know, if she had got the alert, we wouldn't maybe be in this situation,'" Armstrong said, describing Labelle as a "smart" woman who loved the outdoors and would have taken a severe weather warning seriously.
Emergency alerts are issued in Canada through the Alert Ready system, which delivers critical alerts to Canadians through television, radio and LTE-connected and compatible wireless devices.
The system was developed with many partners, including federal, provincial and territorial emergency management officials, Environment and Climate Change Canada, weather information company Pelmorex Corp., the broadcasting industry and wireless service providers.
Cecelia Parsons, a spokesperson for Environment Canada, said "broadcast immediate" alerts are sent through the Alert Ready system for tornado warnings and severe thunderstorm warnings involving wind gusts of 130 kilometres per hour or greater and hail that is at least seven centimetres in diameter. Saturday's storm was the first time such an alert for a thunderstorm was sent through the system, she said.
However, some residents may not have received an emergency alert on their smartphones for a number of reasons, including their phones not being "compatible," Parsons said.
"This may occur for a variety of reasons: the phone is turned off or in silent or airplane mode; the phone is not physically in the specific area targeted for the alert; device compatibility, connection to an LTE network, cell tower coverage and device software and settings," she said.
Martin Belanger, director of public alerting for Pelmorex, said smartphones need to be in the area where an emergency alert has been issued in order to receive an alert and also need to be connected to an LTE or 5G network — a requirement established by the Canadian Radio-television and Telecommunications Commission.
As of April 2019, the CRTC requires that new phones sold by Canada's wireless carriers be compatible with the emergency alerting system, Parsons added.
Belanger said Environment Canada was responsible for issuing the emergency alerts on Saturday and Pelmorex received those alerts and made them available to broadcasters and wireless service providers.
He added that Pelmorex received "some" reports from the public about not getting an emergency alert during Saturday's storm. When the company receives such reports, it shares that information with its partners, he said.
Emergency Preparedness Minister Bill Blair said that with 11 people dead, the early warning system didn't work as well as it could have to protect residents from last weekend's storm.
"I think there needs to be improvement," Blair said on Friday from Indonesia, where he was attending international meetings on disaster risk and mitigation.
"When (there's) information that Canadians need to take the steps in order to be safe, we need to make sure that they get that information."
Blair said public education is also needed so Canadians know what to do when they receive such an alert. He also said the country's public alerting system, controlled by provinces and territories, is applied "inconsistently."
"The tragic loss of life and the damage that occurred in Ontario and Quebec over the past several days demonstrate to us that there is still more work to do, and we're committed to doing that," he said.
Armstrong, who made it through the storm last weekend by taking shelter in a nearby home, said she would like to see the Alert Ready system improved.
"I just hope that things can improve for the future and that they can get either a better system in place or adjust the criteria that has to be met," she said as she remembered Labelle as a beloved matriarch and a mainstay at the pharmacy where she worked. "So we can try and help save other people."
This report by The Canadian Press was first published May 27, 2022.
– with files from Stephanie Taylor in Ottawa.
———
This story was produced with the financial assistance of the Meta and Canadian Press News Fellowship.
Noushin Ziafati, The Canadian Press
Federal government posts $95.6 billion deficit for 2021-2022 fiscal year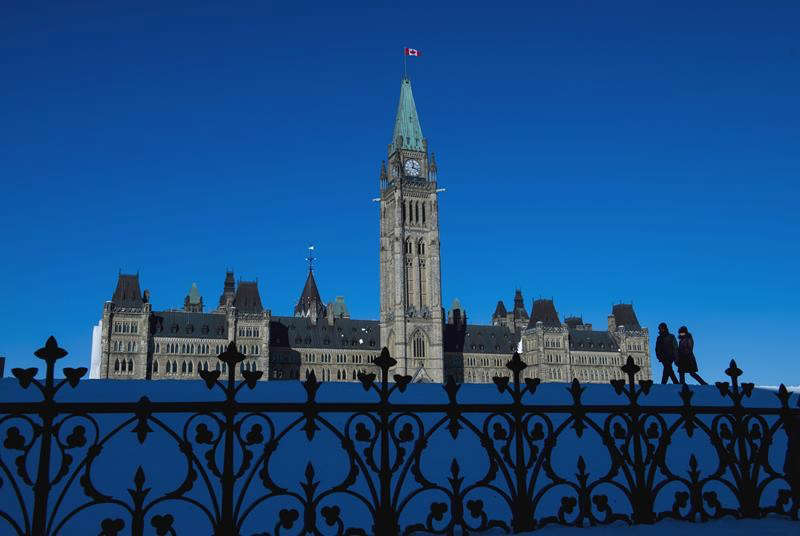 OTTAWA — The federal government posted a deficit of $95.6 billion for its 2021-22 fiscal year.
In its monthly fiscal monitor report, the Finance Department says the tally for the April 2021 to March 2022 period compared with a deficit of $314.0 billion a year earlier.
Program expenses, excluding net actuarial losses, totalled $457.3 billion, down from $577.6 billion a year earlier due in large part to lower transfers to businesses, individuals, and other levels of government.
Public debt charges rose to $24.8 billion compared with $20.5 billion a year earlier.
Revenue for the fiscal year totalled $396.8 billion, up from $299.5 billion, due to higher tax and other revenues.
Net actuarial losses were $10.3 billion, down from $15.4 billion.
This report by The Canadian Press was first published May 27, 2022.
The Canadian Press