Global concern grows over Canada's funding of fight against AIDS, TB, malaria
OTTAWA — International concern is growing in medical and development circles that the Trudeau government is about to step back from its much-publicized global leadership on eradicating AIDS, tuberculosis and malaria.
In 2016, Trudeau announced with fanfare that Canada was contributing $804 million to the Global Fund, a 24-per-cent increase to the international organization that aims to curb the three afflictions that are now widely seen as preventable with the proper amount of medical and financial support.
The increase in Canadian spending was in keeping with past bump-ups to the Global Fund's replenishment drive every three years, both from the previous Conservative government of Stephen Harper and the Liberal governments before it.
But development officials in several organizations say they believe the government is simply planning to announce a repeat of 2016's funding with no increase, which would be a first for Canada.
Chris Dendys, the executive director of Results Canada, a grassroots anti-poverty advocacy group, said that based on conversations that she and others in her sector have had with federal officials, the government is planning no increase because of a "cash crunch" heading into the fall election.
The Global Fund wants to see a 15-per-cent increase in total pledges this year, to US$14 billion.
A spokeswoman for International Development Minister Maryam Monsef said Canada respects the Global Fund and will announce its contribution in "due course."
Canada recently announced at the Women Deliver conference in Vancouver that it will contribute $1.4 billion annually to 2030 to fund global health and nutrition, including sexual and reproductive rights and health, said Hanna Button, Monsef's policy director.
"Our ongoing support to the Global Fund will be an important part of this holistic approach," Button said in an emailed statement.
The Women Deliver funding is a reallocation of money from the current budget for international development.
"It's really a matter of political will in an election year, or not an election year," said Dendys, who noted that Canada's overall spending on foreign aid has not been significantly increased under the Liberals to meet the United Nations target of 0.7 per cent of gross national income.
She said the spending has not increased "beyond the basement of 0.26 per cent of GNI. There's been plenty of opportunities to do the right thing."
Canada's last Global Fund pledge came at an international conference that Trudeau hosted in Montreal in September 2016, a star-studded event that featured U2 singer Bono, who founded the anti-poverty advocacy group, the One Campaign.
France will host this year's pledging conference in October, in the middle of Canada's federal election campaign, so advocates want to see Canada take the lead and deliver its increased pledge before the election writ is dropped, to show leadership to other countries.
Two other G7 countries, Britain and Japan, recently announced increased pledges of almost 17 per cent and five per cent respectively.
"Other countries are starting to move in that direction," said Dr. Julio Montaner, the director of the British Columbia Centre for Excellence in HIV/AIDS.
"My bottom line is we want Canada to be not just counted but playing a leadership role, making an early pledge and in doing so, providing an example to the rest of the world."
Montaner's research led to the medical breakthrough that controlled and reduced the spread of HIV-AIDS in the late 1990s: the "triple cocktail" of antiretroviral drugs that has been credited with reducing mortality across the globe.
The approach has been replicated worldwide, and is now the cornerstone of the work of the Global Fund, he said.
"I am very hopeful that Prime Minister Trudeau will make an executive decision in short order to do the right thing," Montaner said.
"He promised me, privately, before the (2015) election that he would do so. He did so in writing … I hope that he will be consistent with that kind of approach when it comes to supporting the Global Fund."
Montaner said that with reduced funding the fight against the spread of HIV-AIDS will be curtailed and that will mean more long-term financial burdens on health care across the world.
About one-third of the Global Fund's spending targets women and girls through programs aimed at comprehensive sexual and reproductive health, said Stuart Hickox, the executive director of the Canadian branch of One.
"If Canada doesn't increase its support, it's essentially a retreat from its leadership. We asserted that space in 2016 as a global leader in this area," said Hickox.
Dr. Mark Dybul, who was the executive director of the Global Fund from 2013 to 2017, said Trudeau showed great leadership in 2016, mobilizing youth and creating a great sense of optimism at the 2016 Montreal event.
"I understand the pressures on budgets but I think given the leadership Canada had, in particular with this same prime minister and because of the emphasis on girls and women, I think it would be unfortunate if they didn't follow the trend of the other donors and show a leadership role," said Dybul, the co-director of the Centre for Global Health Practice and Impact at Georgetown University Medical Centre in Washington.
Dendys said her organization has lobbied 30 MPs to push Trudeau to increase Canada's support for the fund.
"What we're hearing is Canada is going to keep its pledge to the Global Fund flat-lined, which really is a really a retreat in global leadership," she said.
"Everyone we've spoken to has basically said, there's just a cash crunch."
Women and children are disproportionately affected by malaria and TB, which creates massive burdens on the health budgets of developing countries. Keeping up funding levels to help eradicate preventable diseases is in the economic interest of every country, especially with Africa's population predicted to double by 2050, said Dybul.
"If they don't have health, education and economic opportunity — you're worried about refugees today? What do you think the world is going look like?" he said.
"It is necessary for the long-term growth of the global economy, Canada's economy, and also so that we don't have a continent collapsing."
Mike Blanchfield, The Canadian Press
Quebec to start monkeypox vaccination of contacts as officials confirm 25 cases
MONTREAL — Quebec's interim public health director says the province could start vaccinating people against monkeypox as soon as Friday.
Dr. Luc Boileau says there are now 25 confirmed cases of the disease in the province and about 30 suspected cases are under investigation.
He says the province has received supplies of smallpox vaccine from the federal government, and it will be administered to people who have been in close contact with confirmed cases of the disease.
Dr. Caroline Quach, the chair of Quebec's immunization committee, says the vaccine has been shown to prevent monkeypox in animal studies if it is administered within four days of an exposure and can reduce severity if it is administered up to 14 days after an exposure.
She says the disease is transmitted only through prolonged close contact.
Boileau says the majority of cases are in adult men who have been in sexual contact with people who have the disease, and there has been one case in a person under 18.
This report by The Canadian Press was first published May 26, 2022.
The Canadian Press
Tentative $161.5M settlement reached in WVa opioid trial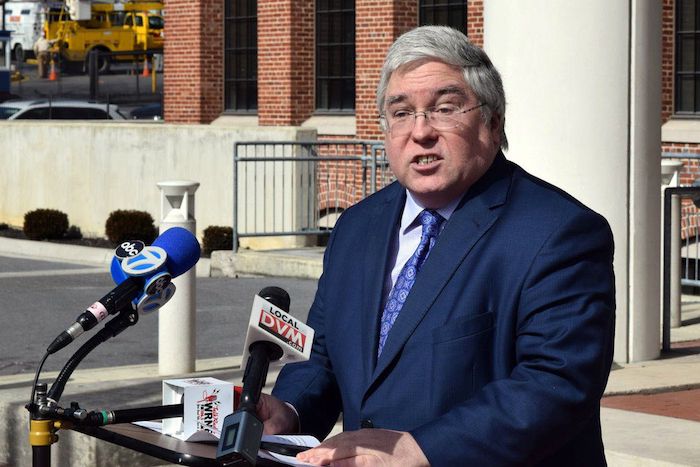 By John Raby in Charleston
CHARLESTON, W.Va. (AP) — Attorneys for the state of West Virginia and two remaining pharmaceutical manufacturers have reached a tentative $161.5 million settlement just as closing arguments were set to begin in a seven-week trial over the opioid epidemic, Attorney General Patrick Morrisey said Wednesday.
Morrisey announced the development in court in the state's lawsuit against Teva Pharmaceuticals Inc., AbbVie's Allergan and their family of companies. The judge agreed to put the trial on hold to give the parties the opportunity to work out a full settlement agreement in the upcoming weeks.
"Today does represent a very big day for our state," Morrisey said later at a news conference.
The trial started April 4. The lawsuit accused the defendants of downplaying the risks of addiction associated with opioid use while overstating the benefits.
Under the tentative deal, West Virginia would receive more than $134.5 million in cash, while Teva would supply the state with $27 million worth of Narcan, a medication that can reverse opioid overdoses, restore breathing and bring someone back to consciousness.
By reaching a settlement, "it obviously puts us in a position where we mitigate risk," Morrisey said. "We could win if we kept going to trial. I think we would have won. No guarantees, of course. But then we might be subject to five years of appeals and then we wouldn't see any resources for five years."
"I want to make sure we start to put feet on the ground now. And I want to see resources targeted to this epidemic now."
Under a plan announced by Morrisey in February, 72.5% of the settlement will go to a nonprofit foundation established to distribute money in opioid-related litigations, 24.5% would be allocated to local governments and 3% would go to the state. The foundation would consist of an 11-member board, including five state appointees and representatives from six regions of the state. The board members will have expertise in fields such as mental health, substance misuse and law enforcement.
West Virginia had reached a $99 million settlement withdrugmaker Johnson & Johnson's subsidiary Janssen Pharmaceuticals Inc. last month over the drugmaker's role in perpetuating the opioid crisis in the state that has long led the nation in drug overdose deaths.
Before the trial started, Morrisey's office announced the state settled part of the lawsuit involving another defendant, Endo Health Solutions, for $26 million.
In separate, similar lawsuits, the state of West Virginia previously reached a $37 million settlement with McKesson Corp. in 2019, and $20 million with Cardinal Health Inc. and $16 million with AmerisourceBergen Drug Co. in 2017.
After years of lawsuits, drugmakers, distribution companies and some pharmacies have been settling cases over the toll of opioids.
In deals finalized this year, the three biggest distribution companies and drugmaker Johnson & Johnson agreed to settlements totaling $26 billion over time. OxyContin maker Purdue Pharma is in court trying to win approval for a national settlement including up to $6 billion in cash, plus using future profits from a remade version of the company to fight the opioid crisis.
In other settlements this year, the distributors have agreed to pay Washington state, which did not participate in the national settlement with them, more than $500 million, and a group of companies are sending $276 million to Alabama.
In all, proposed and finalized settlements, judgements and criminal penalties over opioids have reached more than $47 billion since 2007. Much of the money is to be used only to address the crisis, which has been linked to the deaths of more than 500,000 Americans in the last two decades. A relatively small portion of the settlement money – at least $750 million in the Purdue deal – is to be paid to individual victims and their survivors.
In Charleston, a separate bench trial wrapped up last summer in a federal lawsuit accusing AmerisourceBergen, Cardinal Health and McKesson of fueling the opioid crisis in Cabell County and the city of Huntington. That judge has not indicated when he will rule.
___
Associated Press writer Geoff Mulvihill contributed to this report.