Get kids back to school sooner after concussion for a better recovery, new study says
By Nicole Ireland
A new Canadian study says that kids who have suffered a concussion should get back to school sooner to give them a better recovery.
The study, published in the JAMA Network Open on Friday, found that kids between eight and 18 who returned to school in fewer than three days after injury showed more improvement in symptoms 14 days later than kids who stayed home from school longer.
Concussion symptoms can include physical pain, dizziness, sensitivity to light or sound and balance problems; cognitive challenges such as difficulty concentrating or remembering things; sleep disruption and mental health problems such as depression or anxiety, said Dr. Roger Zemek, senior author of the study and a concussion expert at the CHEO Research Institute in Ottawa.
It's OK for kids to still have some symptoms when they go back to class, as long as they can tolerate them, he said.
An early return to school allows kids to see their friends, avoid the stress of missing too many classes, keep a normal sleeping schedule and do light to moderate activity, which has previously been shown to be beneficial for blood flow and brain healing, he said.
Laila Lebel, 13, said returning to school and physical activity helped her after she got a concussion when she fell while running and hit her neck on a bench last fall.
She went back to school after two days, while being treated by Zemek at his concussion clinic in Ottawa.
"He told me that I should go to school, but not do all the work and kind of take it easy," Lebel said.
Zemek also told her she could "slowly get back to sports by doing ones that don't involve things I could hit my head on."
Lebel started with a couple of hours on her first day back at school and then gradually worked her way up to full days.
That first day, her head hurt and she felt "dizzy and I was just kind of like having trouble concentrating," but was excited to be with her friends.
"I think that seeing friends, that is really important, and doing activities that are safe and that you like," she said.
Lebel's mother works with Zemek at the CHEO Research Institute but was not involved in the study.
Zemek said he hopes the research findings will help combat mixed messages and outdated thinking about how to help kids recover from concussions.
"People think 'well if some rest is good, lots of rest is better' and they take that delayed or cautious approach, either because (of) what was in the old guidelines or doing what they think is best," he said.
Guidelines for health-care providers have not always kept pace with changing evidence — and advice on when to return to school has not necessarily been clear, Zemek said.
"This study really is one of the first to show that it is not only important that kids do return to school, but returning early — even if they had a high symptom burden — helps them with the recovery."
The research showed that kids who had the worst symptoms after their concussion actually benefited the most by returning to school earlier, Zemek said.
The Canadian Paediatric Society recently updated its concussion position statement, a spokesperson said in an email on Friday.
"Two fairly new recommendations apply to return to school and learning. First, medical clearance by a physician is no longer required to return to school, and second, children and youth should be encouraged to return to school as soon as possible, provided significant individualized supports are in place," the position statement says.
It's important for schools to make accommodations for students with concussions, such as excusing them from any contact-based gym activities where they could hit their head again and allowing students experiencing cognitive symptoms to postpone tests until they have improved, Zemek said.
Concussion-injured students can start their early return by going to school for one or two hours first, then progressing to half days and then full days, based on what they can tolerate, he said.
The researchers examined data for 1,630 children aged five to 18 who had been to nine emergency departments across Canada between August 2013 and June 2015. Just over half of the kids had missed only one to two days of school, which was considered an early return.
They found that decreased symptoms after 14 days were associated with an early return to school among kids age eight to 18 — even when their initial symptoms had been more severe. The researchers did not find the same association among the younger five- to seven-year-olds, but Zemek believes that's because the youngest children recover better than their older counterparts regardless of when they go back to school.
Dr. Mark Halstead, a pediatric sports medicine physician at St. Louis Children's Hospital who was not involved in the study, says the research findings "mirror what we see in clinic."
"The nice thing (about) this study, which was well done and I feel the methodology was sound, is that it offers additional support that we don't need to be isolating and shutting kids down completely from things to get them well, and in fact that may prolong recovery," Halstead said in an email to The Canadian Press.
"We shouldn't be afraid that making the brain work and doing some work in school — with proper breaks and adjustments to workload throughout the school day — will actually worsen the brain injury. It may worsen symptoms, but won't injure the brain further," he said.
This report by The Canadian Press was first published Jan. 20, 2023
Canadian Press health coverage receives support through a partnership with the Canadian Medical Association. CP is solely responsible for this content
Notre Dame Fine Arts Department invites you to see Roald Dahl's Matilda, the Musical!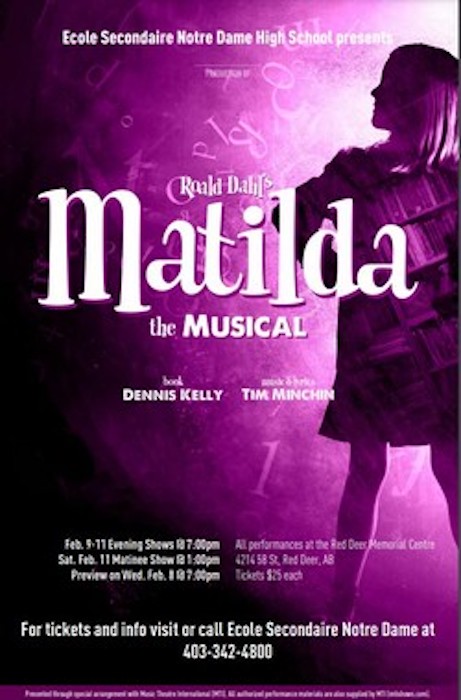 From Red Deer Catholic Regional Schools
Roald Dahl's Matilda, the Musical!
Co-Directed by Jennifer Cocolicchio and Stephanie Layden starring Addy Penney, Jordana Woroniuk, Coryn Tardif, David Jones, and Mikayla Beever.
Please join the Notre Dame Fine Arts students for their interpretation of Matilda.
Inspired by the twisted genius of Roald Dahl, the Tony Award-winning Roald Dahl's Matilda The Musical, from the Royal Shakespeare Company, revels in the anarchy of childhood, the power of imagination and the inspiring story of a girl who dreams of a better life. Book by Dennis Kelly and original songs by Tim Minchin.
Matilda is a little girl with astonishing wit, intelligence and psychokinetic powers. She's unloved by her cruel parents but impresses her schoolteacher, the highly loveable Miss Honey. Over the course of her first term at school, Matilda and Miss Honey have a profound effect on each other's lives, as Miss Honey begins not only to recognize but also appreciate Matilda's extraordinary personality. Matilda's school life isn't completely smooth sailing, however – the school's mean headmistress, Miss Trunchbull, hates children and just loves thinking up new punishments for those who don't abide by her rules. But Matilda has courage and cleverness in equal amounts, and could be the school pupils' saving grace!
Packed with high-energy dance numbers, catchy songs and quick wit, Matilda is a joyous girl power romp. Children and adults alike will be thrilled and delighted by the story of the special little girl with an extraordinary imagination.
The shows take place at Red Deer's Memorial Centre on February 9, 10, & 11 at 7:00pm. There is also a Matinee on February 11 at 1:00pm.
TICKETS ARE $25.00
TICKETS AVAILABLE in advance at Notre Dame's front office, online at https://www.notredamehigh.ca/programs/fine-arts or on the date at the theatre door.
SPECIAL PREVIEW NIGHT on February 8 at 7:00pm – Free for all press representatives and pay what you can for the general public.
Red Deer Polytechnic welcomes Patrick Machacek as Vice President, Development & Partnerships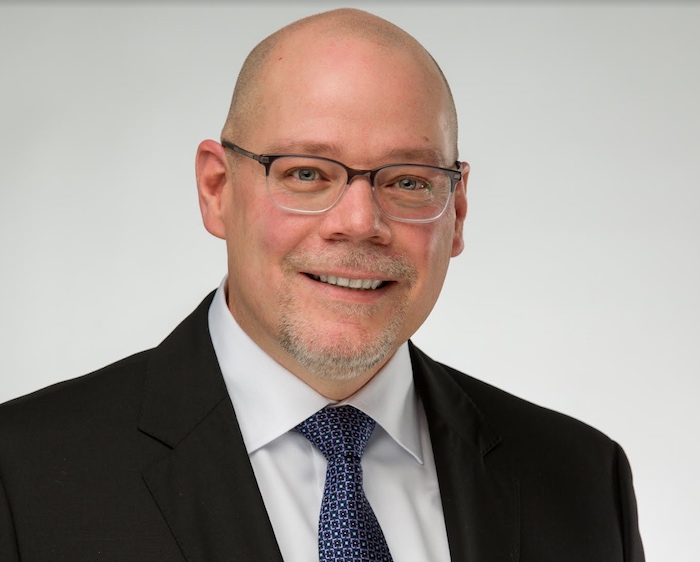 Red Deer Polytechnic is pleased to welcome Patrick Machacek as Vice President, Development & Partnerships.
"This exciting new position will provide leadership toward RDP's strategic and operational planning, communications and marketing, applied research, extended education, external relations and also guide our partnerships with industry and the community," says Stuart Cullum, President of Red Deer Polytechnic. "Patrick's experience and track record speaks for itself, and we look forward to his contributions to RDP and the Red Deer region."
Patrick has spent his career as a fund development professional. He has more than twenty years leading post-secondary external relations portfolios including roles as the Vice President, Development & Strategy at Olds College; Vice President, Transformation at NorQuest College; and Associate Vice President, Advancement, Communications & Corporate Training at NAIT. During the past two decades, Mr. Machacek has led teams and implemented new business models that have produced significant impact. Through his leadership, he has increased enrolments, market and brand growth, enhanced industry and stakeholder engagement, and raised more than $450 Million in donations, research funding, corporate training, capital grants and other earned revenues.
Patrick received his undergraduate education from the University of Lethbridge (BA) and his MBA from Queen's University.
"I am very excited to be joining Red Deer Polytechnic at this pivotal time in the institution's trajectory," says Patrick Machacek, Red Deer Polytechnic's new Vice President, Development & Partnerships. "As a polytechnic, there is a tremendous opportunity for RDP to expand its impact for learners, the community
and the province. I look forward to working and collaborating with our dedicated team of faculty, staff, researchers, and external stakeholders, as we continue to evolve and build a world-class polytechnic that serves the needs of learners, employers and industry."
Mr. Machacek will begin his new role on January 30, 2023.