Gaudreau puts up 5 points, Calgary Flames score 3 per period to crush Oilers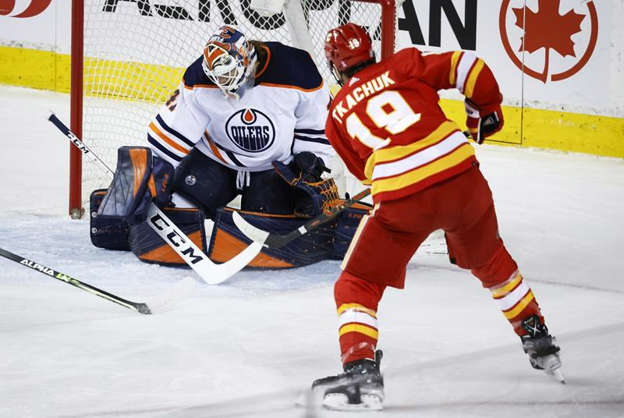 CALGARY — A big offensive display propelled two Calgary Flames players into the top five in NHL scoring.
Matthew Tkachuk had two goals and two assists and Johnny Gaudreau had a career-high five assists to lead the Flames to a wild 9-5 victory over the Edmonton Oilers Saturday.
Gaudreau's 90 points on the season ranks him third behind Connor McDavid (97) and Leon Draisaitl (94), who netted a hat trick in defeat. Tkachuk's 82 points has him tied for fifth.
Both players are riding hot streaks. Tkachuk (four goals, seven assists) and Gaudreau (three goals, eight assists) have combined for 22 points in the last four games.
"The big line was the difference," said Flames coach Darryl Sutter. "They had a good night and they've been good at five on five all year. There's something to be said about the difference between goals for and goals against when you're on the ice."
"That was a lot of fun," said Gaudreau. "I've been here for a long time and this is the most competitive the Battle of Alberta has been since I've been here."
Gaudreau and Elias Lindholm, who centres the line and scored twice Saturday, are tied for the NHL lead at plus-49. Tkachuk is fourth at plus-42.
It's a distinct point of separation between Calgary's big duo and the big duo of its provincial rival. Gaudreau and Lindholm were both plus-four on Saturday.
Meanwhile Draisaitl was a minus-four — despite the three goals and an assist — as was McDavid, which was a career-worst for him. On the season, Draisaitl is plus-16 and McDavid is plus-14.
Tied 4-4 early in the second, the Flames took the lead for good on a pair of goals less than three minutes apart from Tkachuk.
At 5:06, Gaudreau muscled his way past Evan Bouchard to retrieve a loose puck. He then spun and sent a pass into the slot to a wide-open Tkachuk, who sent a shot through Mikko Koskinen's pads. That ended the night for Koskinen, who was replaced by Mike Smith after giving up five goals on 12 shots.
"He plays a complete game, it's not about goals and assists always," Sutter said about Gaudreau. "You've got to play the whole game. He's our best checker. I've said that lots."
It didn't start off any better for Smith. At 7:39, McDavid's turnover allowed Gaudreau to find Tkachuk in behind the defence.
"It's not on our goalies. It's on us," said Draisaitl. "It's an off night. Not good enough, obviously. Starts with me. I have to be a lot better."
Draisaitl's third of the game at 9:18 of the second on a two-man advantage, his 47th of the season, brought to the ice over 50 hats from the boisterous Oilers supporters scattered throughout the red-clad crowd.
But they would get no closer in the game played before a raucous crowd of 19,289, Calgary's first sellout since February 21, 2020 against Boston.
There were competing chants of "Here we Go Oilers," responded to with "Oilers Suck" early in the game. Then in the third came chants of "We want 10" from the home fans who all rose to their feet as the game approached the final buzzer.
"Pretty cool when you got a standing ovation with a minute or two to play," Tkachuk acknowledged.
Mikael Backlund also scored twice for Calgary (40-17-8) with Chris Tanev, Oliver Kylington and Dillon Dube adding one each.
Derick Brassard and Ryan Nugent-Hopkins rounded out the scoring for Edmonton (36-25-5). McDavid had two assists, both on the power play.
Jacob Markstrom had 26 saves for Calgary to improve to 31-12-7. Despite giving up five goals, he had a huge stop in the third that was crucial.
After he robbed Evander Kane in front, the Flames pushed the puck up ice with Gaudreau setting up Lindholm for his second of the night to make it 7-5.
"I told Marky after the game, that's the difference," said Sutter. "There's lots of goalies where the coaches yank them, or the goalie doesn't play very good after that. Difference in a lot of teams are big saves and bad goals."
Smith got the loss to fall to 7-9-2. He stopped 22 of the 26 shots he faced.
"We've spent the last five weeks or so trying to improve certain areas of our game, and I thought we got away from it tonight and we paid the price," said Oilers coach Jay Woodcroft, who is 13-7-2 since taking over for Dave Tippett. "That stings. It's nine even-strength goals against. Not good enough."
The two provincial rivals split their four-game season series.
Edmonton wasted little time jumping into a 1-0 lead when Brassard deflected Bouchard's point shot past Markstrom just 32 seconds into the game.
But the Oilers' only lead of the night lasted less than five minutes.
Lindholm was sent in alone on a pass from Tkachuk and he went to his backhand, putting a shot under the crossbar.
The Flames than surged in front on goals 16 seconds apart from Tanev and Backlund.
NOTES: Noah Hanifin played his 500th NHL game. At 25 years and 60 days, he's the fifth youngest defenceman to reach that milestone in NHL history and youngest since 1994… Flames centre Ryan Carpenter made his debut after being acquired from Chicago at the trade deadline. He centered a line with Milan Lucic and Trevor Lewis.
This report by The Canadian Press was first published Mar. 26, 2022.
Darren Haynes, The Canadian Press
Aurora Cannabis to raise $33.8M in share offering, plans to repay convertible debt
EDMONTON — Shares of Aurora Cannabis Inc. were down more than 10 per cent after the cannabis company announced plans to raise $33.8 million in a share offering.
The company says Canaccord Genuity has agreed to buy, on a bought deal basis, 46,250,000 shares of the company at a price of 73 cents per share.
It has also granted Canaccord Genuity an over-allotment option for up to an additional 6,937,500 shares on the same terms. If the over-allotment option is exercised in full, the offering will total $38.8 million.
Aurora says it plans to use the money raised to repay the remainder of its outstanding convertible senior notes at or prior to maturity.
The company says the remainder, if any, will be used for strategic purposes, including potential acquisitions.
Aurora's stock price was down 13 per cent at 79 cents per share in early trading on the Toronto Stock Exchange.
This report by The Canadian Press was first published Sept. 28, 2023.
Companies in this story: (TSX:ACB)
The Canadian Press
Running Reins Ranch in Red Deer County picks up $250,000 grant from province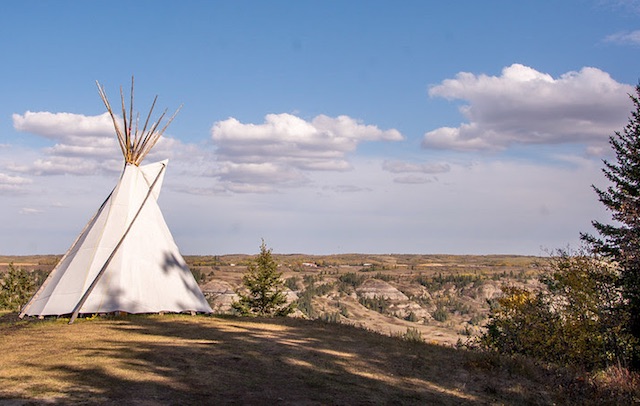 Running Reins Ranch partners with members of the local Indigenous community to set-up teepee accommodations and host regular cultural programming for guests.
Tourism investment fuels growth in rural Alberta
Alberta's government continues to support regional tourism opportunities across the province, generating jobs and new tourism destinations for locals and visitors alike.
Ahead of World Tourism Day 2023, Minister of Tourism and Sport Joseph Schow visited Running Reins Ranch to see first-hand how tourism investment grants are making a difference in the lives of Albertans.
"Alberta's government is proud to invest in growing visitor destinations like Running Reins Ranch that celebrate the richness and diversity of Alberta's rural destinations and provide a sustainable tourism experience for visitors to enjoy."
As part of the Tourism Investment Program, Running Reins Ranch received a $250,000 grant from Travel Alberta.
"Our investment will support the building of additional unique accommodations at the ranch that will triple their capacity, emphasize their year-round offerings and create five new full-time jobs. This investment in Running Reins Ranch is a perfect example of how Travel Alberta is driving tourism growth in rural communities across the province."
Running Reins is located east of Innisfail, offering cabin and teepee accommodations and a wide range of outdoor activities for visitors looking to combine the beauty of the Prairies with farm experiences for a one-of-a-kind getaway.
Right to Left: Minister of Tourism and Sport Joseph Schow, Owners of Running Reins Ranch Terry and Janice Scott, and team member Grace Finlan.
"This funding is a game-changer for us and our business. We are excited to bring our vision to life and provide visitors with unforgettable experiences while supporting the economic growth of the surrounding community."
Tourism is Alberta's No. 1 service export sector. In 2019, Alberta welcomed 34.6 million visitors, generating $10.1 billion in expenditures and supporting more than 80,000 full-time jobs. The Tourism Investment Program is Travel Alberta's commitment to investing $15 million annually with communities and operators to develop the province's tourism sector. Developing Alberta's rural and agri-tourism sector is an essential component of the government's efforts to grow Alberta's tourism economy to more than $20 billion by 2035.
Quick facts
In 2022-23, Travel Alberta funded 166 projects across 73 communities – about 75 per cent of the projects and 70 per cent of the funding were in smaller urban and rural areas of the province.
In December 2022, Alberta's government released its Economic Development in Rural Alberta Plan, with supporting initiatives that demonstrate the government's commitment to building healthy and prosperous communities across rural Alberta and Indigenous communities.