Gas tax break not currently on table as Liberals battle affordability problems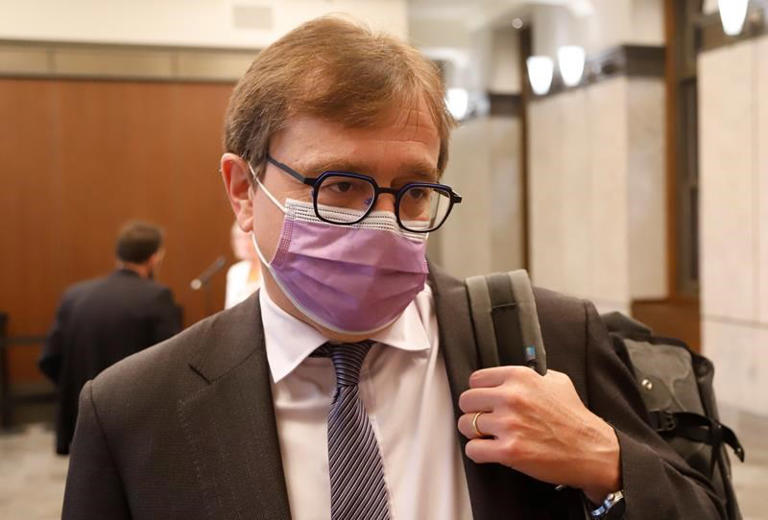 OTTAWA — Natural Resources Minister Jonathan Wilkinson says the government is more focused on stabilizing oil prices by increasing supply than it is on trying to cut prices by offering Canadians a temporary reprieve from the federal gas tax.
His comments come as U.S. President Joe Biden is musing about slashing the federal gas tax south of the border, after other measures to curtail rising gas prices haven't worked.
If the Biden administration follows through on that plan, it would make Canada the only remaining G7 country not to have recently cut gas excise taxes or offered a subsidy to help lower pump prices.
Since Russia's invasion of Ukraine started pushing global oil prices upwards, the United Kingdom, Italy and Germany all slashed gasoline excise taxes, while France and Japan offered subsidies to consumers and fuel wholesalers, respectively.
Wilkinson says there are no immediate plans for Canada to join them, noting Finance Minister Chrystia Freeland's speech on affordability last week pointed instead to scheduled increases in government benefit cheques, cuts to child care costs and increases to the Old Age Security program and the Canada Workers Benefit.
He says a gas tax holiday is not entirely off the table, but the government is currently working domestically and abroad to increase fuel supplies in a bid to bring world oil prices back under control.
This report by The Canadian Press was first published June 21, 2022.
The Canadian Press
Alberta extends electricity rebate program until December at a cost of about $600M
Edmonton – The Alberta government says it will extend its electricity rebates until the end of the year as the cost of living continues to rise.
Dale Nally, who's the associate minister of natural gas and electricity, says the United Conservative government is doubling the rebate to help reduce the financial burden on Albertans.
The government says the electricity rebate program will now offer about $600 million in relief through 2022.
It says the program will provide nearly two million homes, farms and small businesses with a monthly $50 bill credit each month from July until December.
The government says it will also provide a natural gas rebate to millions of Albertans starting in October, which will continue until March 2023 if prices remain high.
Last week, Finance Minister Jason Nixon announced a $3.9-billion surplus for the 2021-22 fiscal year ending March 31.
This report by The Canadian Press was first published July 6, 2022.
Canadian Energy Companies Benefiting From Global Turbulence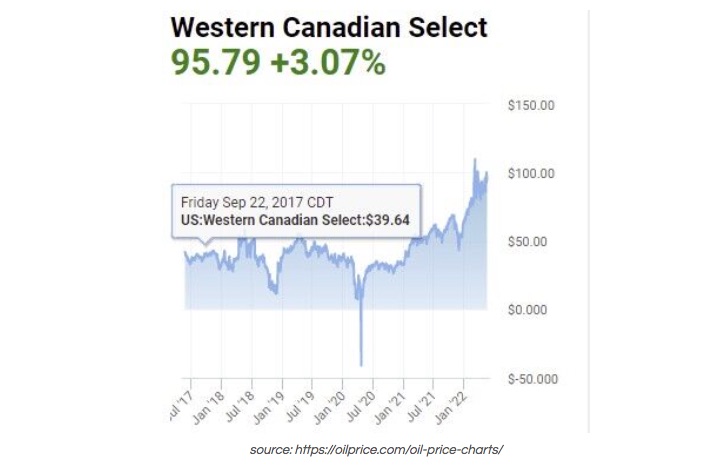 The world is going through a lot of chaos right now. From a war in Ukraine to a looming recession back home, people are struggling to live as normal. But through this all, the biggest Canadian energy stocks are getting stronger. Why is this and should you invest?
Before getting into the specifics of the stock market and why commodities are benefiting, it is important to go through every global event that is having a major impact.
The glut of global turbulence
Russia's Invasion of Ukraine
To start with, Russia's invasion of Ukraine is the most obvious factor in global turbulence at the moment. The world was not ready to deal with such an invasion. Negotiations were expected to keep Russia from choosing this approach, considering what they would have to lose. Massive sanctions would cripple Russia's economy, and a war would not seem worth it.
However, they went ahead and global sanctions went into place. Unfortunately, these sanctions do not only affect Russia. Rather, they impact just about every other country as well. Russia bears the biggest brunt, but without the resources they provide to other
countries, the world is struggling to cope.
This is hurting developing countries more than any other, as they do not have the resources to spend on low supplies of energy in high demand. Locals are paying the price, with costs rising dramatically. However, developed nations are struggling as well, including the US and Canada. We're seeing record high inflation that is making life difficult for everyone. We may face shortages if this war continues for much longer.
China's COVID Lockdowns
While it has started to feel like COVID is finally over, China has been implementing new lockdowns to control another wave. This has led to a low supply of goods coming from China, impacting trade around the world at a time in which supply of almost every
commodity is low.
It's not just the lack of production on Chinese shores that is impacting the rest of the world. The reality they are going through is causing a lot of unease. The pandemic started there, after all, and their inability to contain it led to the events of the past two and a half years. Fears that they will trigger a new wave with disastrous consequences are not unfounded.
Supply-chain issues caused by the pandemic around the world have still not returned to normal. If lockdowns go into place globally, these issues will get worse once again and it will be even more difficult to recover.
Global Recession
The threat of a global recession that rivals the Great Recession is looming over us. In the US, out-of-control inflation in spite of high interest rates, along with highly overvalued properties, are driving fears.
Whether a recession will occur and how bad it will be is impossible to determine at this point. But the potential is causing people to make decisions with huge financial consequences. This leaves us all the more at risk of chaos.
In this context, why are the biggest Canadian energy companies benefiting? What does this mean for stock traders?
Energy is in high demand
The above events have all impacted the supply of many commodities. Whether it is due to sanctions or lockdowns in China, it is becoming extremely difficult to get hold of just about any consumables. However, there is nothing in higher demand than energy.
Energy is by far Russia's biggest export. Russia is also one of the biggest exporters of energy in the world, especially when it comes to crude oil. For this reason, sanctions are not all-encompassing. Many European countries simply cannot function without importing Russian energy.
The same is not true for the US, who have been able to cut off all energy imports from Russia. But it is still not comfortable, and all kinds of energy are in high demand.
This is particularly good for the biggest Canadian energy companies. One of the reasons the US can survive without importing Russian energy is due to the supply of energy from Canada. With such high demand, and supply that is limited to an extent, the price of
Canadian energy has risen rapidly.
The strength of the US dollar
With all of that being said, you may be wondering why Canadian energy companies are benefiting so much while US companies are not having as much luck. This has a lot to do with the strength of the US dollar.
The US dollar is considered a safe haven currency. It tends to stay strong regardless of what is happening in the world. This becomes a self-fulfilling property, as currency traders flock to buy US dollars in times of trouble, causing it to strengthen in spite of economic downturns.
China's difficulties also boost the US currency, as traders turn to the US to import goods unavailable during China's lockdowns.
The strength of the US dollar is, at least in the short term, great for Canadian energy companies. With demand for their energy in the US higher than ever, they are receiving US dollars that are particularly strong and have more buying power in Canada. The biggest Canadian energy companies are therefore flying higher than their US counterparts, who are earning the same dollars which, due to high inflation, have lower buying power than before.
Of course, this is a double-edged sword. Right now, the strength of the US dollar is great for Canadian energy companies. But over time it will start to impact the cost of all imports from the US, increasing the expenses these companies face and cancelling out any benefits.
Should you invest in Canadian energy stocks?
Bringing this back to the buying and selling of commodities on the stock market, is this the perfect time to invest in the biggest Canadian energy stocks? While it may seem so, the answer is a little more complicated than you might think.
The problem with the current strength of Canadian energy companies is that it is caused by factors that are supposed to be temporary. Sanctions on Russia are not meant as a punishment for their crimes. Rather, they are in place to put pressure on Russia to end the war before their economy collapses and they are bereft of necessary resources.
It is either that or the rest of the world capitulates due to an inability to cope with the rebound effects of the sanctions. Either way, Russian energy exports go back to normal and the price of Canadian energy stocks drops significantly.
The same is true when it comes to China and its COVID lockdowns. They may be driving up the price of the US dollar right now, but things will soon get back to normal. China's approach of implementing harsh lockdowns ensures that they last the minimum amount of time. This is already happening, with China's economy just experiencing its best month since February.
This is not to say that Canadian energy stocks are a bad investment. But, if you are to invest in these stocks, you need to be prepared to watch the market carefully. Things can change in an instant, and you can see your investment lose its value.