From travel woes to inflation, music festivals face most unpredictable summer yet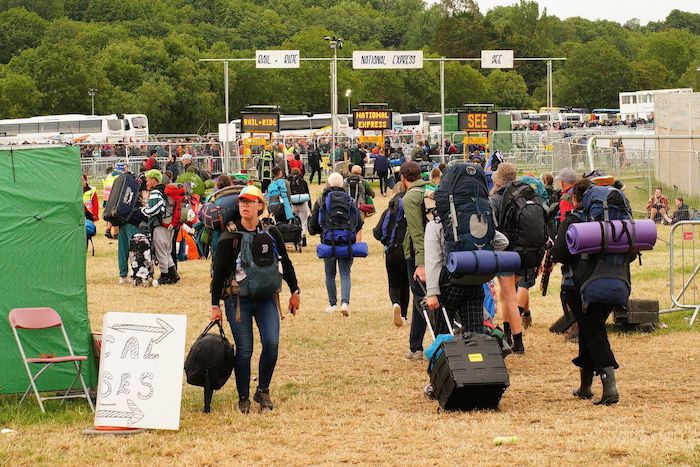 By David Friend in Toronto
Organizers at Canada's summer music festivals say even as pandemic restrictions lift and live concerts return to some semblance of normalcy, it's anything but normal behind the scenes.
While concertgoers descend on outdoor events, the people leading the country's largest music gatherings are facing a long list of anxieties — from travel delays to COVID-19 illnesses — that have made putting together a festival even more tumultuous, costly and unpredictable.
Todd Jenereaux, executive vice president of Republic Live, said it's impossible to narrow down his concerns ahead of the Boots & Hearts country music festival in Oro-Medonte, Ont. on Aug. 4. He's confident the weekend will go off without a hitch, but getting to showtime won't be easy.
"Things are as troubling from an industry standpoint as they were during the (height of the) pandemic, it's just different," he said.
"It's not like a normal year. Our struggles have all been things that we've never dealt with before."
In recent weeks, festival leaders have convened through texts and phone conversations to share the hurdles of running a successful event in 2022. They've talked about rising costs tied to inflation, supply issues for stage equipment and a shortage of experienced workers.
Each music festival has its own unique blend of problems to overcome, but common among them is the fear that something will prevent top-billed performers from reaching the stage.
That's what happened with the Bass Coast electronic music festival in Merritt, B.C. earlier this month when flight delays left about half of their Sunday lineup stranded.
Despite having a contingency plan that asked musicians to arrive a day early, about seven acts wound up stuck at airports before showtime, said festival co-founder Andrea Graham.
"Flights were cancelled altogether or postponed to another day, which really doesn't work if you're playing that evening," she said.
"We had to scramble to find solutions, like picking them up in other cities (with drivers)."
The emergency backup plan worked. Only one of the acts didn't make it on time, she said. And yet, that hasn't necessarily assured other music festivals on the calendar.
Talal Farisi, who helps organize the Veld Music Festival in Toronto, recently made a call to a private jet company, putting them on alert for the weekend of his event.
"I was like, 'Listen, I've got a really good tip for you. Try to have some planes on standby … there's Lollapalooza, Osheaga and Veld all in the same weekend, within the same vicinity,'" he said.
"I've been thinking about it with Air Canada … we're conscious of the delays and that's a very big issue."
Elsewhere, musicians have been helping out in the direst situations.
At Calgary's Sled Island festival in June, a case of COVID-19 left the bassist of Los Angeles rock trio La Luz unable to perform, so Jenni Roberts, a member of Edmonton band Faith Healer, stepped in as a substitute.
Other events haven't been so lucky with COVID. The Regina Folk Festival announced earlier this month that Buffy Sainte-Marie was cancelling her Aug. 6 headlining gig after contracting the virus.
"We're in a much more 'roll-with-the-punches' kind of world," said Nick Farkas, co-founder of Montreal's Osheaga Music and Arts Festival, which kicks off later this month.
"Everybody's kind of MacGyvering solutions to make sure that everything happens."
Some of the obstacles are easier to fix than others, said the executive at concert promoter Evenko, which also runs the Montreal jazz festival.
For instance, a shortage of workers can throw everything out of balance. A few years ago a festival might've hired 50 people to move equipment, but now only 40 will be available.
"That means those 40 people have to work harder, later and longer hours — and will they be back the next morning?" he said.
"I'm hearing it across North America, that's the reality right now. The unemployment rate is super low, and it's harder to get and keep people engaged."
Think of each music festival as a duck swimming across a pond, suggested Farkas, who recently heard the comparison from a colleague. On the surface, the duck appears calm, cool and collected, but beneath the water, the animal is "kicking like hell" to move forward.
"That's what's going on in our production and creative teams right now," said Farkas.
"Our people are very used to trying to find solutions … and unfortunately, this year there are more problems than ever."
Not everything can be contained below the surface, however. Several festivals say inflationary pressures, coupled with high demand for dressing room trailers and tents, have sent costs soaring.
Debbi Salmonsen, artistic director at the Vancouver Folk Festival, said in British Columbia several industries — music festivals, film production companies and developers of the Trans Mountain oil pipeline — are all jostling for the same equipment.
"We're talking fences, stages, gear, backline (also known as concert gear), porta-potties. You know, all the things that you need to have a safe event," she said of organizing the mid-July festival.
"Nothing has remained stagnant — some things have gone up by 75 per cent, some things have gone up by 10 per cent."
How festivals are handling those higher costs varies. Some increased ticket prices, while others say the surge of inflation came after they put tickets on sale, making it nearly impossible to adjust their packages.
"You have two choices: either deliver a really good festival or cut a lot of costs and the customer will feel it," said Farisi, who oversees Veld as an executive at event organizer Ink Entertainment.
Festivals that focus on their bottom line at the expense of the experience will "pay for it" once word of mouth gets around and ticket sales begin to slip a few years down the road, Farisi said.
So this year, organizers added an extra day to the lineup, which allowed for more tickets to be sold and costs spread across a longer period.
This strategy has paid off, Farisi said, as young people who were 17 years old at the start of the pandemic turn 19 and are ready to party.
"We've seen our best year," he said.
"There's pent-up demand; there's a need for people to come back together. You can't deny the human instinct to gather together and that's really what festivals are all about."
This report by The Canadian Press was first published July 19, 2022.
Dow sinks to 2022 low as recession fears roil world markets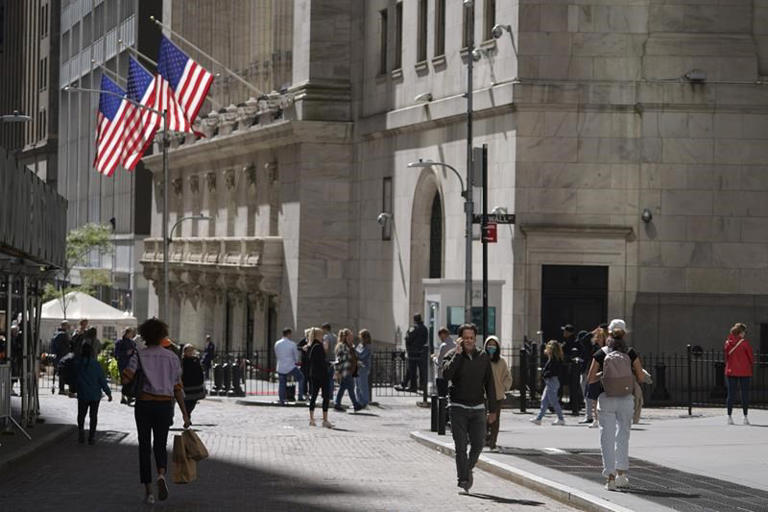 BEIJING — Stocks fell sharply worldwide Friday on worries an already slowing global economy could fall into recession as central banks raise the pressure with additional interest rate hikes.
The Dow Jones Industrial Average fell 1.6%, closing at its lowest level since late 2020. The S&P 500 fell 1.7%, close to its 2022 low set in mid-June, while the Nasdaq slid 1.8%.
The selling capped another rough week on Wall Street, leaving the major indexes with their fifth weekly loss in six weeks.
Energy prices closed sharply lower as traders worried about a possible recession. Treasury yields, which affect rates on mortgages and other kinds of loans, held at multiyear highs.
European stocks fell just as sharply or more after preliminary data there suggested business activity had its worst monthly contraction since the start of 2021. Adding to the pressure was a new plan announced in London to cut taxes, which sent U.K. yields soaring because it could ultimately force its central bank to raise rates even more sharply.
The Federal Reserve and other central banks around the world aggressively hiked interest rates this week in hopes of undercutting high inflation, with more big increases promised for the future. Such moves put the brakes on economies by design, in hopes that slower purchases by households and businesses will deflate inflationary pressures. But they also threaten a recession, if they rise too far or too quickly.
Besides Friday's discouraging data on European business activity, a separate report suggested U.S. activity is also still shrinking, though not quite as badly as in earlier months.
"Financial markets are now fully absorbing the Fed's harsh message that there will be no retreat from the inflation fight," Douglas Porter, chief economist at BMO Capital Markets, wrote in a research report.
U.S. crude oil prices slid 5.7% to their lowest levels since early this year on worries that a weaker global economy will burn less fuel. Cryptocurrency prices also fell sharply because higher interest rates tend to hit hardest the investments that look the priciest or the most risky.
Even gold fell in the worldwide rout, as bonds paying higher yields make investments that pay no interest look less attractive. Meanwhile the U.S. dollar has been moving sharply higher against other currencies. That can hurt profits for U.S. companies with lots of overseas business, as well as put a financial squeeze on much of the developing world.
The S&P 500 fell 64.76 points to 3,693.23, its fourth straight drop. The Dow, which at one point was down more than 800 points, lost 486.27 points to close at 29,590.41. The Nasdaq fell 198.88 points to 10,867.93.
Smaller company stocks did even worse. The Russell 2000 fell 42.72 points, or 2.5%, to close at 1,679.59.
More than 85% of stocks in the S&P 500 closed in the red, with technology companies, retailers and banks among the biggest weights on the benchmark index.
The Federal Reserve on Wednesday lifted its benchmark rate, which affects many consumer and business loans, to a range of 3% to 3.25%. It was at virtually zero at the start of the year. The Fed also released a forecast suggesting its benchmark rate could be 4.4% by the year's end, a full point higher than envisioned in June.
Treasury yields have climbed to multiyear highs as interest rates rise. The yield on the 2-year Treasury, which tends to follow expectations for Federal Reserve action, rose to 4.20% from 4.12% late Thursday. It is trading at its highest level since 2007. The yield on the 10-year Treasury, which influences mortgage rates, slipped to 3.69% from 3.71%.
Goldman Sachs strategists say a majority of their clients now see a "hard landing" that pulls the economy sharply lower as inevitable. The question for them is just on the timing, magnitude and length of a potential recession.
Higher interest rates hurt all kinds of investments, but stocks could stay steady as long as corporate profits grow strongly. The problem is that many analysts are beginning to cut their forecasts for upcoming earnings because of higher rates and worries about a possible recession.
"Increasingly, market psychology has transitioned from concerns over inflation to worries that, at a minimum, corporate profits will decline as economic growth slows demand," said Quincy Krosby, chief global strategist for LPL Financial.
In the U.S., the jobs market has remained remarkably solid, and many analysts think the economy grew in the summer quarter after shrinking in the first six months of the year. But the encouraging signs also suggest the Fed may have to jack rates even higher to get the cooling needed to bring down inflation.
Some key areas of the economy are already weakening. Mortgage rates have reached 14-year highs, causing sales of existing homes to drop 20% in the past year. But other areas that do best when rates are low are also hurting.
In Europe, meanwhile, the already fragile economy is dealing with the effects of war on its eastern front following Russia's invasion of Ukraine. The European Central Bank is hiking its key interest rate to combat inflation even as the region's economy is already expected to plunge into a recession. And in Asia, China's economy is contending with still-strict measures meant to limit COVID infections that also hurt businesses.
While Friday's economic reports were discouraging, few on Wall Street saw them as enough to convince the Fed and other central banks to soften their stance on raising rates. So they just reinforced the fear that rates will keep rising in the face of already slowing economies.
Economics Writer Christopher Rugaber and Business Writers Joe McDonald and Matt Ott contributed to this report.
Damian J. Troise And Alex Veiga, The Associated Press
Airbnb hosts are sick of Airbnb, too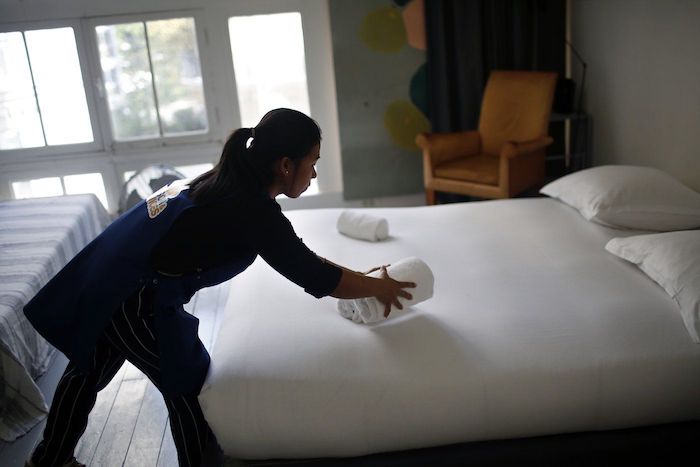 By Sam Kemmis Of Nerdwallet
Disgruntled Airbnb guests are taking to Twitter and TikTok to vent about everything from cleaning fees to misleading listings. But they aren't the only ones with complaints: Airbnb hosts themselves have become increasingly disillusioned with the platform and its disrespectful guests.
On message boards and Facebook groups, hosts are sharing their own challenges and horror stories. One host claimed that a group of guests was unwilling to leave the property despite receiving a full refund from Airbnb.
"I went to the apartment to check what was going on, and I was in shock to discover that the tenants were still in the apartment," the host wrote on the website AirbnbHell. "They immediately called the police on me and I was kicked out of my own apartment by a team of the police — a complete shock."
While these anecdotes might seem like the natural byproduct of the largely unregulated short-term rental industry, they speak to larger trends impacting hosts. A 2021 report from Bloomberg detailed how Airbnb's secretive crisis team spends millions of dollars to cover up crimes and other publicity nightmares in its listings. And the platform recently launched "anti-party technology " in an effort to defray hosts' frustrations with large, destructive gatherings.
These issues raise the question: Is Airbnb itself the problem — or are the guests?
SILLY STRING AND FOUL ODORS
In May of this year, Airbnb launched a new "AirCover" protection plan for guests and hosts . It promises quick reimbursement for hosts and up to $1 million in damage protection. And while many hosts consider this policy generous, it still comes with plenty of gray areas.
Emily Muskin Rathner , a digital marketing professional living in Cleveland, began renting her house on Airbnb in August 2021. She says that hosting has been a pleasant and profitable enterprise overall, but a few guests have caused major problems, including a family that rented the house this June.
"They left the house a mess," she says. "There was human feces on our laundry. They sprayed Silly String all over the place. I don't care about Silly String, but can you pick it up? It left stains, oddly."
Muskin Rathner received reimbursement from Airbnb for most of her claims. But some damage, such as nail polish smeared on the bathroom tile, didn't qualify for reimbursement because she wasn't able to provide documentation for the cost of the tile. And then there was the smell.
"It really, really stunk. The air conditioning had been left off for a week — in June."
RED TAPE EVERYWHERE
The early days of short-term vacation rentals offered hosts a simple proposition: Rent your home and earn some extra money. Yet as the industry has matured, it's been met with regulation efforts from local governments.
Cities such as Denver and Portland, Oregon, have been cracking down on unlicensed short-term rentals, levying fines against hosts and requiring expensive permits. These policies allow local governments to collect taxes and regulate problematic behavior, but they add one more layer of complexity for hosts, many of whom have little experience in hospitality.
Furthermore, many local governments place the burden of tax collection on hosts, not Airbnb. A 2022 analysis by the National League of Cities, an advocacy organization composed of city, town and village leaders, estimated that 82% of cities require hosts to remit taxes themselves, while only 5% require the platform to do so on hosts' behalf.
Hosts must now not only act as full-time customer service agents and hospitality experts, but also navigate local regulations and master convoluted taxation laws.
COMPETITION FROM MANAGEMENT COMPANIES
The romantic notion of home sharing as a means for homeowners to pay their mortgages has given way to management companies inserting themselves and aiming to maximize profits. And small-time hosts can't keep up with these corporate competitors.
A study of short-term rentals in the U.K. found that the number of listings managed by hosts with a single property dropped from 69% in 2015 to 39% in 2019. And data from the nonprofit Inside Airbnb suggests that only 39.1% of properties in Los Angeles are managed by single-property hosts.
These mega-hosts are able to operate at scale, maximizing efficiency on everything from pricing adjustments to cleaning staff. Single-property hosts can't keep up, or are unwilling to deal with the hassle, and are being elbowed out of the ecosystem.
___________________________________________
This article was provided to The Associated Press by the personal finance website NerdWallet. Sam Kemmis is a writer at NerdWallet. Email: [email protected]